Just because you're tired of cooking and baking, doesn't mean you're tired of sweet treats. And just because you're trying to stay away from sugary sweets doesn't mean you have to go cold-turkey on dessert either. The perfect solution to both these dilemmas is this No-Bake Chocolate Oat Bars recipe.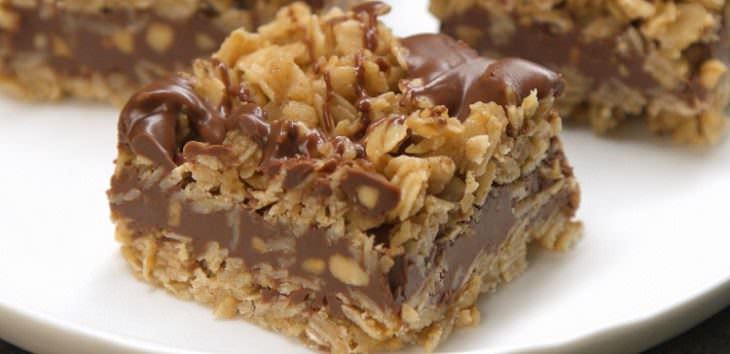 Ingredients for Chocolate Oat Bars:
Method of preparing the Chocolate Oat Bars:
Line an 8-by-8-inch baking dish with parchment paper and set it aside.

In a medium saucepan, combine the butter, brown sugar, and vanilla extract. Heat over low heat until the butter has melted and the sugar has dissolved.

Add the oats, cinnamon, and salt. Cook, stirring constantly, for 4-5 minutes.

Pour half of this mixture into the prepared baking dish. Spread out evenly, pressing down.

In a small microwaveable bowl. Combine the chocolate chips and the peanut butter. Heat on high in the microwave, in 40-second increments, stirring in between each increment, until melted and fully combined.

Pour 4/5 of the chocolate mixture into the pan over the pressed oats. Top with the remaining oats and drizzle with the remaining chocolate mixture.

Place in the fridge for 4 hours, or until set.