One of our favorite recipes is this simple and easy-to-make fish stew. It takes less than 30 minutes, from start to finish, to make and is delicious beyond belief.
The key ingredient is clam juice, which you can buy in shelf-stable 8-ounce jars. If you are preparing the soup for someone who has shellfish allergies, the thing to do is to substitute the clam juice with white wine, fish stock, or water. It works, but it won't be quite as heavenly (though still delicious).
This stew works best with a firm white fish, such as cod or halibut. You can also use red snapper or tilapia if you so wish. However, we recommend that you stay away from using delicate fish such as sole, or oily fish such as tuna. If you want, for a bit of added variety, you can also add some shrimps, clams, and/or scallops to the stew.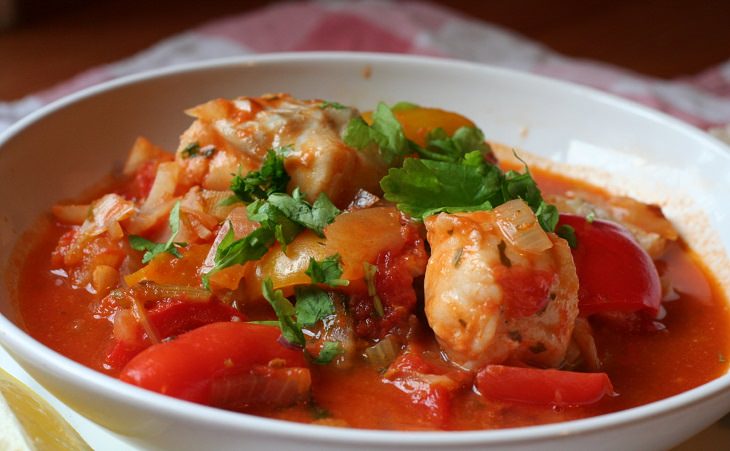 Fish Stew (Serves 4)
Ingredients

• 6 tbsp olive oil
• 1 medium onion, chopped (about 1 1/2 cups)
• 3 large garlic cloves, minced
• 2/3 cup fresh parsley, chopped
• 1 1/2 cups of fresh chopped tomato (about 1 medium-sized tomato) OR 1 14-ounce can of whole or crushed tomatoes with their juices
• 2 teaspoons tomato paste (optional)
• 8 oz of clam juice (or shellfish stock)
• 1/2 cup dry white wine (like Sauvignon Blanc)
• 1 1/2 lb fish filets (use a firm white fish such as halibut, cod, red snapper, or sea bass), cut into 2-inch pieces
• Pinch of dry oregano
• Pinch of dry thyme
• 1/8 teaspoon Tabasco sauce (or more to taste)
• Freshly ground black pepper to taste
• Salt to taste
Method
1. Heat the olive oil in a large thick-bottomed pot over a medium-high heat.
2. Add the onion and sauté for 4 minutes. Then add the garlic and cook for a further minute.
3. Add the parsley and stir for 2 minutes. Then add the tomato and tomato paste, and gently cook for 10 minutes or so.
4. Add the clam juice, dry white, and fish. Bringing it to a simmer, heat until the fish is cooked through and easily flakes apart - about 3-5 minutes. Add the seasoning and salt to taste. Ladle into bowls and serve.

Source: simplyrecipes