This is one recipe you're going to want to save for special events, when you'd like to impress your guests or make the event more unique. We say this not because this recipe is especially hard to do, but because it gives a sophisticated and original impression!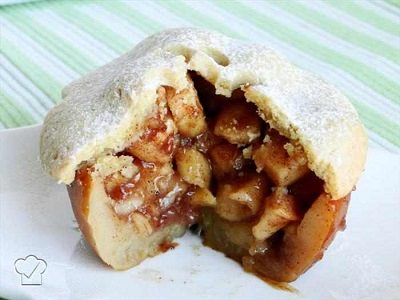 This recipe is for 4 people, so multiply the amounts according to the amount of people you need to prepare for.
Ingredients:
5-6 Granny Smith green apples
1 Tablespoon of brown sugar
Pie strips - Can be bought pre-made
Alternatively, here is a recipe for making pie dough:
Ingredients:
150 grams of cold butter, cut into cubes
Half a tablespoon of cold water
Process the flour, sugar, butter cubes and pinch of salt in a food processor until you get little dough crumbs. Then scramble the yolk with the water and gradually add it to the dough crumbs while the food processor keeps going, until big chunks of dough are created.
Make the dough into one lump and flatten it to a flat circular shape. Wrap the circle in cling wrap and put it in the fridge for 30 minutes.
First, take 4 apples and cut their tops off. Remove their contents carefully, without harming the peel. You can use a knife and spoon for this.
* Keep the content of the apples, you're going to need them later.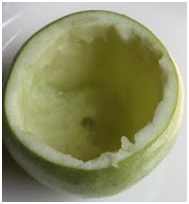 The filling:
If you couldn't get the apple content in same-size chunks, use more apples, peel them and cut them to little cubes. Mix the apples cubes with sugar and cinnamon in a bow. The amounts of sugar and cinnamon can be changed according to personal taste.
Now fill the empty apples with the mixture you've just prepared.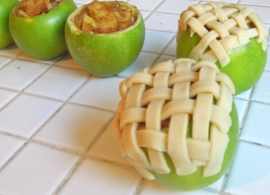 Create 6 cm (about 2.5 inches) strips from the pie dough and cover the apple from above with criss-crossing strips.
Pour water into a oven tray, just enough to cover the bottom with a thin layer. Put the apples inside and cover with tin foil. Put this in a pre-heated oven at a temperature of 190 C (370 F). Bake for about 20-25 minutes.
Then, remove the tin foil and continue to bake for another 20 minutes, until the pie dough gets a deep brownish color.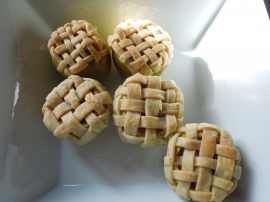 Tip: Serve with a ball of vanilla ice-cream and decorate with some mint leaves.
And you're done! All that's left is to stay humble in the face of so many compliments!