It has been a good long while since I last saw such good photographs. Today, almost anyone can easily snap a crisp, high-resolution photo. We all have a little professional camera in our back pocket, and editing programs have never been so easily reached. But it takes more than a good camera to make a good photo, and that's where professional photographers come in to show us all again the true mastery of capturing the world through a lens. Enjoy.
"Scream Of The Forest" By Arkadiusz Dalak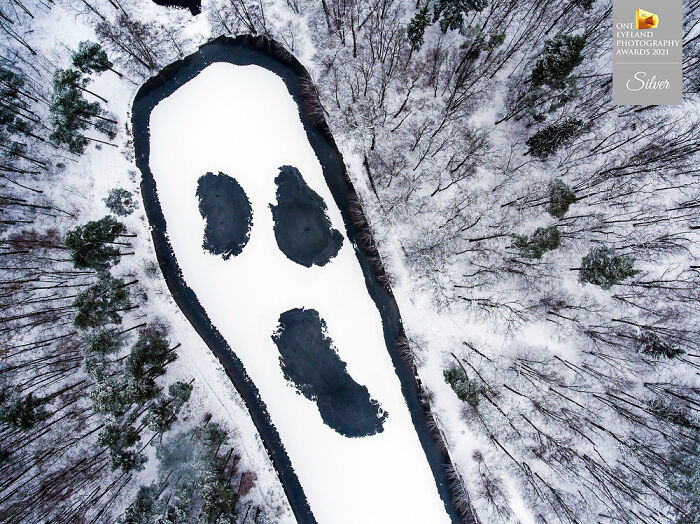 Source
A winter bird's-eye view of a frozen pond, shot in It is one of the largest forest areas within the city of Łódź, Poland.
"Intricate" By Tania Malkin
Might seem like artwork on a canvas, but this is an aerial image taken over the floodplains in Australia.
"Vietnam From Above" By Khanh Phan
Vietnamese workers preparing natural incense sticks for an annual ceremony.
"Dance" By Naoya Yoshida
Fireflies in the mountains of Japan.
"Ribbon Dancer" By Tania Malkin
An aerial image taken from a helicopter over the tidal coastline of northern Australia.
"Collecting Water From Dried Out Riverbeds" By Sujon Adikary
Over 2 million people around the globe have limited access to water. They have to either walk or queue to get their water, a task that is usually done by the women of the tribe.
"Flamingo Airport" By Cedric Tamani
"Floating People" By Raf Willems
At first glance, this one seems like an exotic floating market in the far far east. But this couldn't be farther away from the truth. This photo depicts Lake Las Vegas during a 'Country in The Cove' concert on a floating stage.
"Volcano In Iceland" By Jon Hilmarsson
Would you be bold enough to join this daring queue?
"Lost Tent In The Snow Under The Winter Arch" By Stefano Pellegrini
"Kenyan Icons" By William Fortescue
Photographer Willian Fortescue considers this photo to be the height of his two years spent in Kenya, a country he considers a second home: "one of my favorite corners of the world".
"Microinsects" By Marco Jongsma
Photographer Marco Jongsma is fascinated by the microscopic world of insects. Photography is his way of sharing that fascination.