The Victorian glasshouse is iconic and serves as an inspiration for architects to this day. One example we proudly introduce to you today is the kinetic glasshouse at the Woolbeding Gardens in the United Kingdom. The fascinating feature of this diamond-shaped glass-and-aluminum structure is that, when the weather is warm and sunny, it can open up like a flower in bloom.
Scroll down to the end of the article to watch this masterpiece of architecture unfurl in a video, or continue reading to learn more about its design elements and engineering.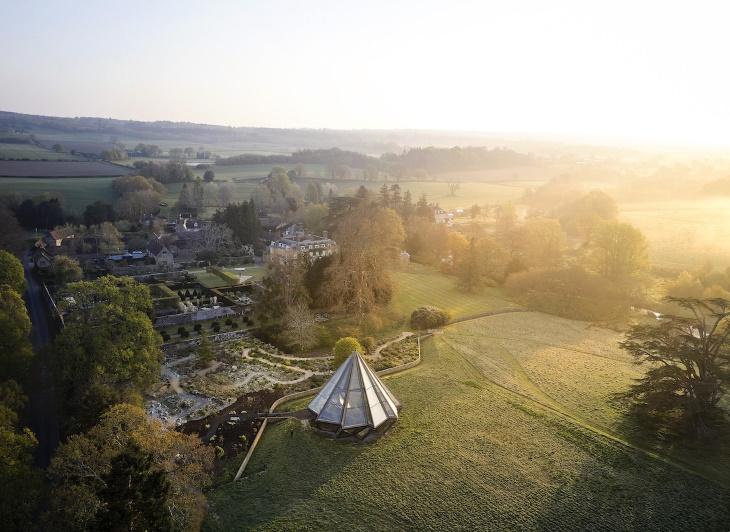 The 1,518-square-foot moving glasshouse was developed by Heatherwick Studio, which already has an impressive architecture portfolio. They're probably most well-known for designing the Little Island in New York City.
This time, the architects shifted their focus from floating island parks to a historic Sussex Estate with a stunning rare and plant collection. Dedicated to the history of the Silk Road, the surrounding garden has 300 species of plants from 12 different regions of the world. This was an ancient network of trading routes connecting Europe and Asia.
The diamond-shaped design is inspired by Victorian terrariums used to move plants to Europe on the Silk Route. These glass cases were also used to grow and display tropical plants and were quite beautiful on their own.
The Glasshouse consists of 10 metal frames filled with glass panes. Their shape and movement were designed to look like sepals - outer petals that protect the flower.
To match the unpredictable weather in the UK, the Glasshouse can "unfurl" or close in less than five minutes using a built-in hydraulic mechanism. The Glasshouse is home to a selection of subtropical plants that require heating and shelter on cold days and air and sun in the summer.
Among the rare species enclosed within the Glasshouse are the Chinese tree called Aralia vietnamensis, several magnolias, banana trees, and umbrella trees. Some now-familiar herbs - thyme, fennel, and lavender - are also present in the surrounding garden, as these were also first introduced in the British Isles through the Silk Road.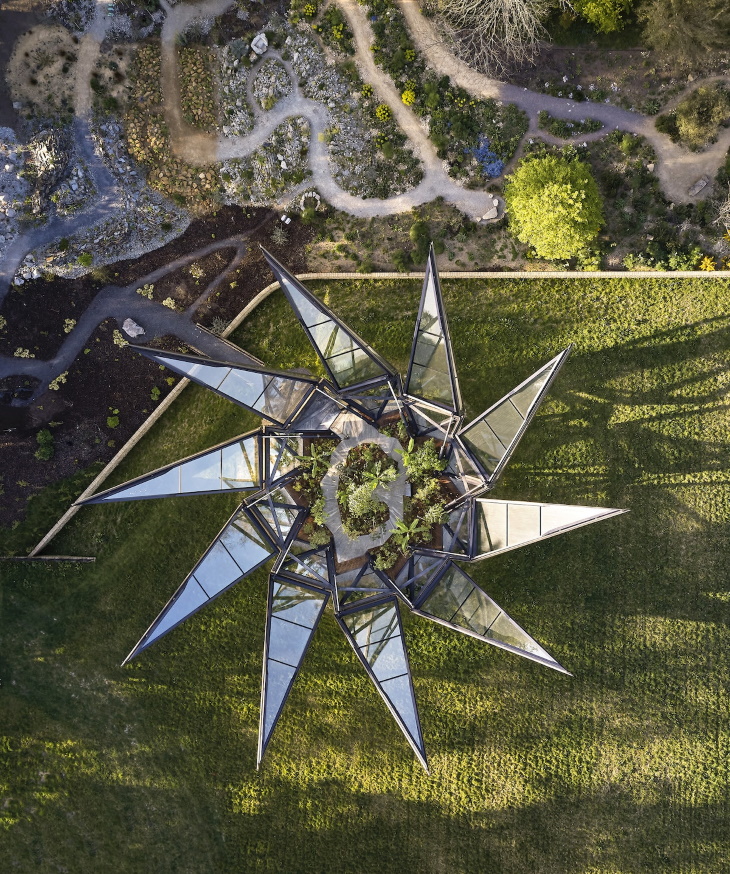 Watch the Glasshouse unfurl in the video below: