Salads are essentially the best thing to serve during the hot summer months. They are refreshing and healthy at the same time. And almost no salad is as fresh as the sesame cucumber salad. It's the best cooling side dish to grilled chicken, short rib, or fish, an excellent topping for a rice bowl, but the bold flavor of the sauce makes it great on its own, too!
If you are confused about which type of cucumbers to use, it is strongly recommended to opt for Persian cucumbers. They are seedless, available in almost any supermarket, and their compactness helps them hold more flavor than bigger, more water-logged ones. If you can't find Persian Cucumbers, this recipe works great with Kirby cucumbers, too.
This summer salad is super easy to make, so don't hesitate to save it for your next outdoor dinner or weekend lunch!
Related Article: 5 Summer Salad Recipes and Bonus Cold Peach Drink!
Ingredients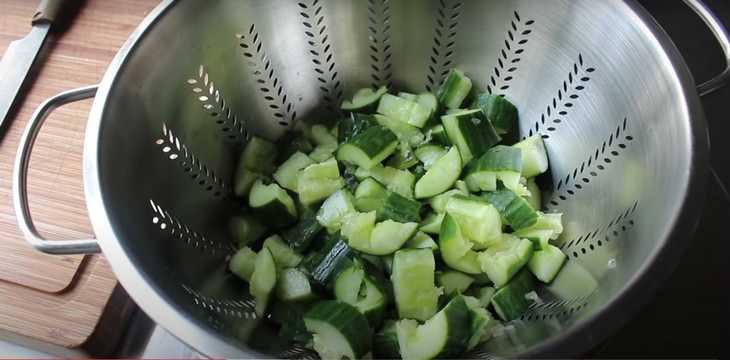 1 lb (4 cups) Persian cucumbers

2 tbsp sesame oil

1 tbsp sesame seeds

1 tbsp soy sauce, preferably low-sodium

½ tbsp lemon juice

1 tsp fresh ginger, peeled and grated

Honey to taste

Salt to taste

⅓

cup cilantro, roughly chopped

Chili oil, for serving



Instructions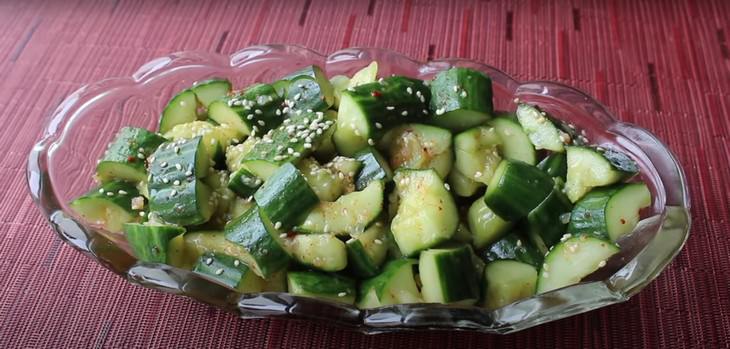 1. Halve each cucumber lengthwise, bash it slightly with the side of your knife (like you would smash a garlic clove to remove the skins) then cut each half into 4 or 5 chunks. The smashing helps the cucumber to trap extra dressing and flavors.

2. Transfer the cut cucumbers into a bowl and toss with 2 tsp of salt, and let it sit for 10 minutes. Make sure you don't leave the cubes for too long, or they'll become far too salty!

3. Meanwhile, in a large bowl whisk together sesame oil, sesame seeds. Soy sauce, lemon juice, ginger, and honey.

4. Transfer the cucumber into a strainer and rinse. Try to shake off as much water as possible, to get rid of any excess fluid.

5. Add the cucumbers into the dressing bowl and toss to combine them, then toss with cilantro. Serve drizzled with chili seed oil, if desired.

Recipe Source: Good Housekeeping