The ocean is filled with a myriad of magnificent creatures, some of which are absolutely stunning and others which are absolutely terrifying. In 2018, the Underwater Photography Guide hosted the 7th annual Ocean Art Photography Competition, during which professional photographers can submit their entries displaying the true splendor and beauty of life under the sea. These underwater images are breathtakingly gorgeous and show the wonders of the aquatic world like you've never seen it before. One will always be surprised by the astounding creatures that live on the ocean floor. From first place winners to honorable mentions, these are the ultimate competition photographs to see!
1. Devil Ray Ballet, by Duncan Murrell: First Place, Marine Life Behavior, and Best of Show Winner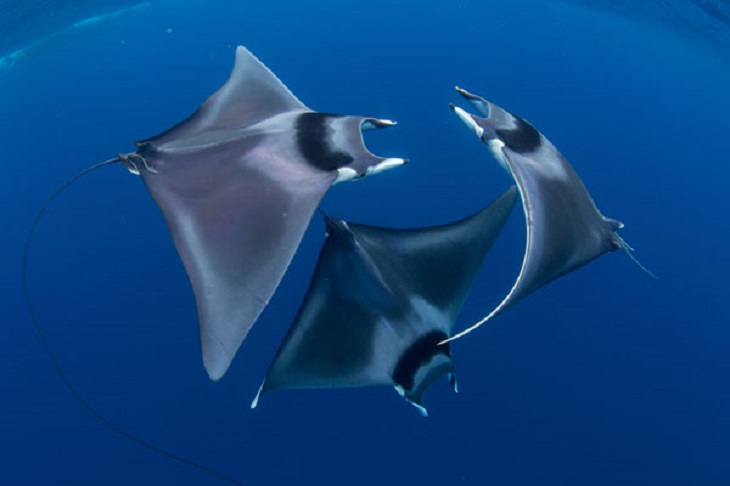 Featuring Spinetail devil rays, (Mobula japanica), two males and one female, engaging in the rarely observed courtship behavior.
2. Gentle Giants, by François Baelen: First Place, Wide Angle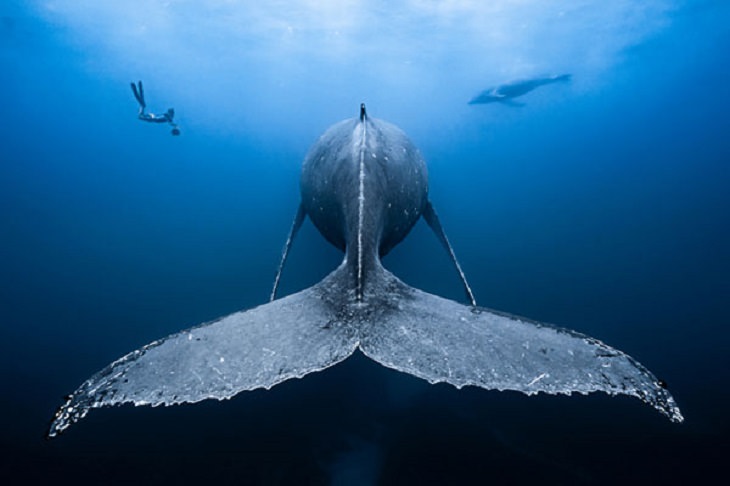 The photograph takes you to a unique occurrence on Reunion Island where humpback whales go to breed and birth. A mother whale patiently waits while her calf interacts with his human friend: the ultimate display of trust.
3. Sunsplit, by Tobias Friedrich: Second Place, Reefscapes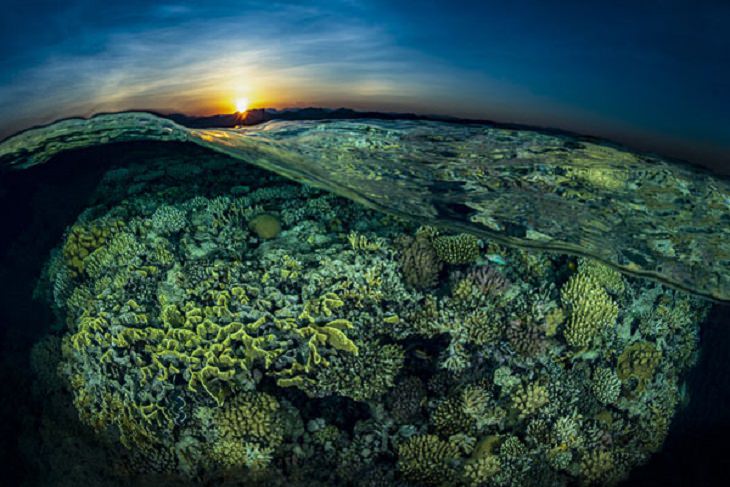 A sunset splits this shot above the shallow reefs of the Red Sea in Egypt, making for an exceptionally gorgeous view.
4. Porcelain Bloom, by Wayne Jones: Second Place, Supermacro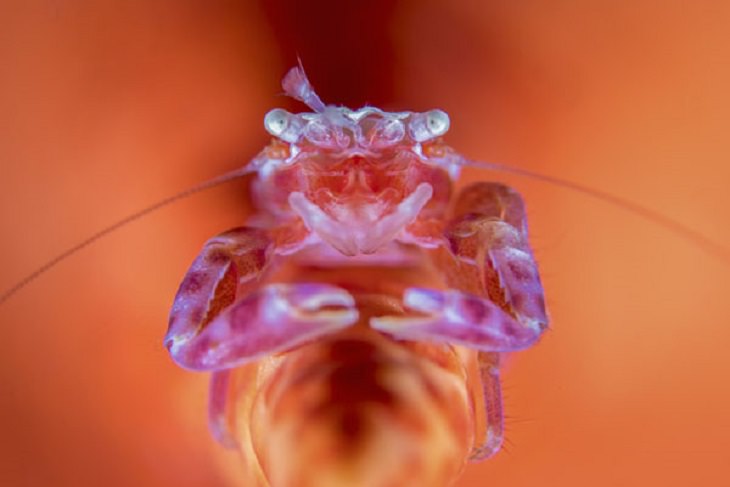 This photo captures the perfect moment, as a small porcelain crab clings to an overhanging branch, in the Philippines. A difficult photograph to take as crabs have a quick-reacting survival instinct, making still shorts a challenge.
5. Smile of a Friend, by Antonio Pastrana: Second Place, Novice DSLR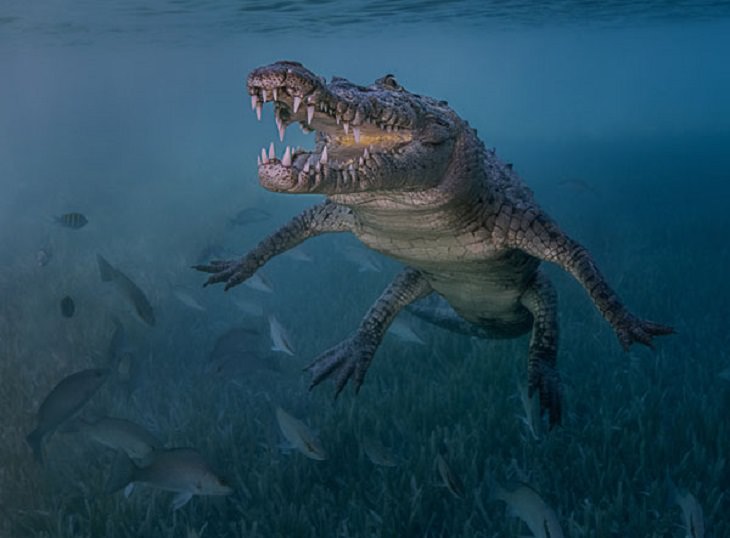 One of the nicest wild crocodiles you'll ever see, El Nino, grins at the camera as he moves gently underwater in Jucaro, Cuba.
6. Schools of Schools, by Debbie Wallace: Second Place, Mirrorless Behavior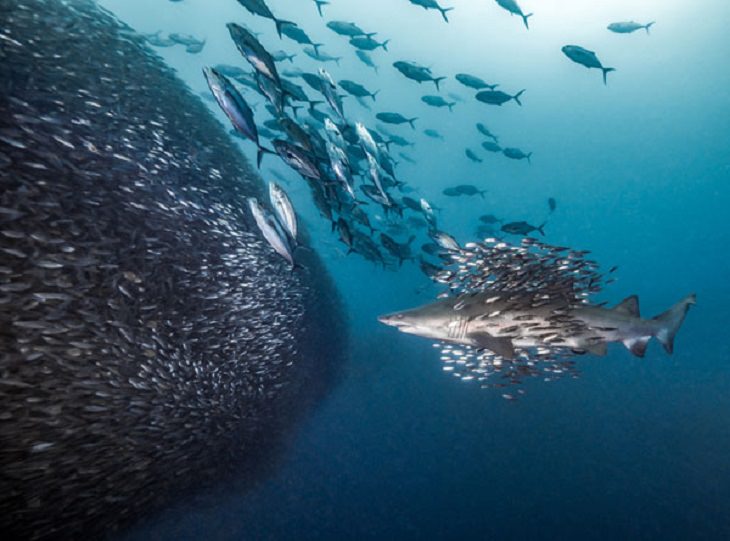 A swarm of fish, also known as a bait ball, surround a large female sand tiger shark as she moves towards the shipwreck in Caribsea, located off Morehead City in North Carolina
7. Bubble Life, by Owen Yen: Second Place, Mirrorless Macro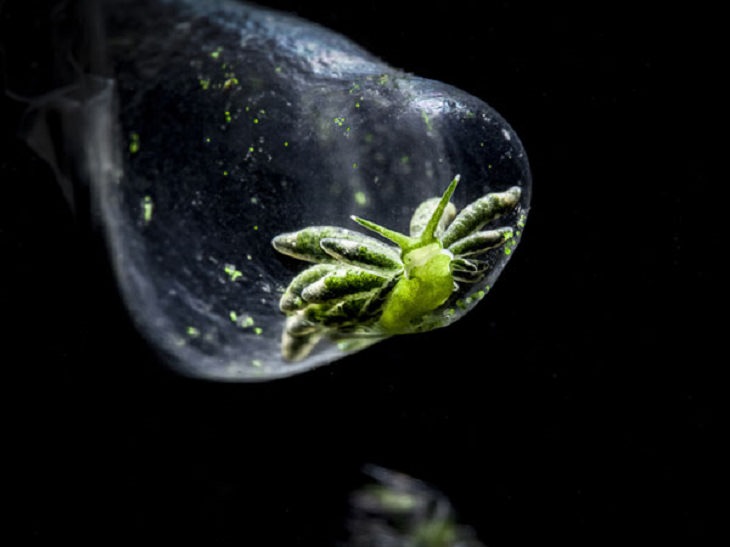 This photograph encapsulates a green nudibranch (also known as a sea slug, a shell-less marine mollusk), which ate the chlorophyll and stayed inside this bubble of Boergesenia forbesii (Siphonocladales), a type of green algae, in the Philippines.
8. Polycera quadrilineata Posing, by Fredrik Ehrenström: Second Place, Nudibranch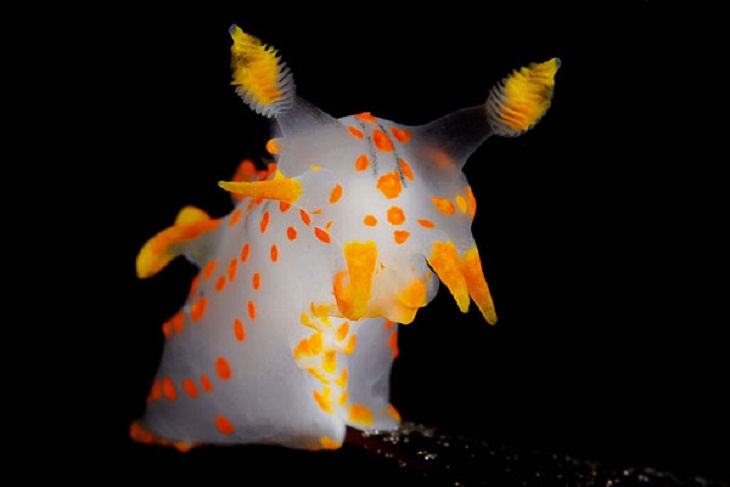 This photograph was taken in an algal belt around an old ferry dock in Bremsnes of Norway. It depicts a uniquely colored adult nudibranch raising its body, a behavioral trait that has been hypothesized to be related to mating.
9. Love From a Father, by François Baelen: Third Place, Marine Life Behavior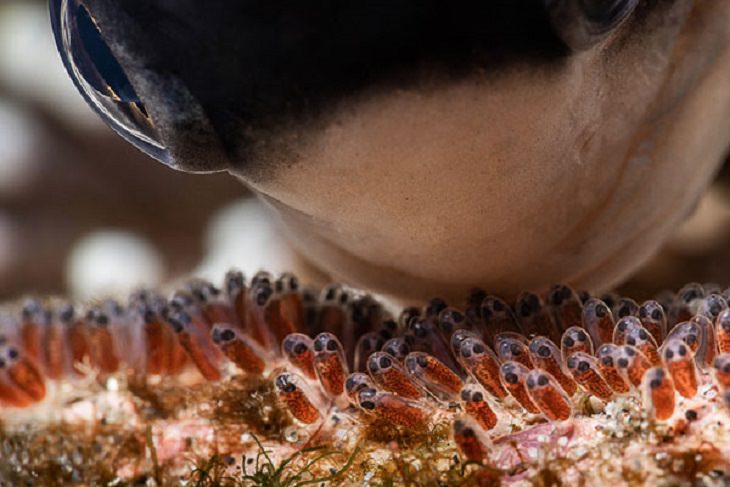 In this picture, a father clownfish, in Padangbai, Bali, protects his young and helps the eggs breathe using his fins. He carefully removes debris, dust and dead eggs from the nest to help ensure the survival of the next generation.
10. No No!, by Pier Mane: Third Place, Mirrorless Wide Angle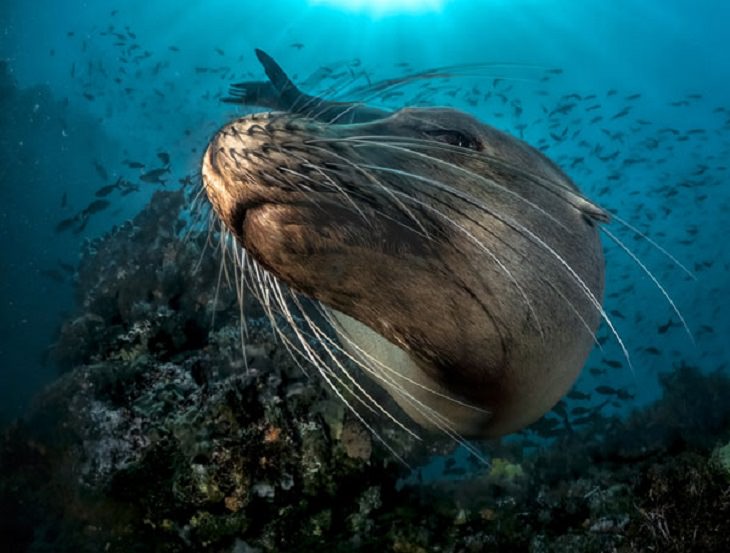 This photographer and his team dove into the waters of the Galapagos Islands in search of the mola mola, that is, the ocean sunfish. Instead, they found some playful sea lions, among which was this one, who seemed reluctant to have his photo taken, but posed for a moment nonetheless.
11. Who's the Boss?, by Andreas Schmid: Fourth Place, Compact Wide Angle
This particular species, the marine iguana, is unique for two major reasons. The first is that it can only be found at The Galapagos Islands, and the second is that it is the only iguana on the planet that feeds in the ocean. Due to the shallowness of their feeding habitats, it can be difficult to capture their images but this iguana deemed this photographer worthy of taking the photo.
12. Eclipse, Edwar Herreno: Fifth Place, Wide Angle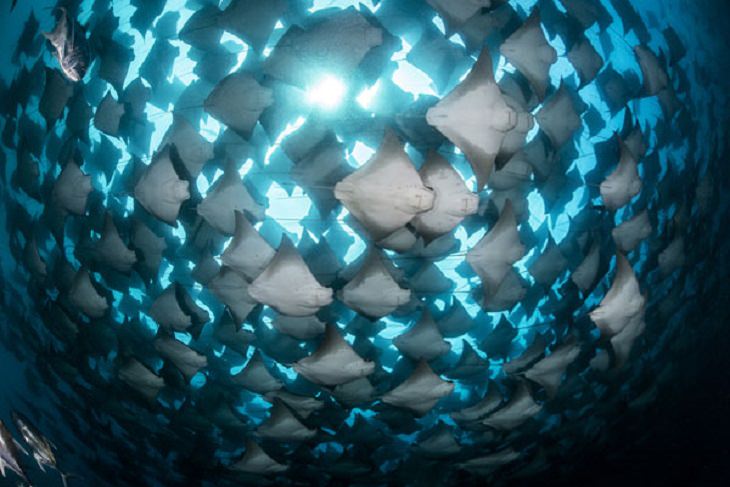 The Golden rays migrate every year from August to November, in massive numbers across the Pacific waters of Costa Rica, in the Big Scare off Bat Island. It took several dives, but eventually, the photographer found himself underneath a big beautiful swarm of Golden Rays.
13. New Life, by Flavio Vailati: Fifth Place, Marine Life Behavior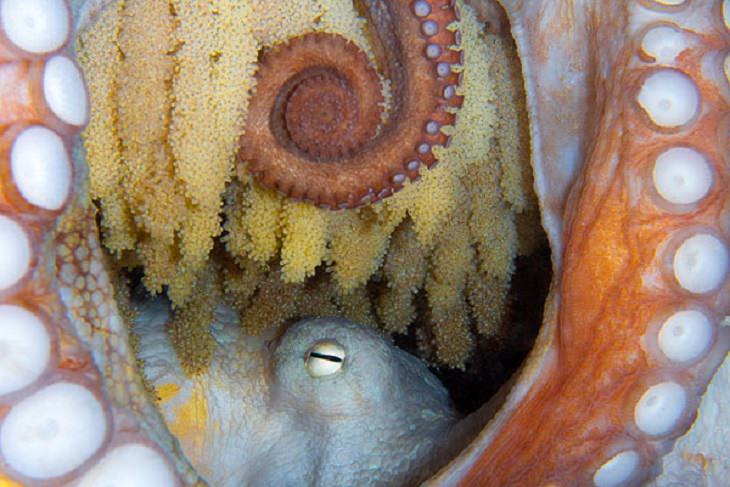 One day in July, while diving in Capo Noli, Italy, this beautiful octopus was found in a tube, caring tenderly for its eggs.
14. Family Affair, by Tiffany Poon: Fifth Place, Mirrorless Behavior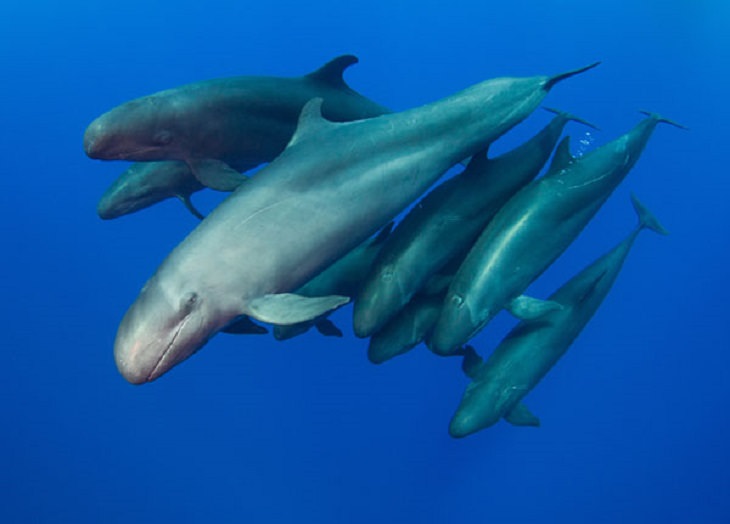 A family of false killer whales (Pseudorca crassidens), an oceanic dolphin that feeds on other marine mammals, heads for this photographer's diving team, in Roca Partida, of the Revillagigedo Archipelago, Mexico, but allows a quick photo to be taken as they pass.
15. Foggy Morning on the Adams River, by Eiko Jones: Fifth Place, Cold Water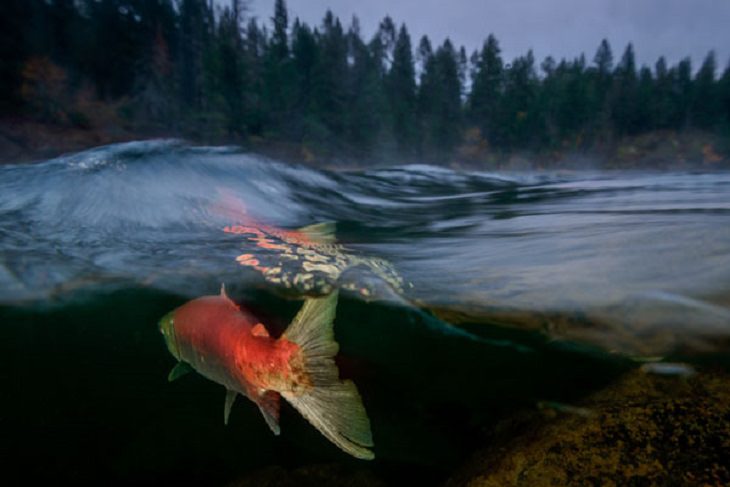 The photographer describes this photo the best… "A lone sockeye salmon swims by as wisps of fog cling to the surface in the early dawn hours on the Adams River." This picture was taken at the end of the salmon migration, in Adams River, British Columbia, Canada.
16. Million Hope Shipwreck, by Fabrice Dudenhofer: Honorable Mention, Mirrorless Wide Angle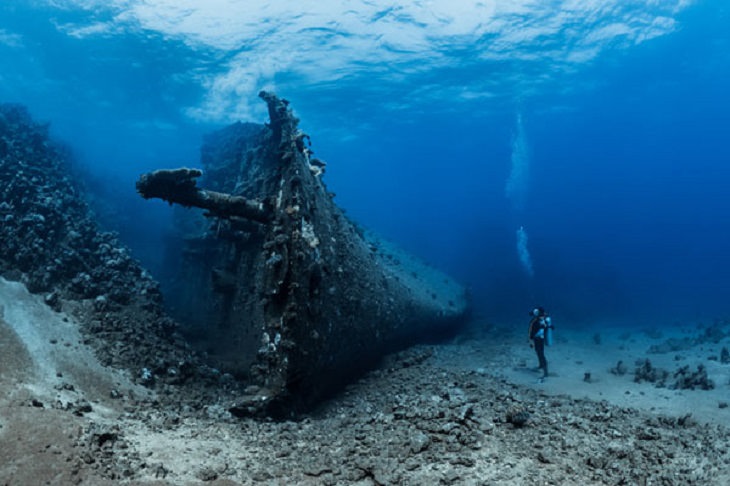 In the Egyptian waters of the Straits of Tiran lies 'The Million Hope', the largest shipwreck in the Red Sea. This picture shoes the sheer massive size of the wreck in scale to a person, the diver beside the bow.
17. Light Beam, by Alexandre St. Jean: Honorable Mention, Underwater Art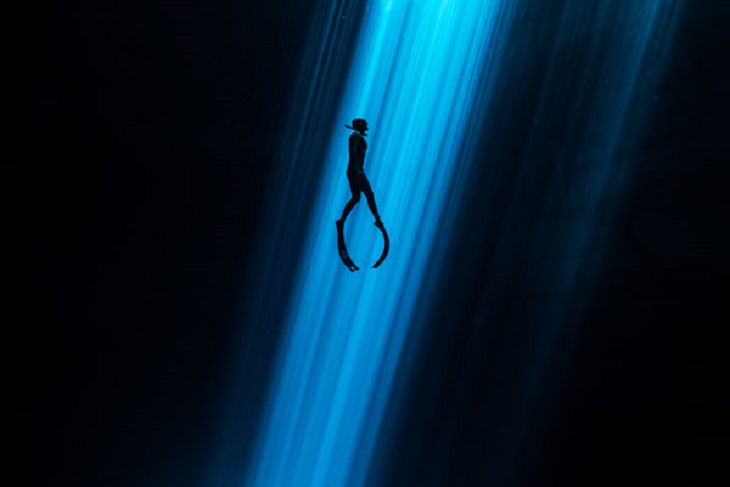 Diving through the Yucatan Peninsula of Mérida, Mexico, the photographer, along with a professional diver and local guide, find themselves in a beautiful, remote cenote, as a light beam shone into the water, allowing them to capture this stunning photograph.
18. Sheep on the Shot, by Chun Ho Tam: Honorable Mention, Nudibranch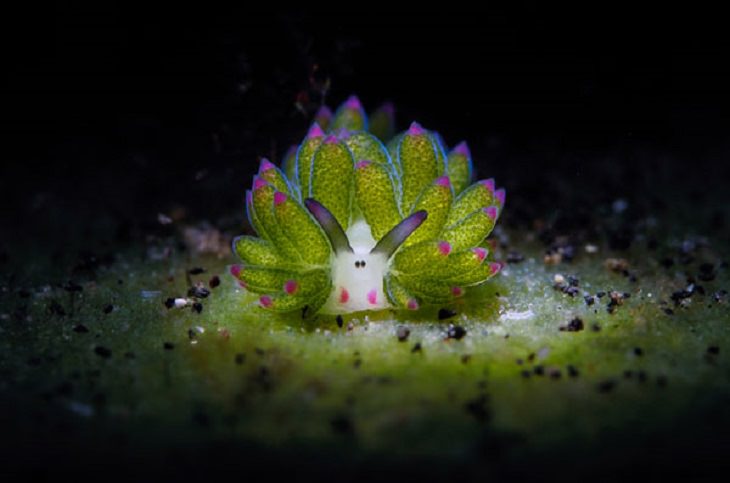 Here's a beautiful face shot of an adorable sheep-leaf sea slug, also known as nudibranch, complete with rouged cheeks, in the waters of Lembeh, Indonesia.
19. Unnoticed, by Shane Gross: Honorable Mention, Macro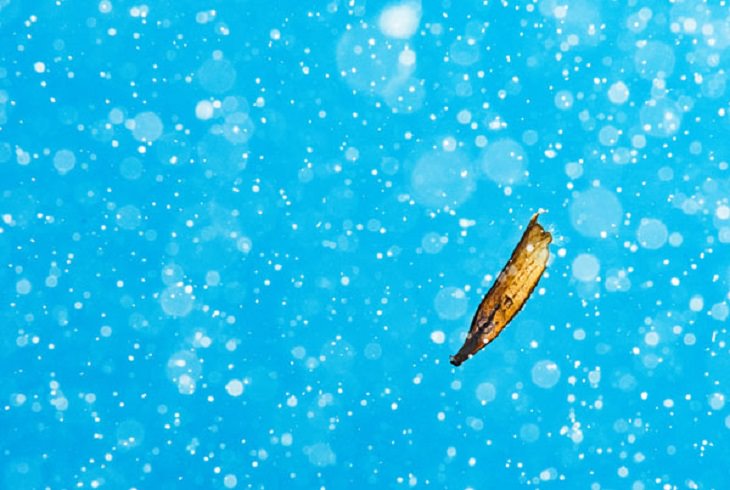 On the very first dive of a 12-day liveaboard through Indonesian districts, Flores and Alor, this unknown animal was found floating around in the water toward the end of the dive. It was later discovered to be the juvenile rigid shrimpfish.
20. Nemo, by Matteo Visconti: Honorable Mention, Portrait Category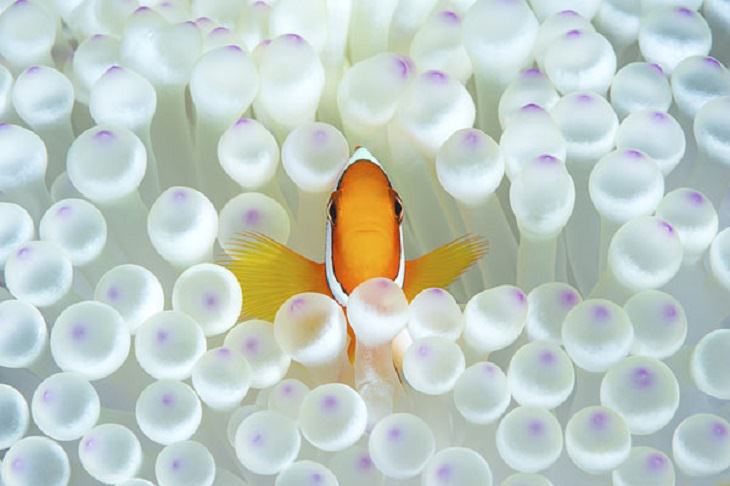 Here floats the beautiful clownfish amidst the tentacles of the Ritteri sea anemones in the waters of Ishigaki Island in Okinawa, Japan. These two different species have a lovely mutual relationship. As a territorial species, the clownfish protects the anemone from fish that feed on it, and the anemone's stinging tentacles protect the clownfish from predators.
21. Spider Crab Attack, by Henley Spiers: Honorable Mention, Cold Water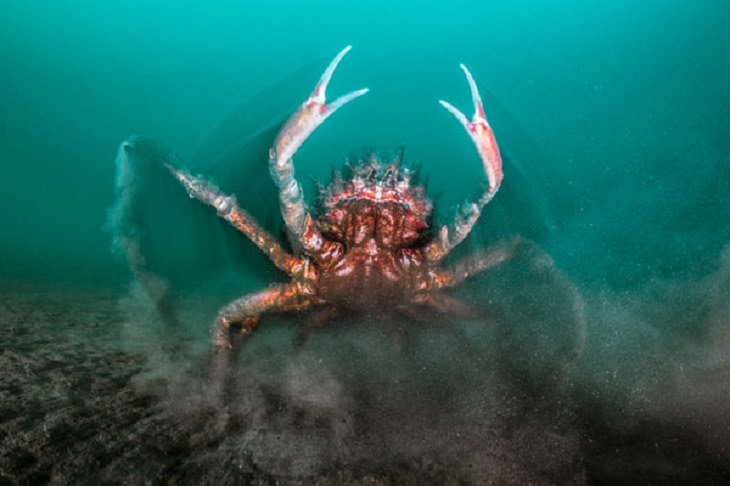 This spider crab leaps out of the ground and swims over the sand in Babbacombe Bay, Devon, UK. It stands on its hind legs, slashing through the water with its claws, displaying a combination of defensive and territorial behavior.
22. Timing, by Richard Barnden: Honorable Mention, Marine Life Behavior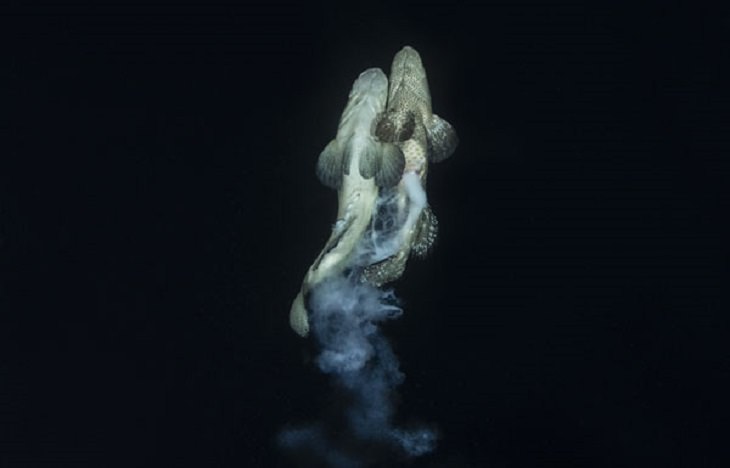 Having spent many years photographing spawning fish, when a female grouper was spotted that was moments away from spawning somewhere in Palau, the photographer settled himself in the ideal position to watch its movements. A male grouper protects the female from passing sharks before eventually nudging up against the female and spiraling toward the surface together.
23. Best Friends Forever, by Simon Lorenz: Honorable Mention, Cold Water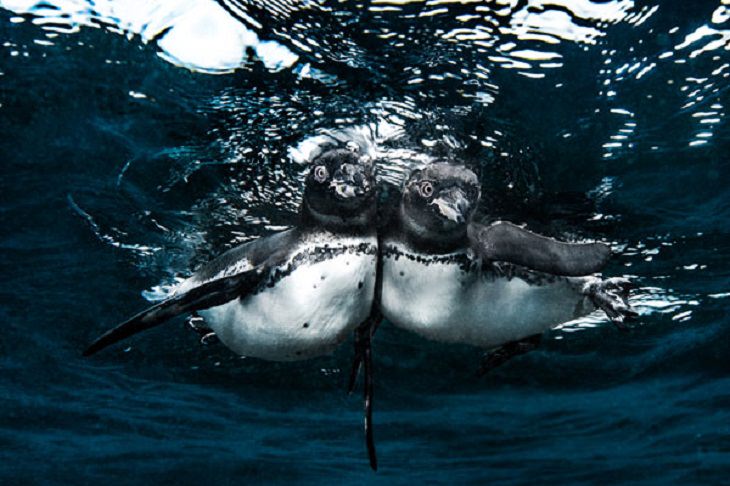 Only on Fernandina island, of the Galapagos island, will you find the inquisitive and adorable Galapagos Penguin, the only penguins that live north of the equator. It is one of the most endangered species, making these 2 buddies a truly rare and wonderful sight.
24. Roar, by Jinggong Zhang: Honorable Mention, Portrait Category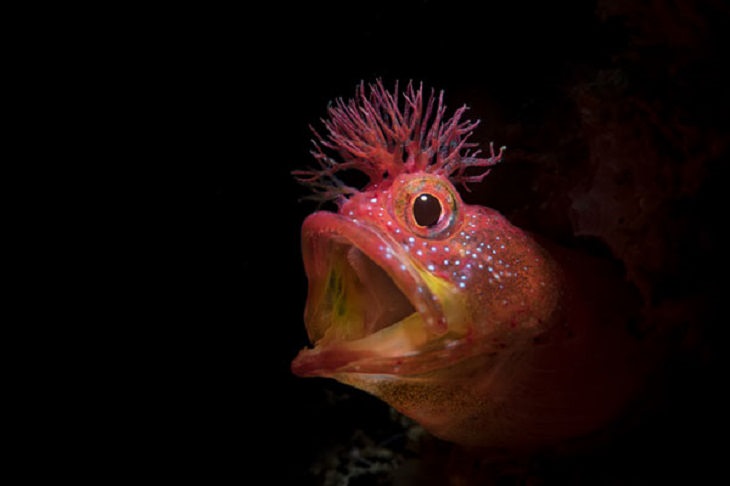 Meet the chaenopsid blenny, found in the rocky reefs of Kanagawaken, Japan, most notably recognized by the mohawk-like "hairstyle" which can be found in a variety of colors, like black, yellow and red.
25. Curiosity, by Kyler Badten: Honorable Mention, Portrait Category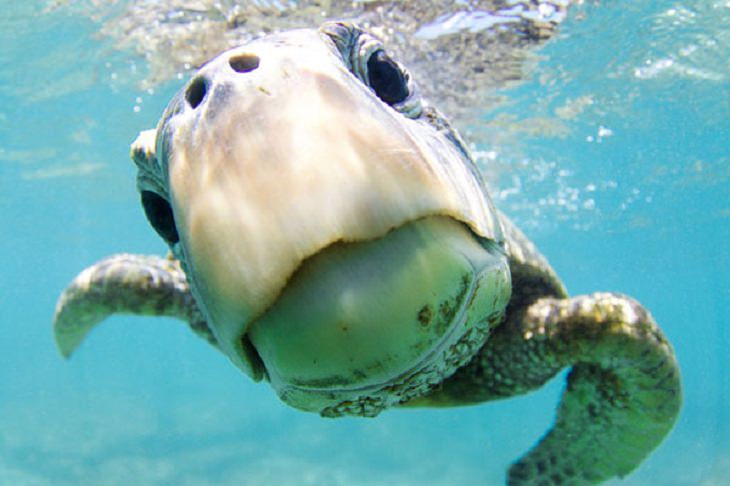 On the rocky shorelines of Oahu's North Shore of Haleiwa, Hawaii, a large group of green sea turtles feeds on algae. One brave turtle swam directly toward the camera, so fascinated by its own reflection in the lens that it nearly bumped into it.