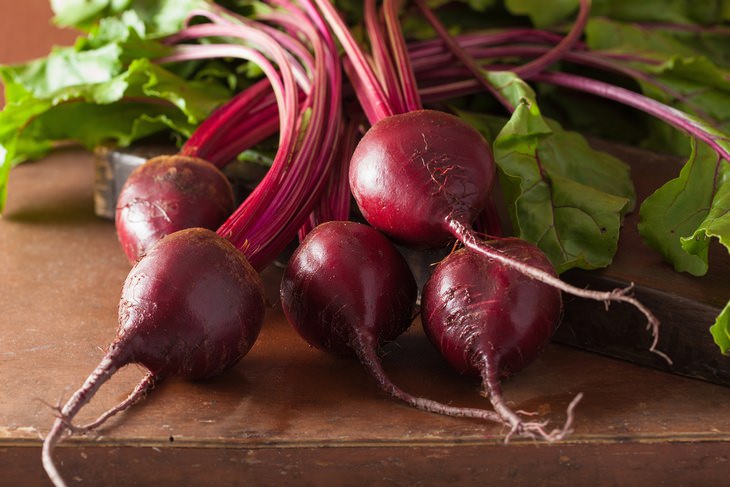 If you're on the right side of the beetroot argument, the only real issue you'll encounter is handling the vegetable. The red juices in the root have a tendency to stain anything they touch, so you might want to wear gloves when peeling, slicing or grating the beets. You can also get precooked and peeled beets if you don't want to bother with these preparations.
Beets go along with a variety of different herbs, cheese and vegetables, and lend a vivid pink color to everything you make with them, which I find very appetizing. Here are 5 wildly different recipes for things you can make with beetroot: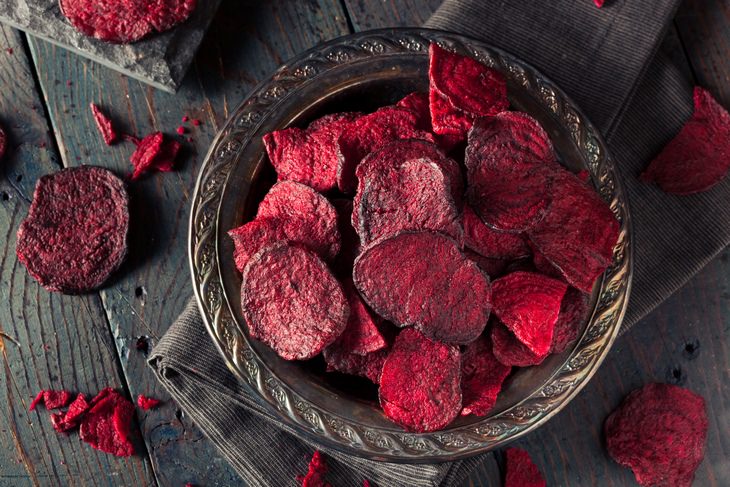 Beet chips are a healthy and delicious substitute for potato chips or fries that are sure to win over any guests you're having over. Even people who dislike the taste of beets will like them.
All you'll need to make these are beets, some olive oil, rosemary leaves, sea salt and black pepper.
Instructions:
Preheat oven to 350° Fahrenheit (180° Celsius), place racks in the center.

Slice beets into thin slices using sharp knife or (preferably) a mandoline.

Drizzle the slices lightly with some olive oil and sprinkle salt, pepper and rosemary on top. Arrange on baking sheets in single layer.

Bake for 1020 minutes. Keep an eye on the chips, so that they don't burn.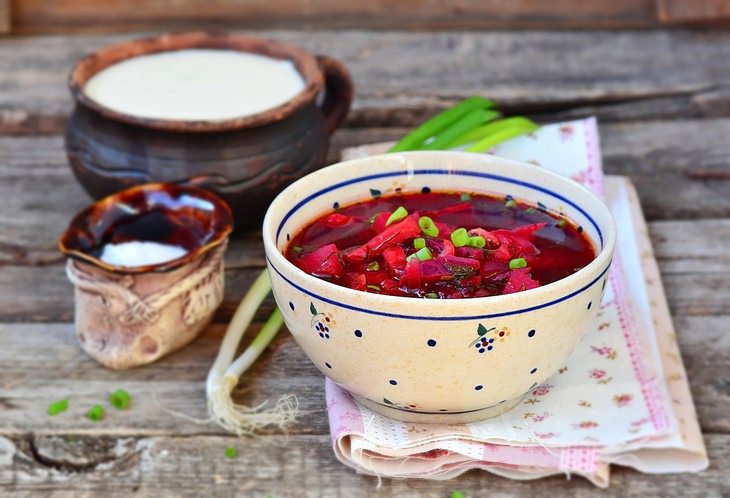 Borscht is the ultimate winter soup, according to many people in Eastern Europe. It's a hearty stew of root vegetables and cabbage that's sure to keep you warm when a storm is raging outside.
3 medium beets, peeled and shredded
2 carrots, peeled and shredded
2 medium potatoes, peeled and cut into cubes
1 medium onion, chopped
1/2 head of cabbage, shredded
Salt and pepper to taste
1 teaspoon sugar
Sour cream
Thinly minced dills, parsley or chives for garnish
Instructions:
In a pot, sauté the onion and carrots over canola oil until soft but not golden.

Add beets, potatoes and water and bring to a boil, then reduce heat and simmer for 20 minutes.

Add cabbage, salt, pepper and sugar. Simmer for 15 over medium heat.

Serve with a garnish of sour cream and either dills, parsley or chives.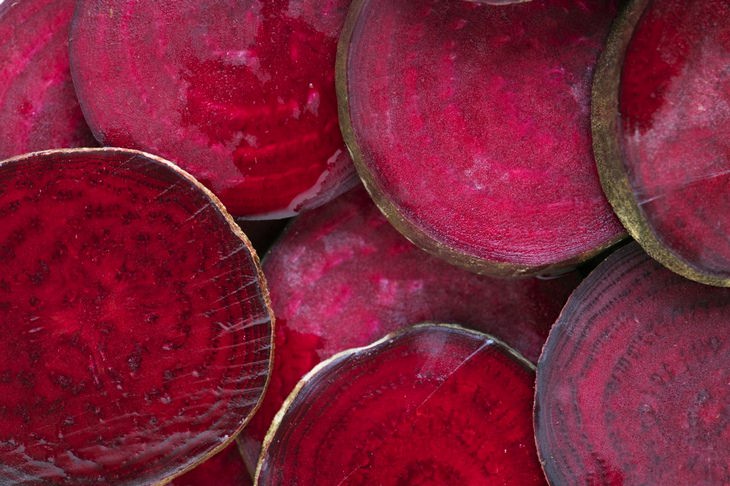 This is a nice vegetarian twist on carpaccio that has the added bonus of being delicious.
2 medium beets
Salt and pepper
4 tablespoons olive oil
A handful of arugula
1 tablespoon pine nuts
1 tablespoon white wine vinegar
¼ cup crème fraiche
1 teaspoon mustard
½ teaspoon mustard seeds
Preheat oven to 350° Fahrenheit (180° Celsius), place the beets on pieces of aluminum foil large enough to wrap with. Sprinkle salt, pepper and 2 tablespoons of oil. Wrap each beet separately and tightly and heat in oven for 40 minutes.

Combine crème fraiche, mustard, vinegar, olive oil and mustard seeds.

Let the beets cool down, peel and slice using a sharp knife or mandoline.

Arrange the slices on a plate, spread the arugula and pine nuts over and top with mustard sauce.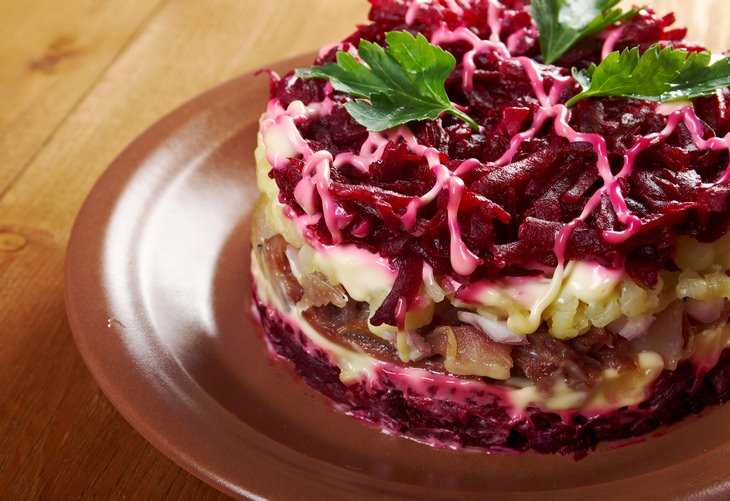 This Russian layered salad is known colloquially as "herring under a fur coat" (because of the furlike appearance of the shredded vegetables) and it is traditionally eaten on New Year's Eve.
3 large beets
3 large potatoes
2 large carrots
4 hardboiled eggs
4 fillets pickled herring, boneless and diced
1 medium onion, diced
1 cup mayonnaise
Salt and pepper to taste
Instructions:
Boil carrots, potatoes and beets whole until tender. The carrots should take the least amount of time, then the potatoes and finally the beets at around an hour. Leave to cool with the hardboiled eggs in the refrigerator.

Peel the vegetables and shred separately with grater.

In a casserole dish, spread about half of the potato at the bottom evenly, and place the herring over it.

Mix onion with salt and pepper and spread over the herring evenly.

Add a second layer of grated potatoes, cover it in mayonnaise and pack tightly.

Over potatoes, add layer of grated hardboiled eggs and carrots.

Add final layer of grated beets to top the salad. Slather with mayonnaise. Cool for several hours before serving.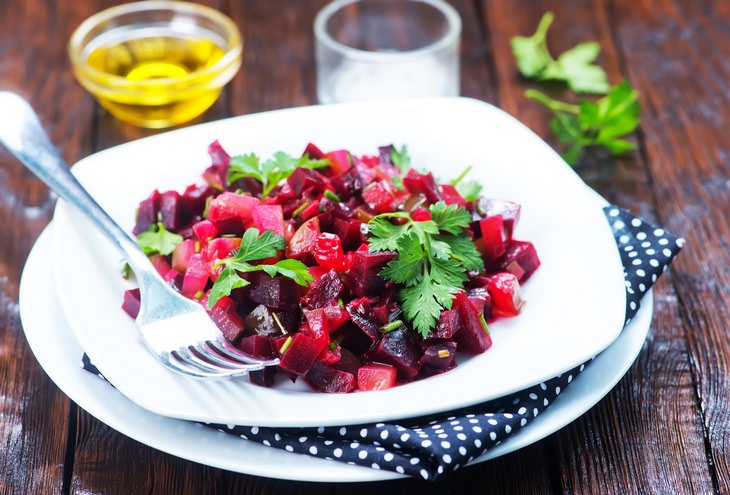 Of course, you don't need to get all fancy with your beets, and sometimes keeping it simple with a fresh salad is the best way to go.
3 small beets, cooked, cooled, peeled and diced.
1 clove of garlic, minced
Several sprigs of parsley to taste, chopped
Feta cheese cut into cubes to taste
2 tablespoons olive oil
1 teaspoon apple cider vinegar
Just mix together and stir. Enjoy!

Related Articles:
Here Are 8 Reasons You Need to Start Eating More Leeks
7 Health Benefits of Artichokes