Let's talk about snacks, shall we? Who doesn't like snacks? Breakfast, lunch, and dinner are great and all, but it's the snacks that are the real deal in our eyes! The problem is that people associate snacking with being unhealthy. However, in reality, there are many snacks out there that taste great and are also good for you. We're not talking about the standard carrots and hummus or grapes here. The following 6 healthy snacks are way more fun and innovative, and they'll actually fill you up between meals.
1. Honey Roasted Chickpeas (Makes 1 Cup)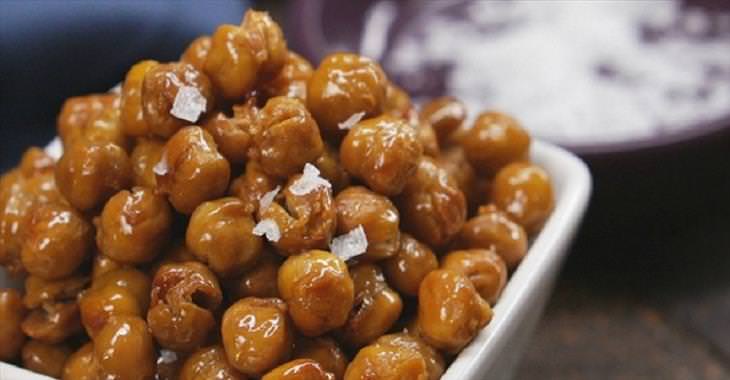 Ingredients
• 1 15-ounce can chickpeas
• 1 tablespoon olive oil
• ½ teaspoon sea salt, or more to taste
• 2 tablespoons honey
Directions
1. Preheat the oven to 375 degrees Fahrenheit (190 degrees Celsius).
2. Line a baking sheet with parchment paper or a silicone baking mate.
3. Drain, rinse, and dry the chickpeas. You will want them to be very dry.
4. Toss the chickpeas in the olive oil and salt.
5. Spread on the baking sheet in a single layer. Bake for around 45 minutes, stirring every 10-15 minutes or so, until crispy.
6. Allow the chickpeas to cool slightly, and then test one. If it's still soft, bake them for another 10 minutes, or until they're nice and crispy.
7. While they're still hot, toss them in a bowl with the honey and more salt, if desired.
8. You can eat them as they are, or you can bake again for a caramelized effect. Place the coated chickpeas back in the oven for another 10-15 minutes.
9. Store the chickpeas in an airtight container.
2. Agave Kettle Corn (Makes 12 Cups)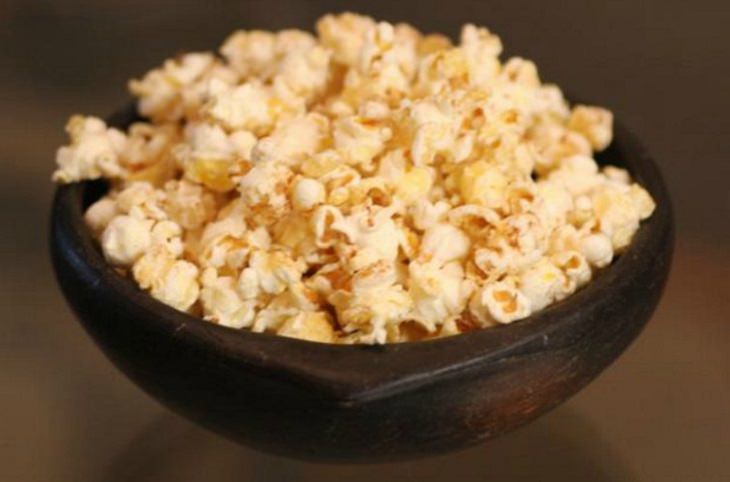 Ingredients

• ½ cup popcorn kernels
• 2 tablespoons canola oil
• 3 tablespoons agave nectar
• ½ teaspoon cinnamon
• Salt
Directions
1. Pour the canola oil and 2-3 popcorn kernels into a large pot with a tight-fitting lid. Place over a high heat, and when the kernels pop, add the remaining kernels and move the pan around over the heat until all the popcorn has popped.
2. In a small bowl, mix the agave nectar, cinnamon, and salt. Pour this mixture over the popcorn in the pan and toss with a wooden spoon.
3. Lay the popcorn out on a baking sheet and bake in a preheated 375 degrees Fahrenheit oven (190 degree Celsius) oven for 10 minutes.
3. Cauliflower Biscuit Bites (Makes 24)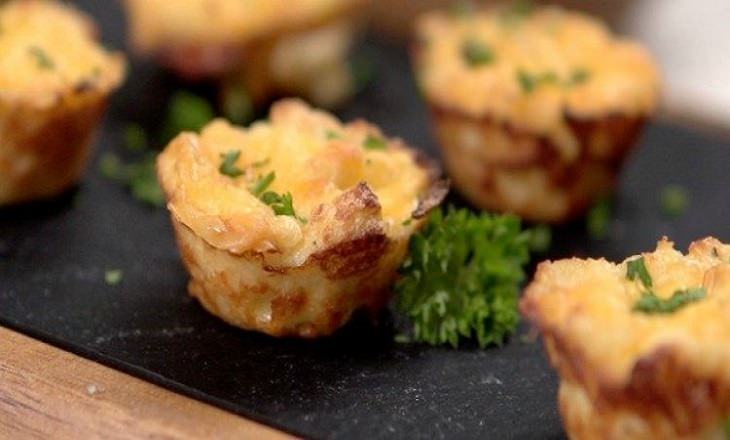 Ingredients
• 1 cauliflower head, cut into florets
• 2 small garlic cloves, minced
• 1/3 cup Greek yogurt
• ½ cup shredded cheddar cheese, plus more for the top
• 2 whole eggs
• ½ a teaspoon kosher salt
• ½ teaspoon black pepper
• 2 egg whites
Directions
1. Preheat the oven to 400 degrees Fahrenheit (205 degrees Celsius). Prep a 24-cup mini muffin tin.
2. Steam the cauliflower flower until tender. Let it cool.
3. Grind the steamed and cooled florets in a food processor, then scrape into a medium bowl.
4. Stir in the yogurt, cheddar, whole eggs, salt, and pepper.
5. Pour the egg whites into a separate medium mixing bowl. Whip with a hand mixer until firm peaks form.
6. Fold the whipped egg whites into the cauliflower mixture.
7. Scoop the mixture into the 24-cup mini muffin tin. If desired, top with some extra cheese.
8. Bake for 20-25 minutes, until golden brown.
4. Strawberry Bruschetta (Serves 4)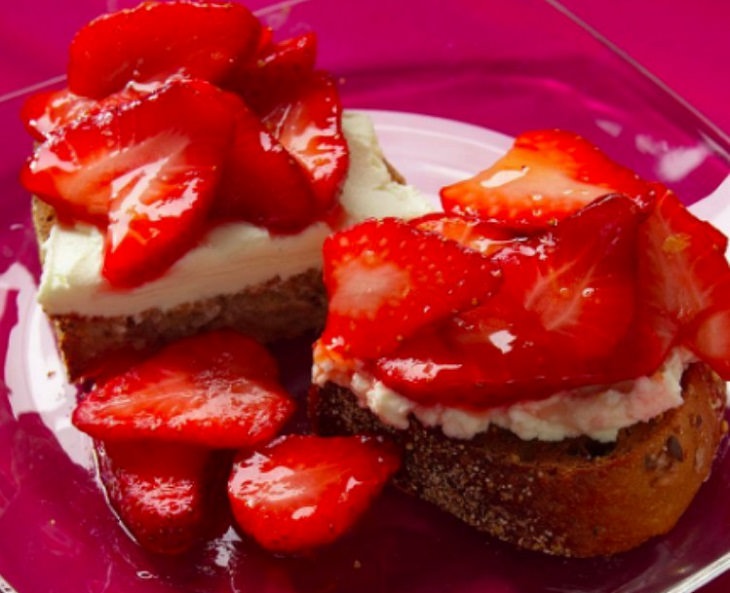 Ingredients
• 4 thick slices of whole-wheat bread
• 6 tablespoons light brown sugar
• 1 teaspoon grated lemon zest
• 2 teaspoons lemon juice
• 3 cups sliced or diced hulled strawberries
• 4 tablespoons mascarpone
Directions
1. Toast the bread in the toaster.
2. While you're waiting, heat a large skillet over high heat. Add the sugar, lemon zest, and lemon juice and cook, stirring until the sugar melts and the mixture begins to bubble – 30 seconds to 1 minute.
3. Add the strawberries and stir until juices begin to exude and the berries are heated through – a further 30 seconds to 1 minute.
4. Spread 1 tablespoon of mascarpone on each piece of toast. Top with the warm berries.
5. Apple Pie Energy Bites (Serves 6)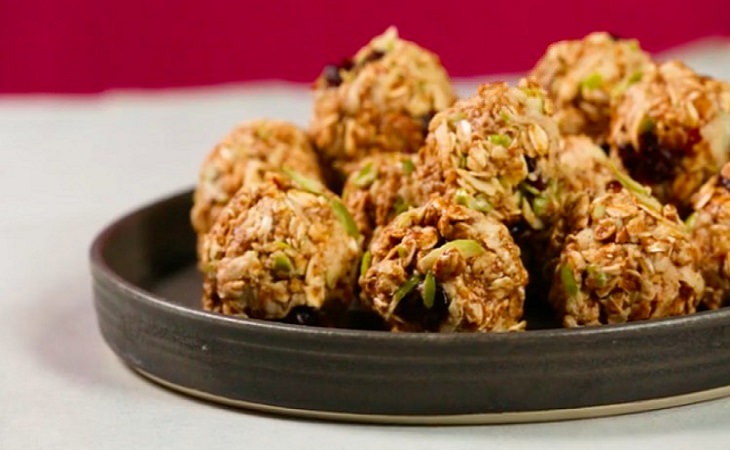 Ingredients
• 2 cups old-fashioned rolled oats
• 1 teaspoon ground cinnamon
• 2 tablespoons ground flaxseed
• ½ teaspoon salt
• 1 tablespoon chopped hazelnuts
• 1 tablespoon chopped walnuts
• ½ teaspoon allspice
• ½ cup almond butter
• 1 teaspoon vanilla extract
• 2 tablespoons honey
• ¼ cup unsweetened, dried cranberries
• 1 cup grated Granny Smith apple tossed with 1 teaspoon lemon juice.
Directions
1. Stir together the oats, cinnamon, flaxseed, salt, walnuts, hazelnuts, and allspice.
2. Stir the almond butter, honey, and vanilla extract together. Mix with the oat mixture until fully combined.
3. Stir the apples and dried cranberries into the oat and nut butter mixture until fully combined.
4. Using your hands or a tablespoon, form balls with the mixture. Store these energy bites in your fridge in an airtight container for up to 4 days.
6. Peanut Butter Banana Bars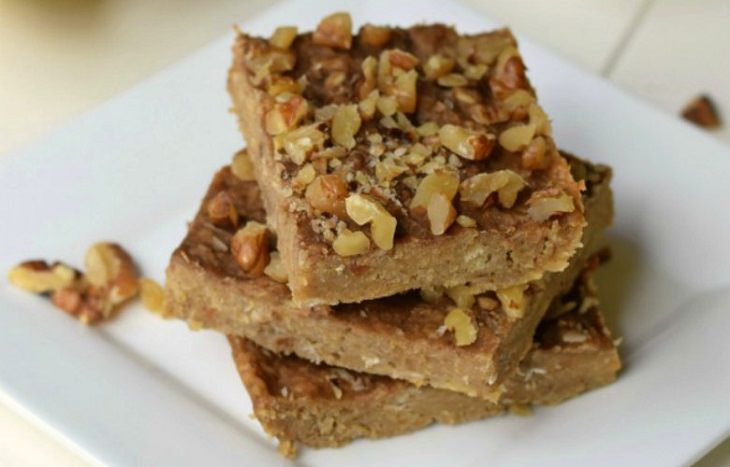 Ingredients
• 4 medium bananas
• 2 cups of oats
• 6 tablespoons all-natural peanut butter
Directions
1. Preheat the oven to 350 degrees Fahrenheit (180 degrees Celsius). Grease a 9-by-13 inch glass baking dish.
2. Mix the three ingredients together until the mixture reaches the consistency of wet cookie dough. Depending on how big your bananas are, you might need to add more oats.
3. Spread the dough evenly in the baking dish.
4. Bake for 18-20 minutes, until a toothpick comes clean out.
5. Cut into bars and enjoy!
Source: tiphero