Ingredients
Salmon Cakes
• 2 cans of pink salmon, drained well
• 1 egg
• ½ jalapeno, finely chopped
• 2 tablespoons of plain mayo
• 2 tablespoons of red onion, finely diced
• ¼ teaspoon of garlic powder
• ¼ teaspoon chili powder
• Salt and pepper to taste
• 1 tablespoon of avocado oil
Avocado Sauce
• 1 avocado
• ¼ cup of sour cream
• 3 tablespoons of cilantro
• 1-2 tablespoons of avocado oil
• 1-2 teaspoons of water
• Juice of half a lemon
• Salt and pepper to taste
Directions
1. In a large bowl, mix the salmon, egg, jalapeno, mayo, red onion, and seasoning.
2. Form patties with the mixture (4 large or 5-6 small).
3. In a non-stick skillet, drizzle oil and cook the patties over a medium heat for 4-5 minutes until each side is golden brown and crispy.
Avocado Sauce
1. Blend all the ingredients in a food processor until smooth.
2. Serve the salmon cakes hot with avocado sauce and a drizzle of sarayo.

Directions
1. Heat a pan over low heat and toast the cashews for 8 minutes or until they start to lightly brown and become fragrant. Remove and set aside.
2. Dice the chicken thighs into 1-inch chunks. Cut the onion and pepper into equally large chunks.
3. Once the oil is up to temperature, throw in the chicken thighs and allow them to cook through (about 5 minutes).
4. Once the chicken is fully cooked, add the pepper, onions, garlic, chili garlic sauce, and seasonings. Leave it to cook on high for 2-3 minutes.
5. Add the soy sauce, rice wine vinegar, and cashews. Cook on high and allow the liquid to reduce down until it's a sticky consistency. There should be no excess liquid in the pan upon the completion of cooking.
6. Serve topped with sesame seeds and a drizzle of sesame oil.
3. Keto Spaghetti Squash Primavera (4 Servings)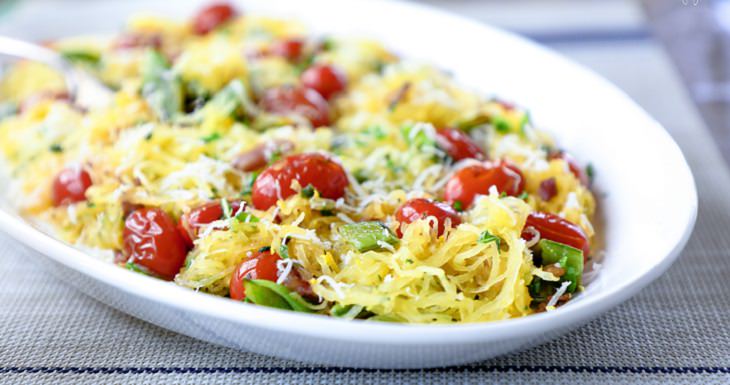 Ingredients
• 4 slices raw bacon, chopped
• 1 tablespoon butter
• 1 cup of sugar snap peas, sliced
• 1 cup of cherry tomatoes
• 3 tablespoons of scallions, chopped
• 1 teaspoon of lemon zest
• 2 tablespoons of parsley, chopped
• 2 cups of cooked spaghetti squash
• ¼ cup grated Parmesan cheese
• Salt and pepper to taste
Directions
1. Melt the butter in a large sauté pan and cook the bacon in it for around 3 minutes.
2. Add the peas and tomatoes and cook for 3-5 minutes, or until the tomatoes start to pop.
3. Mix in the scallions, parsley, and lemon zest and remove from the heat.
4. Fold in the spaghetti squash and Parmesan cheese.
5. Season with salt and pepper to taste.
6. Serve garnished with more parsley and Parmesan.
4. Low Carb Taco Cabbage Skillet (2 Servings)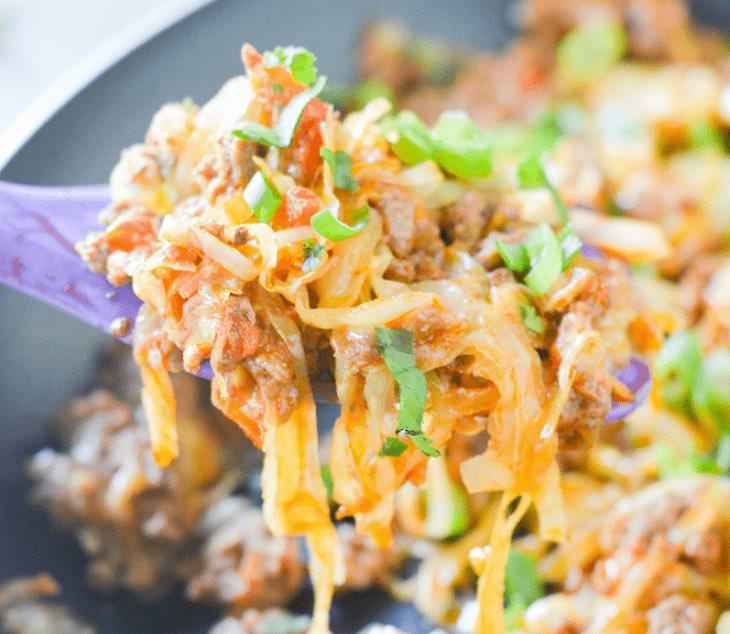 Ingredients
• 1 pound of ground beef
• ½ a cup of salsa
• 2 cups of cabbage, shredded
• 2 teaspoons of chili powder
• ¾ cups of cheese, shredded
• Salt and pepper to taste
Directions
1. Brown the ground beef in a skillet and drain the fat.
2. Add the salsa, seasoning, and cabbage to the pan and bring to a low boil.
3. Cover and reduce the heat to medium and cook for 10-12 minutes or until the cabbage is soft.
4. Turn off the heat and mix in the cheese until melted.
5. Garnish, if desired, with sour cream, green onions, or avocado.
Source: rd