Many of us probably wouldn't consider stinging nettles to be edible, but the fact of the matter is that they make an excellent soup when paired alongside shallots, celery and potatoes. This is one soup dish that you should definitely try!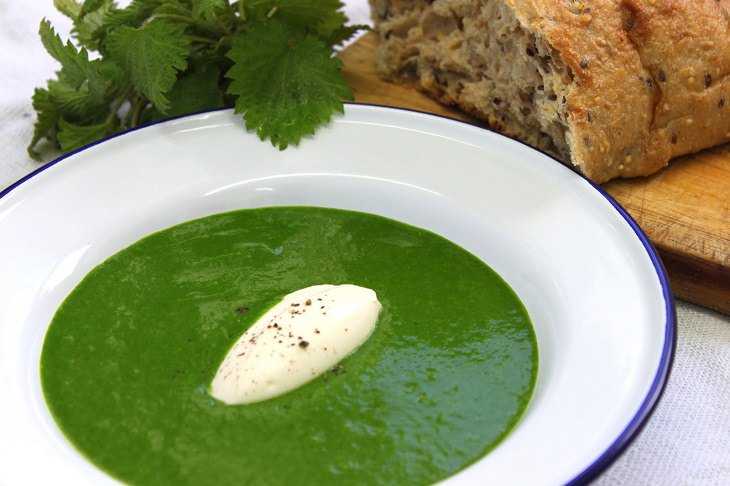 Nettle Soup (Serves 4)
Ingredients
• 1/2 large shopping bag of fresh nettle tops
• Salt
• 1 Tbsp olive oil
• 1 teaspoon butter
• 1/2 cup chopped shallots
• 1/2 cup chopped celery
• 1 pound of yukon gold or russet potatoes, peeled and chopped
• 4 cups chicken stock
• 1 to 2 cups of water
• 1 bay leaf
• 1 teaspoon dried thyme (or a couple sprigs of fresh thyme)
• Freshly ground black pepper
• 1 1/2 Tbsp lemon juice
• 2 to 3 Tbsp of heavy whipping cream
Method
1. Blanch the nettles: Bring a large pot of lightly salted water to the boil. Prepare a large bowl of ice water. Wearing gloves, transfer the nettle tops into the boiling water, and blanch for 2 minutes. Using tongs, lift the blanched nettles out of the pot and transfer to the iced water to shock them. Strain in a colander, and cut away and discard any large stems.
2. Sauté the shallots and celery: In a 6-quart soup pot, heat the olive oil and butter on a medium heat. Add the chopped shallots and celery, and cook until softened, about 5 minutes.
3. Add potatoes, stock, bay leaf, thyme: Add the chopped potatoes, the stock, bay leaf and thyme. If using unsalted or low sodium stock, add a teaspoon of salt. Bring to a simmer and simmer for 5 minutes.
4. Chop blanched nettles, add to soup pot, add water, simmer: Roughly chop up the blanched nettles. Add 3-4 cups of the chopped blanched nettles to the pot, and enough water to just cover the nettles and potatoes, 1-2 cups. Return to a simmer and simmer for 15 minutes, or until the potatoes are soft and the nettles tender.
5. Puree the soup: Remove the bay leaves (and thyme sprigs if using) from the pot. Using an immersion blender or working in batches with a standing blender, puree. Return to the pot and take off the heat.
6. Adjust seasonings, add lemon juice, add cream: Add salt to taste. Depending on the saltiness of the stock you're using, you may need to add at least a teaspoon or more to the soup. Add ½ a teaspoon of pepper. Add the lemon juice. Right before you serve, swirl in the cream.
Source: simplyrecipes