If you're looking to add a little green to your house, the cactus is a perfect option. Almost all cacti are succulent plants, with a high capacity for absorbing and retaining moisture. This allows these plants to go for extremely long periods in dry and arid climates without requiring any water. Cacti are the ideal house plants for anyone with a busy schedule. They are extremely easy to care for and come in so many different shapes and sizes, many of which bloom colorful flowers. These 15 cacti will easily liven up the aesthetics of your home.
1. Blue Barrel (Ferocactus glaucescens)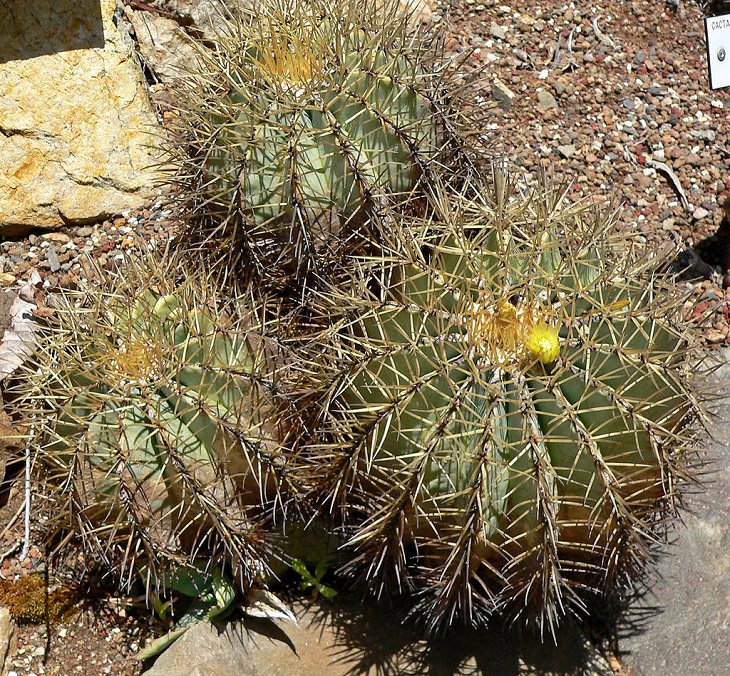 (By Stan Shebs, Wikimedia Commons)
The blue barrel cactus is a flowering plant that grows to at most 1-2 feet in diameter. They usually grow well in solitude and can be identified by the blue-green body and the yellow flowers that bloom. They are endemic to the limestone hills of Hidalgo, Mexico. It requires well-drained soil ad partial shade. In the winter, they need to be kept in dry environments in temperatures above 50°F.
2. Beavertail Pricklypear (Opuntia basilaris)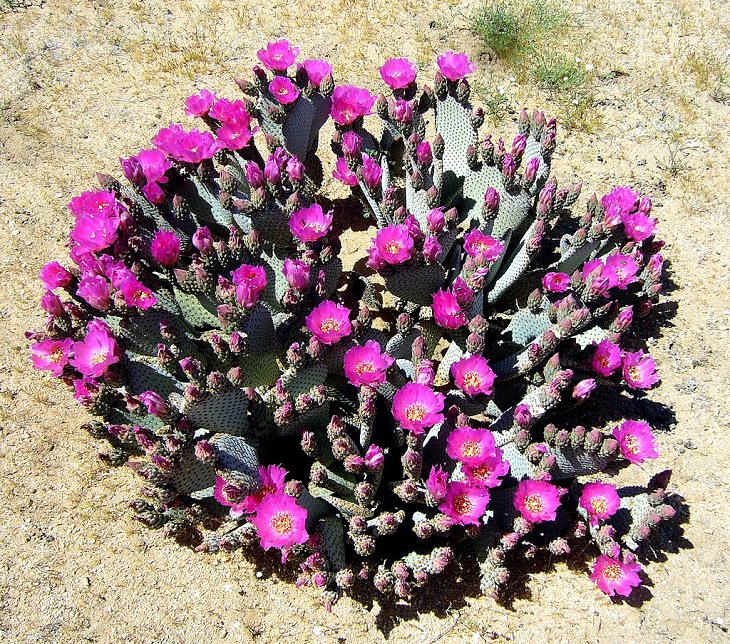 (By Jessie Eastland, Wikimedia Commons)
This is another flower cactus, known for its beautiful pink and purple flowers and elongated body that grows in clumps between 1 and 3 feet in height. It is native to the southwest United States, including the Grand Canyon, the Colorado Plateau, western Arizona, southern Utah, and Nevada, as well as northwestern Mexico. They are highly drought-resistant and grow well in containers.
3. Monk's Hood Cactus (Astophytum myriostigma)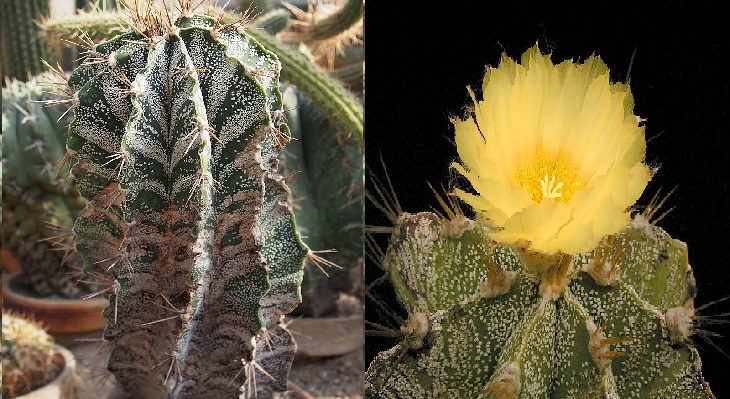 (By Agnieszka Kwiecień, Wikimedia Commons and By Frank Vincentz, Wikimedia Commons)
This cactus blooms gorgeous yellow flowers and is the largest and tallest species in its genus. It is native to the central plateau of Mexico and develops white woolly flakes on its body that protect it from the sun. This type of cactus requires calcareous stony soil and some water but can survive dry conditions. It is tolerant of temperatures as low as 32°F and is known for its long and cylindrical twisted body.
4. Brain Cactus (Stenocactus multicostatus)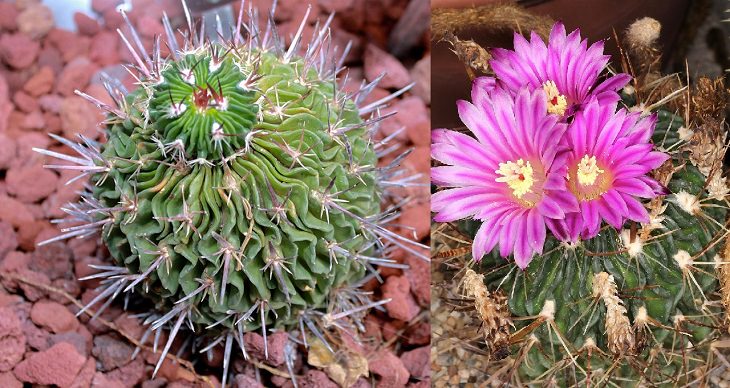 (By Brian Gratwicke, Wikimedia Commons and By Peter A. Mansfeld, Wikimedia Commons)
The brain cactus is an extremely popular house plant, as it is extremely small using growing less than one foot in diameter. They require no one particular soil, only draining mineral potting. It is highly drought-resistant and can survive in temperatures as low as 50°F. From time to time, violet flowers bloom on this cactus plant.
5. Creeping Devil (Stenocereus eruca)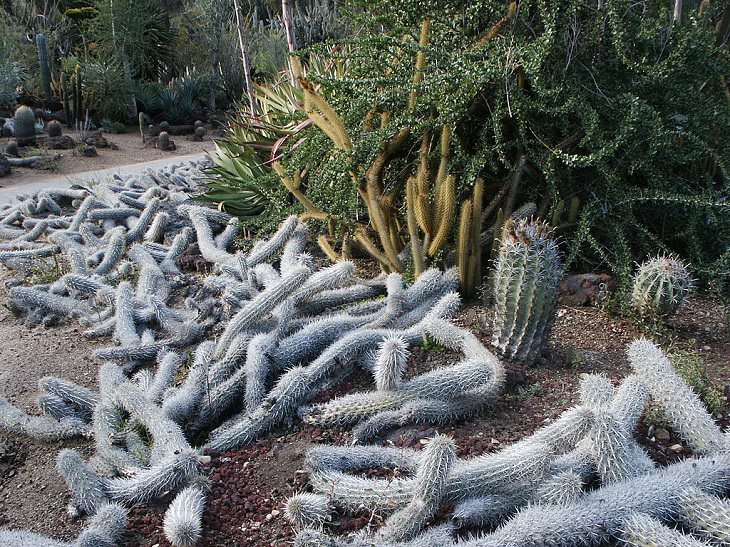 (By Pamla J, Wikimedia Commons)
The creeping devil is a long tubular succulent that contains an organic psychotropic chemical called mescaline, as well as an organic sub-group of steroids called sterols. They have light green bodies and usually grow horizontally making them a great garden addition, especially for keeping away animals. They require sandy soil and bloom white flowers. They are endemic to the central part of the Pacific Coast of Baja California Sur, in Mexico.
6. Cleistocactus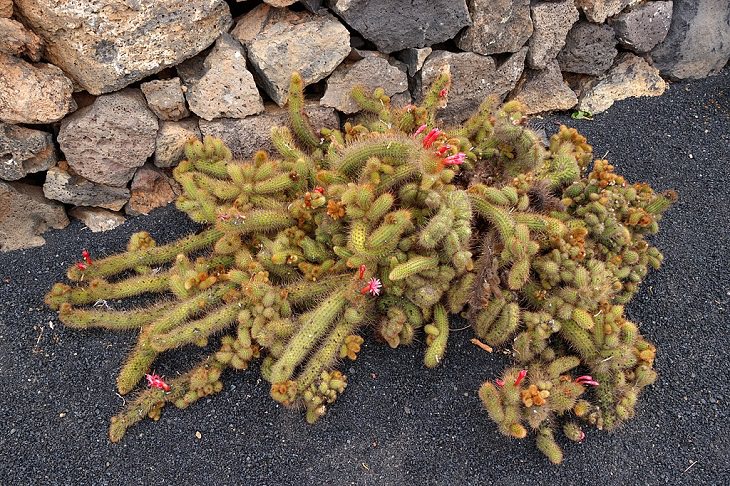 (By H. Zell, Wikimedia Commons)
The cleistocactus is a flowering cactus that is tall and slender, usually growing in clumps. It is endemic to the mountain ranges across the South American countries of Bolivia, Uruguay, Argentina, and Peru. It grows best in well-drained substratum and requires more frequent watering in the summer. They can grow as large as 4 feet in length depending on the subspecies, and they tend to attract hummingbirds.
7. The Holiday Cactus (Schlumbergera truncata)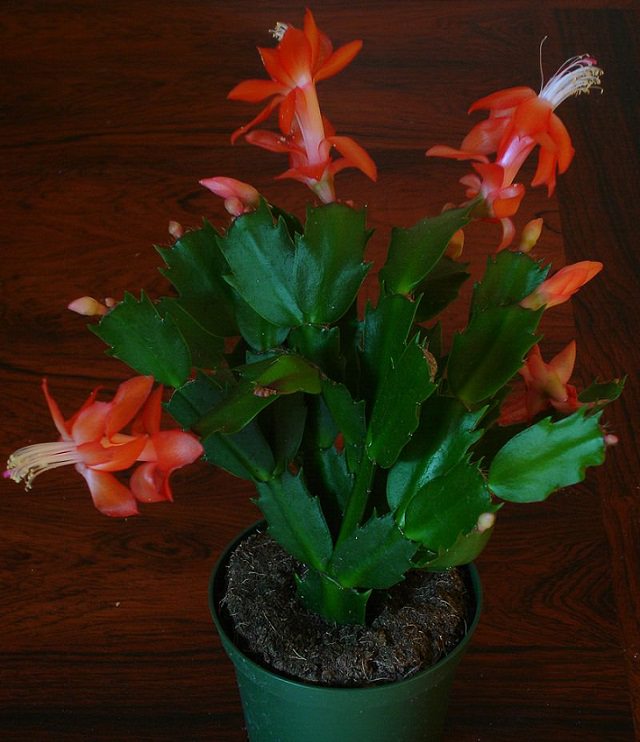 This cactus also goes by the names Thanksgiving cactus and Christmas cactus, and it is a sub-species of the link cactus. They are native only to the tropical moist forests of coastal mountain areas in southeastern Brazil. They are especially popular because of the large and brightly colored flowers that bloom. They grow best in soil treated with sphagnum, a type of moss. They are drought-tolerant and tend to live longer than most other cacti.
8. Brazilian Pricklypear (Brasiliopuntia brasiliensis)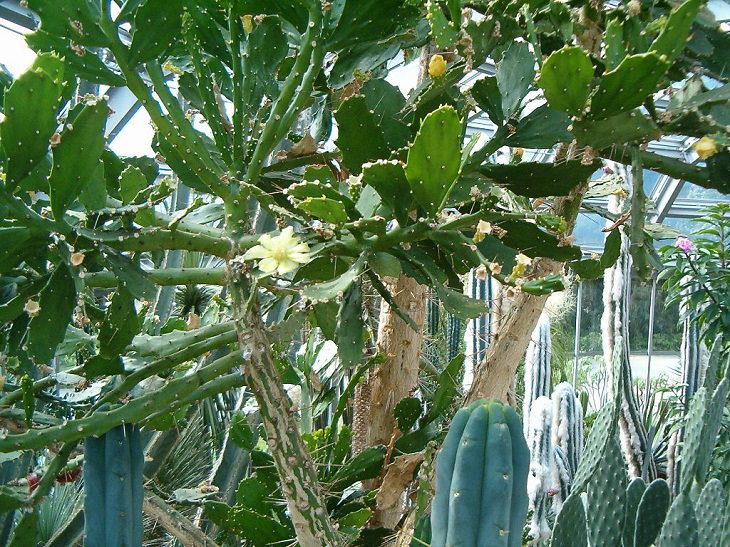 The Brazilian Pricklypear cactus has a cylindrical stem with slightly shrunken flat organs called cladodes arising from the stem. These are a common features of numerous different types of cacti. Light brownish-yellow flowers bloom on this cactus plant. Some types of this plant may also have pink and red flowers. They require very little water and will grow easily in any well-drained soil. It can tolerate temperatures as cold as 28°F.
9. Carmine Cob (Echinopsis backebergii)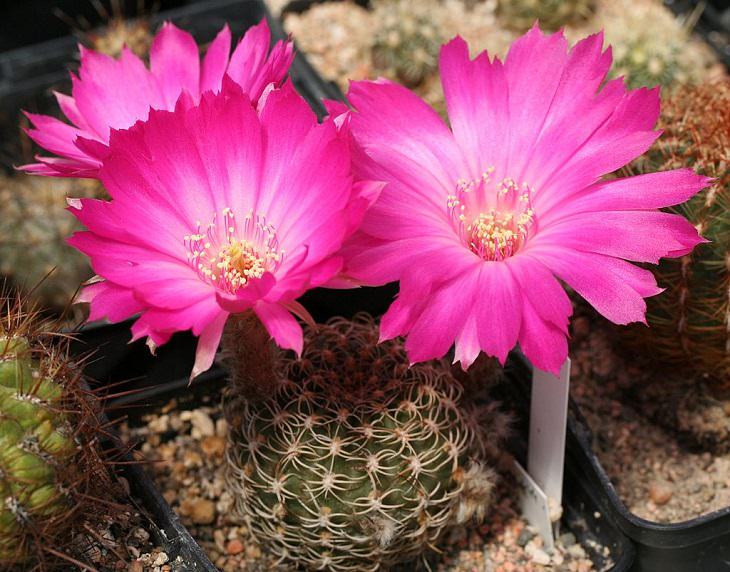 (By Michael Wolf, Wikimedia Commons)
The Carmine Cob is the ideal house cactus, growing no larger than 6 inches and blooming beautiful pink and purple flowers. It has to be watered regularly while growing, and when it matures, this cactus requires full sun. It is also extremely cold-hardy, handling low temperatures of 10°F. They are native only to certain parts of southern Peru and eastern Bolivia.
10. Dwarf Chin (Gymnocalycium gibbosum)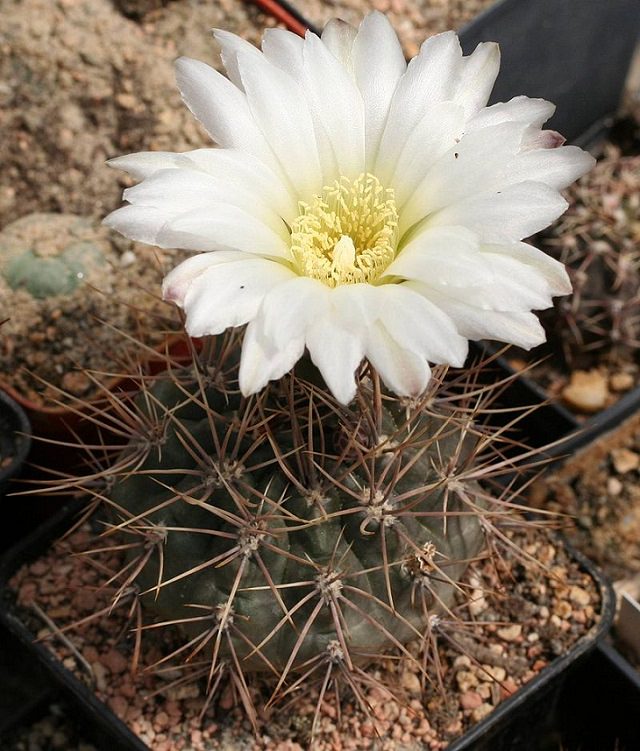 (By Michael Wolf, Wikimedia Commons)
This cactus is endemic to Argentina, and also goes by the name spider cactus. Beautiful flowers with large petals bloom on this cactus. These may be either orange, white, or pink. It requires very little water and only grows up to 6 inches. This small plant is highly drought-resistant and cold-tolerant, requiring minimal maintenance even at 10°F.
11. Bird's Nest Cactus (Mammillaria longimamma)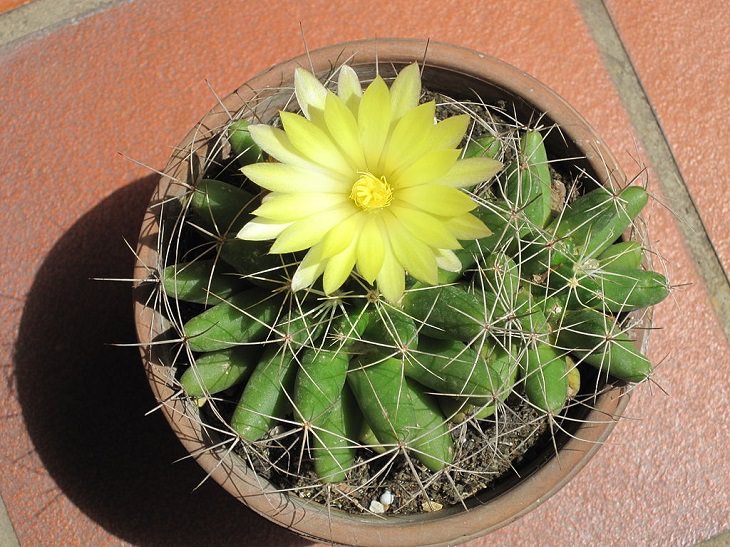 (By Petar43, Wikimedia Commons)
The bird's nest cactus is one of many subspecies of nipple cacti (Mammillaria). It is endemic to the Mexican states of Querétaro and Hidalgo. They are small cacti, growing between 3 inches and 9 inches, and they bloom gorgeous yellow flowers. This cactus requires minimal water, and soil rich in minerals. As they mature, they tend to grow in clusters.
12. Burro's Tail cactus (Sedum morganianum)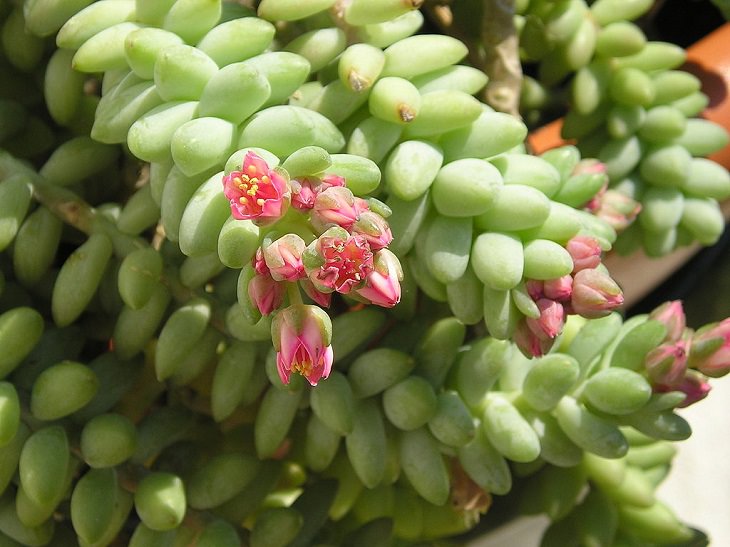 (By Morningdew51, Wikimedia Commons)
Also known as the donkey tail cactus, this succulent consists of small and round blue-green leaves. Pink and red flowers bloom from the leaves in the summer. It grows in the wild solely on cliffs in the tropical deciduous forests in eastern Mexico. It grows best in full sunlight and any well-drained soil. Extreme heat can be harmful to the plant, and during winter, watering must be extremely infrequent.
13. Bunny Ears Cactus (Opuntia microdasys)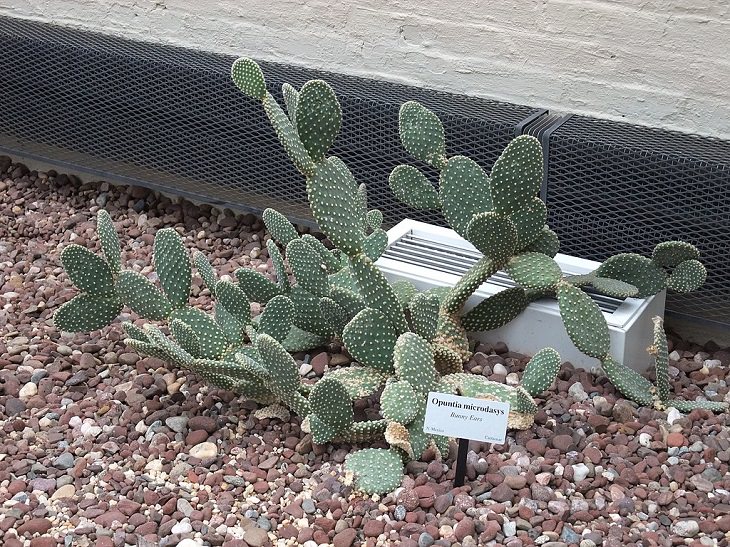 (By Chhe, Wikimedia Commons)
This flowering cactus also goes by names angel-wings cactus and polka dot cactus. It gets its many names from its unique appearance. It has flat cladodes that resemble bunny ears, and numerous small hair-like prickles on the leaves, usually white or yellow, that look like polka dots. Yellow flowers may also bloom from these plants. It is both drought and cold resistant.
14. Claret cup Hedgehog cactus (Echinocereus triglochidiatus)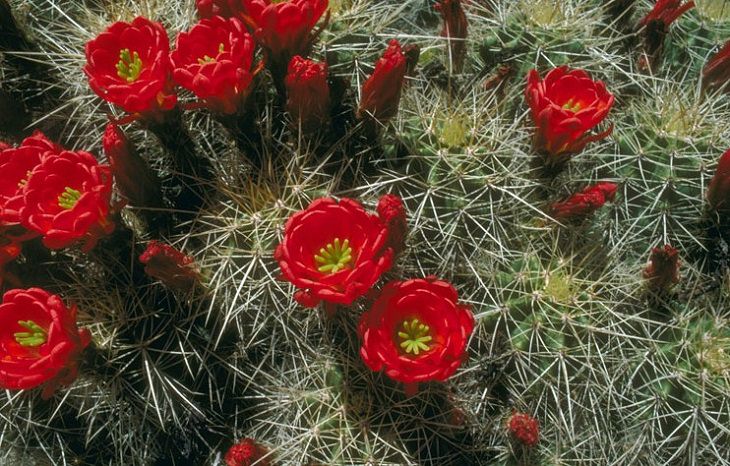 (By Dave Powell, Wikimedia Commons)
The other common names of this subspecies of hedgehog cactus are the kingcup cactus and the Mojave mound cactus. It can survive in a variety of different climates, from deserts to mountainous woodlands. They are widely spread across northern Mexico and southwestern America. Bright red flowers bloom from it during the summer, provided it is watered frequently during this hot season. It is deer-resistant and cold-resistant to temperatures as low as 20°F.
15. Living rock cactus (Ariocarpus fissuratus)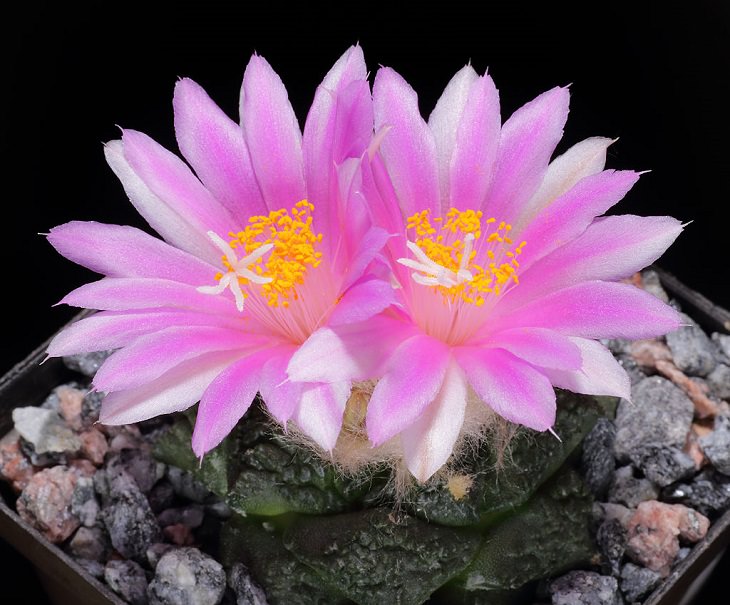 (By C T Johansson, Wikimedia Commons)
This species of cactus grows in solitude and consists of numerous round nodes growing upward from one large taproot. It was once used by Native Americans as a substitute for peyote. It requires full sunlight and sandy soil or non-organic draining soil to grow, with minimal water needs. The pink flowers on it bloom during October and November. They are convenient house plants as they only grow up to 6 inches.