We've heard it sometimes said that pasta is simply an excuse to eat sauce. We don't necessarily agree, and Italians would probably have some pointed remarks for anyone who thinks that's the case, but one thing in that statement is absolutely true: a sauce can make or break a pasta dish, and a good sauce can elevate pasta to gourmet level.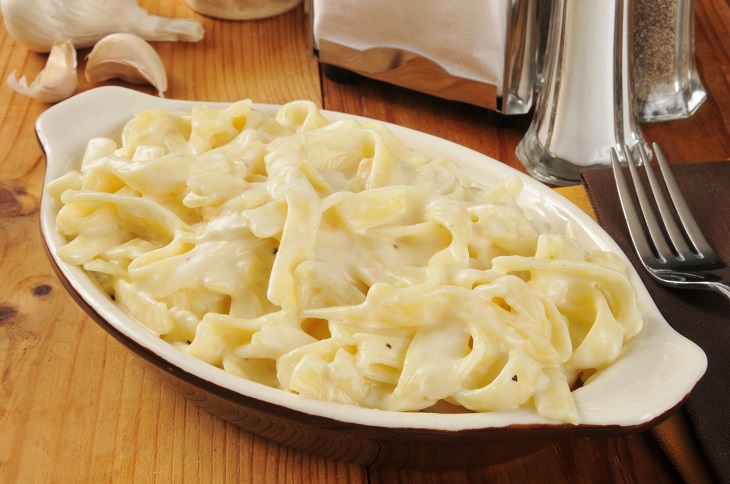 Alright, let's start with what absolutely does NOT belong in an authentic dish of fettuccine Alfredo: whipping cream, chicken, mushrooms and garlic are nowhere to be found in a real Alfredo sauce.
Named after Chef Alfredo di Lelio, who invented the dish in his Rome restaurant in the early 20th century, it calls for three ingredients only: fettuccine egg noodles, butter, and real Parmigiano-Reggiano cheese, and not the pre-grated stuff, either.
Alfredo would famously prepare the dish standing over the customers' table, using golden cutlery to mix the ingredients and using no stove or other heat sources, while a violinist played dramatic music. While it may sound simple enough, there is some degree of artistry to it.
Ingredients:
• 8 oz. unsalted butter, cut into slices
• 4 oz. real Parmigiano-Reggiano cheese, freshly grated at home
• Salt to taste
• About 16 oz. fettuccine egg noodles, either dry or fresh
Instructions:
1. Make sure to grate your parmesan ahead of time, as cooking takes very little time.
2. In a large pot, put water to boil. As it is boiling, prepare a large bowl and lay out the slices of butter in the bottom.
3. Once the water boils, sprinkle some salt and add the fettuccine. Cook for 10 minutes or until al dente.
4. Carefully remove the pasta from the pot, directly into the bowl. Do not drain or strain the pasta, and do not dispose of the water in the pot. Don't be alarmed if water accumulates in the bowl, you want that starchy water, as it forms the basis of the sauce.
5. Coat the noodles with the parmesan and start to vigorously toss the pasta with the cheese and butter using a fork and spoon until the butter and cheese melt and form a sauce. If you're missing liquids, add pasta water from the pot, but be careful not to make it too runny.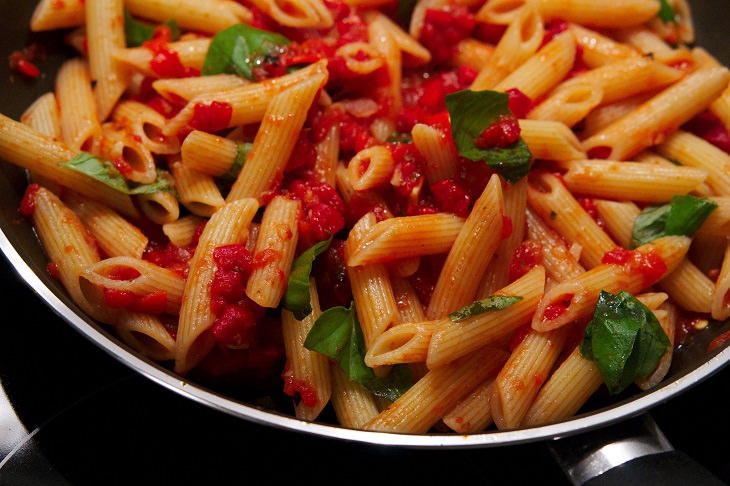 Source:
Michael Fötsch
Out of all Mediterranean cuisines, Italian may be the least spicy but even it has its piquant specialties. Arrabbiata (Italian for "angry", a reference to this sauce's spicy kick) sauce is another Roman dish, an upgraded version of basic tomato sauces that is a must-try for lovers of everything spicy.
Ingredients:
• 2 cans (54 oz.) San Marzano tomatoes, chopped
• 2 tsps. crushed red pepper flakes. Anything from jalapeño to cayenne should work, depending on how spicy you like your sauce
• 6 cloves of garlic, minced
• 1 medium yellow onion, diced
• Bunch of fresh basil leaves, torn
• 2 tablespoons extra virgin olive oil
• Salt and pepper to taste
Instructions:
1. Heat olive oil in a large sauté pan and add onions. Sauté until soft and translucent.
2. Stir in garlic and chili flakes and sauté for several seconds until fragrant.
3. Add tomatoes and bring to a simmer, cook over low heat for about 30 minutes or until it reaches the desired consistency.
4. Stir in salt, pepper and basil leaves and serve. Traditionally, arrabbiata sauce is eaten with penne pasta.