Online shopping is overwhelmingly popular, and while we all know how to ask for a refund at a store and there's always a friendly cashier who'll be happy to explain everything to us immediately, while shopping online, we're all alone with our troubles. One of the most popular online payment platforms is PayPal, which offers the possibility of buying online without flashing our credit card details and going through the lengthy process of filling in all of these details every time you make an online purchase. But what do you do when you need to cancel a PayPal payment or do away with a subscription that you no longer need or want? This is exactly what we'll explain in this article, step by step.
How do I Cancel a PayPal Payment?
Not all Paypal payments can be canceled: completed payments have been already received by your recipient, in which case all further requests for reimbursement should be settled by contacting the company you made your purchase from. If the company is not responding, you can also contact the PayPal Resolution Center for help.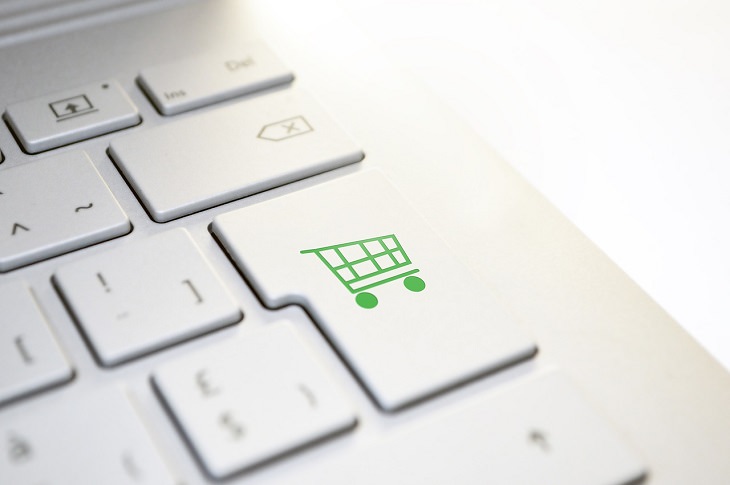 If, however, the payment you issued is still pending, you can get your money back through PayPal. But how do you check the status of your payment? It's simple, here's how.
Step 1. Log in your Paypal account, find the Activity tab on the page, which will take you to a summary of all your recent PayPal transactions.
Step 2. Here you can find and select the transaction you'd like to cancel, and by clicking on the transaction in question, a window with the Transaction Details will appear before you (see image below).

Image Source: Dope ke/ YouTUbe
Step 3. If the transaction is cancellable, it will have the Refund this Payment button below the payment total. Completed payments will not have this button. Simply click on the Refund this Payment button and follow the instructions to cancel an eligible payment.
If you paid with your PayPal balance, the refund will arrive to your PayPal account. Payments made with a credit card, however, will be refunded directly to your card.
How Do I Cancel a Subscription/ Recurring Payment Made Through PayPal?
If you're paying some of your subscription services through PayPal, you can stop these payments directly through PayPal. Canceling a subscription on PayPal is easy, simply follow these steps. Do keep in mind that this will only cancel all future transactions to the subscription service, but will not refund your previous payments.
Step 1. Log into your PayPal account and click on the Settings Section (a cogwheel icon in the right top corner of the window, see picture below for a visual guide).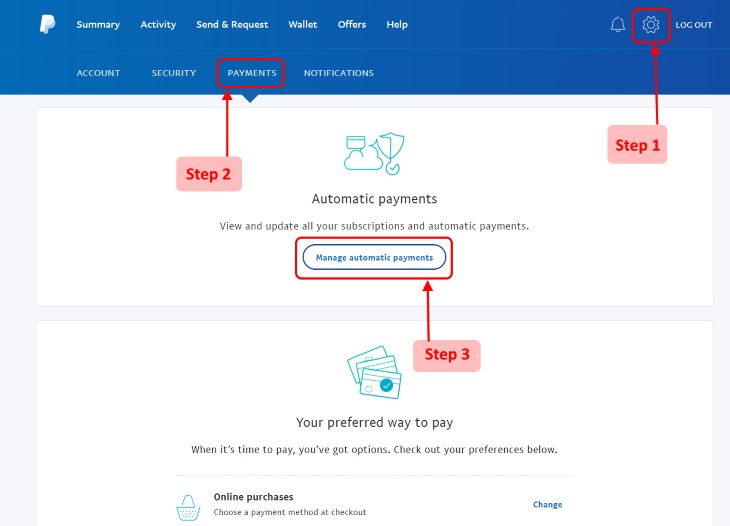 Step 2. In your profile settings, find the Payments tab. One of the sections in this tab is called Automatic Payments, which is what PayPal calls subscriptions.
Step 3. Click on the Manage automatic payments button and select the payment you want to cancel from a list of recurring payments that will appear on the screen.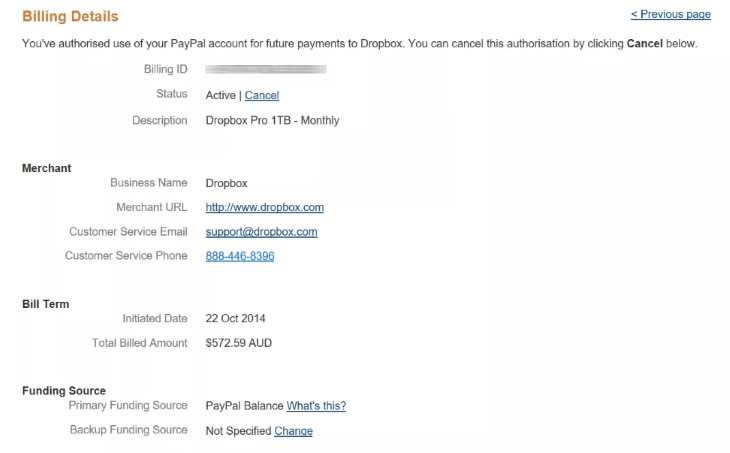 Image Source: LifeWire
Step 4. Clicking the name of the payment in question will take you to a page with all the Billing Details of said payment (like the image above). Here you'll simply need to find and click on the Cancel button (in blue in the image above) to stop the automatic payment. A confirmation window will appear to verify that the payment has been canceled.
Now you know how to get refunds when you shop online, but to elevate your online shopping skills even further, we recommend you check out these Online Shopping Safety Tips as well.