Have you ever seen anything like this? This stunning new adventure park in Denmark is literally taking visitors to new heights. This Camp Adventure Treetop Experience was designed by the architecture studio EFFEKT and offers a unique destination that aims to reconnect people to nature by elevating them high above the treetop canopy. This treetop experience is located in the preserved forest Gisselfeld Klosters Skove. It aims to improve accessibility to the forest without disturbing the landscape.
Click on images to enlarge

The architecture firm unveiled their designs for the project this year as part of an expansion to the current Camp Adventure. This is an existing sports facility with treetop climbing and aerial zip-lines located one hour south of Coppenhagen, Denmark. A wide variety of landscapes are also found in Gisselfeld Klosters Skove, which includes various forest types, lakes, creeks and wetlands. To showcase the diverse environmental landscape, the architects designed a winding 600-meter long treetop walk that sensitively passes through the landscape.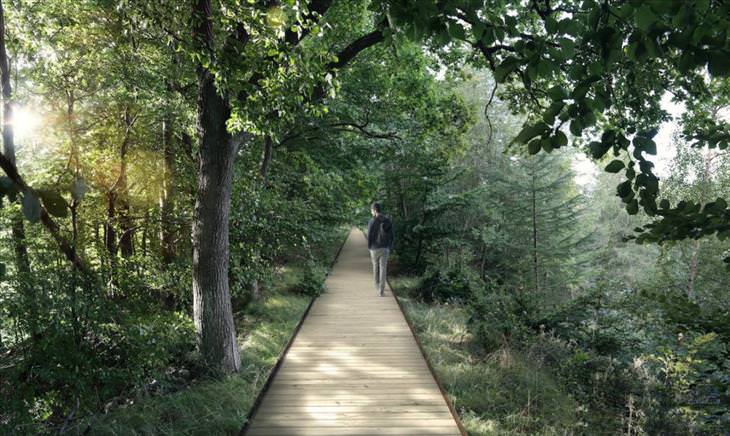 The treetop features two walkways, a higher and a lower, with the former located in the oldest parts of the forest, and the latter, situated in the forest's younger areas. The walk starts off at the Camp Adventure Farmhouse. Here a number of educational features and activities can be seen, including an aviary, a suspended amphitheater and walkway loops for tree observations, as well as a variety of viewpoints.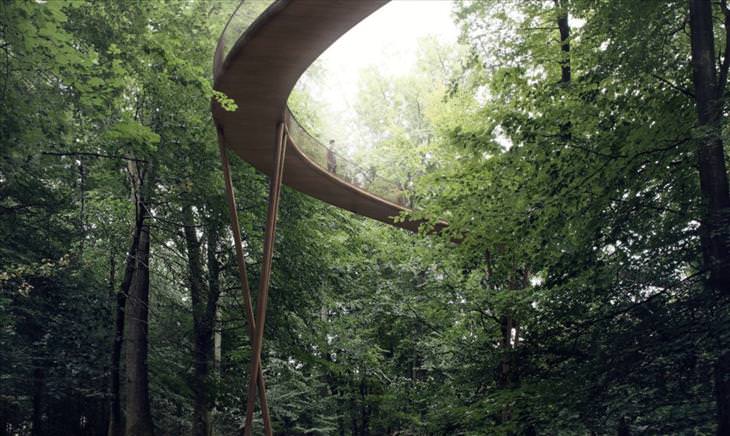 The walkway leads to the star build attraction - a 45 meter tall observation viewpoint platform with an accessible spiraling ramp. The tower's hourglass shape also gives visitors a close-up view of the tree canopy which is wrapped with a structural skeleton made up of 120-degree rotated steel elements. Furthermore, according to the architect, the geometry and spacing of the ramp fluctuates according to the changing curvature. The ramp also becomes a structural element in itself, making the journey to the top a unique experience. The observation offers 360-degree panoramic views of the preserved forest.