This homemade Salisbury steak is so good that you'll be tempted to lick the plate clean after! The hallmark of a great Salisbury is undoubtedly a delicious gravy, and the highlight of this dish is the taste that results from all the gravy's flavors simmering into the meat. Here's how to make your very own at home: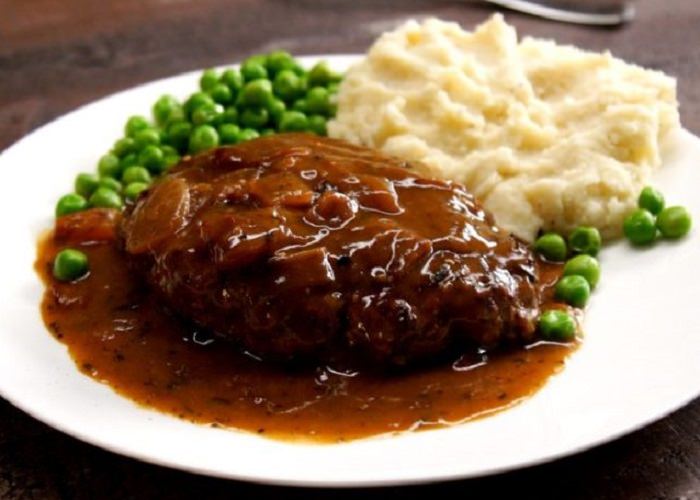 Salisbury Steak (Makes 4 Servings)
Ingredients
• 1 lb ground beef
• 1 egg
• 1 tbsp. tomato paste
• 1 tbsp. yellow mustard (or 1 teaspoon dry mustard powder)
• 2 tbsps. Worcestershire sauce
• ½ teaspoon garlic powder
• ¼ cup dry breadcrumbs
• ½ teaspoon ground black pepper, or to taste
• salt, to taste

Gravy
• 2 Tablespoons butter
• 1 large onion, diced (about 2 cups)
• 2 – 3 Tablespoons flour
• ½ teaspoon dried thyme
• 1½ cups beef broth
• 1 Tablespoon soy sauce
• 3 Tablespoons chopped fresh parsley (optional garnish)

Directions
1. In a large mixing bowl, combine the beef, tomato paste, egg, yellow mustard, Worcestershire sauce, garlic powder, breadcrumbs, salt, and pepper. Mix well, and shape the meat mixture into four oval-shaped patties.
2. Heat a large skillet over medium heat for 1 minute, then add the butter. Place the patties in the skillet and cook them for 4-5 minutes on either side, or until they are well-browned. Remove from the skillet and set aside.
3. Prepare the gravy - add the chopped onions to the skillet and reduce the heat to medium-low. Cook the onions until they are caramelized and translucent – about 15-20 minutes. Sprinkle 2-3 tablespoons of flour over the onions, and stir to coat. Cook the flour-coated onions for a further minute until the flour starts to smell toasty. Add the dried thyme and cook until fragrant - about 30 seconds. Gradually stir in the beef broth and soy sauce, and raise the heat back to medium.
4. Add the seared patties back to the skillet. Bring to a simmer, cover, and cook for 10-15 minutes, or until they're cooked through. Taste the gravy for seasoning (it will thicken more as it cools down). Remove the Salisbury steaks from the heat and serve warm.

Source: tiphero