A cherry clafoutis (pronounced "cla-foo-tee) is a rich custard dessert that is studded with ripe, sweet cherries, and dusted with powdered sugar. While French desserts may sound intimidating, making a clafoutis couldn't be any easier. So go ahead and surprise your guests this summer with this delicious dessert.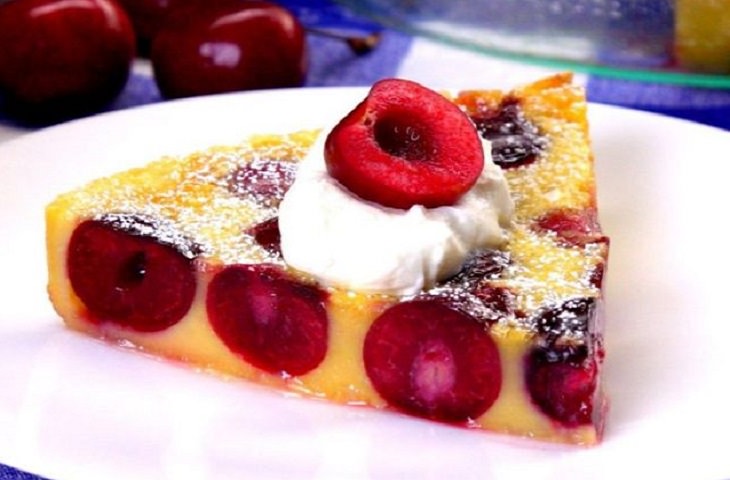 Cherry Clafoutis (Serves 6-8)
Ingredients
• 3/4 pound of cherries, pitted (about 2 cups)
• 1 tablespoon of unsalted butter, softened
• 3 eggs
• 2/3 cup of milk
• 1/2 a teaspoon of salt
• 1 teaspoon of vanilla extract
• 1/4 teaspoon of almond extract (optional)
• 1/4 cup of powdered sugar
• 2/3 cup of all-purpose flour
Method
1. Pit the cherries: remove the stem, and place the cherry on the mouth of a bottle. Using a chopstick, press down through the top of the cherry, and pop the pit out into the bottle.
2. Preheat the oven to 350F.
3. Grease a 9-inch pie pan with some butter, then sprinkle it with one tablespoon of the sugar, turning the pan to coat the sides lightly with sugar, shaking of the excess. Arrange the pitted cherries evenly in the buttered pie dish.
4. In a blender, add the eggs, flour, the rest of the sugar, salt, milk, vanilla extract, and almond extract (if using). Blend on a high speed until the batter is fully mixed and frothy – about 30 seconds to 1 minute. The batter will be very thin.
5. Pour the batter into your pan, and bake until the custard is golden brown and firm - about 30-35 minutes.
6. Once baked, allow the clafoutis to cool slightly, and then dust it with powdered sugar.
Source: tiphero