This tasty lentil chili is filled with smoky spices and has a rich tomato flavor, but it is lighter than the meat-filled version, thanks to the addition of barley sweet butternut squash and hearty lentils. Lentils are the perfect substitute for a meat-free chili, as they cook up earthy and meaty, and there's no browning or precooking needed.
This hearty vegan chili comes together very easily with the aid of a slow cooker. All you have to do is mix the ingredients together, turn it on, and come back to a bowl of delicious and comforting vegan chili.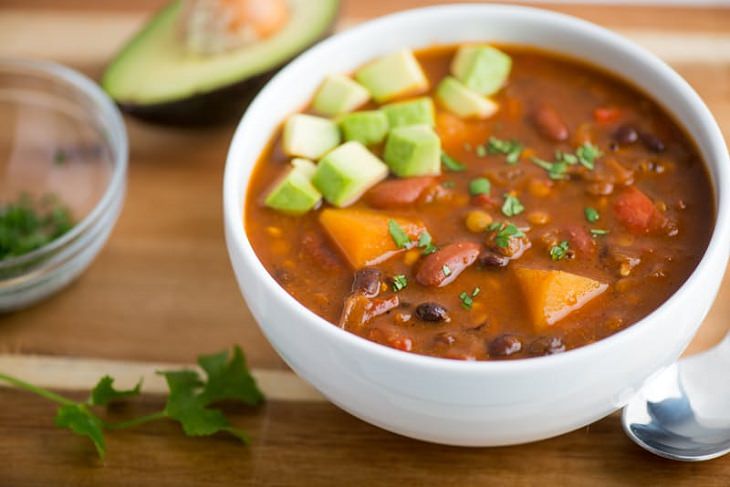 Slow-Cooker Vegan Lentil Chili (Serves 6-8)
Ingredients
• 1 pound large butternut squash cubes (about 1 1/4 inches)
• 1 medium yellow onion, finely chopped
• 1 medium red bell pepper, diced
• 2 cloves garlic, finely chopped
• 2 1/2 cups water
• 1 (14.5-ounce) can crushed tomatoes
• 1 (15-ounce) can black beans, drained and rinsed
• 1 (15-ounce) can kidney beans, drained and rinsed
• 3/4 cup dried lentils
• 2 tablespoons chili powder
• 1 tablespoon ground cumin
• 1 tablespoon olive oil
• 2 teaspoons kosher salt
• 1/4 teaspoon freshly ground black pepper
• Coarsely chopped fresh cilantro and diced avocado, for serving
Method
1. Place all ingredients (except the cilantro and avocado) in a 6-quart or larger slow cooker and stir to combine.
2. Cover and cook until the lentils are tender - 6 to 8 hours on the LOW setting.
3. Stir again and serve topped with cilantro and avocado.

Notes:
Storage: Leftovers can be stored in an airtight container in the fridge for up to 5 days. It can be frozen for up to 3 months.
Source: thekitchn