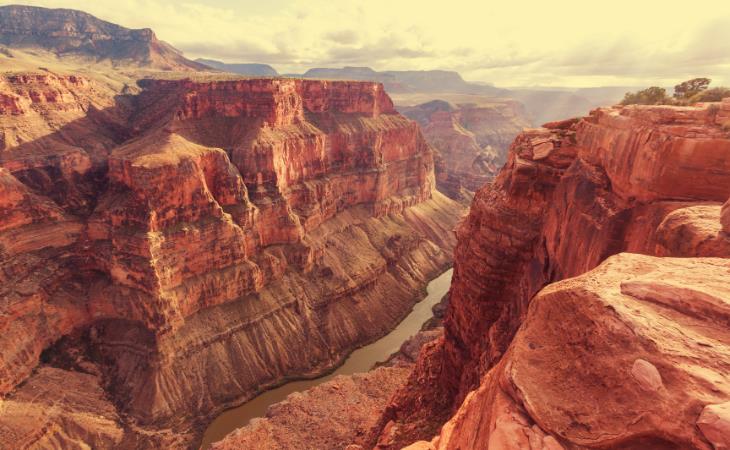 It's never too late to see the iconic Grand Canyon in all its glory. According to a study by Aging in Place, it is the second-most accessible national park in the U.S. The study notes that out of the 133 trails at the Grand Canyon, 14 trails are wheelchair-friendly, making it a great option for the elderly.
Furthermore, the entire South Rim has a paved walkway that can also be driven. However, the North Rim should be avoided by older visitors as it takes a long drive to reach there. Per the park's website, the North Rim is commonly called the "other side" of the Grand Canyon and is only seen by 10 percent of visitors.
Another point worth noting is that the Grand Canyon admits more seniors each year than any other park. One reason might be the easy access to the Canyon Rim trail, allowing visitors to savor the sights of the canyon while staying on a flat, paved walkway.
Best Time to Visit: The months of April and June to avoid the scorching summer highs.
2. Badlands National Park, South Dakota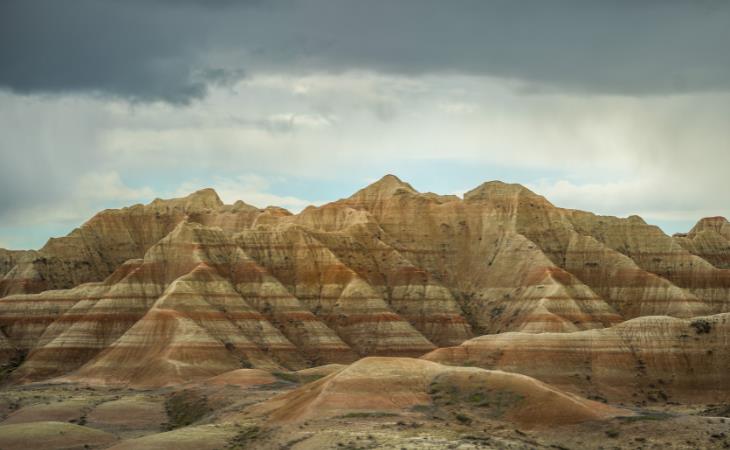 The Aging in Place study found that Badlands National Park in South Dakota is the most accessible national park. It features three wheelchair-friendly trails to explore and has plenty of accessible restaurants. You can see a lot of awe-inspiring scenic views by just driving through the park.
Seniors would love admiring the wilderness area at Badlands. Keep an eye out for bison, deer, pronghorn, bighorn sheep, prairie dogs, elk, and more. One simply cannot miss the stunning fossil beds at Badlands.
Best Time to Visit: The spring and fall seasons.
3. Yosemite National Park, California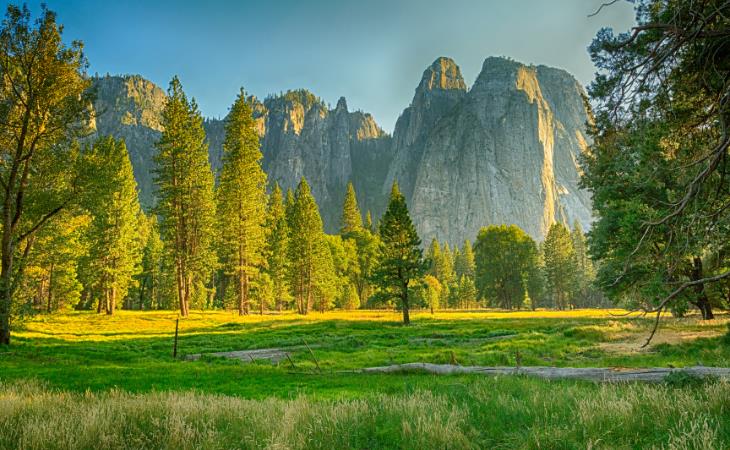 Yosemite National Park needs no introduction. Famous for its waterfalls, deep valleys, giant sequoias, and towering granite monoliths, this park is perfect for seniors. The entire Yosemite Valley is drivable, so instead of walking or hiking, you can view spectacular sights such as Tunnel View, Glacier Point, Yosemite Falls, and Horsetail Falls from parking areas.
Yosemite also has year-round guided bus tours that older adults can try. These include a two-hour Valley Floor Tour and an all-day tour to Tuolumne Meadows and back. If seniors do want to try hiking at Yosemite, it's no big issue, as most of the park's popular trails are flat and circle Yosemite Valley at a low altitude.
Best Time to Visit: November through April to ensure a quiet and crowd-free experience.
4. Acadia National Park, Maine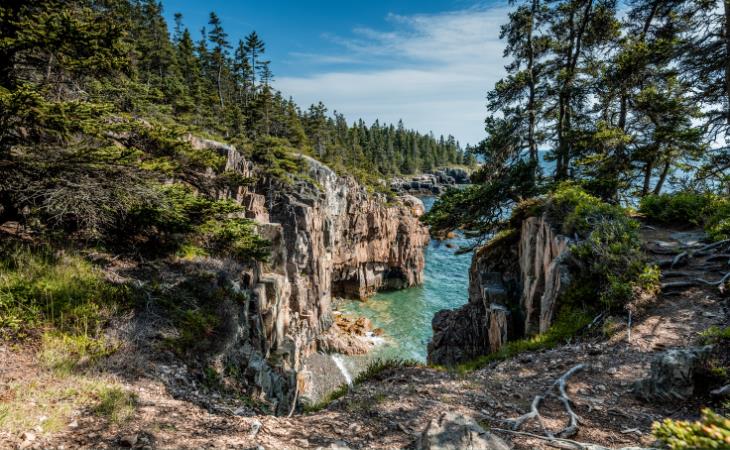 This park in Maine receives 4 million visitors a year, making it one of the most visited national parks in the country. Famous for its beautiful fall foliage, Acadia's landscape is marked by woodland, rocky beaches, and granite peaks.
Seniors who love birdwatching will enjoy the view of the falcons and eagles, among other birds. A quiet stroll along the splendid coastline will be perfect to rejuvenate your mind.
Most of the rugged coastal views here are easily accessible to people of all ages. You can also take a tour around the carriage roads (wheelchair-accessible shuttles are also available) to savor the coastal views.
Best Time to Visit: Mid-October when the leaf-peeping season begins and the weather is crisp and cool.
5. Kenai Fjords National Park, Alaska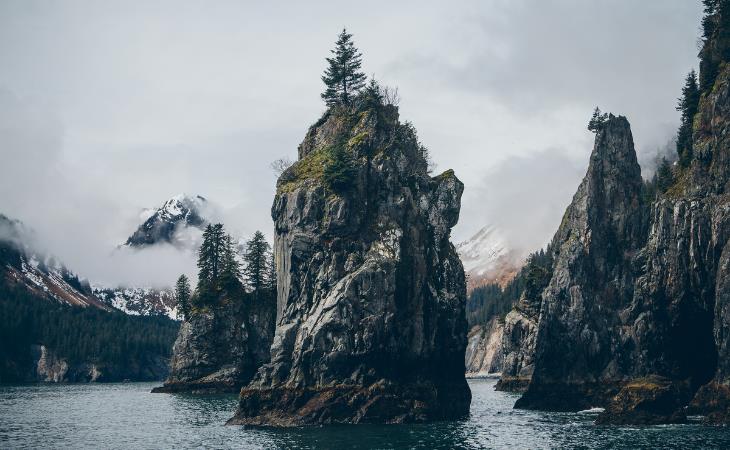 If you're headed to Alaska, make sure to visit the Kenai Fjords, National Park. Unlike other parks in Alaska, this one is easily accessible for older adults. The place is packed with mountains, glaciers, lakes, sea otters, seals, sea lions, and many other interesting aspects of Alaskan wildlife that one must witness at least once in one's life.
Seniors should take a boat ride to comfortably enjoy the incredible marine life of the park. If you're lucky, you may even be graced with the sight of humpbacks and orcas.
Best Time to Visit: In the summer months of June, July, and August, as you will get the best weather.
6. Saguaro National Park, Arizona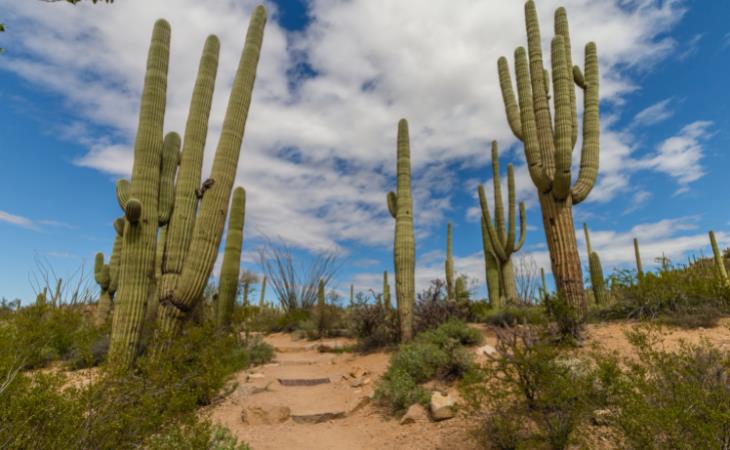 Saguaro National Park is an underrated place that doesn't get as much attention as some of the other famed national parks in America. Lying just outside of Tucson, Arizona, this is an easy-to-visit park that offers terrific views of the scenic Southwest. More importantly, it has a lot of flat trails surrounded by exquisite desert scenery and mountains, allowing you to relish the views without overexerting yourself.
Another good thing about Saguaro is that it offers a driving route through the park. You can also take short walks among the towering cacti. This is a great place to look for wildlife, such as roadrunners, horned lizards, Gila monsters, kangaroo rats, desert tortoises, and collared peccaries from easily accessible trails.
Half a day is all you need to enjoy the highlights of the Saguaro National Park.
Best Time to Visit: The winter (December – February) season because there are fewer crowds and the weather is mild and pleasant.
7. Yellowstone National Park, Wyoming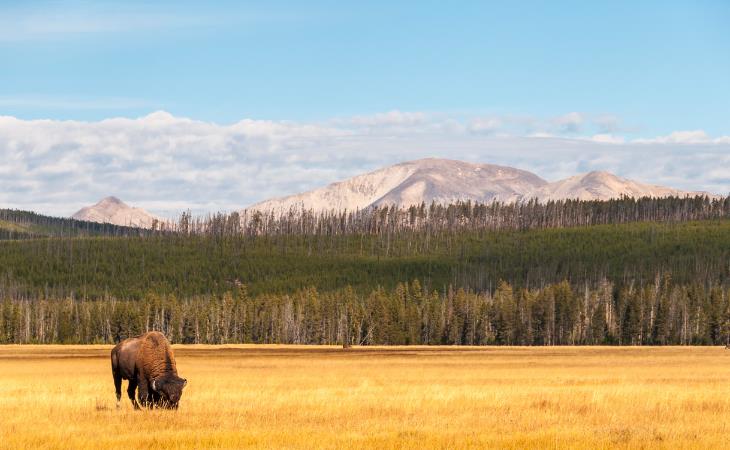 Yellowstone is one of the first and most popular national parks of all. The park is famous for its spectacular scenery, fascinating wildlife, geysers, and hot springs. Experts say that older adults should consider visiting Yellowstone, as it is wheelchair accessible and doesn't require much effort to see the best sights. The main attractions here have flat steady boardwalks that many seniors will find helpful. Attractions like Old Faithful and Grand Prismatic Springs don't require much trekking too.
Also not to be missed is Yellowstone's majestic wildlife. The park is home to more than 200 species of animals, including elk, mule deer, bison, moose, bighorn sheep, pronghorn, grizzly bears, and bald eagles.
Best Time to Visit: In April, September, and October. The place is not overcrowded during these "off-season" months, and you get more chances to catch a glimpse of the local wildlife. Plus, the weather is good enough to stroll around.
National Parks Senior Pass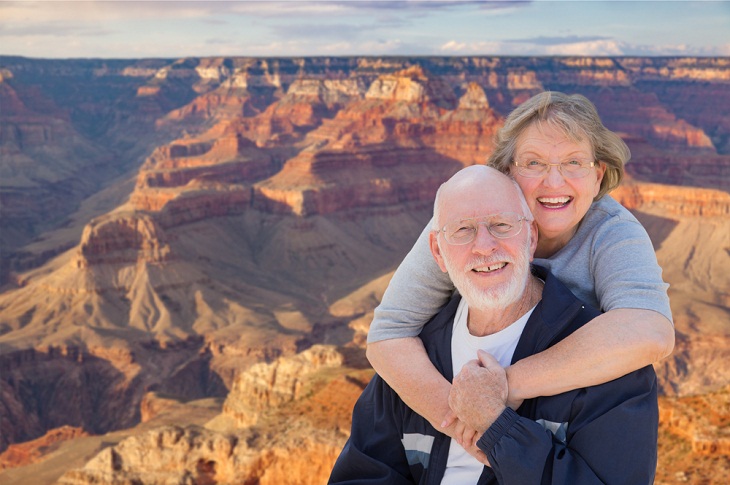 One great perk of being a senior is that they get discounts and special rates for a variety of things, including concessions for visiting national parks. The National Parks Senior Pass is available to both citizens and permanent residents over 62. A Senior Pass will allow older adults the opportunity to visit sites of spectacular natural beauty and history for only $20 a year. They can also get a lifetime pass for $80.
Each pass covers entrance fees at national parks and national wildlife refuges, along with standard day-use fees at national forests and grasslands. There's more. The pass allows a senior to bring in up to three other adults for free (plus as many kids under 16 as you can fit) into one non-commercial car.
What's more, the Senior Pass provides the elderly with a discount on camping fees, boat launch fees, and guided tours at many sites.
Share this post with your loved ones!