Istanbul is a unique city in many ways. Not only is it the largest city in Turkey, but it is also known to be the only city in the world that is technically both in Asia and Europe. Here, you will literally feel that East meets West and get to savor the ancient and modern worlds at the same time.
Once the capital of the Ottoman and Byzantine empires, modern-day Istanbul is famous for its social and cultural richness: old churches, mosques, and synagogues can often be found in surprising proximity to each other. However, apart from the many magnificent monuments that are dotted throughout the city, and the beautiful natural landscapes, you can also cherish the colorfully chaotic bazaars and enjoy its friendly way of life.
Here, we have presented some pictures that show how life in Istanbul is so special and wonderful. It's truly a city of many magical contrasts! Take a look.
See Also: 20 Reasons You Can't Say No to Visiting Turkey
1. The locals here often build insulated houses for homeless cats.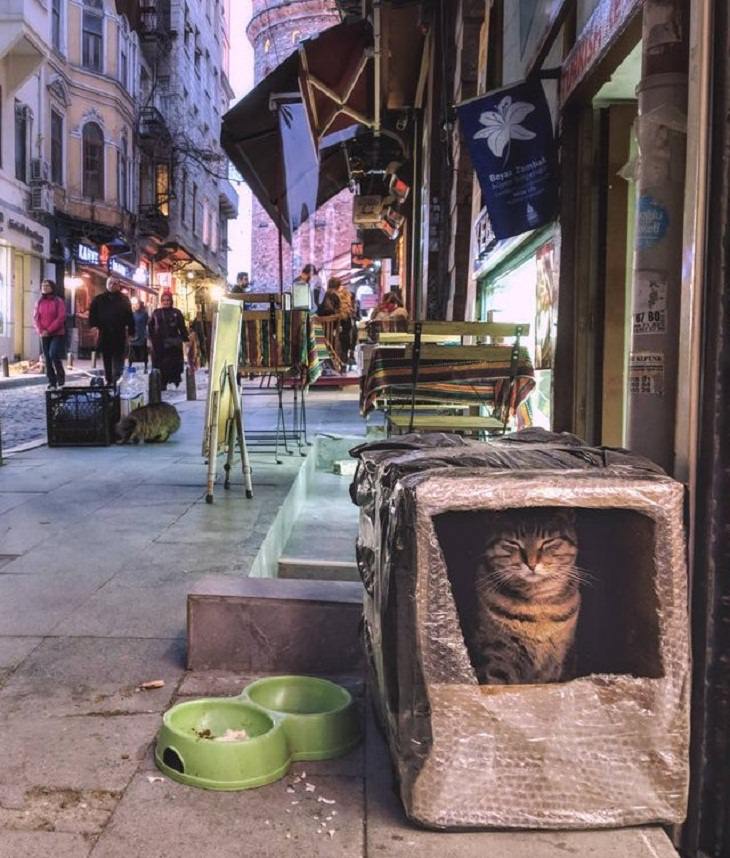 2. A spectacular view from the Istanbul University library!
3. While the summers in Istanbul can be pretty warm, the winters are quite cold, and sometimes it even snows!
5. There are about 3,000 mosques in Istanbul. This one - Marmara Üniversitesi İlahiyat Fakültesi Camii - has a pretty unusual structure from inside.
8. No, that's not a church. It's a train station in Istanbul!
9. Here's another beautiful example of how the locals in Istanbul take care of animals. These smart feeders for street dogs and cats have been installed around the city. Amazingly, the feeder is combined with a bin for recyclable waste. So every time someone throws garbage in the trash can, food for stray dogs and cats spills out from the tank to the bowl.

10. Even the doors of local homes in the city can be works of art!

11. Maiden's Tower, also known as Kizkulesi, is an iconic landmark on Istanbul's skyline. While the exact date of its construction is unknown, historians believe its architectural style resembles structures from around 340 B.C. Over the centuries, the famous tower has served many purposes - a merchantman tax collection center, a defense tower, a quarantine hospital, a lighthouse, and even a radio station. Today, it remains a famous tourist attraction.
12. A strong thunderstorm casts a spectacular sight over Istanbul.
13. Breakfasts in Istanbul can be pretty lavish!

14. You can often come across such unique sights on an Istanbul city bus.
15. Istanbul can be such an amazing city of contrasts...