Now that winter has set in and the temperature is beginning to drop, maybe it's time for a visit to the Sunshine state (which remains at least partly sunny even in these colder seasons). Of course, the infamous St. Augustine, a historic city located in northeastern Florida, is a great place to visit any time of the year. This city has been the focal point of numerous historical events and has survived invasions by pirates, the Spanish, the English, and the Union forces during the Civil War. It was a popular destination for the rich to visit, became a major sight of unrest during the Civil Rights Movement, and today stands as a monument to history, bearing on its lands these 20 beautiful monuments to history.
1. The Fountain of Youth Archaeological Park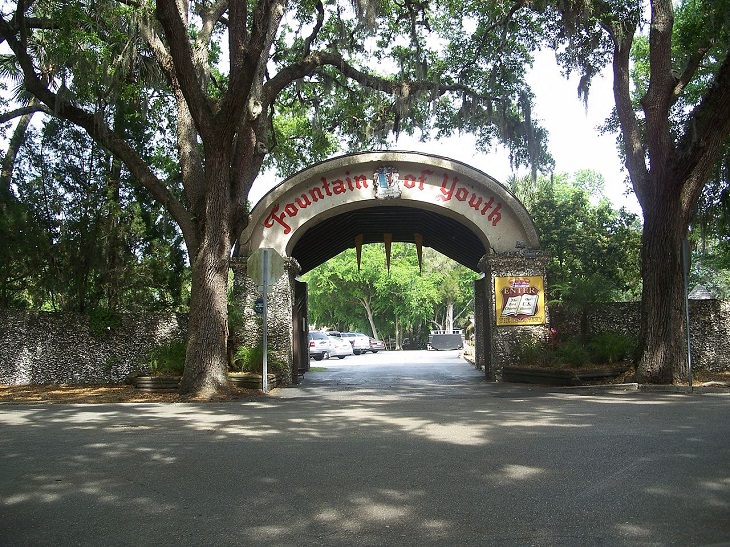 (By Ebyabe, Wikimedia Commons)
This 15-acre private park can be found along the Intracoastal Waterway and is believed to be one among the many landing sites in Florida marked by Spanish explorer, Ponce De Leon. It was the home of the first Spanish settlement in Florida and contains a freshwater source, allegedly thought to be the rumored Fountain of Youth.
2. The Avero House, now home to the St. Photios Greek Orthodox National Shrine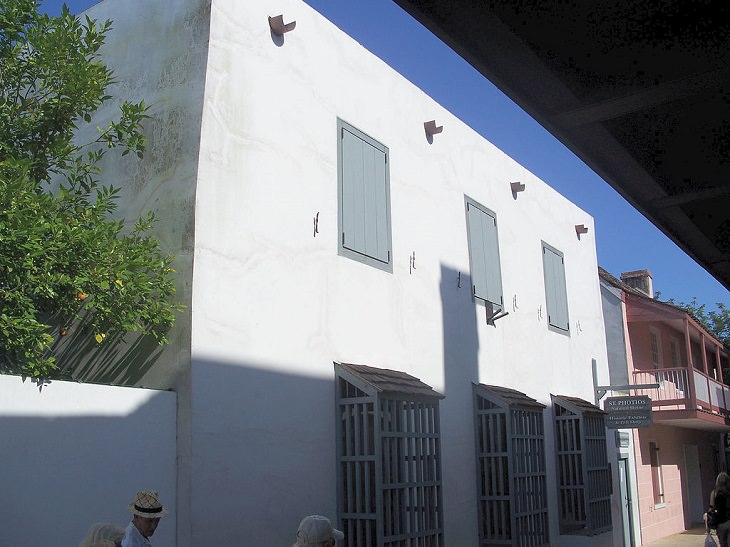 (By Ebyabe, Wikimedia Commons)
This historic house is one of 30 remaining houses within that district, whose building was pre-dated to the early 1800s. Located at 41 St. George Street, it was once the home of a Minorcan Chapel. Today it stands as a shrine belonging to the Greek Orthodox Diocese. As of 1972, it has been listed under the U.S. National Register of Historic Places.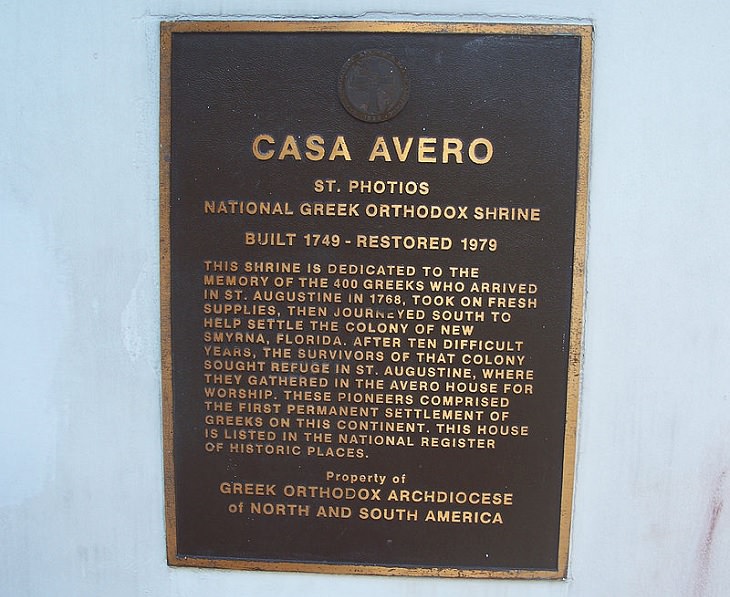 (By Ebyabe, Wikimedia Commons)
3. Lightner Museum and City Hall, now housed in former Hotel Alcazar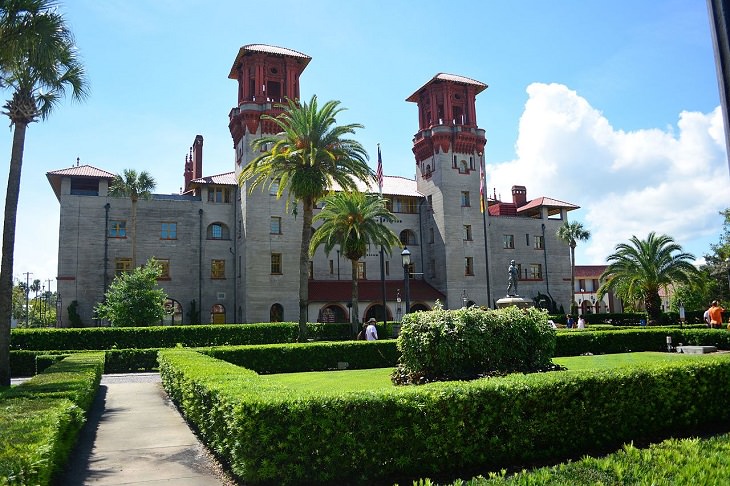 (By David Gutierrez, Wikimedia Commons)
Housed within what was formerly well known as Hotel Alcazar, the Lightner Museum is home to endless antiquities from the American Gilded Age and maintains an entire Victorian village within its walls, and even a music room containing instruments from the late 1800s. It is also listed under the U.S. National Register of Historic Places.
4. Oldest Wooden Schoolhouse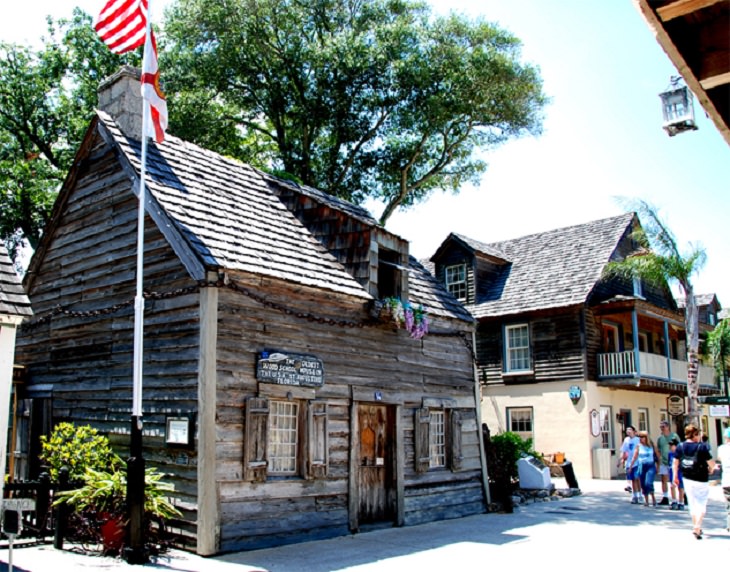 (By Shreeg88, Wikimedia Commons)
As the name would suggest, this particular structure is an old wooden school located at 14 St. George Street. Made of red cedar wood and bald cypress, the exact year in which this building was constructed is unknown, but tax records indicate it has been around since prior to 1716. It is open to tourists all year round and even has an animatronic teacher to take you on a self-guided tour.
5. A Medici Lion, after transfer and renovation, on the Bridge of Lions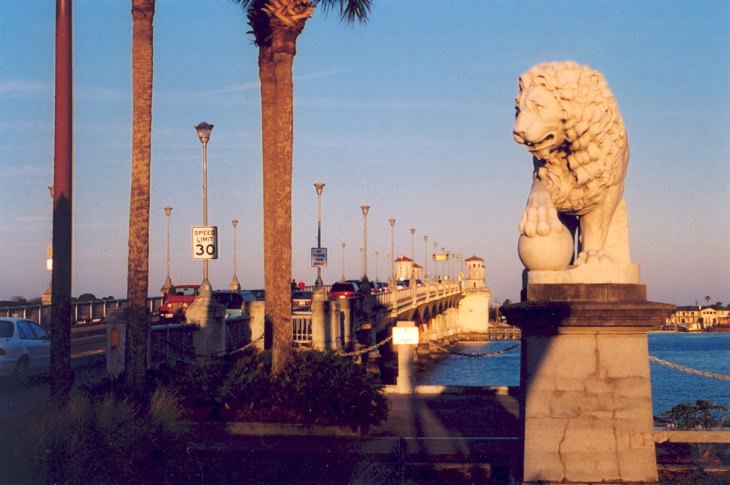 This beautiful bridge spans the Intracoastal Waterway, crosses Matanzas bay and connects downtown St. Augustine to the beautiful Anastasia Island. It even holds a pair of perfect replicas of the marble Medici Lions from Italy, guarding the entrance of the bridge. It was listed as 4th in the nation's top 10 bridges in 2010.
6. Castillo De San Marcos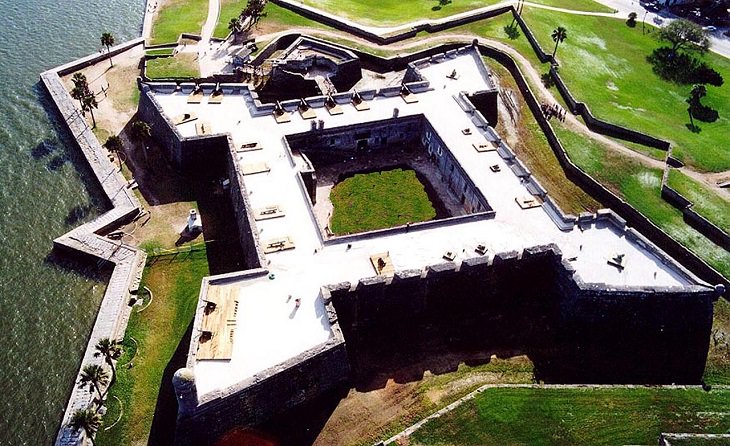 (By National Park Service, Wikimedia Commons)
Located on the western shores of Matanzas Bay, this 20-acre expanse is the largest and oldest fort for masonry in the entire country. Since its construction in 1695, this fortress has been under the control of many different parties, attacked numerous times, and even besieged twice. It was declared a National Monument in 1924 and is now under the guardianship of the United States National Park Service.
7. Old St. Johns County Jail (The old jail)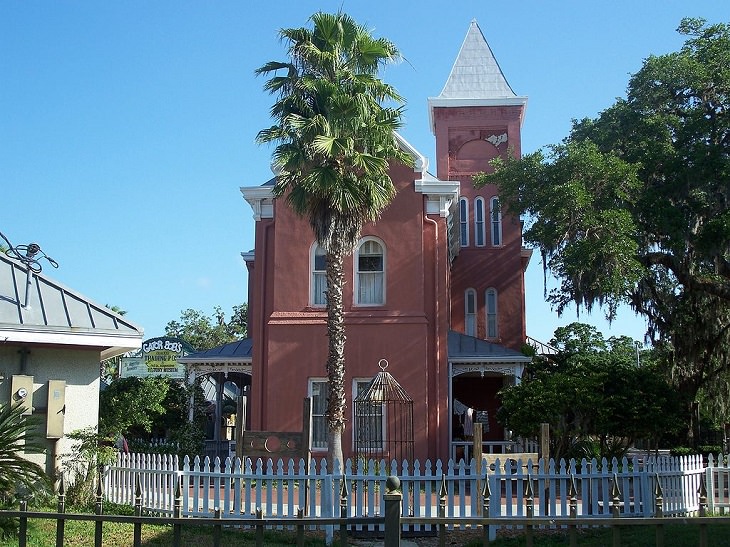 (By Ebyabe, Wikimedia Commons)
This Old Jail, also known as the Authentic Old Jail, located at 167 San Marco Avenue, is yet another location listed on the US National Register of Historic Places. It has long since ceased being an actual imprisonment center and is now the Old Jail Museum, which consists of restored replicas of the jail cells, the sheriff's living quarters, as well as a guided tour with costumed characters. Visitors are even allowed to enjoy a tour at night.
8. Fort Matanzas National Monument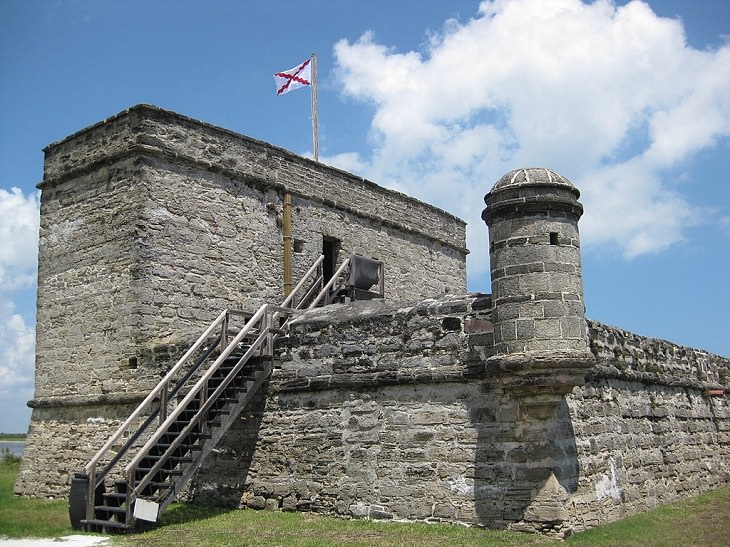 (By Intergalacticz9, Wikimedia Commons)
Another US National Monument, as of 1924, this stunning Spanish fort was built in 1740 and stretches across approximately 100 acres of the shore of Matanzas River, covered in salty marshlands and barrier islands. This monument and the Castillo de San Marcos are together run by the US National Park Service and is also listed on the National Register of Historic Places.
9. Colonial Quarter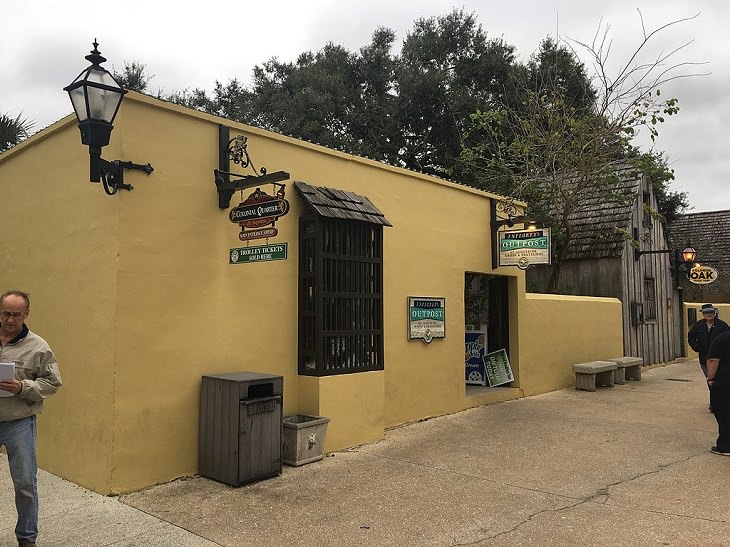 (By LittleT889, Wikimedia Commons)
The Colonial Spanish Quarter, as you can guess, was once the quarters for visitors from Spain, but is now a living museum dedicated to depicting the ins and outs of life in St.Augustine. It is adjacent to and shares an owner with, the Pirate Soul Museum. After heavy renovations, it is now a fantastic picnic spot and one of the city's premier location for live music.
10. St. Augustine Lighthouse & Maritime Museum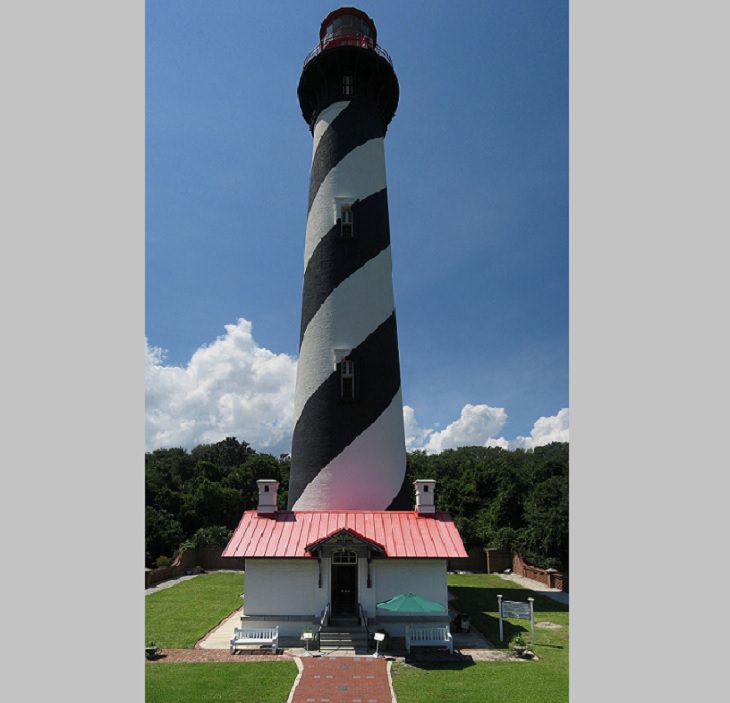 (By I, Jonathan Zander, Wikimedia Commons)
Also known as the St.Augustine Light Station, this beauty is an active lighthouse and an aid to navigation, owned by St. Augustine Lighthouse & Maritime Museum, Inc., a not for profit maritime museum. The museum itself is open to visitors all year long and also funds and organizes maritime programs in traditional wooden boat building and other maritime activities and educational fields.
11. Roman Catholic Diocese of St. Augustine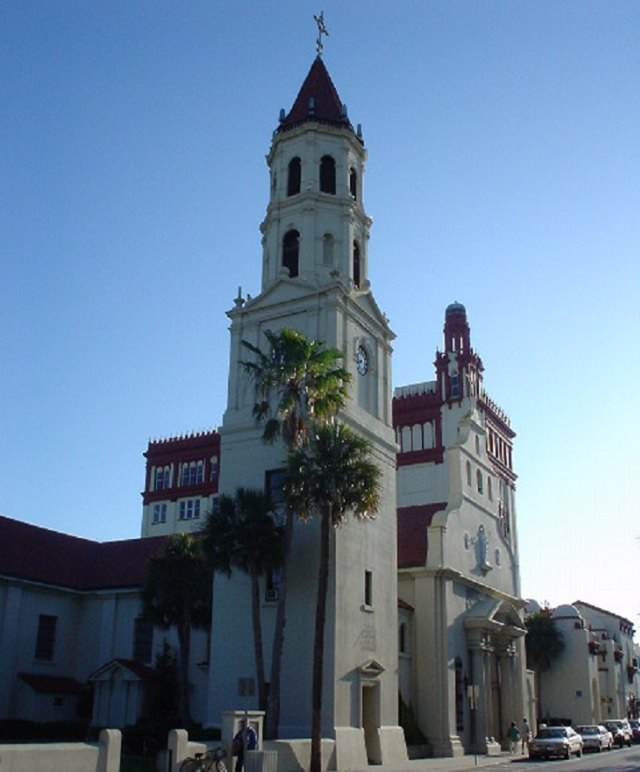 (By Wikiwopbop, Wikimedia Commons)
This Diocese is part of the Catholic Church's Latin Church and within the Ecclesiastical Province of Miami. This structure is also known as the Cathedral Basilica of St. Augustine and is the home of the Bishop's seat. The diocese of St. Augustine was formed in 1870 and now covers most of the peninsula of Florida. There are currently 52 active parishes in the Diocese of St. Augustine.
12. Nombre de Dios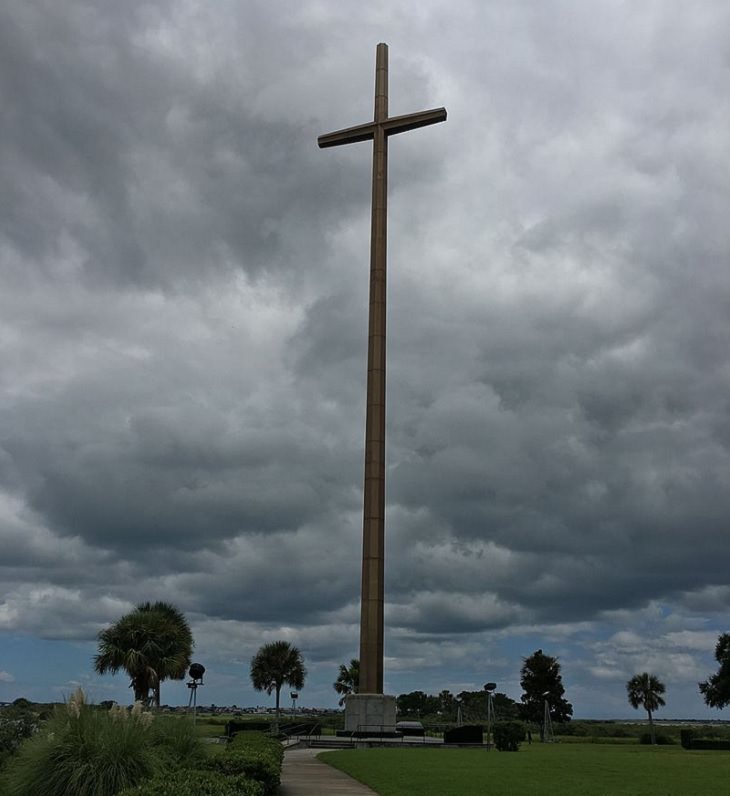 (By Glemmen1, Wikimedia Commons)
On the west side of Matanzas Bay, you'll find this stunning structure, the Nombre de Dios mission, a Spanish Catholic mission that served in nearby villages in the 16th and 17th centuries and was at the apex of evangelistic efforts in the continental US. The cross that towers above it stands at 208 feet and is made of pure stainless steel. The mission also now has a museum, exhibiting artifacts from the early days of the diocese of St. Augustine, as well as the casket of the founder of the mission.​
13. Flagler College, formerly the Ponce de Leon Hotel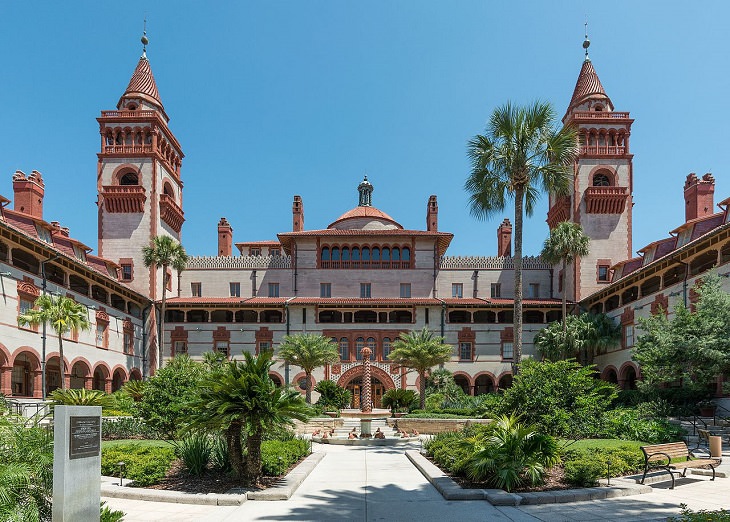 (By DXR, Wikimedia Commons)
A private liberal arts college opened in 1968, Flagler college offers 33 undergraduate courses and 1 postgraduate course. This institution, which now stands in what was once the Ponce De Leon Hotel, has been ranked 8th among Regional Colleges in the south. Proctor Library, located on the campus, is home to over 100,000 written texts and half a million digital books.
14. Villa Zorayda Museum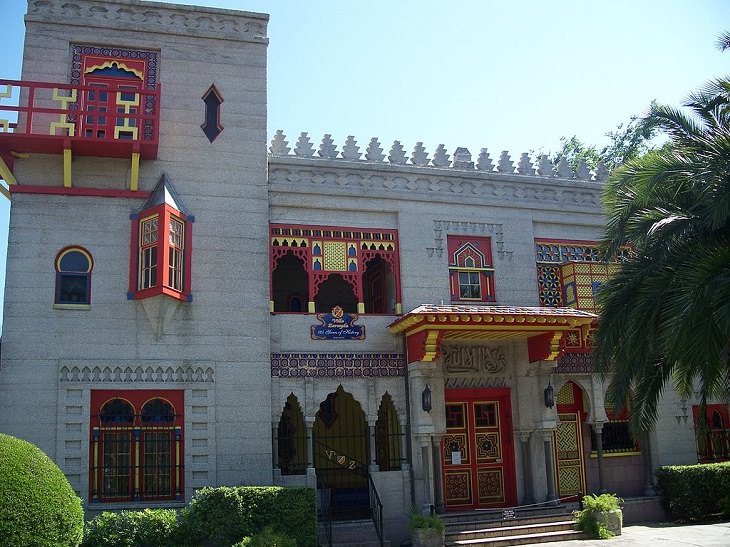 (By Ebyabe, Wikimedia Commons)
Located at 83 King Street, this house was built by eccentric Boston millionaire Franklin W. Smith, in 1883 as a winter getaway. 30 years later it was sold to a Syrian rug and antiquities dealer, who remains the owner to date. It now houses the collection of art and antiques that once belonged to both owners of the house. It is also listed under the US National Register of Historic Places​.
15. The Spanish Military Hospital Museum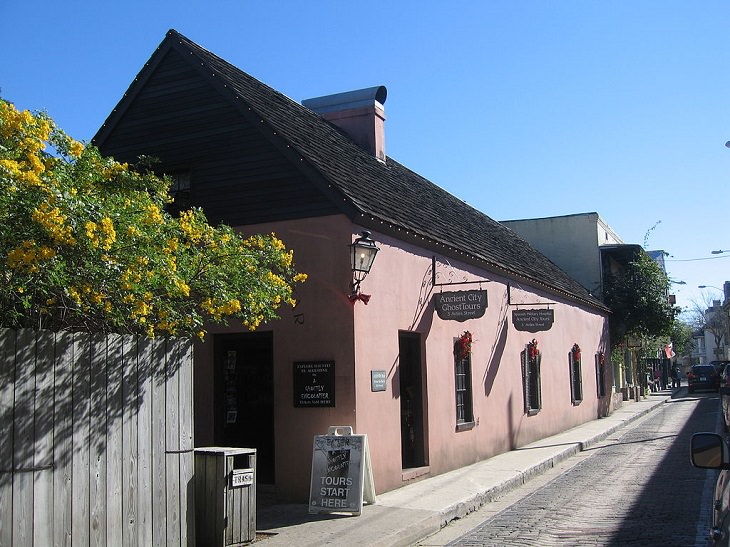 (By Leonard J. DeFrancisci, Wikimedia Commons)
Finally, if you head on down to 3 Aviles Street, you'll find one fascinating piece of not only the country's history but the history of medical practices as well. This museum caters specifically to information and artifacts concerned the medical practices brought about during the Second Spanish Period, in the late 18th century and early 19th. The tour includes demonstrations in surgery and the use of apothecary, as well as a walk to the garden of medical herbs. It's open every day from 9 am to 5 pm.