How often has the following scenario happened to you? You grab your favorite necklace to complete the outfit you're wearing, only to find out that because you tossed it away last time you wore it, it is now tangled beyond repair. However, there's a perfect way to prevent those pesky knots from stopping you accessorizing the right way.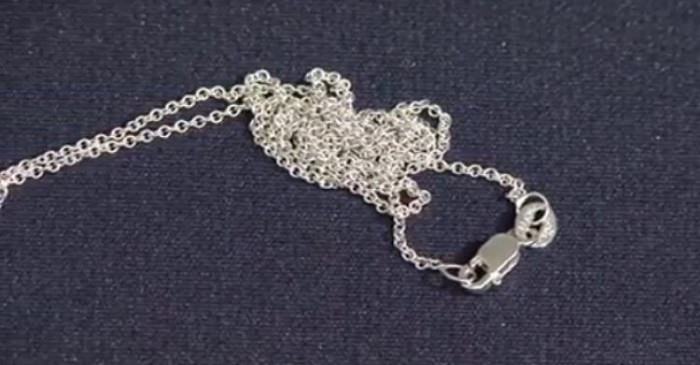 All you need to rectify a knotted chain is a couple of sewing needles and one secret ingredient - one we bet you have sitting at home in your kitchen or bathroom closet right now.
The secret ingredient? Oil, which means olive oil, vegetable oil, or even baby oil. Any oil will help separate the pieces of the chain and loosen the knot. You'll also need needles to help you extract the knot once it has been loosened sufficiently.
A good trick is to place the chain down on a flat surface. Holding the chain in the air is only going to worsen the problem: You'll be fighting against gravity and the knot will actually tighten up.
Once the knot has been defeated, all you need to do is soak the chain in a mixture to get the oils off the metal. Make sure that you just dip the previously knotted section in the mixture. If you submerge it completely, you risk getting the necklace entangled all over again. Pat dry with a lint-free towel and wear your necklace with pride.
For a demonstration of how this is done, and to find out what the mixture mentioned above is made out of, check out the video below:
Source: tiphero