The Benefits of Adding Baking Soda to Your Laundry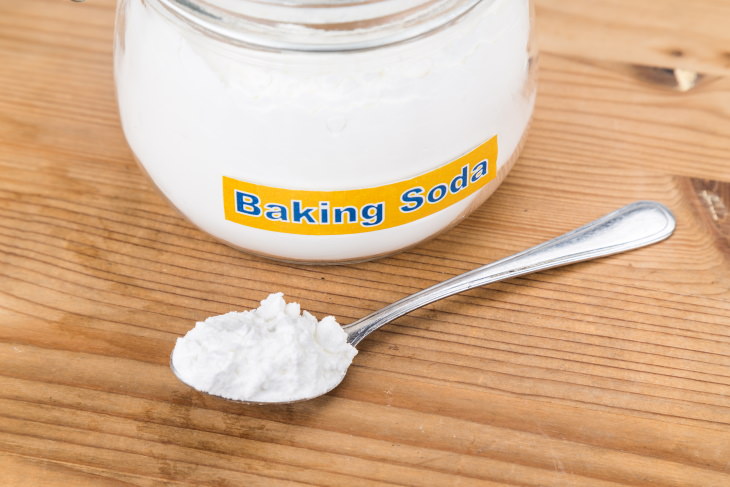 1. Removes stale and musty smells
In our experience, baking soda is the most affordable and effective way to remove unpleasant smells from clothing. It works for stale, musty smells, as well as sweat and cigarette smoke odor. Body odors and musty smells usually come from microbes clinging to the fabrics. Detergent dissolves that buildup, but it's not always able to remove it from the fabrics. When you add baking soda, which is gently abrasive, it works by removing the odor-causing buildup from the fabrics.
2. Softens fabrics
Does your clothing always come out stiff from the washer? A fabric softener can be used to remedy that, but it can accumulate on the clothing over time and contributes to that unpleasant musty smell, so it's not the best option. Baking soda can also soften fabrics because it regulates the pH level of the water and prevents mineral buildup from depositing on clothes, which can make clothing feel stiff. Therefore, baking soda is a natural fabric softener that gives your clothing a soft feel without masking any odors or imparting any harsh chemicals.
3. Brightens white fabrics
Baking soda can naturally brighten white clothing, removing any yellow or grey hues that appear on white clothing with wear. But don't worry, you can also use it on colorful and black items. Baking soda doesn't bleach clothing, so it's safe to use for all clothing and linens.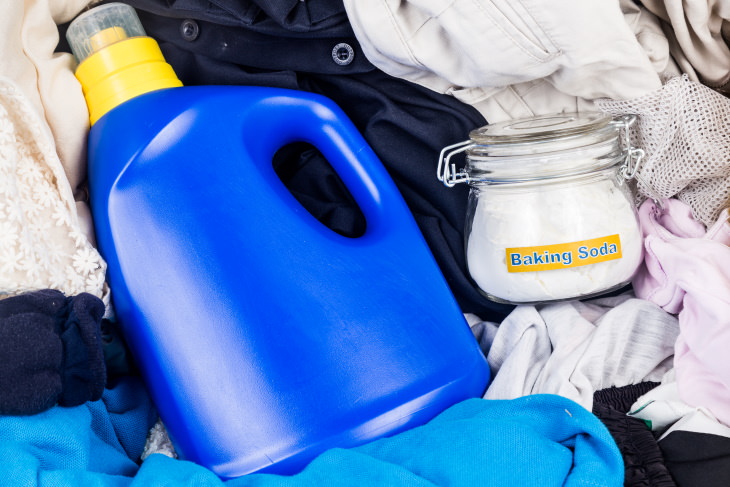 4. Adds extra cleaning power to detergent
If you live in an area with hard water, you'll find that regular detergent is often not enough to remove persistent stains, as the detergent cannot get soapy enough. Instead of using more detergent, add some baking soda - it will even out the pH level in the washer and boost the effectiveness of your detergent.
5. Removes excessive suds
Have you accidentally added too much detergent to the load? Overflowing suds are a real issue, especially if you have a high-efficiency front-loading washing machine. To keep those suds in control, grab some baking soda and add it to the washer. You can also sprinkle some of the powder on the overflowing suds to stop them from spreading and make the cleanup process easier.
6. Cleans the washing machine
Is there buildup on the inside of your washing machine? Or maybe, you noticed some unpleasant smells coming from the washing? Baking soda can remove and odors and buildup, we explain how in detail below.
Related Article: How Vinegar Can Benefit Your Laundry
How to Use Baking Soda in the Washer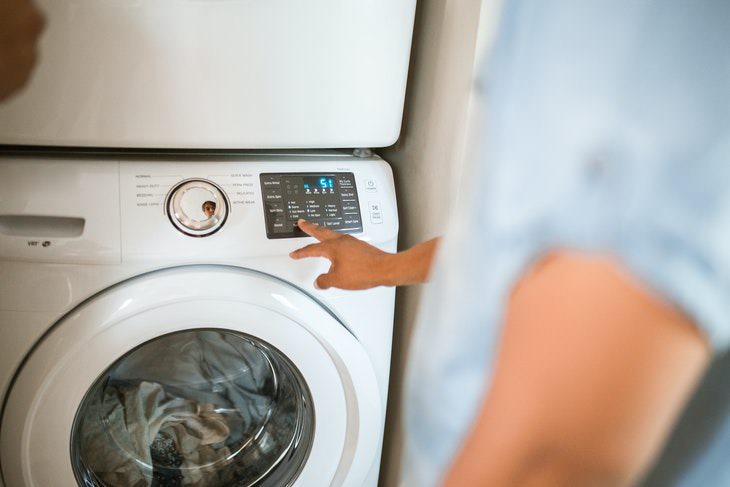 First and foremost, let's clarify that baking soda is an addition and not a substitute for detergent. To actually remove stains and dirt from your clothing and linens, you'll need to use an actual laundry detergent.
Using Baking Soda to Wash Clothes
There are a few ways to use baking soda in your laundry. You can add 1 cup of baking soda directly into the empty drum of the washing machine right before placing the dirty laundry. Add your regular detergent and wash the clothing as usual. It's important NOT to place baking soda in the detergent dispenser of the washing machine. If a specific article of clothing needs extra odor removal, you can pre-soak the item in a tub of lukewarm water using 1-2 cups of baking soda. Place the clothes in the baking soda and water mixture and let them soak overnight before laundering as usual.
Using Baking Soda For Cleaning the Washing Machine
Simply add 1 cup of baking soda into the drum of the machine and use a damp sponge or cloth to scrub the inside of the machine. Then set the washer to the highest temperature setting and run it empty for 1 cycle, no detergent is necessary. The baking soda will dissolve any buildup and unpleasant smells, and the sponge will help scrub down any limescale. All done - enjoy your clean and fresh-smelling washing machine!
Share these useful tips and information with others!