Fall is finally here, and for many people around the world, this means a wardrobe change. As you pull all those sweaters, winter boots, and coats out of storage, you may find that they need to be cleaned and refreshed before wearing. When it comes to winter coats and jackets, specifically, experts recommend cleaning them at least once a year.
For outerwear that you put on regularly, you may find that cleaning it twice or three times a year is necessary. This can stack up to quite a big bill at the dry cleaners. But if you're clever, you can slash that bill or put the entire sum back into your pocket altogether. The truth is, the only two types of clothing that require professional cleaning are wool, suede, and natural fur coats - because these natural fibers are too delicate to be laundered at home.
As for the rest, such as fleece or down coats, you can confidently wash them yourself. Just follow these tips:
1. Fleece jackets
Your fleece coats and jackets are likely the first in line to be worn this fall. Fleece is made out of polyester fibers woven together and brushed to give the fabric a pleasant softness and fluffy appearance. Like most polyester items, fleece coats, hoodies, and jackets should NOT be washed in hot water and must be dried in a cool setting, preferably air-dried.
High temperatures can melt some of the fibers, and tiny holes will appear on the fabric after a few washes. It's best to wash fleece separately, as it can create lint that will stick to other fabrics in the wash.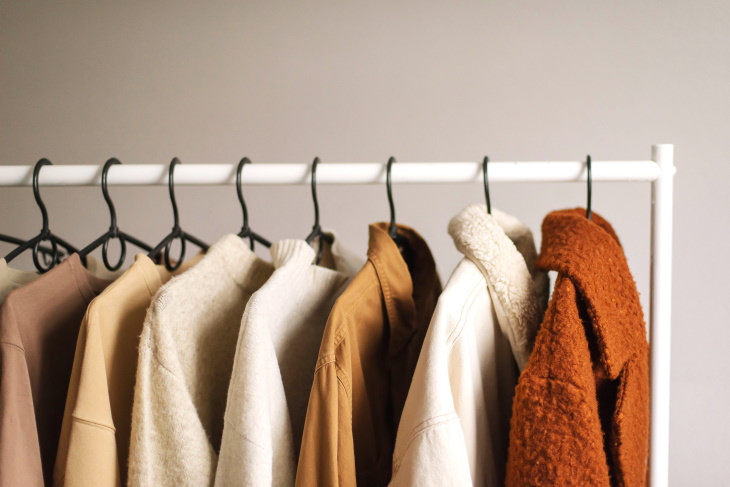 2. Genuine and faux leather outerwear
Washing leather items can be tricky, as they can shrink and stretch when immersed in water for a prolonged period of time. For this reason, we recommend handwashing leather items - be it leather gloves, shoes, or jackets. No need to soak the leather entirely in water - just wipe it down with a wet cloth soaked in some mild detergent.
If you're using a new detergent, test it on an inconspicuous area on the inside of the jacket or coat to make sure that it doesn't stain or damage the leather. Once done with the cleaning, gently shake the coat and place it on a hanger to dry. Wait for it to dry completely before you put it back into a closet or wardrobe, as it can develop mold or a stale smell otherwise. Coats made of faux leather or vinyl, too, are best cleaned just like leather to prevent any rips and crumbling of the fabric.
3. Down coats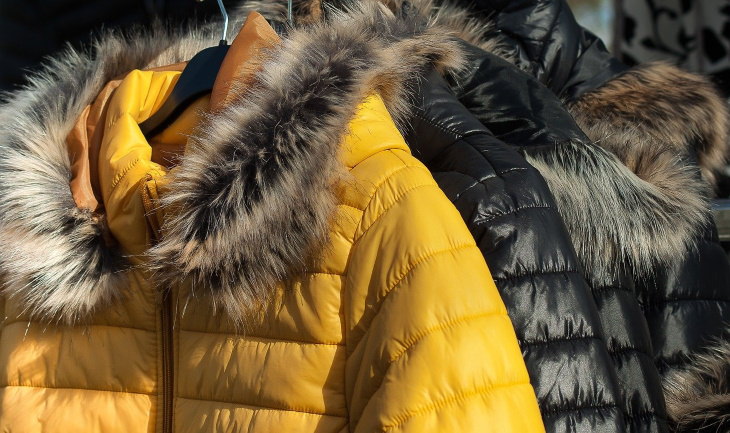 Down coats (or puffer coats, as they're currently known) are immensely practical and surprisingly easy to care for. These lightweight and warm coats, vests, and jackets are machine-washable at home. Before washing a down coat, detach any decorative elements, such as fur trims, and turn the sleeves inside out. Launder puffer coats and jackets alone in lukewarm water on a gentle cycle. Either air dry or dry on the lowest setting in the dryer.

Related Article: How to Launder and Care For 9 Common Fabrics


4. Faux fur coats and trim
Faux fur is becoming increasingly popular these days, and for good reason - it's both animal-friendly and easy on the wallet. Faux fur is made of washable synthetic fibers, but they are much gentler than regular polyester, so it's best to handwash faux fur trim and clothing.
Simply soak the item in some lukewarm water and focus on areas with the most wear and tear while washing, namely the sleeves, the collar, and areas around the zipper and pockets. Shake gently after washing and air-dry on a coat hanger. Once completely dry, you can fluff up the fur with your fingers or a wide-toothed combe in areas that appear matted or uneven. Never dry faux fur in a clothes dryer - even minimal heat will melt the fibers and ruin the coat forever.
Share these useful tips with others!