Not many things go together as well as chicken and asparagus, so why keep them apart at all? Stuff some asparagus into some chicken breasts, alongside some provolone cheese and spices, and you have a dish that's a whole meal in itself. With fresh ingredients, this dish is especially rewarding.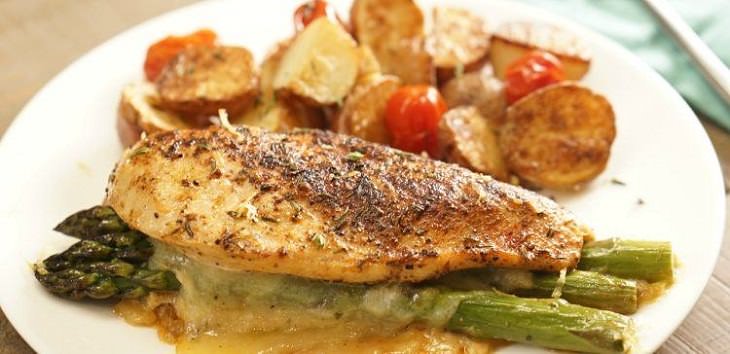 Method of Preparation:
Preheat the oven to 400°F/200°C. Butterfly the chicken breast in half, length-wise, leaving it intact on one side to create a pocket for stuffing. Season the inside of the chicken breast with lemon zest, salt and pepper. Add 3-4 asparagus stalks and some Provolone cheese to the center of each breast, and fold over, to enclose the filling.

Season the outside of the chicken breast with paprika, the herbs, and salt and pepper. Rub the seasoning into the chicken breast and set aside.

Heat a large oven-safe pan over medium heat and add the butter. Once hot, sear the chicken breasts until golden brown, about 3-5 minutes on each side. Cover the pan with foil, place in the oven, and bake until the chicken is cooked through, roughly 15-20 minutes.

Remove from the oven and allow to rest for a few minutes before serving. If you want to, you can add lemon juice to the chicken juices in the pan and serve as a sauce.