Time to bring some gourmet cuisine into the mix. This Swiss dish is a cutlet (or schnitzel) wrapped around ham and cheese. While this may sound simple enough, this crumbed delicacy can require a bit of work.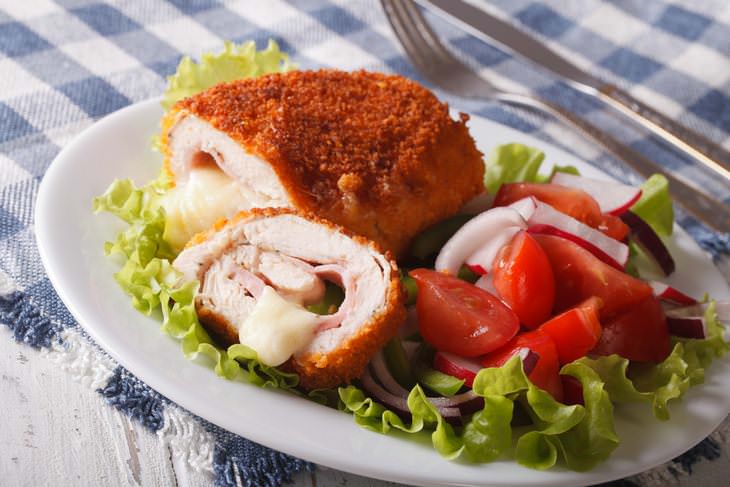 Ingredients for Cordon Bleu:
Method of preparing the Cordon Bleu:
Coat the chicken breasts in salt, pepper, garlic powder, and onion powder.

Place the chicken breasts on a cutting board between two plastic wraps and flatten with a meat mallet until about 1/2 - 1/4 inch thick.

Remove the wrap. Place the cheese and the ham on the chicken breasts in layers: a slice of cheese, ham, cheese, ham.

Roll the chicken breasts and wrap tightly in plastic wrap, making sure the wrap isn't rolled inside the chicken. Tie the edges of the wrap. Chill the rolls in the fridge for 30 minutes.

Set three bowls: one with flour, one with whisked egg, and the final one with bread crumbs. Heat 2 inches of vegetable oil in a pan.

Remove the wraps and dredge the rolls in flour, then egg, then crumbs. Fry the rolls 5 minutes on each side.

Now let's make the sauce. In a saucepan, melt the butter and add the garlic. Sauté until soft. Whisk in the flour and then the milk.

Add mustard, parmesan, salt, pepper, and stir.

Slice up the chicken rolls and drizzle with the sauce right before serving.