1. Chicken Tandoori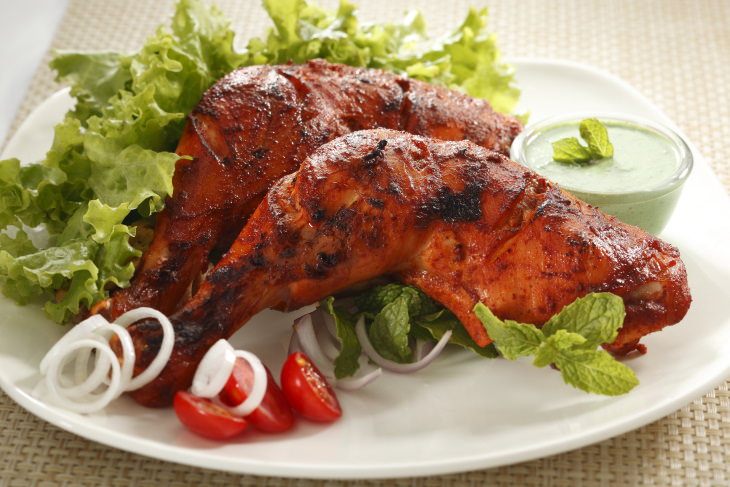 While the creamy and rich sauces commonly served at Indian restaurants generally contain too much fat and aren't recommended by dietitians, there are also plenty of healthy options on a typical Indian restaurant menu. One of the best dishes to look out for is the famous tandoori - charred, red meat, typically chicken, fish, or lamb, seared on high heat.
The name of the dish comes from the tandoor (or tannour), which is a traditional cylindrical stone, clay, or metal oven with thick sides. Because this cooking method doesn't use any additional fat to cook the meat, it's considered much healthier, on par with grilling. As for the side dish, a simple salad or steamed brown rice will go well with tandoori.
2. Bean Burritos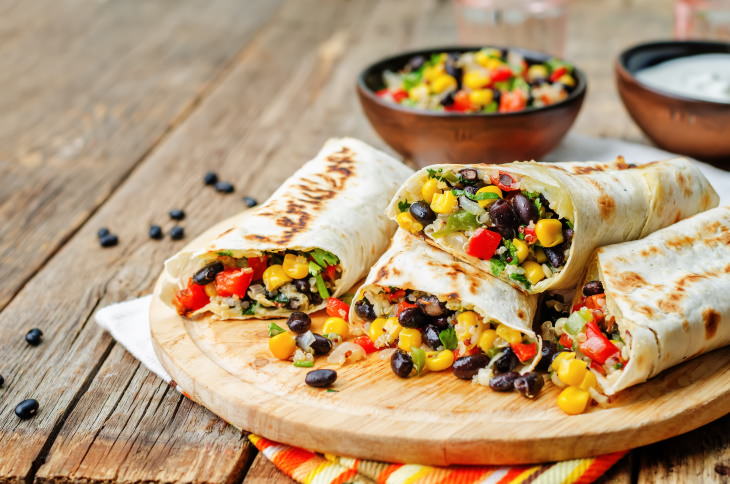 Mexican foods, too, offer a wide variety of flavorful and tasty dishes, but you should definitely stay away from fried foods, or foods that contain a lot of mayo or cheese, such as nachos, or extremely salty foods. However, that doesn't mean you can't find a nutritious option on a Mexican takeout menu, and lean meat or bean burritos are an excellent choice.
The bean burrito in particular is a great one, as beans are high in fiber, iron, and protein. Do make sure, however, that the restaurant you're ordering from uses whole beans and not refried ones, as the latter can be quite high in sodium and added fat. For an even healthier option, order a burrito bowl, which is essentially just a portion of the filling. Final tip: You can replace mayo and sour cream with salsa or guacamole to make any Mexican restaurant dish a bit healthier.
3. Tom Yum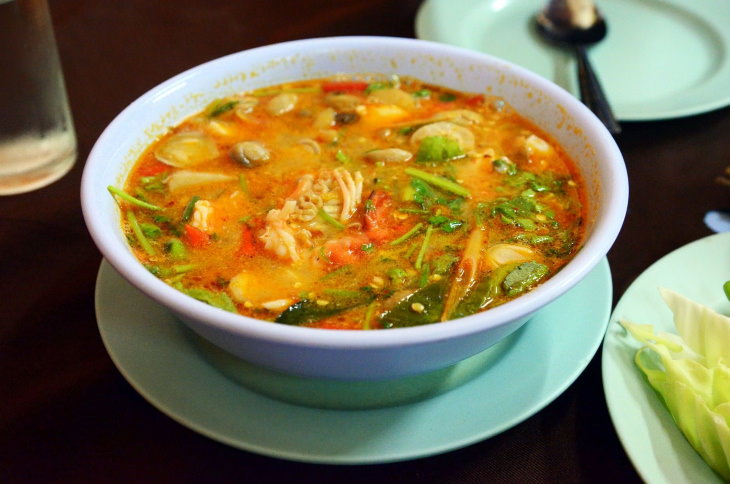 It's difficult to find a soup served at East Asian restaurants that wouldn't be too bland, but also wouldn't be too high in saturated fats. Even coconut milk-based soups, which are much lighter than ramen, can be too high in saturated fats. That being said, the Thai tom yum soup is a fortunate exception, since the spicy, sour soup is considered to be among the healthiest foods ever.
Tom yum is typically based on shrimp, fish, or other seafood, rich in lean protein and health-benefiting fats. Other ingredients include a wide range of aromatic herbs and colorful veggies. If you're ordering from a Thai restaurant, tom yum is definitely a much better choice than the stir-fries or creamy curries.
4. Steamed Dumplings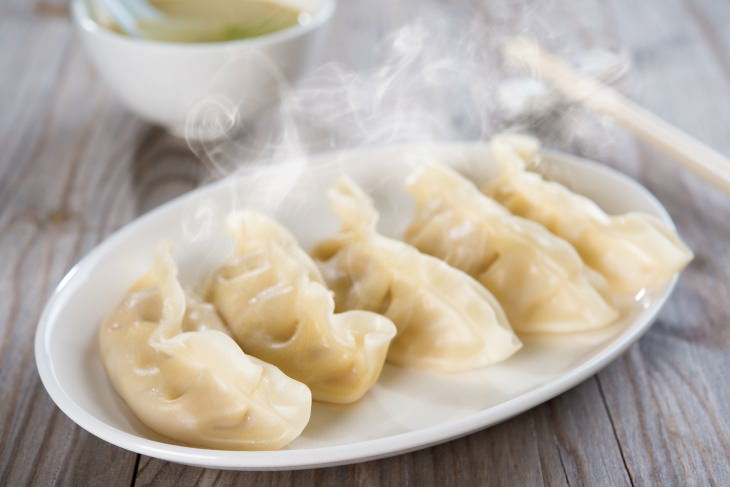 When it comes to healthy entrées, these are often even more difficult to find, especially if you want to branch out beyond salad. Dumplings and spring rolls fried to a crisp may be delicious, but your cardiovascular system will not appreciate the heavy load of saturated fats and bad cholesterol-increasing effect of these tasty treats. To cut down on the fat, order steamed shrimp or vegetable dumplings instead.
These guys are also much lower in calories than fried ones, so you can confidently order them even when you're midway on a weight loss journey. Finally, it's best to opt for low-sodium soy sauce over regular soy sauce to keep your salt intake in moderation.
5. Babaganoush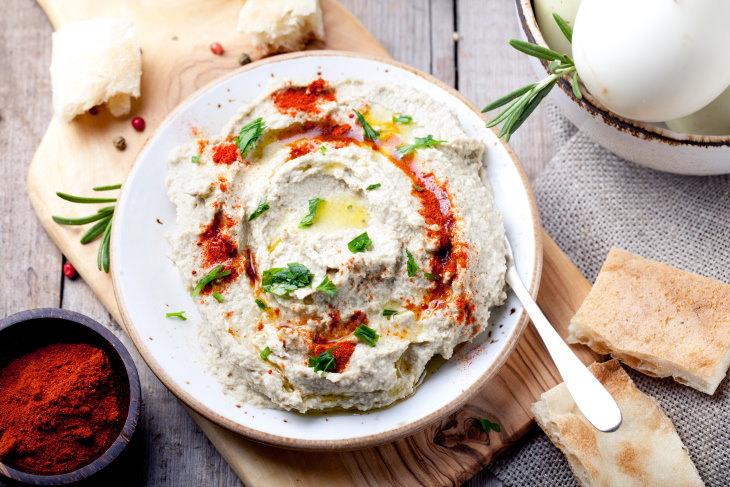 When ordering appetizers from a Mediterranean or Middle Eastern restaurant menu, one of the best ones to look out for is babaganoush - a delicious eggplant-based dip that also contains tahini and moderate amounts of olive oil. All of these ingredients make it an insanely healthy and surprisingly comforting dip to enjoy alongside veggies.
While hummus is also a great dish to consider, it may be too heavy as an appetizer because it contains quite a lot of olive oil and garbanzo beans, which while high in protein, fiber, and other beneficial nutrients, are a bit too filling as an entrée. You can still order it as a main dish, of course.
6. Baked or Grilled Fish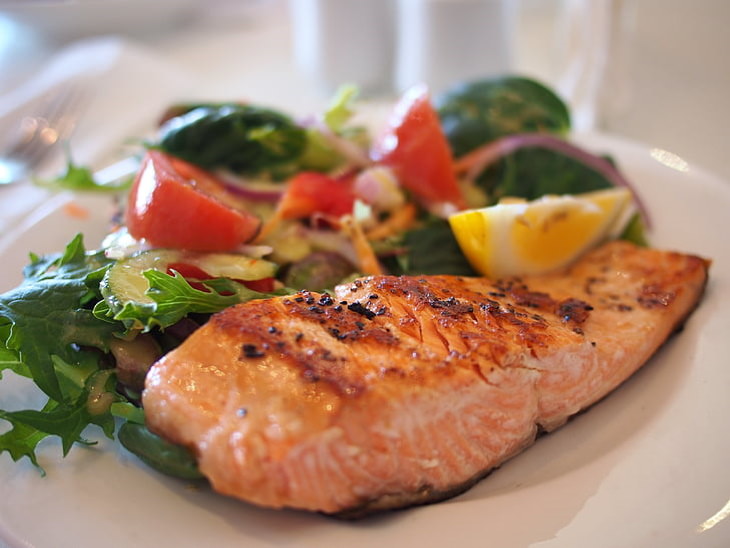 When in doubt, just skip to the fish section of the menu - many healthy dishes hide here. In fact, most restaurants will typically offer some variety of grilled or baked fish served with salad, steamed or oven-baked veggies, or steamed brown rice. Most often than not, these dishes don't contain anything particularly harmful but make sure to avoid any creamy sauces or dips that may come with the dish.
That said, stay away from fried fish and fish and chips, as these are drenched in oil and typically come with french fries on the side, all of which renders the dish bad for your heart and digestive system.
7. Spinach Salad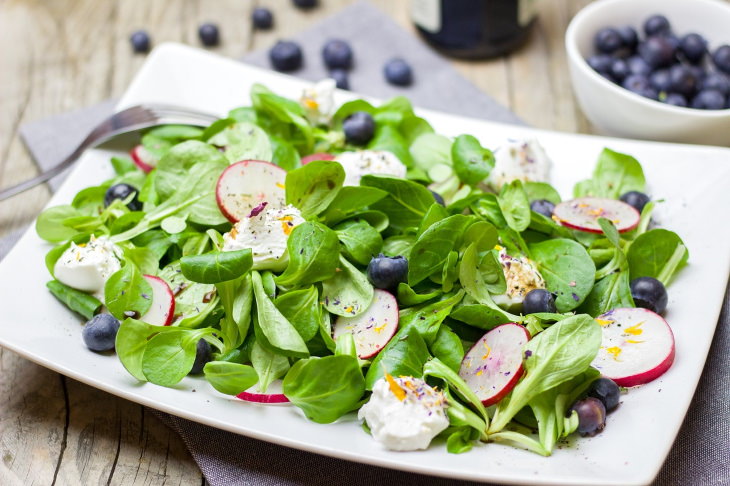 When it comes to Italian restaurants, it's very difficult to find a takeout dish that you can confidently order, as most foods are based on white flour, soaked in butter, and topped with cheese. In addition, many Italian recipes use processed meats, such as bacon or sausage, which are known to contribute to cancer. That said, it's difficult to deny the allure pizza or pasta. So, to make the pizza or pasta healthier, opt for tomato sauce instead of a creamy one, and choose your toppings wisely, favoring seafood and vegetables over meat and processed meat. When it comes to pizza, we also recommend a thin crust without stuffing - the less cheese and dough, the better!
We find that one of the healthiest options on a typical Italian restaurant menu is actually the spinach salad. With it, you'll typically get a healthy helping of leafy greens and vegetables, and the cooks usually sneak in some fruit, mozzarella, or croutons in there, too, for a little indulgence.
8. Summer Roll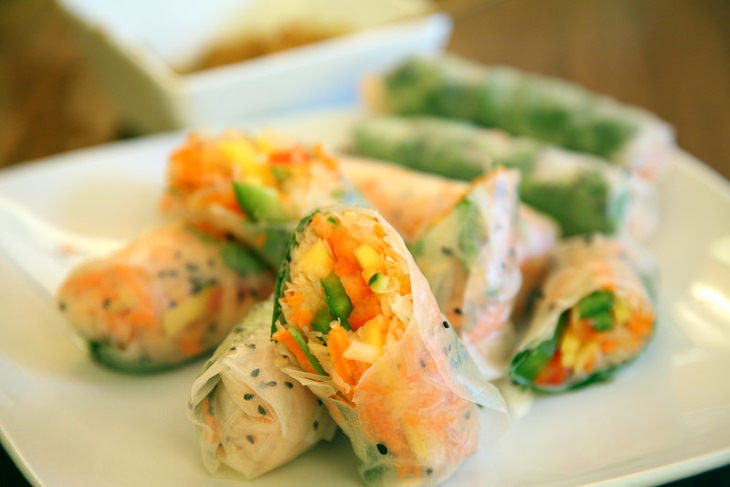 Don't be fooled by the fact that a spring roll contains vegetables - as any deep-fried food, it, too, won't give your waistline and health any good. If you really crave a spring roll from time to time, however, we may have a worthy replacement for you - the so-called summer roll. These are essentially the same, but not fried. Instead, summer rolls are gently steamed and contain the same ingredients - cabbage, carrots, other veggies, and sometimes shrimp. Low in calories and high in all sorts of beneficial nutrients from the veggies and seafood, these colorful snacks are a real find for every health-conscious person!
9. Chana Masala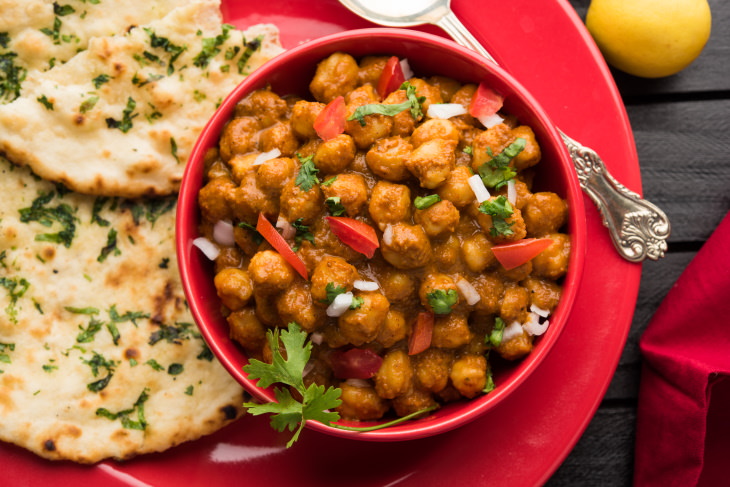 Chana masala is another delicious and comforting Indian dish that is also quite healthy. This is a vegetarian option, as the basis of this warming spicy food are garbanzo beans, also known as chickpeas - one of the most protein-rich plant foods there is. The dish is typically mixed with herbs, spices, and prepared in a tomato sauce, making it a very nutritious and filling option.
10. Buddha's Delight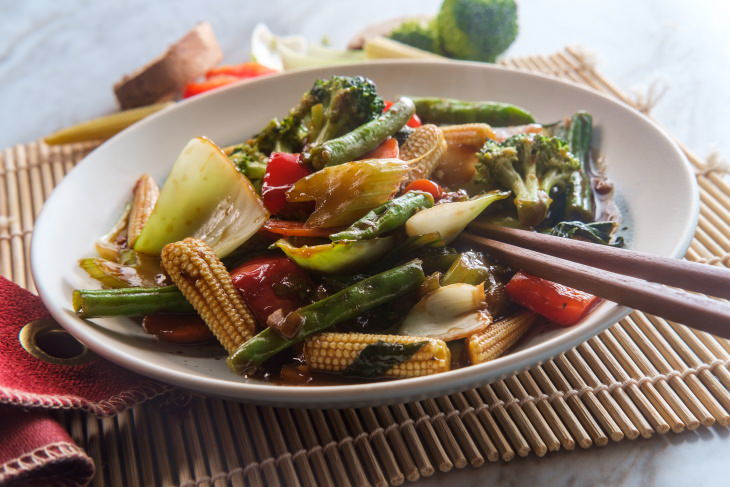 Chinese takeout is one of the most popular ones, but the vast majority of dishes on a typical takeout menu are extremely salty, loaded with sugar and fat. When you're looking for a healthy main dish to enjoy, you'll be pretty much limited to broccoli and meat served with steamed rice, which can get pretty boring, to be honest.
However, we found an excellent alternative for you - Buddha's Delight. This vegetarian dish contains an impressive variety of vegetables, optional tofu, and best of all - it's usually prepared with a lighter sauce. Compared to other Chinese takeout meals, this one will actually provide quite a lot of fiber, protein (when tofu is included), and plant-based nutrients.
11. Shish Kebab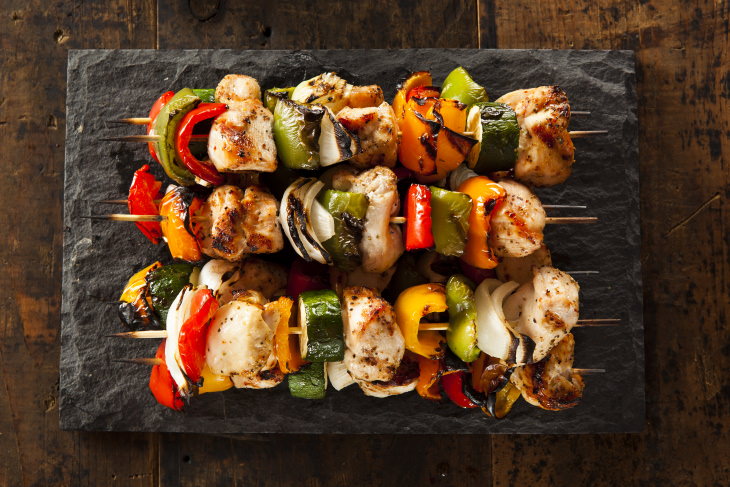 Burgers and doner kebabs are made with ground meat, which means they'll be quite high in fat for the most part and so they're not an excellent choice for the healthy-minded. Shish kebabs, on the other hand, are typically made of cuts of meat that are grilled together with vegetables. Because no extra fat has been used to cook the meat and the cuts used are relatively leaner, shish kebabs are surely a healthier choice.
In addition to that, the grilled vegetables these often contain will bring in some extra fiber and make the meat dish a lot more filling. As mentioned previously, avoid dipping the food in sauces that contain a lot of unhealthy ingredients, such as ketchup, mayo, or barbecue sauce, since these will obviously negate the health claims of the dish.