1. Kale, Apple and Spinach Juice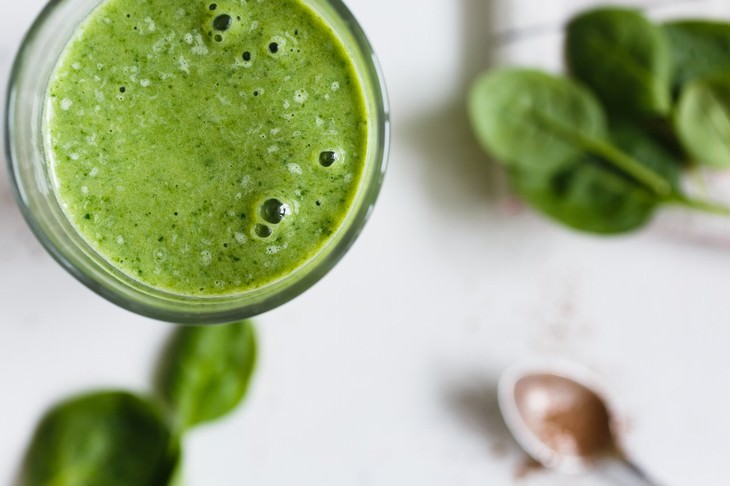 Nothing beats a green juice when it comes to health benefits, especially immune health. All the leafy greens in this recipe, such as kale, spinach, and romaine lettuce, are packed full of antioxidants that have a known immune-boosting effect, and the ginger adds even more healthy goodness. Just one serving of this nutritious juice will cover your daily value of both vitamin A and vitamin C, as well as provide you with plenty of calcium and iron.
Cooking time: 10 minutes
Servings: 1
Difficulty: easy
Equipment: juicer
Ingredients:
2 leaves kale
2-3 leaves (depending on the size) romaine lettuce
1 cup (30 grams) fresh spinach
2 stalks celery
1 apple, preferably green
½ cucumber
½ lemon
1″ (2 cm) piece ginger
Directions:
Feed all the ingredients into the juicer and enjoy it fresh.
2. Strawberry, Mint and Kiwi Smoothie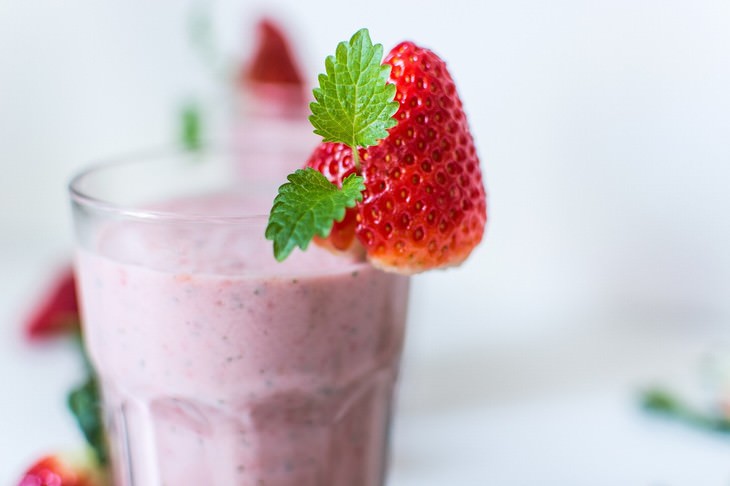 Those of you looking for a more indulgent and sweet drink to enjoy will love this creamy yet fresh strawberry, kiwi and mint smoothie. Apart from containing quite a bit of vitamins (namely, vitamin C, A, and B6) and minerals, such as zinc and folate, the Greek yogurt this recipe contains also adds a healthy dose of magnesium and probiotics. Apart from aiding digestion, the latter will boost your gut microbiome and make you more resilient to harmful microbes.
Cooking time: 5-10 minutes
Servings: 2
Difficulty: easy
Equipment: blender
Ingredients:
2 kiwis, peeled and halved
6 oz (170 g) frozen strawberries
5.3 oz (150 g, approximately 1 small cup) Greek yogurt
8 oz (230 g, approximately 1 glass) orange juice
10 mint leaves
Directions:
Mix all ingredients thoroughly using a blender, then pour the mixture into glasses. Garnish with mint leaves.
3. Homemade Tomato Juice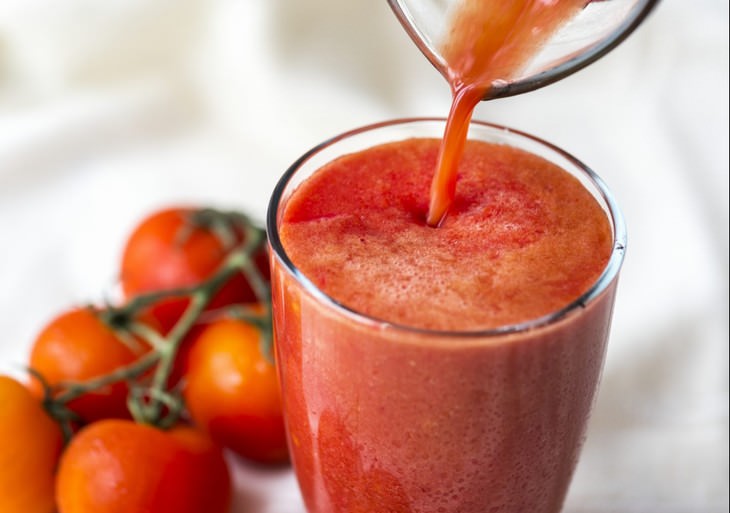 Sometimes, simple is the way to go, and it doesn't get simpler than this homemade tomato juice recipe. No juicer or extra equipment required, and you will still get the freshest and most beneficial version of tomato juice possible.
Tomato juice is an excellent source of iron, folate, vitamins A and C, as well as antioxidants and other compounds that give this humble vegetable impressive anti-inflammatory and immune-boosting properties. All you will need to prepare it is plenty of fresh tomatoes, some salt and spices, a strainer, a sieve or food mill and a container to hold the juice, like a glass jar or bottle.
Directions:
1. Wash and cut your tomatoes into quarters, then put them in a saucepan and simmer over low heat for 20-30 minutes, or until tender.
2. Let the mixture cool down until warm, then sieve the solids from the juice, and return the juice to the stove.
3. Now it's time to get creative. Add a bit of salt, maybe a bit of black pepper, paprika, onion powder or cayenne pepper for some added spice. Cook the mixture for a few more minutes to bring out the flavor of the spices, then cool and serve fresh or refrigerate for up to a week in a sealed container.
4. Carrot, Beet, and Turmeric Juice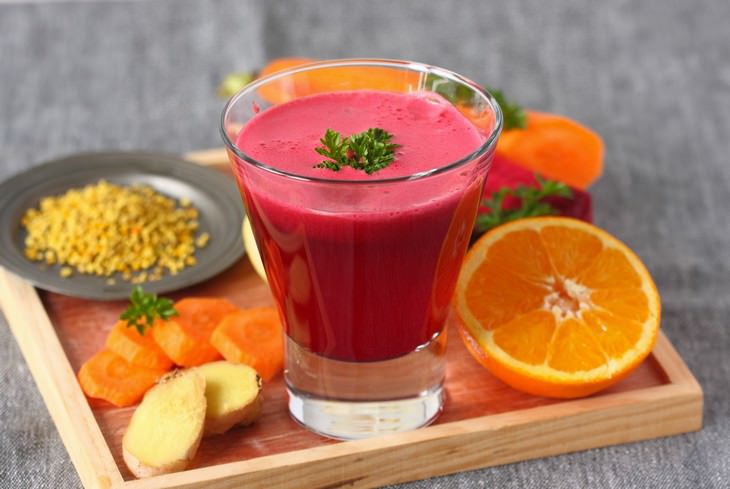 This recipe incorporates the best of the best: beets, carrots, turmeric, and ginger. All these ingredients have a jaw-dropping nutritional profile and are associated with a long list of health benefits for your entire body. Most importantly, all these ingredients have strong anti-inflammatory and antioxidant properties that will really help your body fight off cold symptoms. Apart from being super healthy, this juice is also ridiculously energizing, so definitely give this one a try.
Cooking time: 10 minutes
Servings: 1
Difficulty: easy
Equipment: juicer
Ingredients:
3 carrots, peeled
1 beet, peeled
1 orange, peeled
½ lemon
1″ piece (2cm) fresh ginger
1″ piece (2cm) fresh turmeric root or 1 tsp turmeric powder
black pepper
Directions:
Feed all the ingredients apart from the black pepper (and turmeric powder, if using) into the juicer. Mix the remaining ingredient(s) into the juice and enjoy fresh.
5. Carrot, Apple and Orange Juice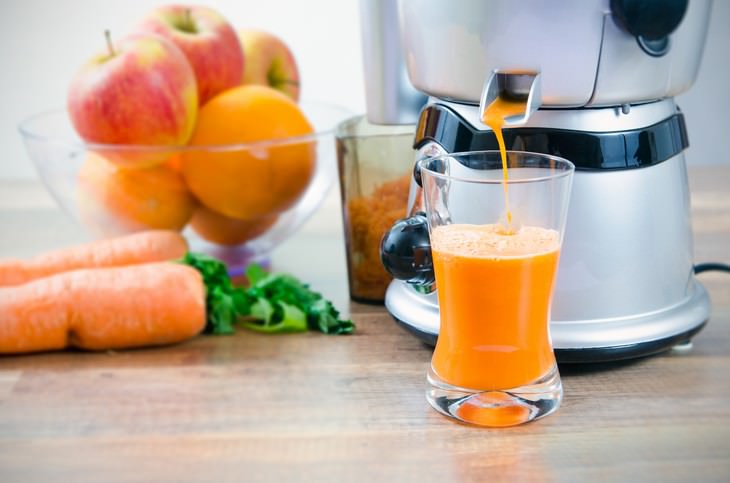 This classic juice is also a winner: it's sweet, it's delicious, the whole family will love it and it uses easily available ingredients. It also contains more than enough vitamins A and C for your needs, as well as vitamin B6, potassium and folic acid. These and other compounds naturally present in carrots, apples, and oranges will help you ward off viruses and infections and serve as a tasty treat.
Cooking time: 10 minutes
Servings: 1
Difficulty: easy
Equipment: juicer
Ingredients:
2 carrots, peeled
1 orange, peeled and quartered
1 apple, quartered
Directions:
Feed all ingredients into the juicer and enjoy fresh or refrigerate in a sealed container for up to 3 days.
6. Mulled Cider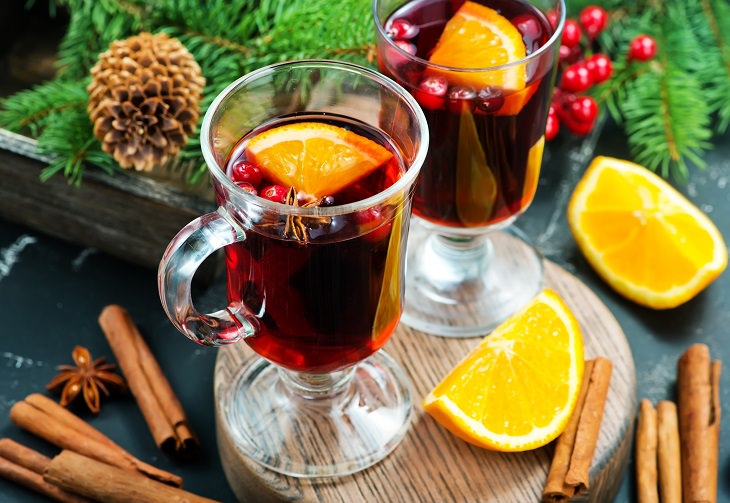 Since most people get sick during the cold months, we just had to add a recipe for a warm drink to this article. This mulled, spicy cider is very easy to prepare, and it also carries all the health benefits of apples, ginger, oranges, cranberries and spices like cardamom and cinnamon in one irresistible drink that everyone in your family will enjoy.
Cooking time: 35 minutes (of this 5 min prep time)
Servings: 6-8
Difficulty: easy
Ingredients:
8 cups (2 liters) apple cider or juice
1 orange, thinly sliced
½ cup fresh cranberries
6 whole cardamom pods
1″ piece (2cm) ginger, thinly sliced
4 cinnamon sticks
3 whole cloves
Directions:
Combine all the ingredients in a large stockpot. Bring the mixture to a boil, then reduce the heat and let it simmer for 30 minutes. You can serve it warm or cold and store it in the refrigerator for up to 3 days.
H/T: pickuplimes, Jeanette's Healthy Living, Home Chef, Gourmande in the kitchen, Taste, Love and Nourish, the Spruce Eats
Related Articles:
1. 7 Interesting Facts About the Human Immune System
2. 10 Foods That Boost Your Immune System
3. Behaviors That Harm Our Immune System