1. Weather Underground
Download here: Android link/ IOS link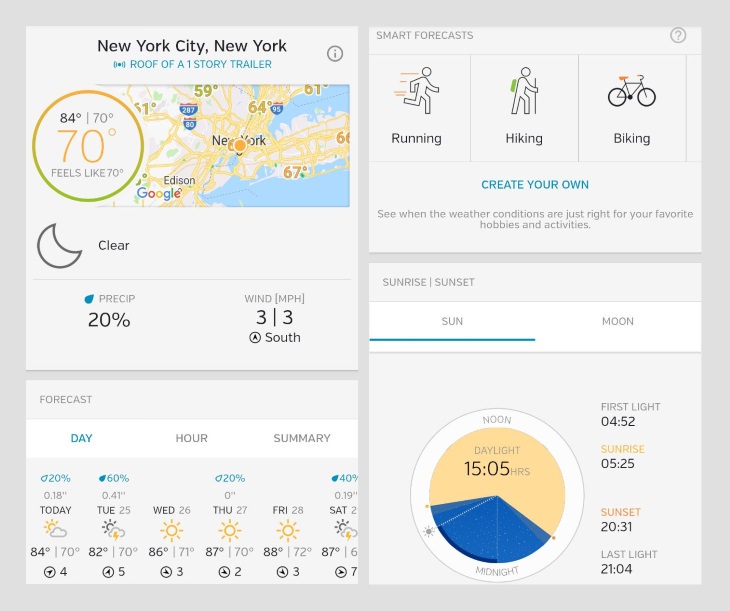 Screenshot from the Weather Underground app
This app has an intuitive interface and numerous features that not only show you the precise weather forecast but notify you of important updates, such as alerts regarding severe weather, sunrise and sunset times, air quality, UV index, etc. Weather Underground is also useful for tourists because it has a smart forecast tool that will notify you when it's best to go hiking, biking or do any other activity in a specific location.
To use this feature, set the weather conditions of your preference for a specific activity (a clear sky and no wind for hiking, as an example), and the app will let you view the next time this type of weather is expected in a current (or other) location.
Apart from being very user-friendly and personalizable, Weather Underground is also very precise, as it's drawing from over 250 thousand weather stations, which allows it to create very specific and in-depth weather reports, as well as a detailed 10-day forecast.
2. AccuWeather
Download here: Android link/ IOS link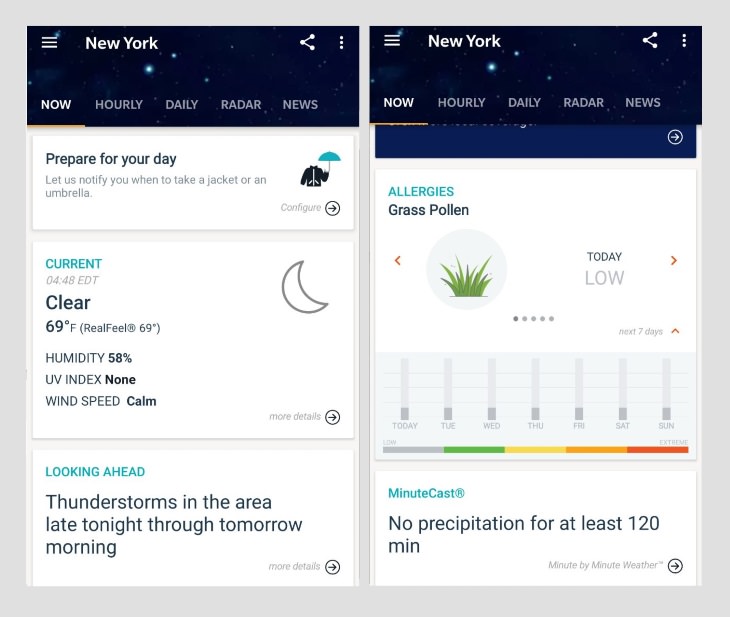 Screenshot from the AccuWeather app
The AccuWeather app boasts of being exceptionally accurate in its weather predictions, and we must agree with that. The app also has a very clean and easy-to-use design and weather-related news coverage. An extra advantage of AccuWeather is a weather map, offering information about precipitation, pressure, temperature and a few other features in a specific area.
You can also get notified about certain weather-related hazards, such as slippery roads, flooding, winds and poor visibility. Finally, apart from basic weather information and a forecast that extends 7 days in the future, the AccuWeather app offers information about some common airborne allergens (such as tree pollen, ragweed pollen, dust and mold) nearby, as well as a 7-day forecast of these allergens, which is a useful feature for those suffering from one of these allergies.
Do you have seasonal allergies? This guide will help you minimize your symptoms.
3. 1Weather
Download here: Android link/ IOS link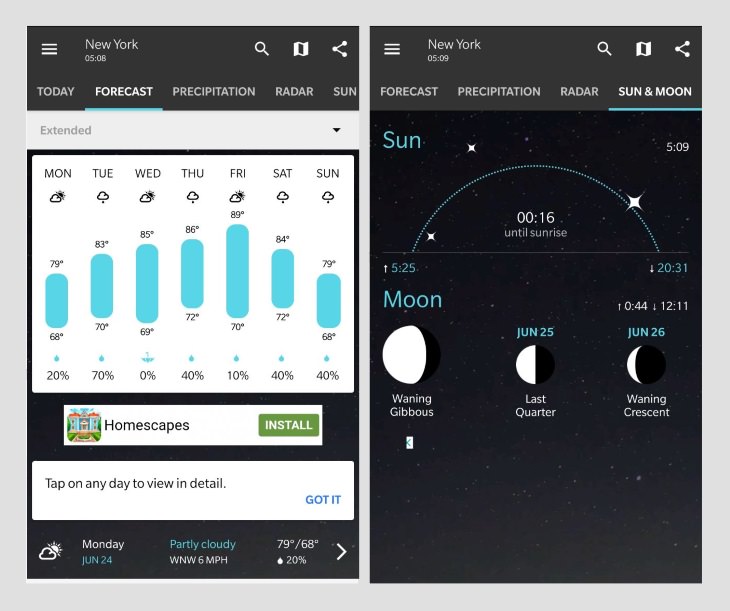 Screenshot from the 1Weather app
As it's the case with all the apps on our list, 1Weather has an intuitive interface and an abundance of weather-related information. If all you want to see on your weather app is a summary of current weather conditions and an up to 12-week weather forecast without all the extras about UV strength and allergies, this is an app for you.
This is not to say that there are no interesting features in this app, with 1Weather offering the possibility of notifications and severe weather alerts, a customizable radar map, as well as our favorite, a tab titled "sun & moon" that shows information about the current phase of the moon as well as sunrise and sunset times in a given location.
4. Plume Air Report
Download here: Android link/ IOS link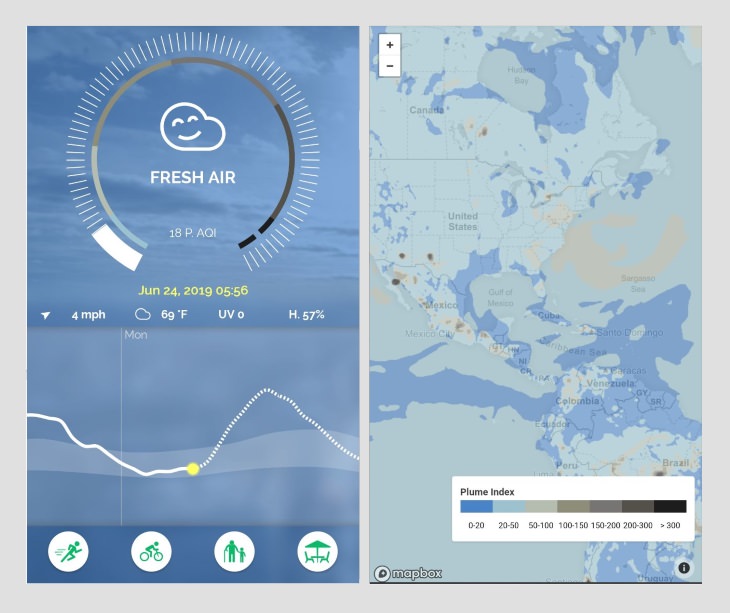 Screenshot from the Plume Air Report app
If the previous app was mainly about the weather, Plume Air Report is an app for those of you who care about air quality and pollution. Of course, Plume Air Report does have a weather forecast that shows the temperature, wind speed, humidity, and UV index, but the accent is on the air pollution meter that, if clicked on, will expand and show you even more about the type of pollution dominant in an area and historical air quality statistics.
In the lower part of the screen, you will find clickable icons that unfold graphs showing the best times to engage in different outdoor activities, as well as when it's best to avoid the outdoors for people who are sensitive to air pollutants. Finally, the app features a global air quality map, which can be really helpful for travelers.
5. The Weather Channel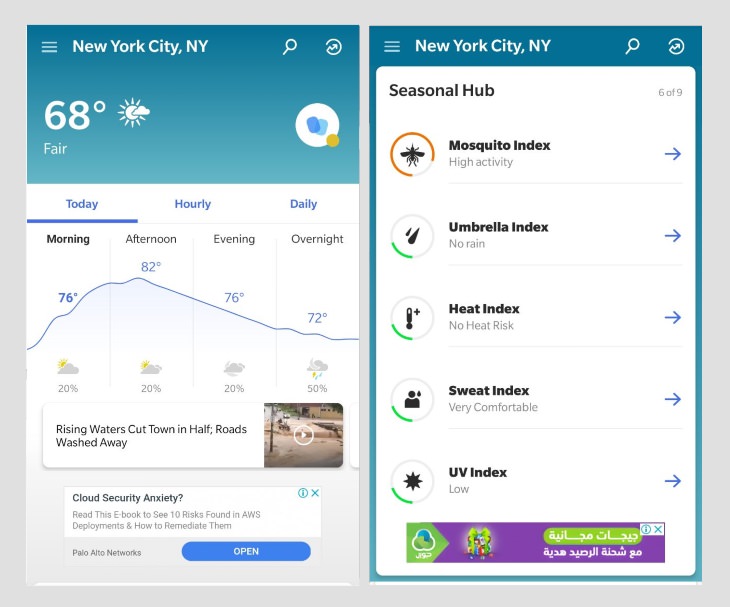 Screenshot from The Weather Channel app
For those of you who want to carry a TV weather forecast in your pocket, The Weather Channel mobile app is ideal for your needs. Needless to say, the app is packed with the most relevant information about current and future weather (up to 15 days ahead), but its most outstanding feature is the availability of short weather forecast videos and other weather-related news videos.
The mobile app also features a wealth of weather-related information and, of course, the possibility to receive extreme weather alerts, as well as health-related information, such as allergens, mosquito, and flu statistics, as well as a heat and sweat index. Definitely, this is an all-encompassing app that will have you covered in any place and any weather.