With the spread of online shopping, sending and receiving mail has become a regular chore for most people. And just like shopping in the store, it's not always a smooth experience. Packages arrive later than you need them or get lost altogether, both of which can be quite frustrating. Luckily, there's a tech solution to both of those problems, and it's both easy and free to use.
Eliminate the guesswork out of sending or waiting for a package to arrive. These helpful online tools will help you estimate delivery times and track shipments with precision and accuracy.
Websites for Estimating Shipping Times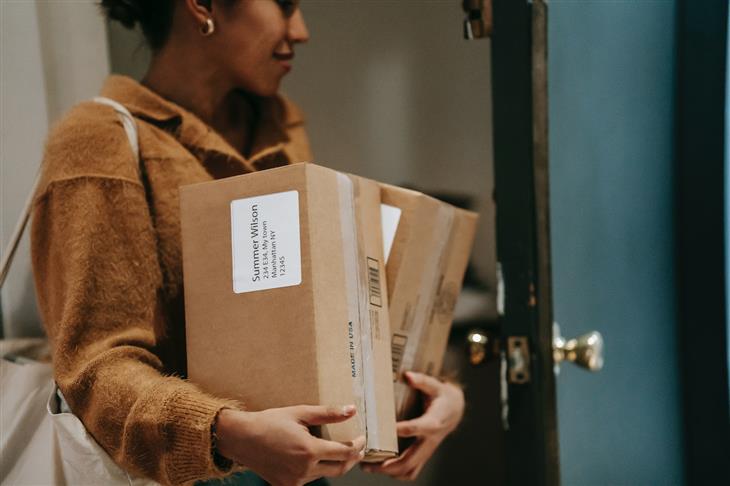 These websites will help you schedule when you need to send birthday cards or other important letters. They also give you a good idea of how long you'll have to wait if you order something online - be it within the US or internationally.
1. United States Postal Service Shipping Times Map
The USPS Service Standards Map is a useful tool for estimating the delivery times of domestic shipments within the continental US, Hawaii, Alaska, Puerto Rico, and Guam. As of the time of writing, the map was last updated on January 1, 2023. You can access this handy tool here: The United States Postal Service Shipping Times Map.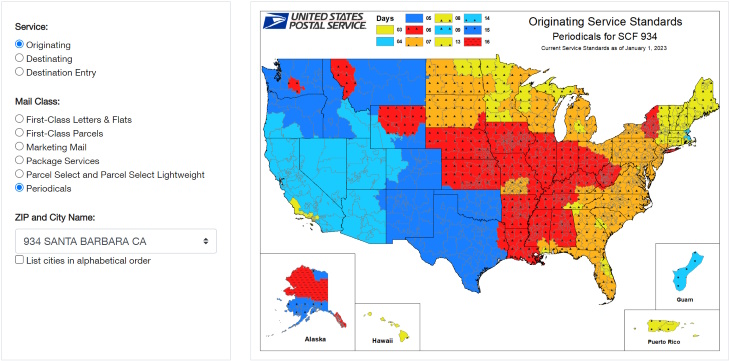 The map is categorized by class of mail (e.g. first-class parcels, periodicals) and the zip code with the origin city.
After selecting the details in the menu on the left, the map will show you a delivery timeline throughout the country. For example, a journal (periodical) from Santa Barbara, California, should be delivered to South Florida in about a week. While the delivery time may not be completely accurate, it can give you a general idea of delivery timelines in the US.
2. TrackingMore Shipping Time Calculator
The TrackingMore website is a wonderful tool for estimating delivery times for international mail items and shipments outside of the US. You can access it here: TrackingMore Shipping Time Calculator.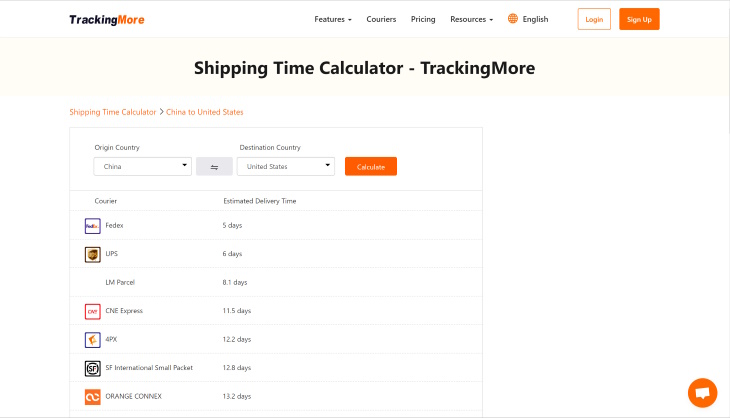 This shipping time calculator is super easy to use. Just select the Origin Country and Destination Country from the drop-down list, and then tap Calculate. In a moment, the website will produce a list of couriers from their database and the estimated delivery times for each courier. From my experience, the calculator tends to be pretty accurate most of the time.
Keep in mind that TrackingMore counts the average delivery times for the last 6 months, so it only gives you a general idea about when to expect a mail item. It doesn't account for high-traffic seasons, like Christmastime, so you'll need to add a buffer period of about a week for those times for most countries, or up to 3-4 weeks for countries with less reliable postal couriers.
If you have a highly valuable or time-sensitive parcel that you need to mail internationally, we always recommend using private couriers with a good track record of timely delivery, such as FedEx, UPS, or DHL. The extra cost typically pays off with guaranteed timely delivery.
Websites for Tracking Packages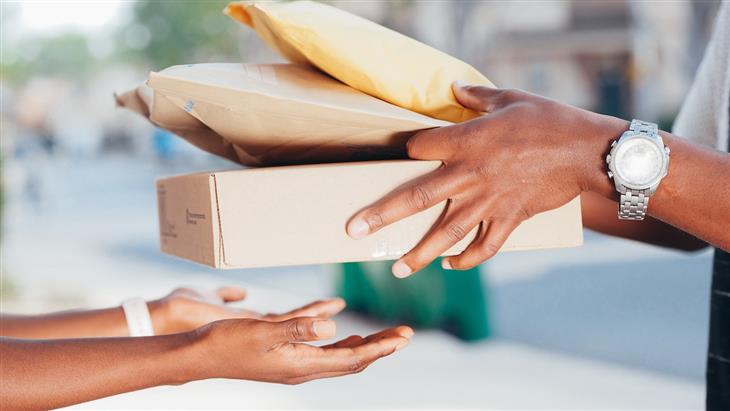 Registered mail always comes with a tracking number. That unique tracking number is usually provided by the company that handled the package at its origin, but it's not necessarily the same company that will be delivering your package. This can cause a lot of mix-ups and misunderstandings, where you lose track of your parcel midway.
That's when package tracking websites and apps come in handy, as they use information from several databases, and often reveal more information about your package's route than the search engine of just one courier company (be it USPS, Royal Mail, or China Post).
Here's a top three list of our favorite package tracking websites. All of them are free to use and have downloadable apps too:
1. 17TRACK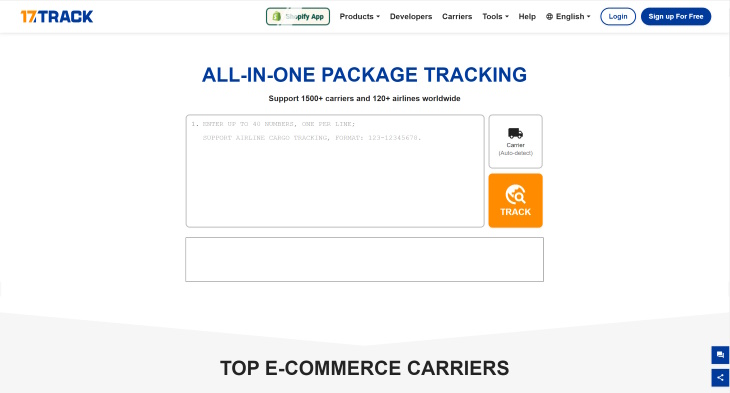 With 11 million users, 17TRACK is the biggest parcel-tracking tool on the web. It works with 1500+ carriers around the world, so it's great for tracking accuracy. It will auto-track your packages and notify you of any delivery updates.
You can paste up to 17 tracking codes in the search window on the homepage, and it will remember and track them for you. It's also possible to set up notifications and use QR codes or barcodes to look up packages.
You can try 17TRACK here: 17TRACK Website
2. Aftership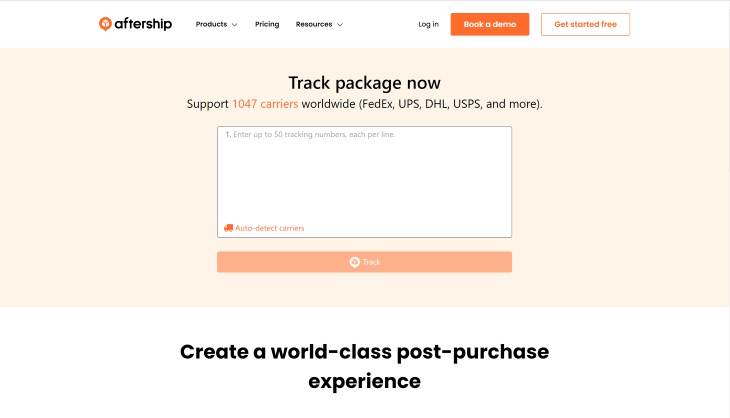 Aftership is especially useful for tracking parcels for online shopping retailers. In fact, companies frequently use this tool to track parcels and check the status of delivery.
Just like 17TRACK, Aftership collects information from more than 1,000 carriers, and it works by simply pasting the tracking code into the search window. Aftership will detect the courier too, so you don't have to type it yourself.
You can try Aftership here: Aftership Website
3. Circuit Package Tracker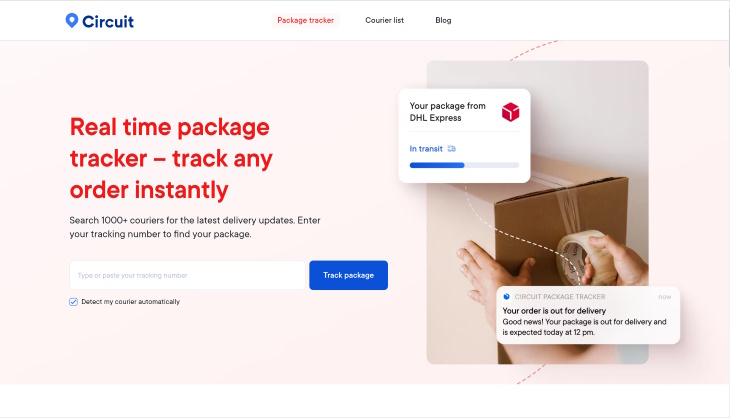 Circuit Package Tracker is very similar to the other two tracking sites we mentioned previously, but it has a cleaner and simple interface. It too is free to use and available through your browser or as an app.
Circuit Package Tracker lets you follow the journey of your package through a handy map, and allows you to set up notifications.
You can try Circuit Package Tracker here: Circuit Package Tracker Website
Generally, we recommend bookmarking a few online tracking tools, as they have slightly different databases, so some websites may reveal more information than others.
And before we go, here's one last troubleshooting tip. If you paste a tracking number into a package tracking search engine and it doesn't work or shows up as an error, don't panic. It can take 1-2 days for the courier to pick up and scan a new parcel, so just wait for a few days and then try again. If the error message pops up again, then it's time to contact the online retailer or courier company for help.