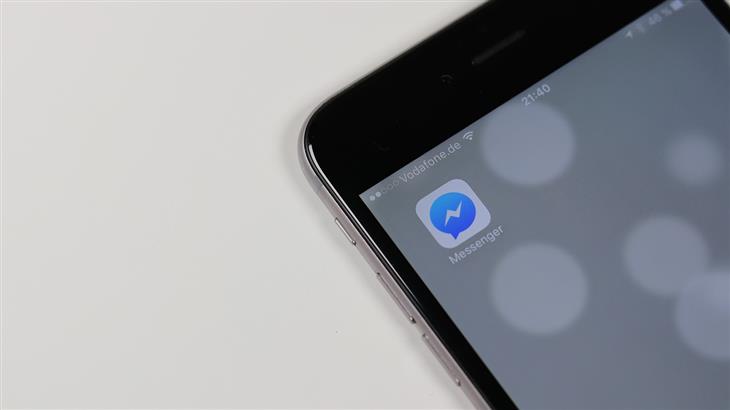 1. Control the size of your emojis
Emojis are an effective way to express emotions that are difficult to convey through text messages. You can increase their impact by sending larger emojis by holding down on them. However, holding it down for too long will cause the emoji to disappear, so release your finger when you get the size you want.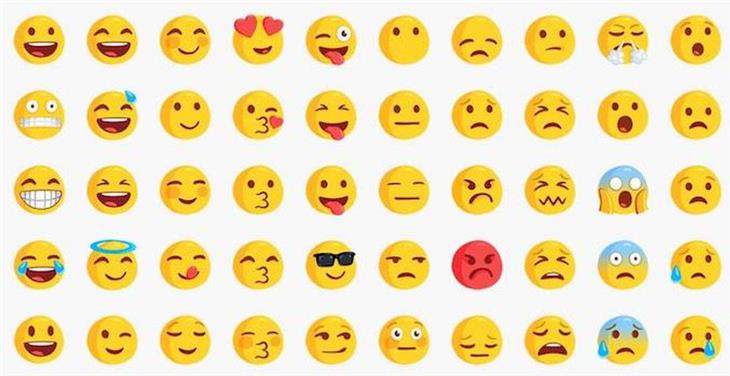 2. Sending gifs
To send a more expressive reaction, you can also send gifs or short video clips. To access gifs, click on the emoji button [1] and select the gifs option [2]. You can also search for specific gifs by entering relevant keywords such as "funny" and so only see the "funny" gifs. A little tip: If you remember good movie lines, search for those for some great responses!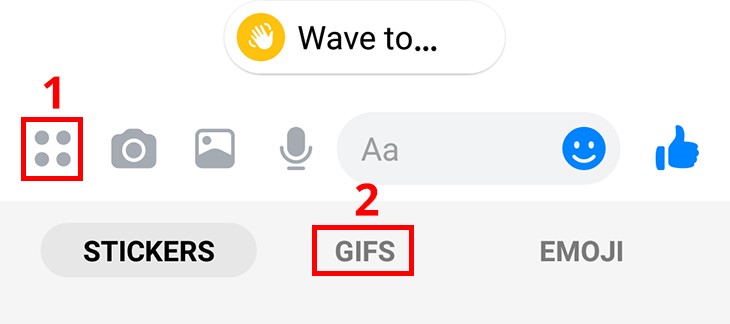 3. Change the color of the chat window and select a new emoji for the contact
To personalize the conversation window with each of your contacts on Messenger, you can change the color [1] and default emoji [2] by clicking on the contact's picture at the top of the screen during a conversation.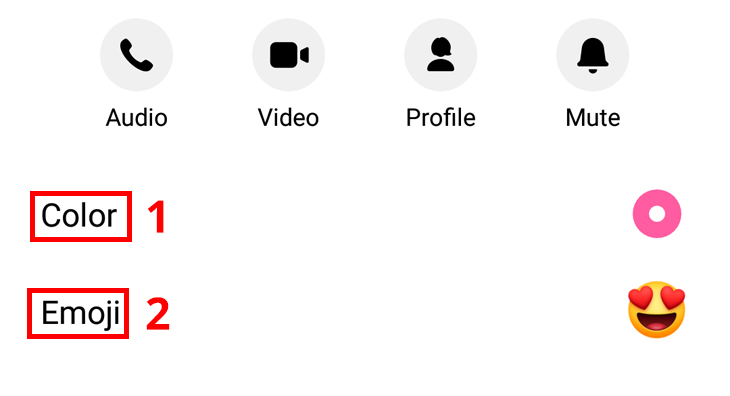 4. Send your current location to a contact
To share your live location with a conversation partner on Facebook Messenger, click on the 4 dots button next to your text line [1], then select [Location] [2]. This will open a screen where you can click on Share Live Location, allowing your partner to see where you are for 60 minutes even if you move around. To stop sharing, click the button again.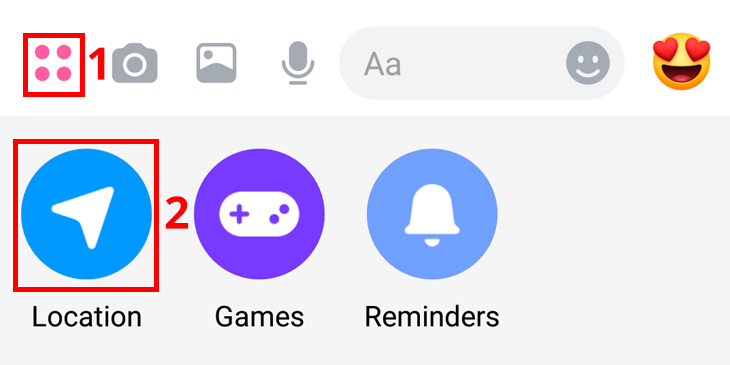 5. Play games on Facebook Messenger
Facebook Messenger offers a variety of games that can be played without installing them on your phone. To access them, click on the 4 dots button next to your text line [1] and select [Games] [2]. You can play some games with your conversation partner.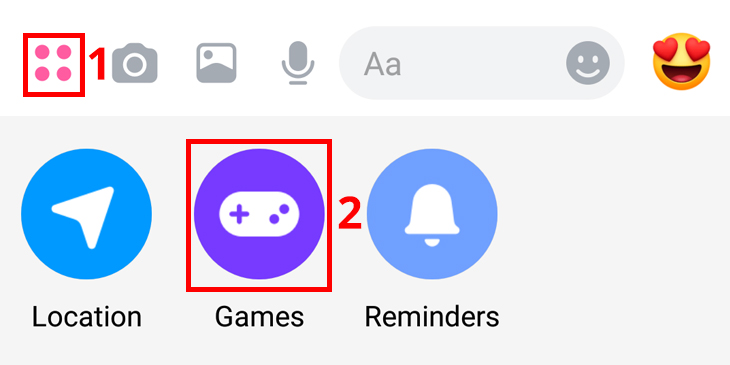 In addition to these, there are also some hidden games in the app that not many are aware of. To access them, you must send the appropriate emoji and then click on it directly on the conversation screen. Sending a soccer emoji for example and clicking on it after you send it will open a ball-bouncing game for you, and sending a basketball emoji will open a game where you have to throw balls into the basket. We don't know of others, but you are welcome to try and find them yourself if there are more.
6. Messenger Lite for older devices
If you have an old smartphone that doesn't work as fast as the latest devices, you can download a lighter version of Messenger that will work much faster for you. In addition, this version of Messenger uses much less of your browsing data, so if your browsing becomes slow for any reason, you can make it easier on yourself. However, note that in this version, you will be unable to use a significant number of the functions that exist in the full version of Messenger.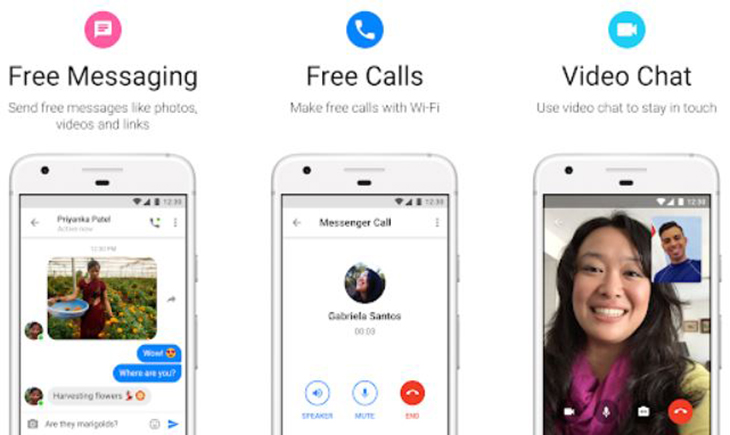 7. Night mode
Many apps have joined the trend of adding a "night mode" option to content. Thanks to this option, your screen will change its colors to dark tones, and apart from the fact that it will be much more convenient for you to read the messages you will receive, it will help you waste much less battery because the smartphone invests more energy in creating white light than black. To activate Night Mode, click on your profile picture on the main screen of the app and then click on the button next to Dark Mode.

8. Group conversations and encrypted conversations
In a similar fashion to WhatsApp, in Facebook Messenger, you can create groups for joint conversations. All you have to do is click on the pen icon (marked below) at the top of the app's main screen, and then mark the friends you want to add to the group. Not all of your friends will appear on the list that Messenger will suggest, but you can search for all of them using the search bar.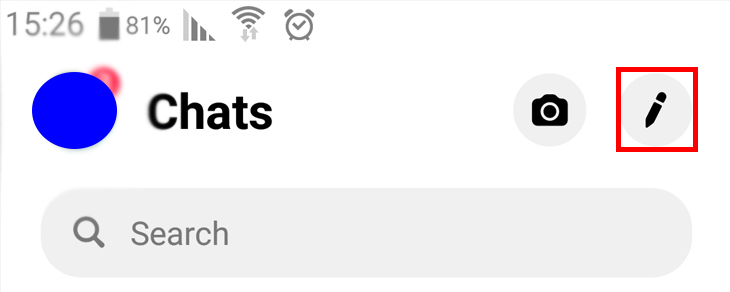 When you have finished selecting your friends, click on the OK button located at the top of the screen to create the group.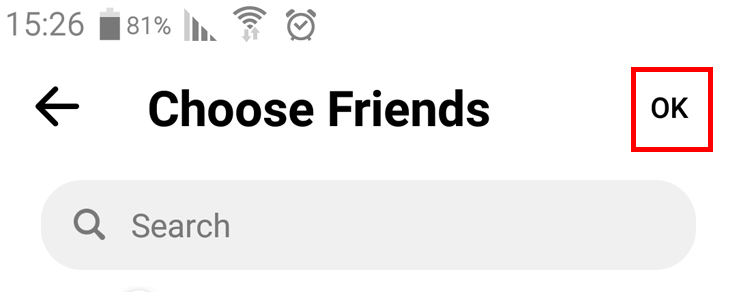 When choosing friends, a lock symbol is present on the same screen, which leads to an option to create an encrypted conversation. This conversation can only be viewed by the participants and is not tracked by Facebook.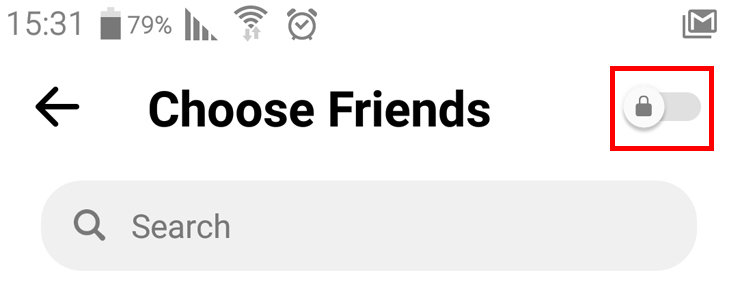 9. Messenger program for the computer
If you wish to use Messenger on a computer without a Facebook account, you can connect through the Messenger app using your phone number or email on the Official Messenger Website.

If you are looking for an alternative version of Messenger for your computer that does not necessitate the use of a browser, you can download the Messenger app for your PC by clicking on this link. Despite not being a Facebook-developed version, this unofficial version enables users to perform almost all Messenger functions including sending voice messages, files, and photos, making calls, and talking to friends.