The appeal of bread is undeniable: it has a neutral flavor that goes along with all spreads, can be eaten as a sandwich or a toast, and can come in various shapes including hamburger buns, hoagies, and pita. It's also choc-full of carbs which can be the cause of insulin insensitivity, obesity and more.
It's hard to cut bread out of your life cold turkey (cold turkey, by the way, also works great in a sandwich), but what if we told you don't need to? If you're the type that has to have a sandwich every once in a while, almond flour bread is just the thing for you.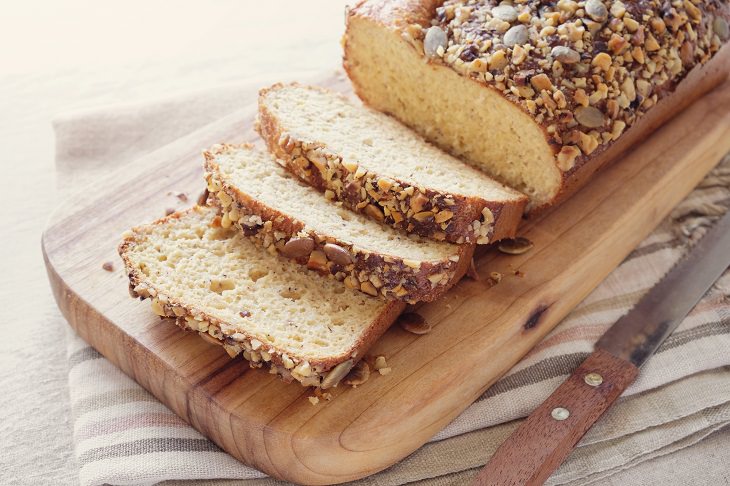 Baking with almond flour is ridiculously simple, but you should be aware that it behaves completely different from wheat flour, as it lacks gluten, which gives bread its consistency and allows it to rise. By adding eggs and psyllium, you can compensate for this and give your almond flour bread structure, as well as making it fluffier.
As mentioned, almond flour bread is not just a good alternative for people who are trying to reduce carb-intake, it's also a great solution for people who are opting out of gluten. And the best thing is that it's unprocessed, unrefined and easy to make. Here's how:
Ingredients:
(enough for a loaf of bread that yields roughly 15 slices)

• 2 cups almond flour
• 4 eggs
• 2 tsp baking powder
• ½ tsp salt
• ¼ cup psyllium husks
• 2 tbsp olive oil
• ¼ cup almond milk (unsweetened)
Instructions:
1. Preheat oven to 350°F (180°C) and lightly grease a loaf pan.
2. Put all of the ingredients in a bowl and mix until a dough forms.
3. Pour into the loaf pan and bake for 30-40 minutes, or until golden-brown outside. Leave to cool for several minutes before putting the bread out of the pan to cool.
That's it. It's that simple.
It should be stated that if you're opting for a low-carb diet, an omelet and a couple of strips of bacon might serve you just as well or even better, but at least you'll be able to enjoy these things with a slice of bread without beating yourself up about it.