1. For Those Who Can Appreciate a Classic: Eggs Benedict
You can never go wrong with this classic breakfast recipe, and now you won't have to go to a restaurant to share it with your sweetheart. Instead, give this recipe a try.
Cooking time: 45 minutes
Servings: 4 servings
Difficulty: easy
Ingredients
The Hollandaise
Assembling
Kosher salt

4 English muffins, divided into two

2 tbsp soft unsalted butter

8 slices bacon or ham

8 eggs

1 tbsp sliced greens of your choice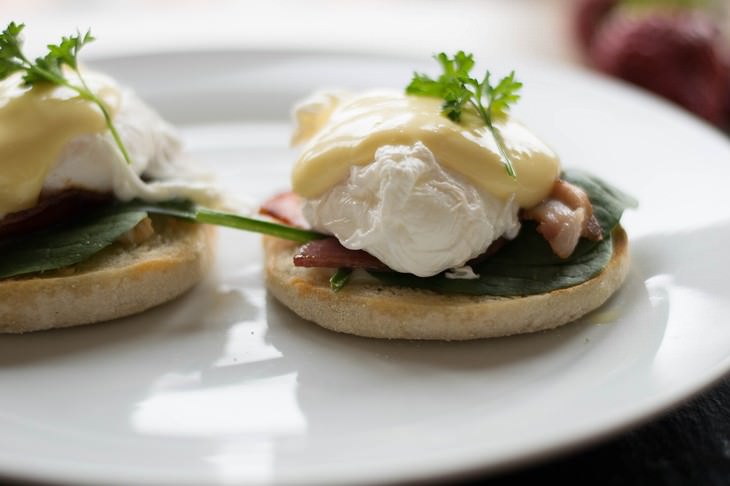 The Hollandaise
Step 1. Melt the butter in a saucepan on low heat until melted. Drain any solids leaving only the clear liquid.
Step 2. Using a blender, process the remaining sauce ingredients until the consistency is smooth. Without turning off the blender, drizzle in the melted butter and continue processing until the sauce becomes thick and creamy.
Step 3. Transfer the sauce into a small bowl and keep near the stove to keep it warm while you're preparing the rest of the ingredients. Cover the sauce with plastic wrap so that it touches the sauce to prevent a skin from forming.
Step 1. Heat up a pot of salted water until bubbles appear on the bottom, reduce to low heat and maintain a steady temperature.
While your water is heating up...
Step 2. Toast the English muffins until golden brown. When they cool down a bit, butter the muffins.
Step 3. Cook the bacon until browned, about 2-3 minutes on each side. Top each muffin with a piece of bacon.
Step 4. To prepare the poached eggs, you'll need a small bowl and a slotted spoon. Crack the egg into the bowl and then gently lower it into the water.
Step 5. Some people prefer to stir the water, but I like just waiting patiently for 3 minutes or until the egg white becomes opaque and firm.
You can cook a few eggs at a time, but pay close attention to which one you started cooking first because they can overcook very easily, and no one wants eggs benedict without the signature runny egg yolk.
Step 6. To remove the eggs from the water, gently lift the egg with a slotted spoon and set it on a plate or towel to let the excess water drip down.
Step 7. Put your beautiful poached eggs on the bacon-topped English muffin, then cover with hollandaise and garnish with greens.
2. For The Ones Who Crave a Little Zing: Butternut Squash, Ginger and Coconut Muffins
This interesting gingery recipe will spice up any Valentine's day. And the best thing is that you can prepare it ahead of time, as these muffins will taste amazing for at least 2 days after you prepare them, or so they tell me. Every time I make them, they disappear in a matter of seconds, it seems.
Cooking time: 45 minutes
Yields: 12 muffins
Difficulty: easy
Ingredients
Wet ingredients
2 eggs

10 tbsp melted unsalted butter

⅔ cup (160 ml) buttermilk

2 tsp grated ginger

⅔ cup (135 g) light brown sugar
Dry ingredients
Filling
2 cups (100 g) grated butternut squash

¾ cup (75 g) shredded coconut

¾ cup (95g) chopped pecans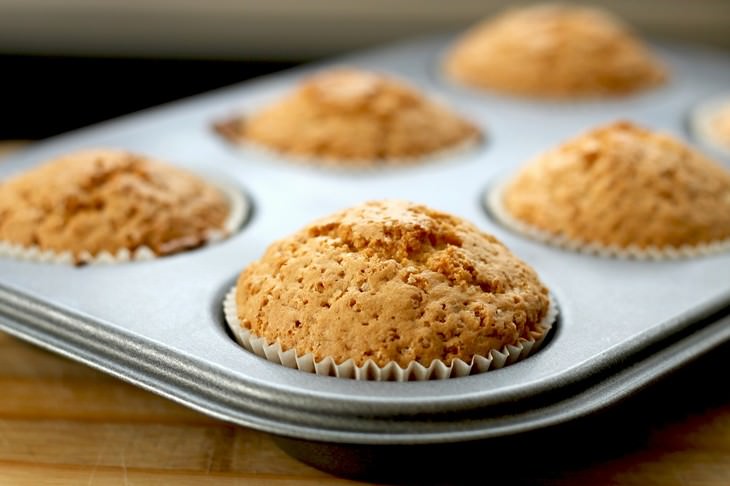 Preparation
Step 1. Preheat oven to 375°F. Line a 12-cup muffin pan.
Step 2. Whisk all the wet ingredients from the list n a bowl.
Step 3. In a bigger bowl, mix all the dry ingredients, and then combine the two mixtures with a wooden spoon or spatula.
Step 4. Finally slowly mix in the filling ingredients and your batter is ready.
Step 5. Divide your batter equally between all the muffin cups. Optionally, sprinkle some sugar or shredded coconut on top.
Step 6. Bake your delicious muffins for about half an hour, or until golden brown, preferably rotating muffin tin halfway through. When ready, transfer muffins to a wire rack and set them out to cool.
3. For Those Who Like Things With a Twist: Savory Dutch Baby
What breakfast compilation would this be without a pancake? But since it's Valentine's day soon, the pancake has to be extra special, so we chose this savory Dutch baby recipe. The great thing about this recipe is that you can customize it however you want.
Cooking time: 50 minutes
Servings: 4 servings
Difficulty: easy
Ingredients
3 eggs

¾ cup (150 ml) milk

3 tbsp melted unsalted butter

½ cup (60 g) all-purpose flour

2 tbsp cornstarch

Salt and pepper to taste
Topping Ideas (choose your own or follow our recommendations):
Fried eggs, avocado, and ham

Smoked salmon, cream cheese, and sliced scallions

Pesto, bacon or ham and cheese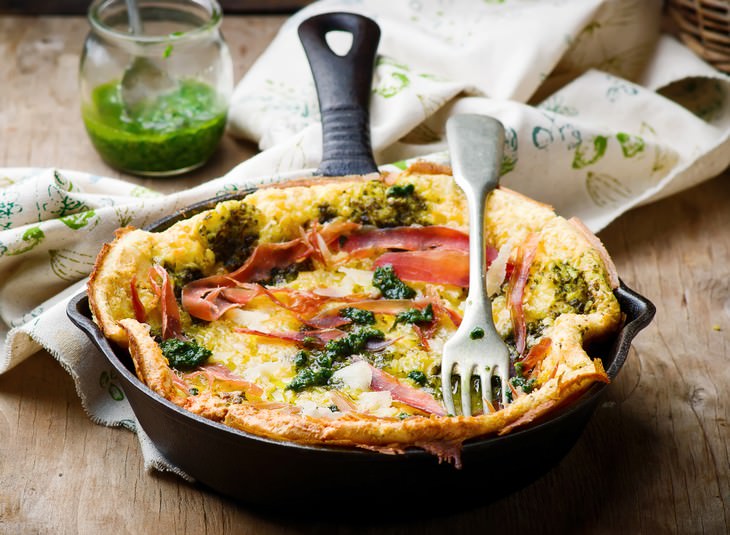 Preparation
Step 1. Place a medium pan you can put in an oven (I use cast iron), on the middle level of the oven and preheat at 450°F (230°C) for at least 25 minutes.
Step 2. While your pan is in the oven, whisk up eggs until quite frothy. Whisking simultaneously, gradually drizzle in the milk and 2 tablespoons melted butter. When the mixture is smooth, add your flour, salt and pepper, and cornstarch, blending until combined.
Step 3. Pull out the pan from your oven and add spread the remaining butter. Immediately add the batter into the pan and bake your dutch baby until it puffs up and browns nicely about 20 minutes.
Step 4. Add the topping of your choice and enjoy warm.
4. For Those Who Have a Sweet Tooth: Breakfast Crisp
This vegan recipe is guaranteed to satisfy everyone's sweet tooth. It's quick, it's super easy and doesn't require almost any skill, what's not to love?
Cooking time: 35 minutes
Servings: 2 servings
Difficulty: easy
Ingredients
1 pear, 1 apple, and 1 plum, diced

2 tbsp honey

3 tbsp coconut oil

½ tsp ground cinnamon

¼ cup (19 g) shredded coconut

¼ cup (30 g) chopped pecans

2 tbsp sunflower seeds
Topping (optional):
Coconut cream

Whipped cream

Ice cream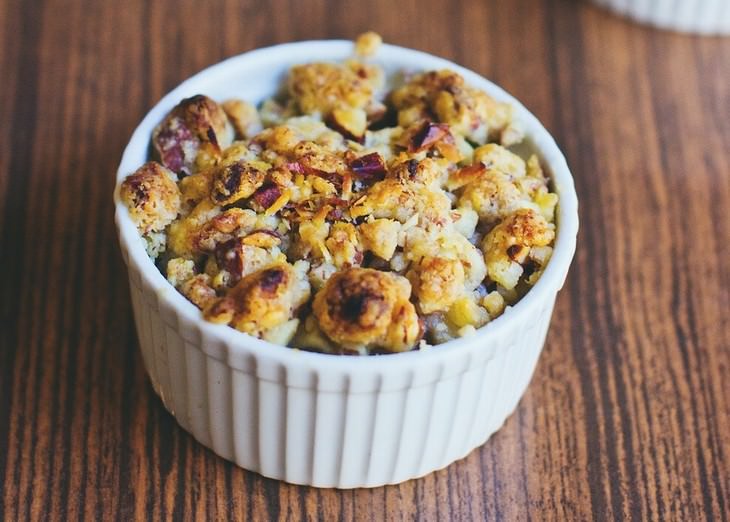 Preparation
Step 1. Preheat your oven to 375°F (190°C).
Step 2. In a saucepan, combine your fruit, honey and coconut oil, and cinnamon and saute over medium heat for about 10 minutes or until the fruit softens gently.
Step 3. Place your fruit into a tart or small pie pan. Top up with the coconut, pecans, and your sunflower seeds and bake in the oven for about 20-25 minutes until really golden.
Step 4. Remove from the oven and serve warm, topped with whipped cream or ice cream if you're feeling extra.
5. For The Lovers of a Hearty Breakfast: Tacos With Chorizo and Crispy Potatoes
Breakfast is the first meal of the day and it has to provide you with enough nutrition for at least half a day, especially since you may have a lot of activities planned for today. If this is about you and your breakfast has to be filling, you will love this breakfast taco recipe.
Cooking time: 45 minutes
Servings: 4 servings
Difficulty: easy
Ingredients
8 oz (225 g) chorizo sausage

1 large potato, cubed

2 tbsp white vinegar

1 tbsp vegetable oil

Salt and pepper to taste

2 tbsp unsalted butter

2 scallions, sliced

6 eggs

2 tbsp milk

8 small flour tortillas

½ cup (50 g) grated cheddar

Hot sauce (optional, for serving)

Avocado, sliced (for serving)

Greens of your choice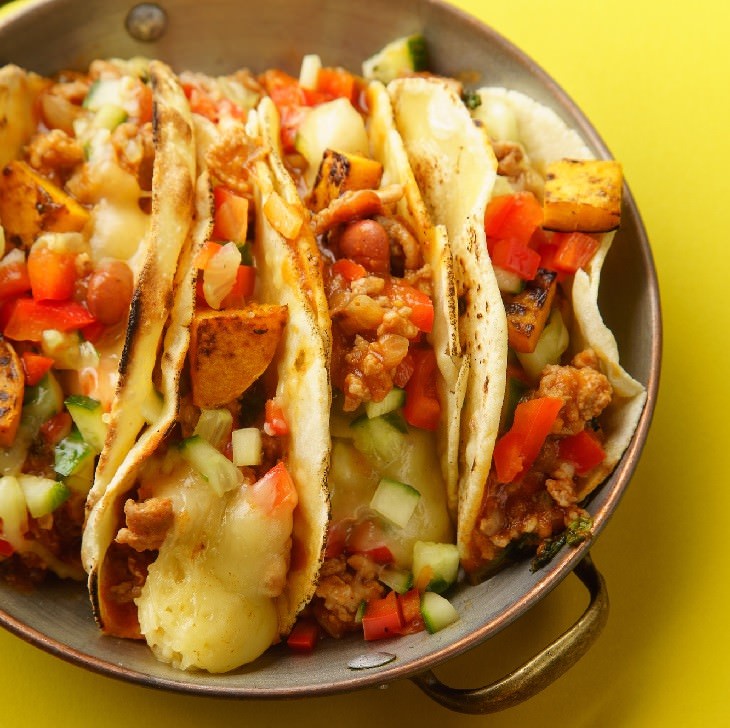 Preparation
Step 1. Heat up cold water in a large pot. Add potatoes, vinegar, and salt. When boiling, reduce the heat to a medium and let it simmer. After 5 minutes of cooking, or when the potatoes are tender, drain the water off.
Step 2. In a non-stick pan, heat up the oil, add the chorizo and using a wooden spoon or spatula, break up the sausage into smaller pieces and cook until golden brown (about 5 minutes).
Step 3. Remove the chorizo from the pan, and cook the potatoes in the chorizo fat until golden and don't forget to add salt and pepper. Cook them slowly and let them cook through and have a crispy outside.
Step 4. Add scallions and a tablespoon of butter to the potatoes and continue cooking until the scallions soften. Finally, transfer the potato mix to the chorizo and reserve the pan.
While potatoes are cooking through…
Step 5. Combine eggs, milk, a pinch of salt and pepper in a bowl. Heat your tortillas in a dry pan over medium heat until the tortillas get slightly toasted. Keep your tortillas warm by keeping them between 2 plates.
Step 6. Heat the reserved pan back up over medium heat and, melt the remaining butter and add the egg mix. Cook while stirring for 2 minutes or until barely set.
Step 7. Return your chorizo and potatoes to the pan and cook for another 2 minutes.
Step 8. Set out your tortillas on cutting board or on separate plates and equally divide the mixture. Sprinkle with cheese and top with some hot sauce, avocado, and optional greens. Now fold them in two and enjoy your meal!
H/T: epicurious.com