Most of us live in cities, where the only animals we see every day are dogs, cats, and pigeons, and the landscapes can be quite gray and monotonous. In nature, however, things change all the time - animals migrate from place to place, colors change between the seasons and the calm sea can become turbulent in seconds. These are the moments that photographers from all over the world try to capture, and the best of them do succeed. Here 20 of the best nature photos from the 2017 National Geographic photography competition:
1. Courage – Adam Zaff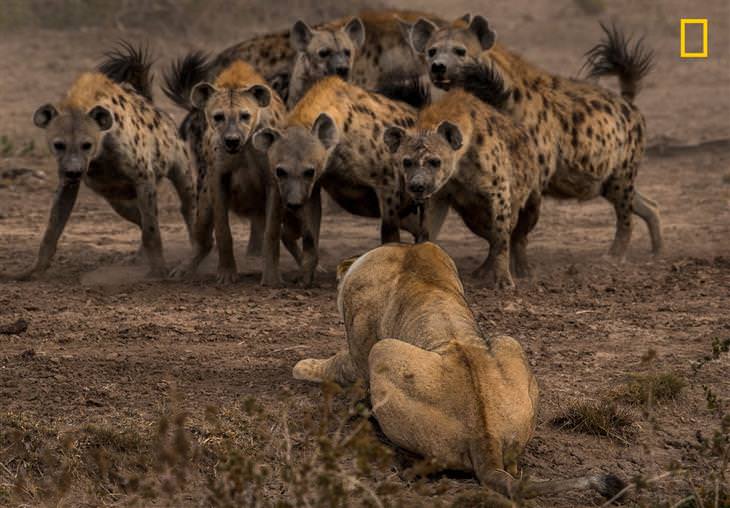 This picture was taken at the Amboseli National Park in Kenya, where a group of hyenas tried to attack two lionesses, who apparently were old and wounded. The standoff lasted 30 minutes, but finally, the hyenas gave up and didn't challenge the lionesses, who got away without a scratch.
2. Rock Pool – Todd Kennedy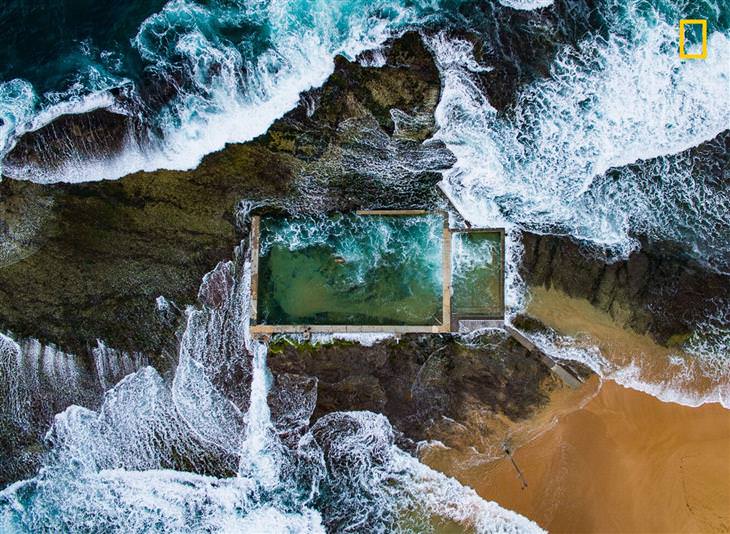 A rock pool on a shore in Sydney, at high tide. The waves crash into the pool but the lone swimmer doesn't flinch.
3. Atlantic Puffin – Harry Collins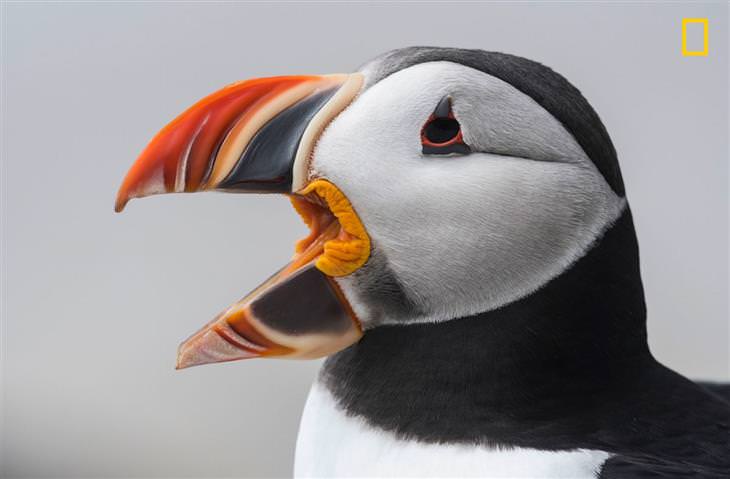 This Atlantic Puffin was photographed on a desert island near the shores of Maine.
4. Arctic Reflection –
Andrio
Loria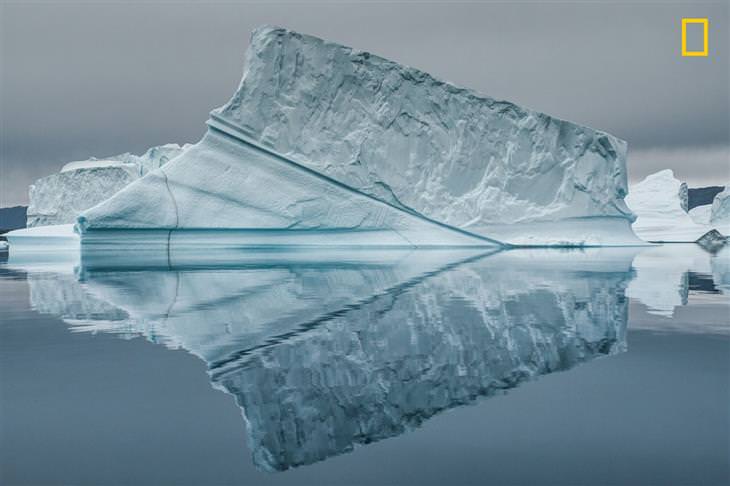 This iceberg is 330-390 feet (100-120m) tall and was photographed in the longest fjord in the world - the Scoresby Sound in Greenland.
5. Sunrise of Masia Mara – Jay Ruan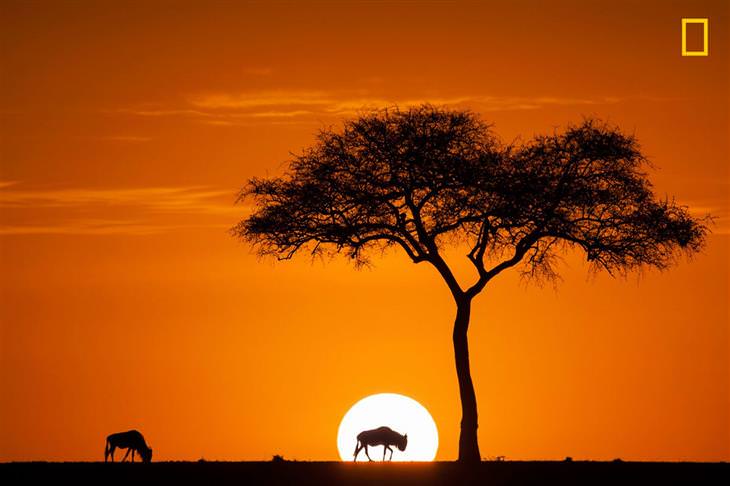 Throughout August to September, there are millions of animals living in Masai Mara, and this picture was taken one morning in September when the photographer saw animals grazing in front of the rising sun on the horizon - it was the most beautiful sunrise he had ever seen in his life.
6. Over the Lake – Phillip Chang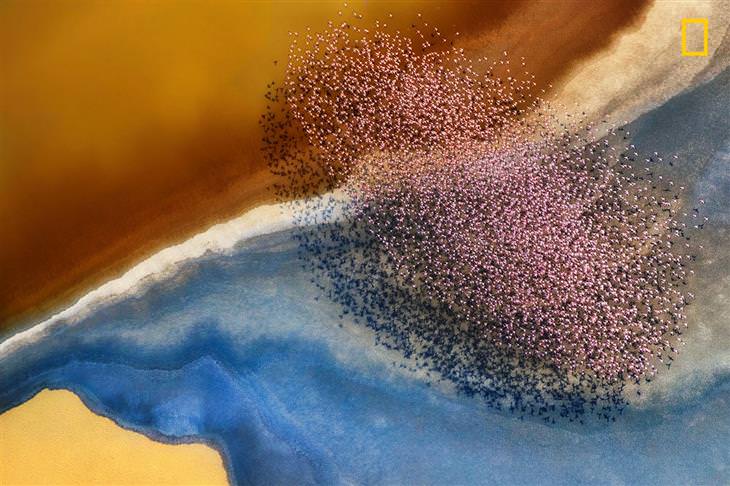 This picture was taken from a helicopter over the salt lake Natron in northern Tanzania, just as a flock of Flamingos was flying over it.
7. Sword - Sanjeev Bhor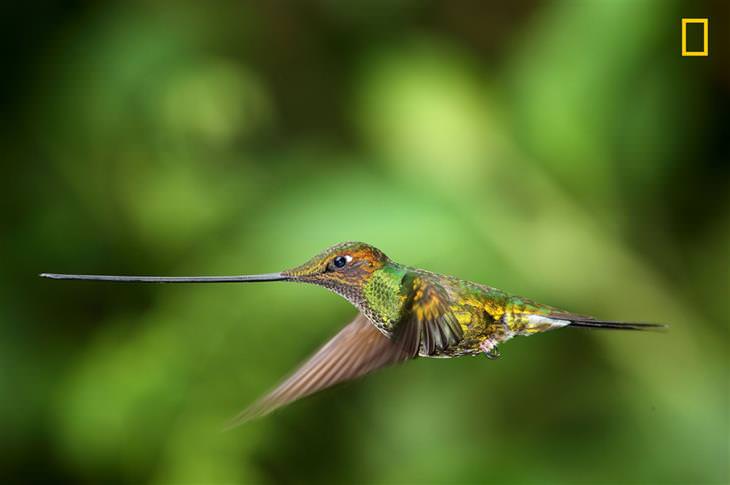 This photo was taken in Ecuador. It's very difficult for photographers to capture a focused image of hummingbirds in flight, but this photographer managed to do so spectacularly. The hummingbird in this picture is the only species whose bill is longer than its body - the sword-billed hummingbird.
8. Dinner in the Rain - Tibor Kércz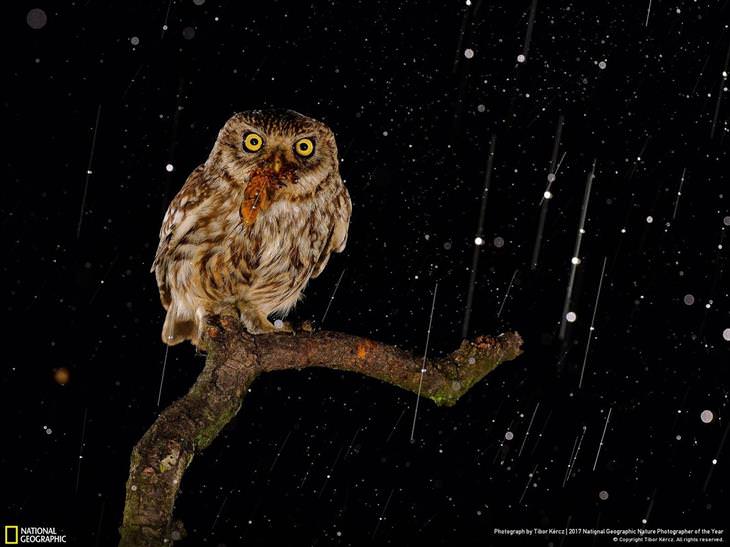 A small owl with prey in its mouth, taken on one of the rainiest nights in Chungrad, Hungary.
9. Valley Of Fire – Lace Anderson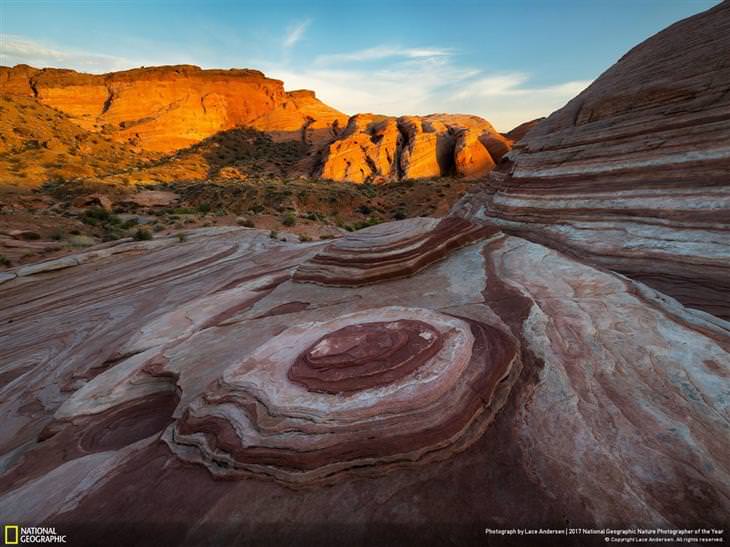 The temperatures in the Valley of Fire State Park in Nevada were unbearable at 107°F (41°C), and it made climbing and hiking in the area very difficult. However, photographer Lace Andersen did not give up and finally captured this amazing stone formation, created over many years by iron oxidation within the rock.
10. Silky Sunset - Wai Hoe Mok
When the sun set over the Jardin de la Reina in Cuba, its rays penetrated the water and painted a soft background for this silk shark. The photographer was under great pressure as he took the picture, since it's extremely dangerous to swim with sharks after dark.
11. Fish in the Air - Gary Zeng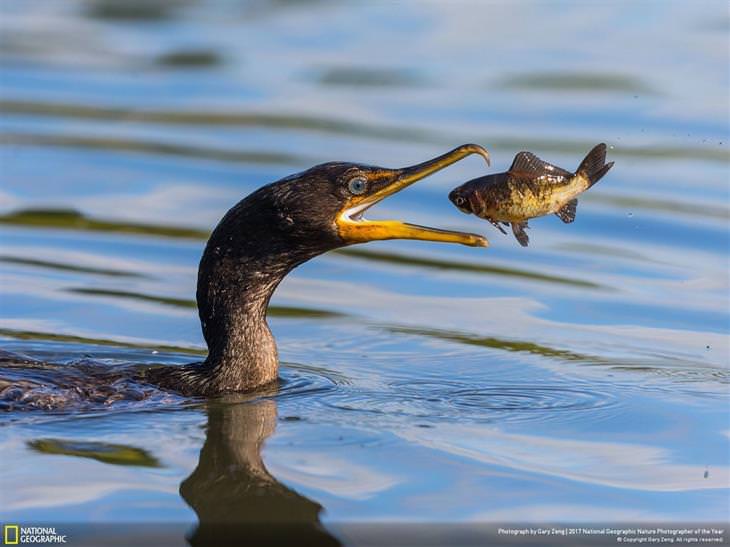 This double-crested cormorant waterfowl catches a fish in the lake - in the picture the cormorant throws the fish in the air in order to swallow it whole.
12. Multicolored Octopus - Rucca Y Ito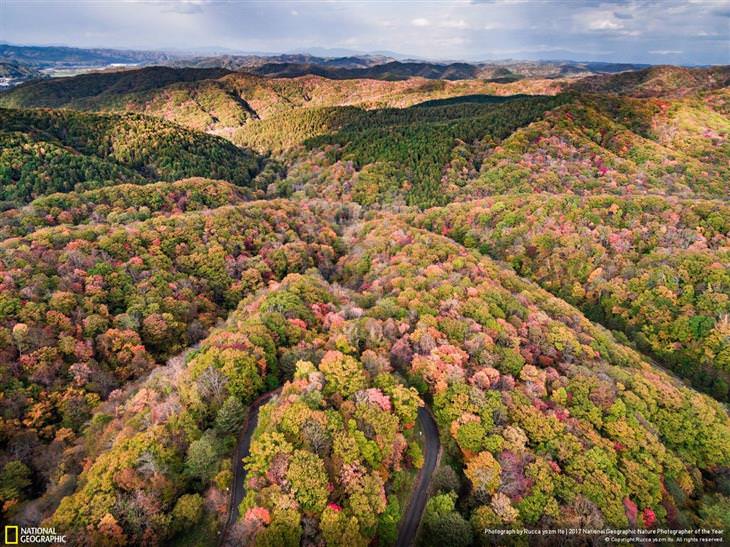 The photographer saw this wondrous sight in Hokkaido, Japan, and had to photograph the autumn colors that flooded the area.
13. Tarpon Tunnel - Jason Washington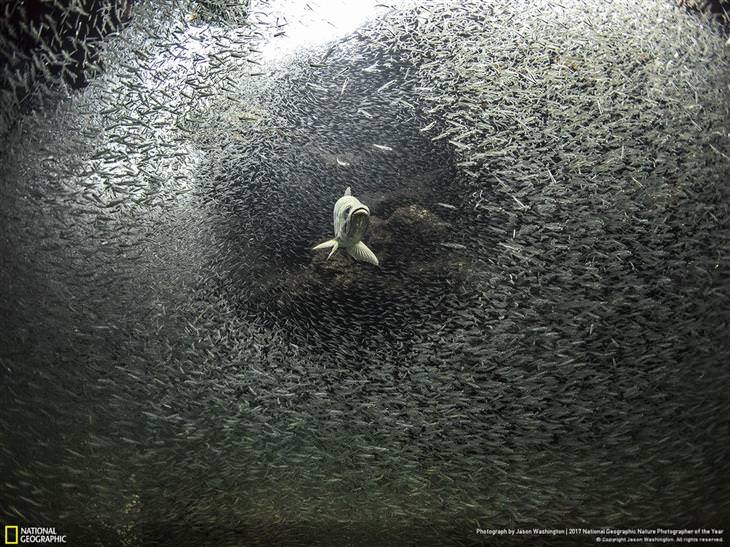 A tarpon swims through a tunnel of dwarf herring.
14. Volcano - Vladimir
Voychuk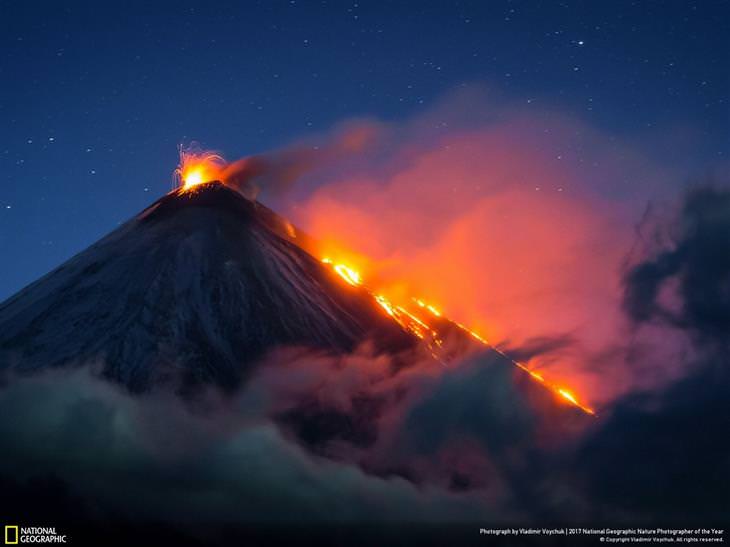 They say you can stare at two things forever - fire and water - but when it comes to a fountain of lava, these two elements combine in a very mesmerizing way. This picture shows Mount Kluczewska Spocka on the Kamchatka Peninsula.
15. The African Buffalo and His Companions - Ge Xiao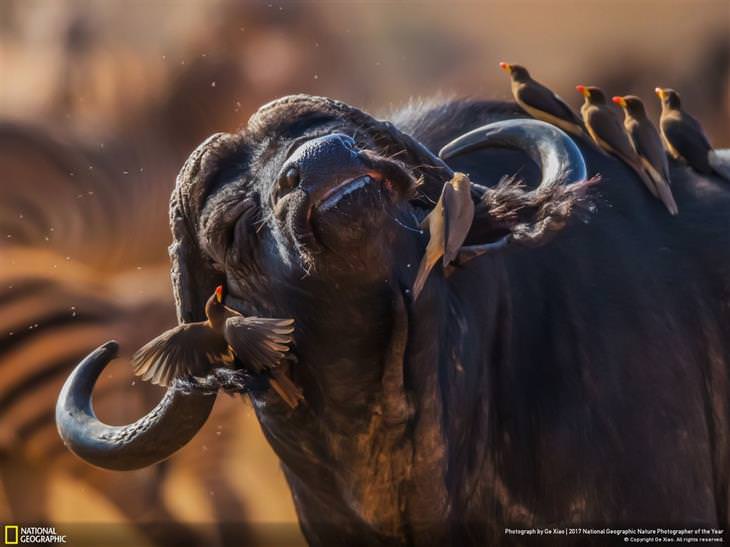 One morning in Kenya, this buffalo came for a drink of water, and a family of oxpeckers decided to join him.
16. Surf Scoters Taking Flight - Sam Edmonds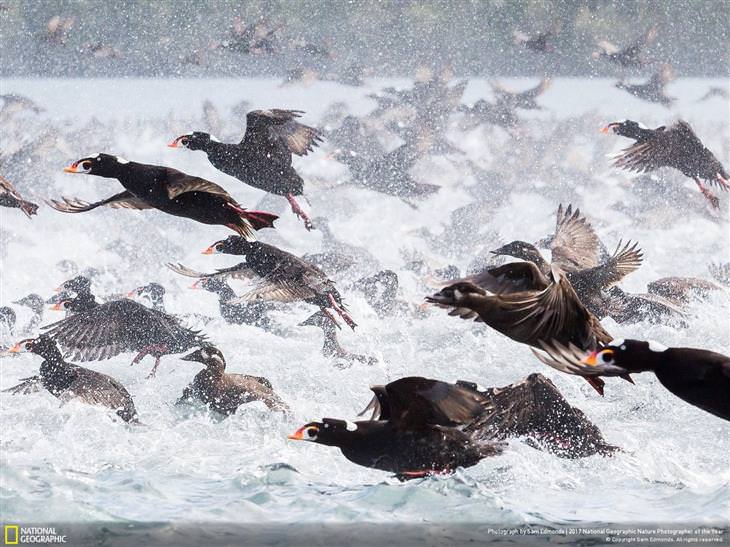 Thousands of Surf Scoters soar high in the Great Bears in British Columbia, Canada.
17. Lan Ha Bay - Son Tong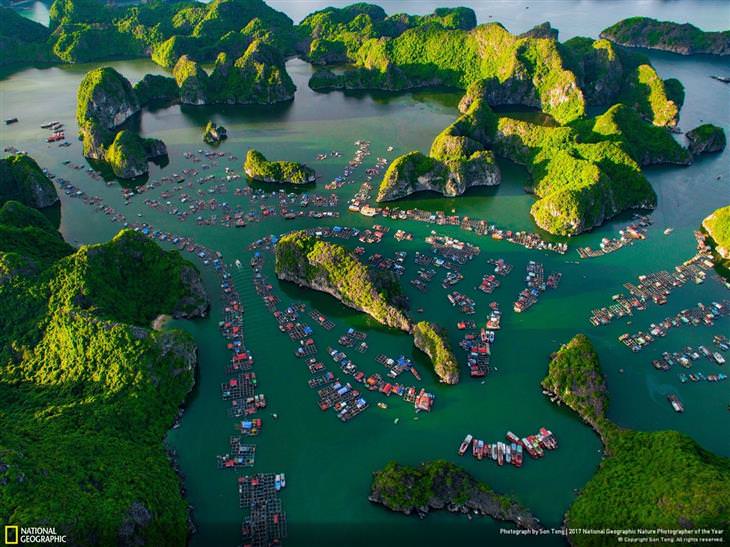 Lan Ha Bay is part of Ha Long Bay in North Vietnam, where there is a whole floating village, mostly inhabited by fishermen.
18. The Jungle Beach - Enrico Pescantini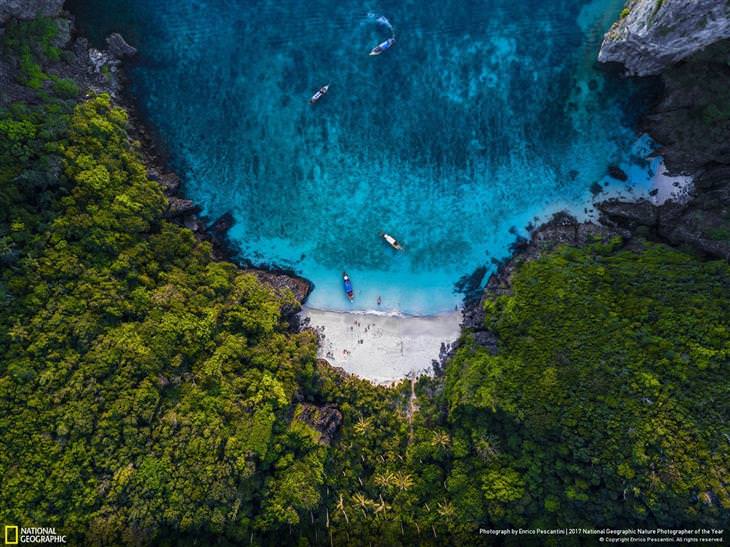 Ko Phi Phi in Thailand has thousands of amazing beaches, and the photographer discovered this hidden beach while flying over the jungle.
19. Weaver and Nest - Federico Rizzato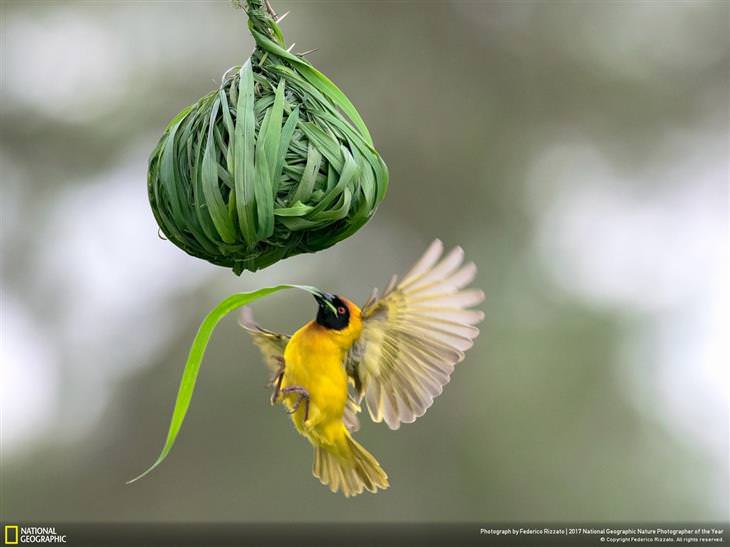 Photographer Federico Rizzato noticed a weaver bird building a nest among trees, and when he returned to the area a few days later, he decided to photograph it. It took him a few hours, but thanks to his patience, he managed to capture this stunning image.
20. World Heritage Yoshino Mountain at Night - Kitagawa Rikizo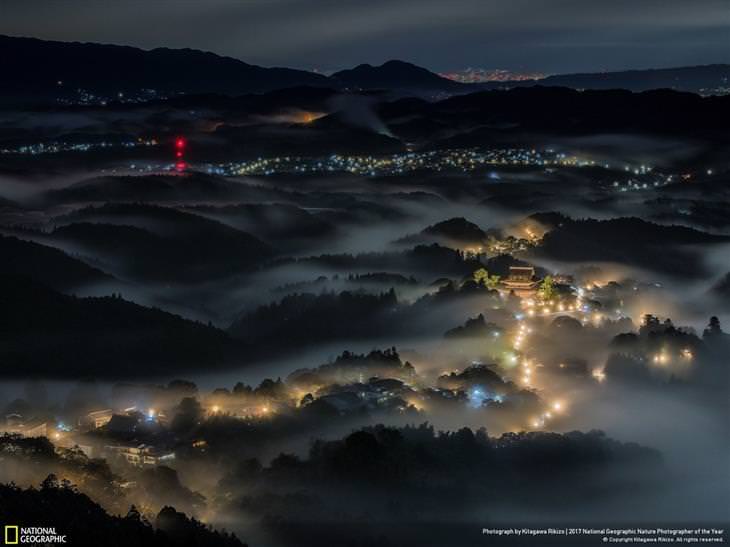 In spring, the cherry blossoms in the famous Yoshino Mountain are in full bloom, and in the autumn nights, a heavy fog makes it look especially magical.
Source: nationalgeographic