Can't take that Tuscan vacation of your dreams? Then bring Tuscany to you with this dreamy, creamy, Tuscan chicken dish. This entire recipe takes less than 30 minutes to make and even less time to clean up.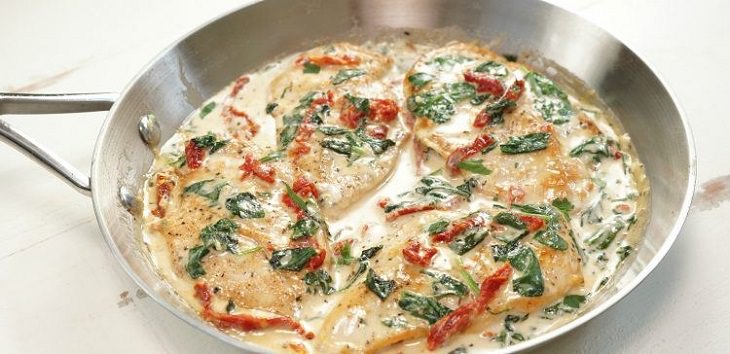 Tuscan Chicken (Serves 4)
Ingredients
• 4 boneless skinless chicken breast halves
• 2 tablespoons olive oil
• 1 cup heavy cream
• ½ cup chicken broth
• 1 tablespoon minced garlic
• 1 teaspoon Italian seasoning
• ½ cup Parmesan cheese
• 1 cup chopped spinach
• ½ cup sun-dried tomatoes, sliced thin
• 8 oz. Fettuccine or Linguini pasta, cooked (to serve)
Directions
1. Heat a large skillet over a medium-high heat.
2. Add some olive oil and sear the chicken until it's golden brown and mostly cooked, about 3-5 minutes on either side. Remove the chicken and set aside.
3. Add minced garlic and cook until fragrant, roughly one minute.
4. Add the cream, chicken broth, Italian seasoning, and grated Parmesan cheese. Whisk this mixture over a medium-high heat until it starts to thicken, about 5-8 minutes. Add the chopped spinach and sun-dried tomatoes, bring to the simmer, and cook until the spinach starts to wilt.
5. Add the seared chicken back into the pan and toss to coat in the sauce. Simmer in the sauce until fully cooked. Serve over pasta, if desired.