Hot and sour shrimp poke
This recipe uses Umeboshi plum vinegar which is made from the brine used for Japanese pickled plums, which has wonderful sour and salty characteristics. The vinegar is considered to be alkalizing and is helpful for detoxing. Plain rice can be used and is a suitable substitute, but if you're feeling adventurous, the bamboo variety will be a tasty alternative. As an option, you can serve with seaweed salad.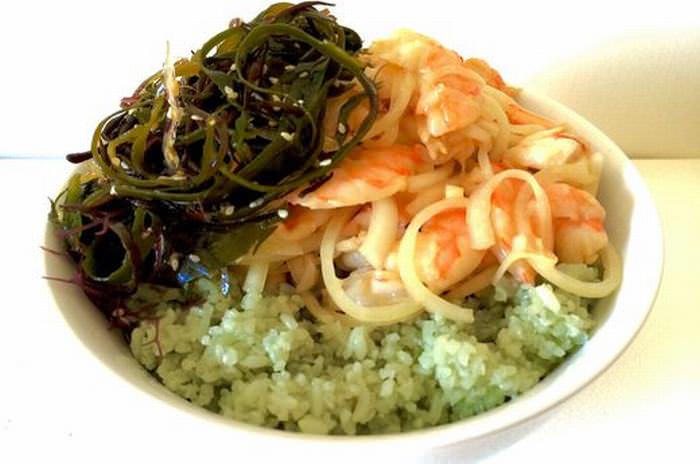 Source
Ingredients:
• 3 cups Bamboo Rice
• 1 1/2 cups cooked shrimp
• 1 sweet onion, thinly sliced
• 2 tbsp lime juice
• 2 tsp Ume Plum Vinegar
• 1 tbsp oil, canola
• 1/2 tbs wasabi powder
• 1 tsp tamari sauce
Seaweed Salad (optional)
• 6 oz seaweed
• 1 tbsp seeds, sesame seeds, whole, dried
• 1 tbsp coconut aminos
• 1 slices raw ginger
• 1/2 tsp chili oil
Directions
1. Prepare the seaweed salad by mixing all the ingredients together. Then, in a mixing bowl, toss the shrimp and onions with all ingredients, except the rice and the seaweed salad.
2. Place the rice in a serving bowl and scoop the shrimp mix and seaweed salad on top. Enjoy!
Note: You'll only need 1 cup of thinly sliced sweet onion, not a whole one.
Chili Garlic Steak and Macadamia Poke
Poke is usually a light and healthy dish, but it can be hearty too. If you are not a big fan of fish, try steak instead. This recipe uses fresh chilies, garlic and shallots, with steak served over jasmine rice.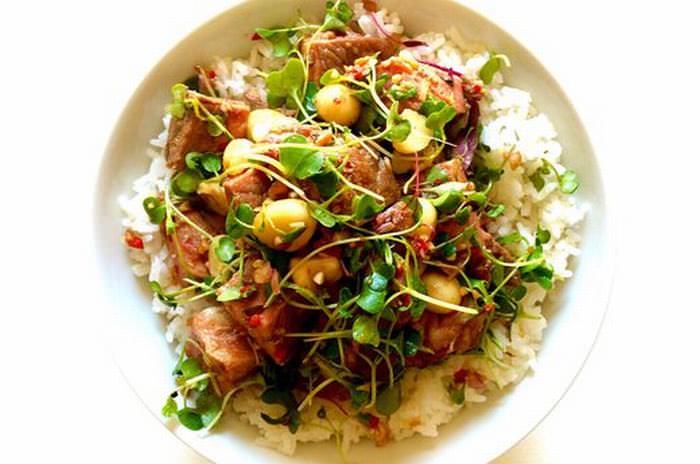 Source
Ingredients:
• 2 cups cooked New York steak
• 2 cups rice, Jasmine
• 1 cup organic microgreens
• 1/4 cup shallots, minced
• 1/4 cup nuts, macadamia nuts, raw
• 3 tbsp minced garlic
• 2 tbsp cayenne pepper
• 1 tbsp tamari sauce
• 1/2 tbsp oil, canola
Directions
1. Preheat the oven to 425°F.
2. Combine the tamari sauce and oil with half of the chili, garlic and shallot. Pour over the steak.
3. Marinate the steak for five minutes, then roast it in the oven on a baking sheet. For a medium steak, cook for 15 minutes.
4. Stir a dash of orange blossom water into the jasmine rice and place in a bowl.
5. Remove the steak from the oven and let it rest, then cut into cubes.
6. Mix the steak and any juices from cutting with macadamias, micro greens and the remaining chili, garlic and shallots, and pile on top of some rice.
Ginger Chicken Poke
Black rice has recently gained popularity due to the incredible antioxidant properties that dark plant foods possess. Black rice has no coloring, the dark purple hue is its natural color. The taste is very similar to brown rice too. Paired with ginger and chicken, you're in for a treat with this poke dish.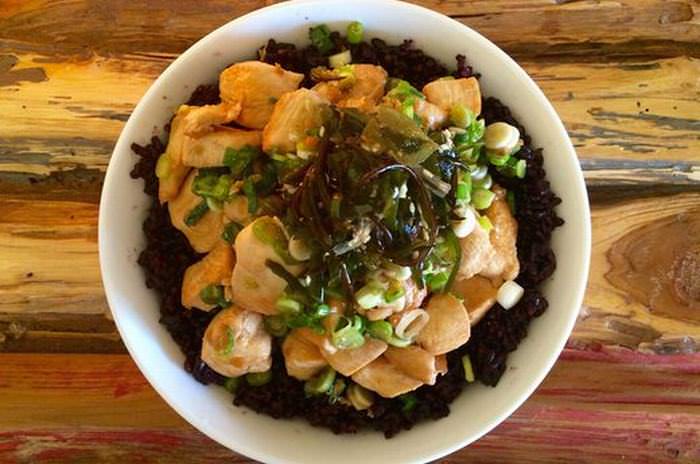 Source
Ingredients:
• 3 cups Black Rice
• 2 cups cooked skinless chicken breast
• 1/4 cup onions, green, raw, chopped
• 1 tbsp minced garlic
• 1 tbsp tamari sauce
• 1 tbsp oil, canola
• 1 tsp oil, canola
• 1 1/2 tsp ginger
Directions
1. Combine the tamari, garlic, ginger and 1 tsp of oil with the chicken, leaving it to marinate for 5 minutes.
2. Add the remaining oil to a pan over medium-high heat and cook until the chicken is firm. This should take about 7 to 8 minutes.
3. Next, combine the rice with a dash of orange blossom water and place in a serving bowl.
4. Place the chicken on top of the rice and scatter green onions on top.
5. Place the seaweed salad next to the chicken and serve.
Vegan Paleo Rainbow Carrot Poke
This delicious poke bowl is made from kelp noodles (which are made from seaweed). Kelp noodles are a good source of Iodine, an essential nutrient for thyroid function. They have no flavor, just a slight crunch. If you prefer them to be a bit softer, soak them in hot water before using. If you are unable to get your hands on rainbow carrots - which will provide you with a healthful punch of anthocyanins (the antioxidants that gives the purple and red carrots their color), plain orange carrots work just as well.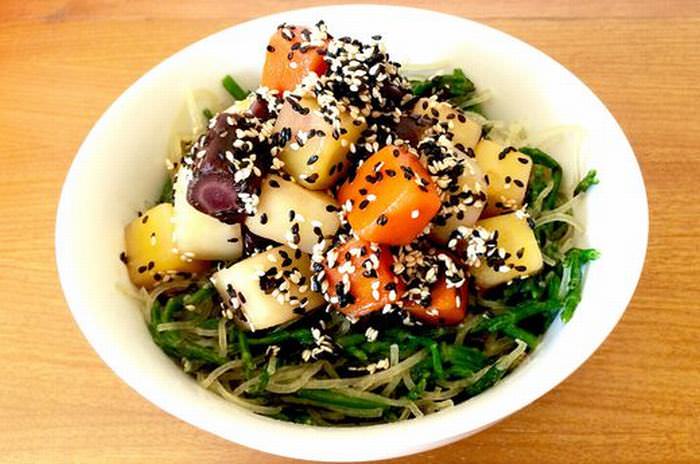 Source
Ingredients:
• 2 cups rainbow carrots
• 2 cups sea beans (salicornia)
• 2 cups kelp noodles
• 2 tbsp oil, canola
• 1 tsp oil, canola
• 1 tbsp sesame seeds black
• 1 tbsp white sesame seed
• 1 tbsp coconut aminos
• 1 tbsp wasabi paste
• 1 tsp sesame oil, hot chili
Directions
1. Soak the kelp noodles in hot water for 30 minutes, drain and snip into manageable lengths with scissors.
2. In a mixing bowl, combine the noodles and sea beans (which you can eat raw or steam for 5 minutes) with wasabi paste and algae oil.
3. In a separate bowl, combine the carrot cubes (steamed for 5 minutes) with the sesame seeds, coconut aminos and chili sesame oil.
4. Add the noodles and sea bean mix into a serving bowl, topped with the carrot mix.