1. Baked Egg Boats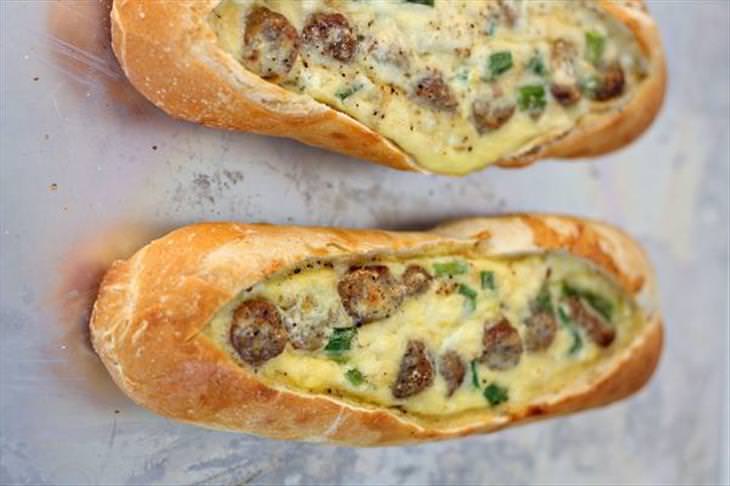 Source
These sausage egg boats are incredibly delicious and relatively easy to prepare.
Ingredients (makes 4)
• 4 demi sourdough baguettes
• 5 eggs
• 1/3 cup heavy cream
• 4 ounces pancetta, finely chopped and fried until crisp
• 3 ounces gruyere cheese, grated
• 2 green onions, thinly sliced
• Salt and pepper to taste
Directions:
1. Preheat the oven to 350°F. Meanwhile, cut a deep V through the tops of the baguette - about a 1/2 inch deep. Remove the bread filling and set aside.
2. In a mixing bowl add the eggs and the cream, lightly beating the two ingredients together. Whisk in the remaining ingredients and season with salt and pepper.
3. Pour the mixture into each baguette boat and place each one on a baking sheet, and bake the bread for about 20 to 25 minutes, or until the baguettes appear golden brown and puffed at the center.
4. Add a little seasoning and allow the bread to cool for about 5 minutes. Cut the baguette into portions (if desired) and serve.
2. Spring Vegetable, Ham, and Goat Cheese Frittata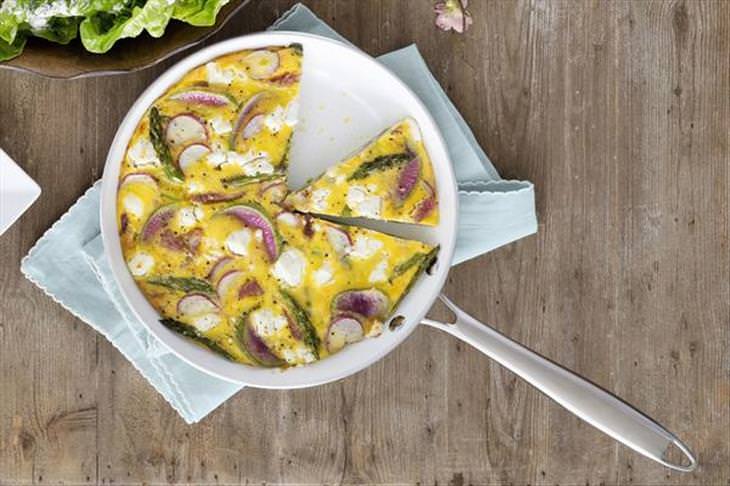 Source
An ideal recipe for the spring months, this fresh veggie frittata is a breakfast staple.
Ingredients
• 8 large eggs
• 3/4 cup heavy cream
• 3 ounces ham, chopped
• Kosher salt and freshly ground black pepper
• 2 tbsp. unsalted butter
• 1/2 lb. asparagus, trimmed and cut into 2-inch pieces
• 6 radishes, thinly sliced
• 4 scallions, sliced
• 1 garlic clove, finely chopped
• 4 ounces goat cheese, crumbled
Directions:
1. Preheat the oven to 350°F. Meanwhile, whisk the eggs, cream, ham, salt and pepper together in a bowl.
2. In a 10-inch oven-proof nonstick skillet melt the butter over medium-high heat. Add the asparagus and sauté until crisp - about 2 to 4 minutes. Add the radishes, scallions and garlic to the pan and sauté until the scallions have wilted (about 1 to 2 minutes).
3. Reduce the heat to medium then pour the egg mixture over the vegetables. Cook until the eggs have set around the edges - about 3 to 4 minutes. Sprinkle with goat cheese and bake until set - this should take about 15 to 17 minutes and serve immediately.
3. Havarti Soufflé with Scallions and Dill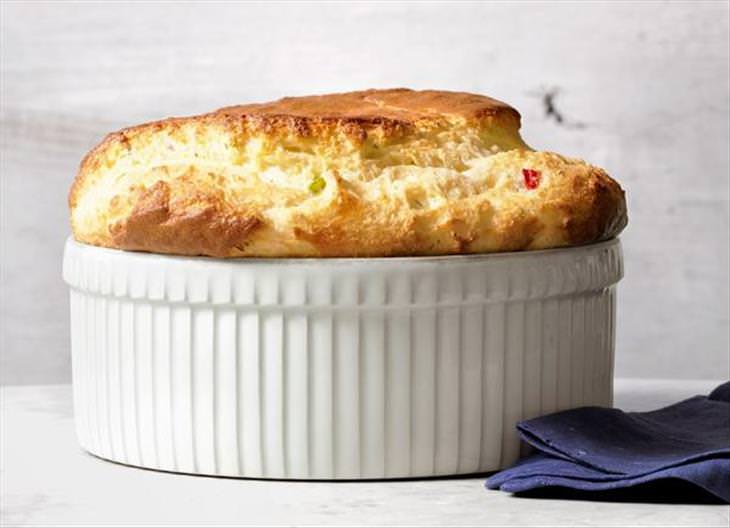 Source
Beaten egg whites alongside cheese, fresh dill and roasted peppers provide irresistible flavor - at just 374 calories.
Ingredients:
• 1 red bell pepper
• 5 tablespoons butter
• 3 tablespoons breadcrumbs
• 1½ cups milk
• 1 clove garlic
• 1 bay leaf
• ¼ cup flour
• ½ teaspoon salt
• ½ teaspoon freshly ground pepper
• 5 large egg yolks
• 7 large egg whites
• 2 cups grated Havarti cheese
• 2 large scallions
• 2 tablespoons chopped fresh dill
Directions:
1. Grill the pepper under the broiler or over an open flame. Turn it frequently, until it appears blistered and blackened on all sides - this should roughly take about 6 to 8 minutes. Transfer to a light bowl and cover tightly with plastic wrap. Let it sit for 20 minutes. Once cooled, remove the plastic wrap and use a paring knife to peel off the skin. Slit the pepper down on one side and remove the stem and the seeds. Finely chop the pepper and set aside.
2. Preheat the oven to 375°F. Place a rack on the lower third level of the oven and coat an 8-cup soufflé dish or casserole - the dish should be at least 4 inches deep. Coat with 1 tablespoon butter. Dust the dish with breadcrumbs and shake out any excess. Set aside.
3. Heat a medium pot over a medium flame and bring the milk, garlic and bay leaf to a simmer. Reduce the heat to low. Meanwhile, in another pot, over medium heat, melt the butter. Then whisk the flour and cook for 3 minutes. With a slotted spoon, remove the garlic and bay leaf and continue to whisk, adding the milk to the butter-flour mixture, slowly. Cook until the mixture has thickened and begins to boil. This should take about 5 minutes. Remove from heat and add the salt and pepper.
4. In a medium bowl, whisk the egg yolks in a cup of the milk-flour mixture slowly and steadily. Continue to whisk while transferring the egg yolks in a slow, steady stream to the remaining milk-flour mixture. Stir the cheese into the mix until melted then transfer to a large bowl. Add the scallions, dill and reserved red pepper and mix well.
5. Beat the egg whites to stiff, but not dry, peaks in a medium-sized bowl. Use a spatula and add one-third of the egg whites into the cheese mixture, folding in the remaining whites. Pour into a prepared dish.
6. Bake until the soufflé is golden brown and has risen to about 3 inches. To test, insert a toothpick into the center and see that it comes out clean after around 40 to 45 minutes. Be sure to leave the oven door closed until the soufflé has baked for at least 30 minutes. Then garnish with dill if desired. Serve immediately.
4. Baked Eggs with Spinach and Tomato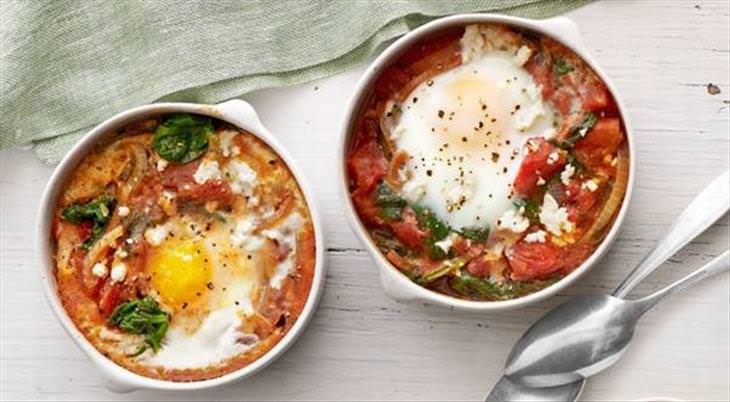 Source
The perfect recipe for a hearty breakfast or brunch.
Ingredients:
• 2 tablespoons olive oil
• 1 medium onion
• 5 ounces fresh baby spinach
• 1 can whole tomatoes
• 1 teaspoon ground cumin
• 1 teaspoon salt
• 1 teaspoon freshly ground pepper
• ½ teaspoon sweet paprika
• 2 teaspoons hot sauce (optional)
• 4 large eggs
• ¼ cup crumbled feta
Directions:
1. Preheat the oven to 400°F. Meanwhile heat the oil over medium-high heat in a medium saucepan. Add the onion and sauté until soft, this should take about 5 minutes. Add the spinach and sauté until it has wilted (about 2 minutes) then remove from heat.
2. In a medium bowl, stir the tomatoes, cumin, salt, pepper, paprika and - if using - hot sauce. Add the onion-spinach mixture and stir to combine, then divide among 4 oiled 10-ounce ramekins.
3. Crack an egg into the center of each ramekin and sprinkle the feta. Bake until the whites are set but the yolk remains soft - about 12 to 15 minutes.
5. Cheese Grits and Corn Pudding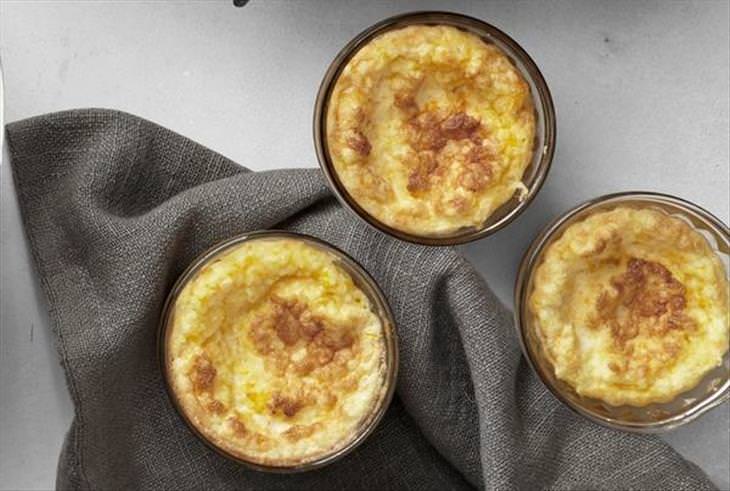 Source
This scrumptious recipe is a southern favorite.
Ingredients:
• 1½ cup whole milk
• Salt
• Freshly ground pepper
• ¼ cup grits
• ½ can Creamed Corn
• 3 ounces aged Cheddar
• 3 large eggs
Directions:
1. Preheat the oven to 375°F in a small saucepan over medium heat. Add the milk and bring it to a simmer. Then add 1/2 teaspoon salt, stirring constantly and add the grits in a slow and steady stream. Continue to cook, stirring occasionally until the grit has thickened, about 25 minutes. Transfer to a large bowl and set aside to cool slightly.
2. In the mean time purée the corn in a food processor, then stir the corn, cheddar and egg yolks into the grits. Season with 1/2 teaspoon salt and 1/4 teaspoon pepper.
3. In a large bowl use an electric mixer and beat the egg whites, until stiff peaks form. Use a rubber spatula and gently fold the egg whites in thirds, into the corn mixture. Divide among eight 1-cup ramekins and set on a baking dish, baking until the puddings have puffed up - this should take about 40 to 45 minutes.
6. Pesto-Ricotta Pie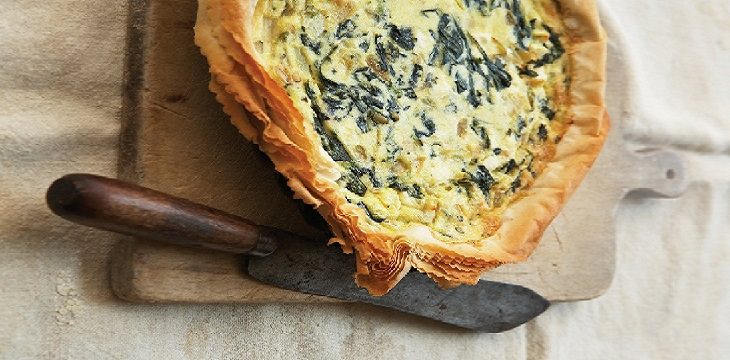 Source
A delicious chunky chopped pesto and creamy ricotta in a flaky phyllo dough crust.
Ingredients:
• 6 tablespoons butter
• 1 large leek
• 2 large eggs
• 2 large egg whites
• ¼ cup cream
• 1 cup ricotta
• ½ cup grated Parmesan
• 3 tablespoons chunky chopped pesto (see recipe below)
• 2 tablespoons finely chopped fresh parsley leaves
• ¼ teaspoon salt
• ¼ teaspoon ground black pepper
Directions:
1. Heat the oven to 375°F. Meanwhile, lightly butter a 9-inch pie plate and set aside. In a medium skillet over medium-high heat, heat 2 tablespoons butter then add the leeks and cook, stirring often until soft - this should take about 5 to 7 minutes. Transfer to a large bowl and set aside.
2. Whisk the eggs, egg whites and cream together in a medium bowl and add it to the leeks with the ricotta, Parmesan, pesto, parsley, salt and pepper. Mix the ingredients well together and set aside.
3. Melt the remaining 4 tablespoons of butter. Lay one sheet of phyllo in the pie plate. Brush with melted butter and leave the outer 1/2 inch rim unbrushed. Repeat this process with 7 more sheets of phyllo. Using kitchen shears, trim the edges of the pastry to fit with the shape of the pie plate, and pour in the filling.
4. Brush the edge of the pastry with butter, and bake until the edges are golden brown and the filling has set - this should take about 40 minutes. Allow the pie to cool before serving.
7. Banana Bread Pudding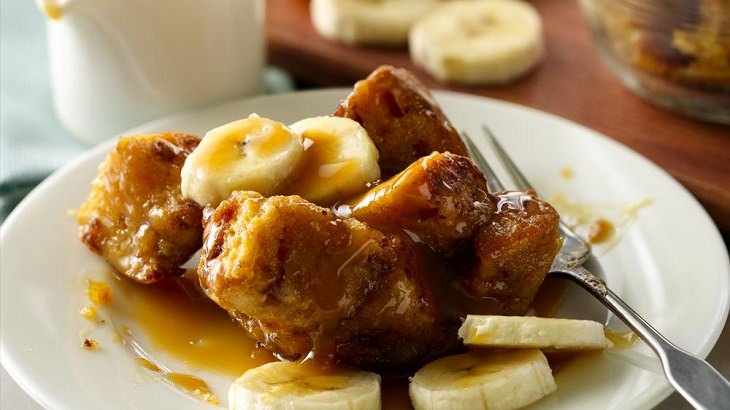 Source
An irresistible and classic, buttery bread pudding, which can be made with cranberries or raisins instead of bananas.
Ingredients:
• 8 tablespoons butter
• 4 bananas
• 6 tablespoons light brown sugar
• .67 cup milk
• 1 cup heavy cream
• 2 eggs
• 1 egg yolk
• ⅓ cup granulated sugar
• 1 tablespoon granulated sugar
• .13 teaspoon salt
• ½ teaspoon fresh nutmeg
• ½ teaspoon cinnamon
• 6 slice firm white bread
Directions
1. Preheat the oven to 325°F. Use 1 tablespoon to butter a 9-inch deep dish pie and one side of a 12-inch square of aluminum foil. Set aside.
2. Over a medium-high heat cook the bananas with 4 tablespoons of butter in a medium skillet until golden brown. Add 2 tablespoons of brown sugar and cook until the sugar has melted and the bananas have been coated. Set aside.
3. Beat the milk, the cream, eggs, yolk and 1/3 cup granulated sugar, salt, nutmeg, cinnamon and remaining 4 tablespoons of brown sugar together. Brush the bread with the remaining butter then cut each slice in half. Layer the bread in a pie dish and tuck the bananas between the slices. Pour in the milk mixture and press until the liquid has been absorbed.
4. Cover the bread pudding with foil and bake for 30 minutes. Then remove the foil and sprinkle with the remaining tablespoon granulated sugar. Bake uncovered until golden brown, this should take about 25 minutes or more. Let cool and serve warm or at room temperature.