Risotto is a classic northern Italian dish where rice is simmered in stock until it reaches a rich and creamy consistency. Risotto can be served plain, mixed with other flavors and ingredients, or simply served as a bed to sit some cooked meat or vegetables on. Thick and creamy risotto has arguably become one of the world's most popular comfort dishes.
This seafood risotto contains a number of mixed herbs, which helps add remarkable flavor to the dish. This recipe uses prawns, scallops, and mussels, but you can use whatever seafood you like.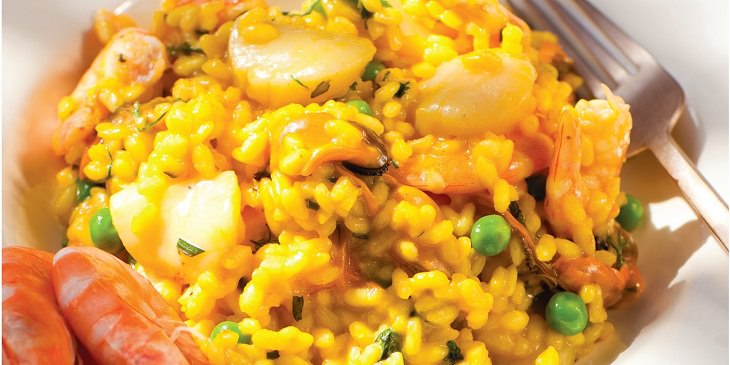 Seafood Risotto (Serves 4)
Ingredients
• 400g of risotto rice
• 900ml of fish stock
• 2 tbsp of olive oil
• 3 garlic cloves, peeled and crushed
• 1 onion, peeled and finely diced
• 1 sprig of fresh thyme
• 1 bay leaf
• 100ml of white wine
• 1 pinch of saffron
• 100g of cooked prawn, peeled
• 100g of mussels, cooked and shelled
• 4 scallops, sliced
• 75g of peas, cooked
• 1 tbsp of coriander, chopped
• 1 tbsp of tarragon, finely chopped
• 1 tbsp of chervil, chopped
• 1 tbsp of dill, chopped
• 50g of butter
• 50g of Parmesan, grated
• Salt
• Black pepper, freshly ground
Method
1. Heat the fish stock in a pan and keep warm.
2. In a heavy saucepan, add the olive oil, onion, garlic, thyme, and bay leaf. Cook on a low heat for around 10 minutes until soft and translucent.
3. Add the rice to the pan and mix well. Once you hear the rice start to crack, add the white wine followed by a ladle full of fish stock and then the saffron. Start to stir. Make sure the rice has fully absorbed the stock before adding another ladle. Continue adding fish stock until the rice is tender and cooked through.
4. Mix the butter into the rice and add the prawns, muscles, sliced scallops, peas, and herbs. Stir carefully, as you just want to warm the seafood and gently cook the scallops.
5. Finish by adding some grated Parmesan cheese and season with salt and pepper. Serve immediately.
Source: greatbritishchefs