Fall is only days away, and I for one cannot wait to stock up my kitchen with bushels of apples, luscious pumpkins and heavenly pears. While I certainly will be preparing some hearty pumpkin soups and delicious strudels, I could never say no to a cocktail every now and then too. So, I've rounded up some Fall Cocktail Recipes for you to enjoy this upcoming season.
1. Caramel Apple Sangria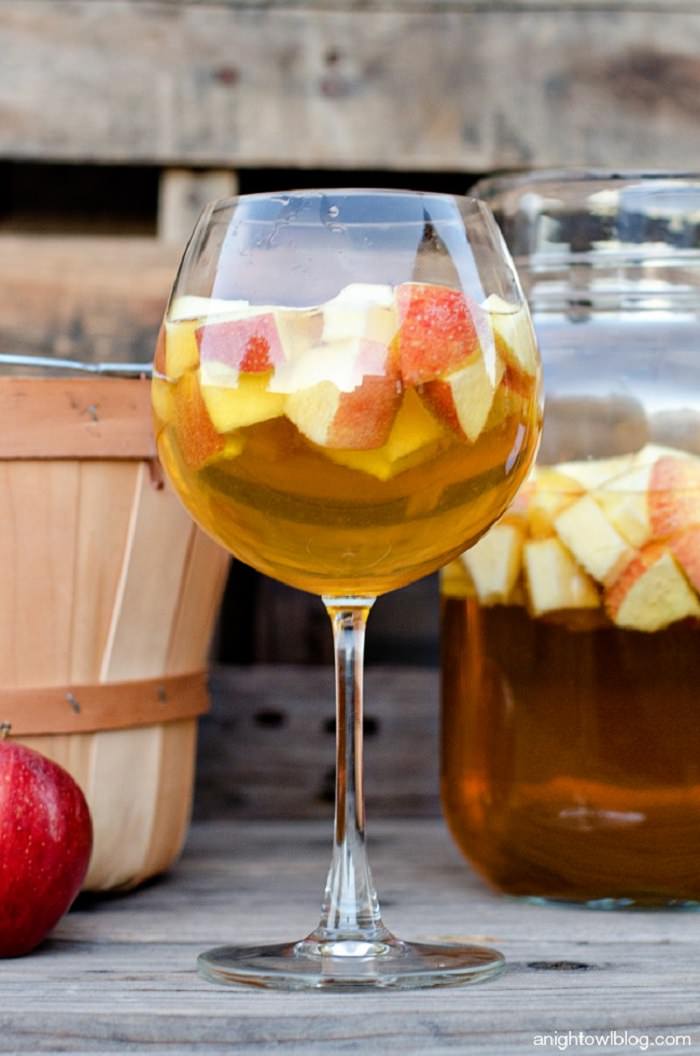 Recipe by: anightowlblog.com
It sounds unbelievably delicious, and believe me, it is!
Tip: Make sure your wine and sparkling cider are well chilled, chop up some fresh apples and mix it all up for some serious fall goodness.
Ingredients: (For a pitcher)
Method:
Chill your white wine and sparkling apple cider.

Once cold, mix together wine and cider and add ¼ cup caramel syrup.

Chop approximately 4 apples into small cubes and add to sangria.

Chill in the refrigerator until ready to serve.
2. Pear Vanilla Martini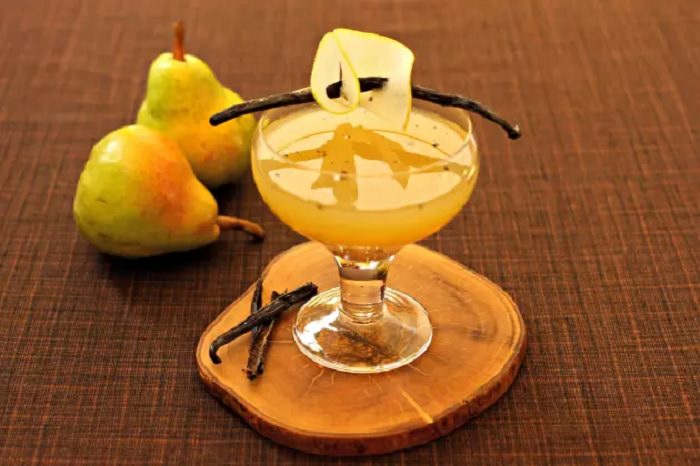 Recipe by: foodfanatic.com
A great way to toast the crisp fall air!
Tip: This drink is pretty pricey. Ordering it at a bar will set you back about $18. You'll certainly save more (per glass) making it yourself, but you may be surprised to discover just how expensive some of these ingredients are. It is a special occasion drink though, and will be worth every buck!
Ingredients: (Serves 2)
3 1/2 ounces pear vodka

3 ounces pear nectar

1 1/2 ounces triple sec

1/2 vanilla bean pod
Method:
Add the vodka, pear nectar and the triple sec to a cocktail shaker filled with ice.

Cut open the vanilla bean pod and scrape both sides with the back of a knife and place the seeds inside the shaker.

Shake vigorously and strain into 2 martini glasses.
3. Apple Pumpkintini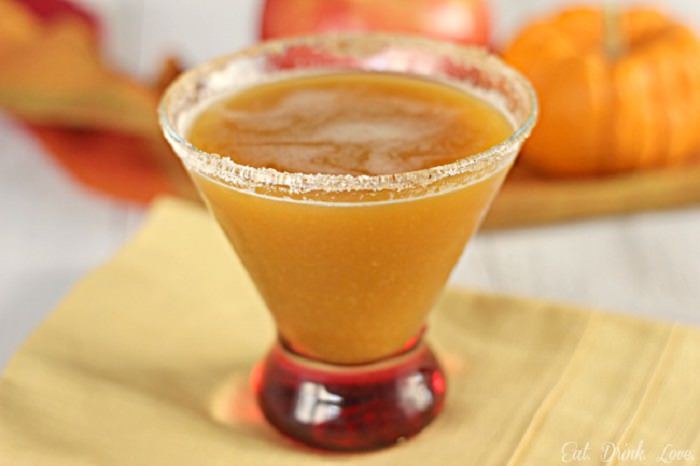 Recipe by: eat-drink-love.com
Perfect drink to celebrate the first weekend of fall!
Tip: Surprise your guests on Thanksgiving with this heavenly treat.
Ingredients: (Serves 2)
2 1/2 tbs. pumpkin puree

3 ounces apple cider (I used the Spiced Cider from Trader Joes)

2 ounces vanilla vodka

1 ounce ginger ale

Cinnamon and sugar (for the rim)
Method:
In a shallow dish, mix together a couple of tablespoons of sugar and about 1/2 tsp. cinnamon. Rub some apple cider along the rim of each martini glass. Dip the rim in the cinnamon sugar mixture to coat.

In a cocktail shaker, add about 3-4 ice cubes. Add in the pumpkin puree, apple cider, vodka, and ginger ale. Shake well and pour into the martini glasses and serve.
4. Pumpkin Spice White Russian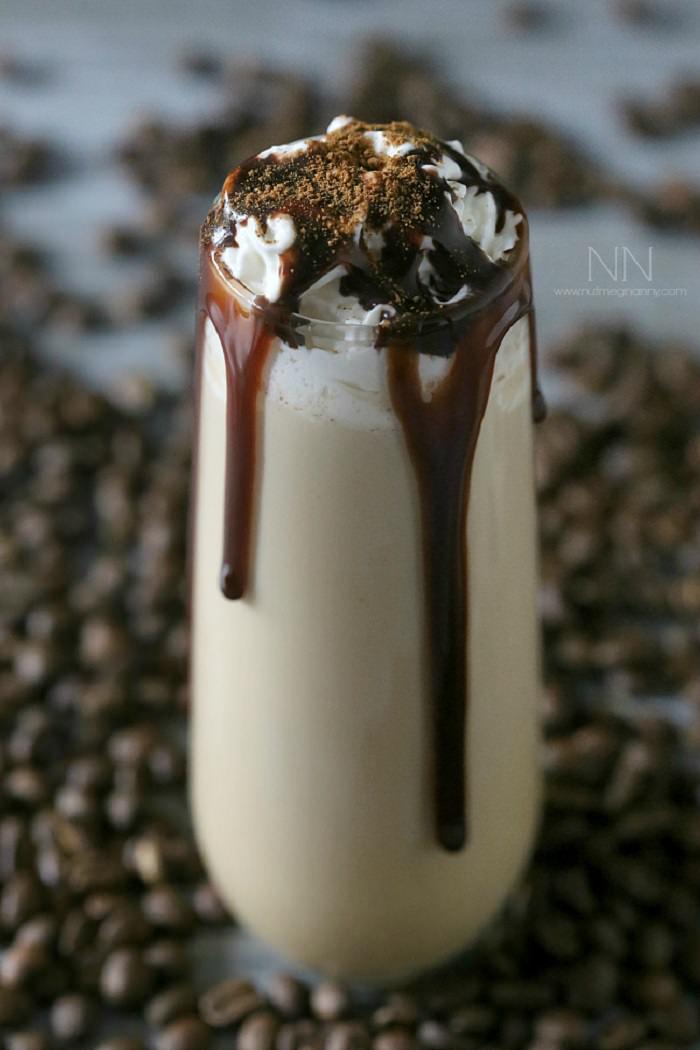 Recipe by: nutmegnanny.com

With pumpkin pie spice and a drizzle of chocolate syrup, this cocktail is perfect for fall!
Tip: If you're not a fan of vodka, you can leave it out for a less potent (but equally delicious) cocktail.
Ingredients: (Serves 1)
1/2 teaspoon pumpkin pie spice

1 ounce heavy cream

2 ounces vodka

1 ounce coffee liqueur

Whipped cream, optional

Chocolate syrup, optional
Method:
Shake together pumpkin pie spice and heavy cream to combine.

Fill a rocks glass with ice and pour in vodka, coffee liqueur and heavy cream mixture.

Top with whipped cream and chocolate syrup if desired.
5. Apple Cider Shandy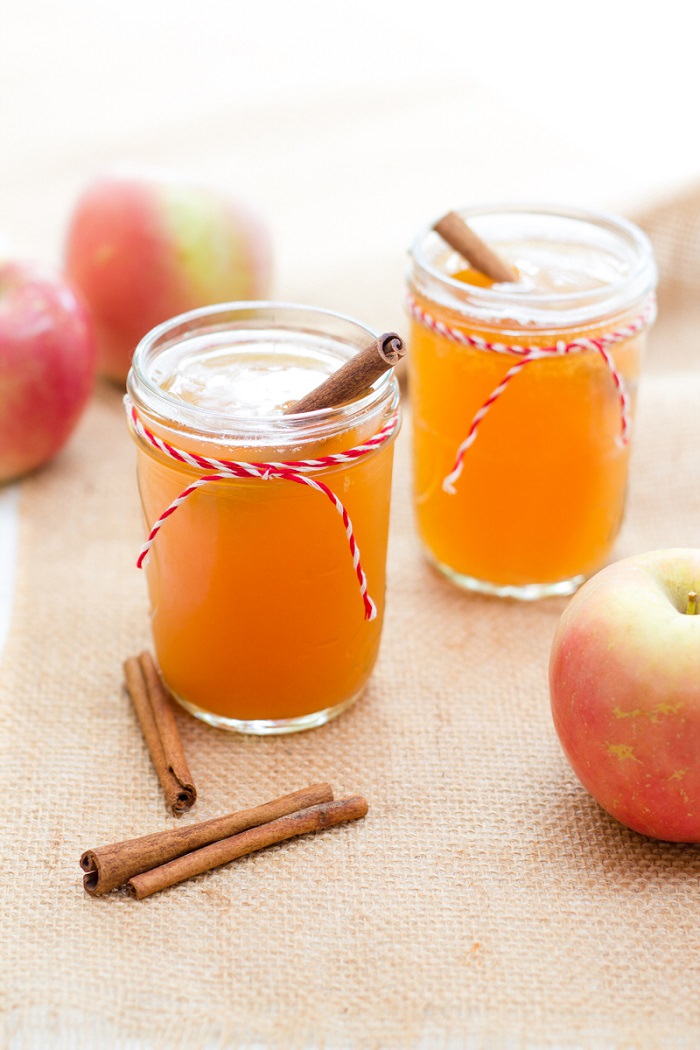 Recipe by: backtoherroots.com
Even if beer is not your first drink of choice, you'll still love this fabulous cocktail.
Tip: While pumpkin beer is widely available come Halloween, finding the right blend may be a little hard - New Belgium Pumpkick is a pretty good option.
Ingredients: (Serves 1)
6 ounces (3/4 cup) apple cider

6 ounces (3/4 cup) pumpkin beer

1 cinnamon stick
Method:
Fill a glass with the apple cider, followed by the beer. Pop in a cinnamon stick. Enjoy!
6. Apple and Pear White Sangria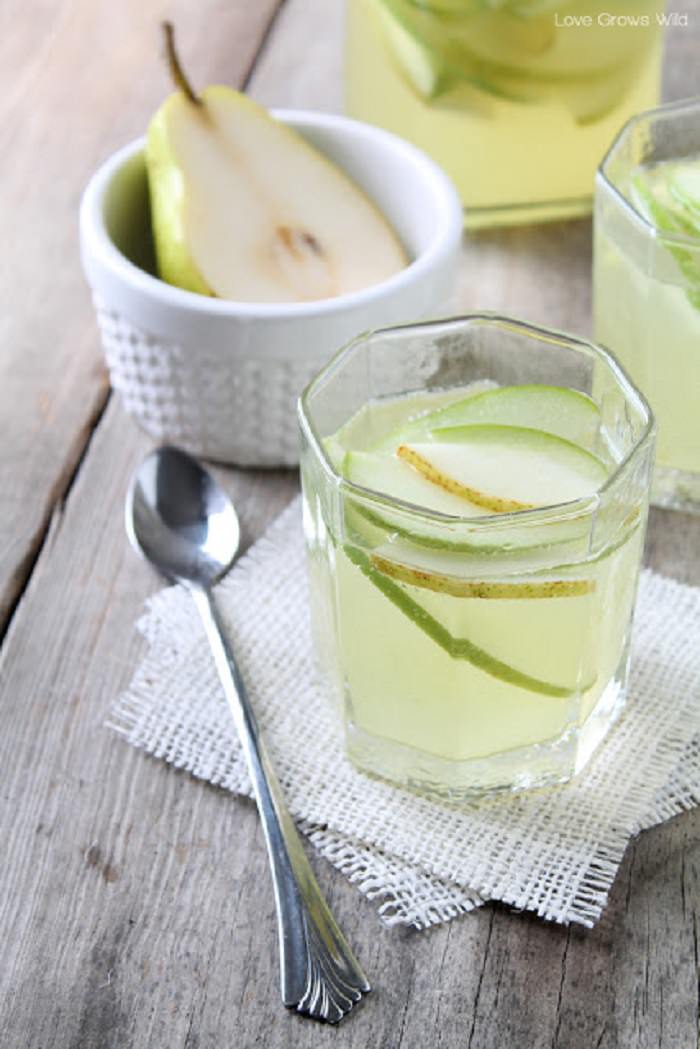 Recipe by: ovegrowswild
This bright and refreshing sangria with freshly-squeezed lemon juice and plenty of lemon zest is full of flavor.
Tip: Chill for at least 4 hours before serving and serve each glass with plenty of wine-soaked fruit.
Ingredients: (Serves a small group)
1 bottle Moscato wine

1/2 cup lemon liqueur (I used Caravella)

Zest of 2 lemons

1/4 cup granulated sugar

1/4 cup fresh lemon juice (from two lemons)

1 Granny Smith apple, cored, halved, and thinly sliced

1 Bartlett pear, cored, halved, and thinly sliced

1 can (12 ounces) seltzer

Method:
In a large pitcher, combine wine, lemon liqueur, lemon zest, and sugar. Stir until sugar dissolves. Add lemon juice, apple slices, and pear slices and mix well. Place pitcher in refrigerator for 4 hours to chill and allow flavors to blend. Just before serving, top sangria off with seltzer.

– You can also strain sangria after chilling to remove lemon zest, if desired.
7. Sparkling Champagne Cider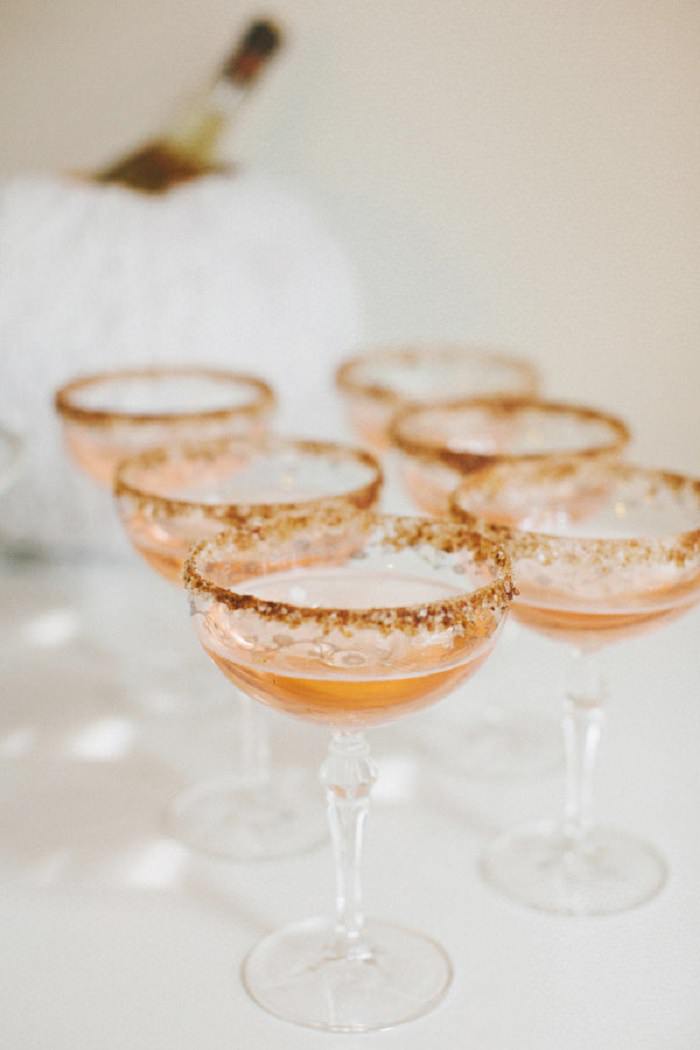 Recipe by: stylemepretty.com
An easy mix of apple cider and champagne. But as simple as it may sound, it is just so good!
Ingredients: (Serves a small group)
Champagne or Sparkling Wine

Apple Cider

Pumpkin Pie Spice

Coarse Sugar or Cinnamon

Method:
Combine pumpkin pie spice and coarse sugar in a shallow bowl. (We replaced sugar with coarse ground cinnamon). In another shallow bowl pour a bit of the apple cider.

To rim glasses, first dip the glass rim in the apple cider then dip into the spice mixture

Finally, fill each flute with a mixture of 3/4 champagne to 1/4 cider and voila! Sparkling Champagne Cider for you and your guests to enjoy!

8. Spiced Pumpkin Cocktail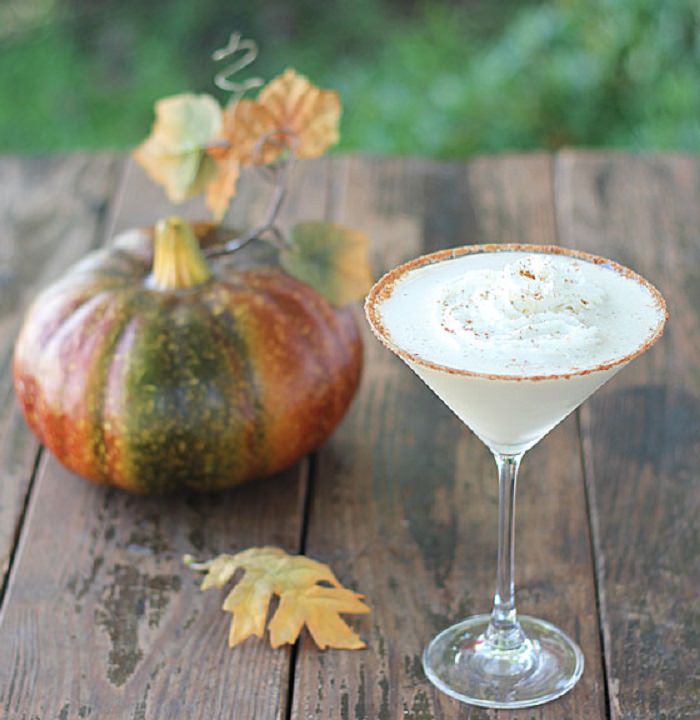 Recipe by: theblondcook.com
A rich, creamy drink to ring in the new season.
Ingredients: (Serves 1)
2 parts Pinnacle Pumpkin Pie Vodka

1 part Irish cream liqueur

½ part half & half

Whipped cream topping

Nutmeg & granulated sugar mixture for rimming glass & topping; 1:1 ratio

Method:
Rim glass with nutmeg & sugar mixture.

In a shaker with ice, vigorously shake vodka, Irish cream & half & half. Strain into glass. Top with whipped cream topping. Sprinkle with nutmeg & sugar mixture.