You may be aware of ChatGPT, a robot or artificial intelligence that can generate texts, answer your queries, and compose practically any kind of content in the form of text, provided you know how to give it the necessary instructions. How, though, do you make use of this tool, how do you communicate with it so you can get the best outputs and what should you be aware of? The following guide will answer all these questions.​
To begin using ChatGPT, click here and pick the sign-up option and set up an account with your email address, Google account, or Microsoft account. If you used an email address to register, you will get a confirmation email that contains a link to finish the registration process.
After establishing an account, you can start utilizing the chat by merely expressing what you desire the chat to do or the query you have. The chat works in English. You can use a translation tool such as Google Translate to convert your questions or the responses you get into other languages
.
Below is an example of the answer the chat gave us when we asked it: "What can be done with ChatGPT?"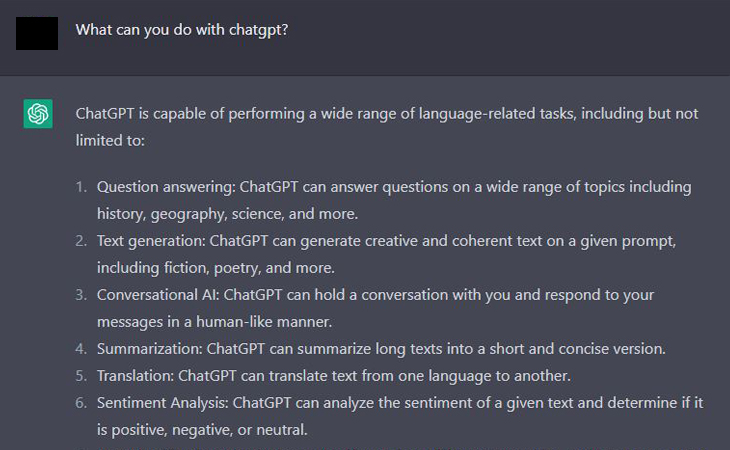 ChatGPT is able to carry out a broad range of linguistic activities, which include but are not confined to:
1. Replying to inquiries: ChatGPT can answer queries on a variety of topics, such as history, geography, science, and more.
2. Text production: ChatGPT can generate imaginative and logical text in accordance with instructions, comprising fiction, poetry and more...
3. Conversation with artificial intelligence: ChatGPT can conduct a conversation and respond to your messages like a human.
4. Summaries: ChatGPT can summarize a long text into a short and punchy version.
5. Translation: ChatGPT can translate text from one language to another.
6. Emotional analysis: ChatGPT can analyze emotions in any text and determine whether they are positive, negative, or neutral. You can write short queries to the chat, like the one we presented here in the example, or longer and more detailed queries, depending on what you want the text to generate.
As mentioned, this is only a partial list of some actions that can be done in it, and the rest you will discover simply by experimenting. People use this chat and similar tools to generate software code, prepare entire articles, and produce recipes from ingredients they have. They also compose songs in the style of other famous singers. Try writing to it, for example, "What would the love song written by Elvis for the Land of Israel look like?"
Tips for using ChatGPT
To help you benefit from chatGPT more effectively, we have gathered some tips from the chatbot itself. We asked it to provide us with seven tips for using ChatGPT in bullet points. We also wanted to make sure that even those who are not familiar with AI and chatbots would comprehend it. This is the answer we got: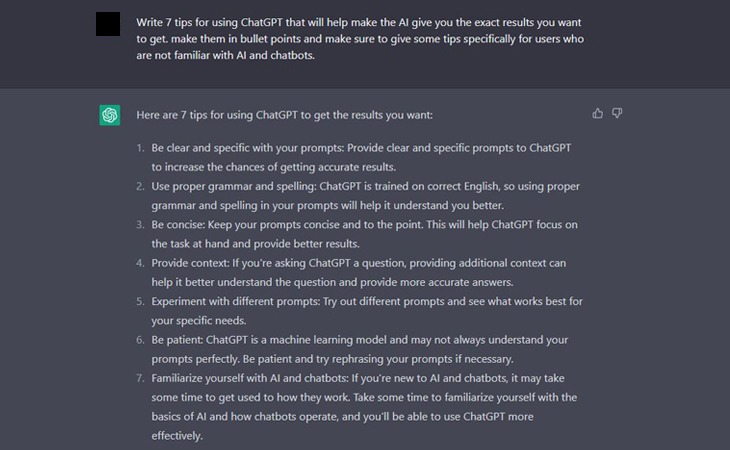 1. Make sure that your questions are precise and accurate: make sure to be specific in your queries to ChatGPT in order to enhance the chances of getting precise results.
2. Apply correct grammar and spelling: ChatGPT is trained to use proper English, so using the right grammar and spelling in your queries will help it understand you better.
3. Keep queries short and to the point to help ChatGPT focus on the task and deliver better results.
4. Supply extra context when asking questions to aid in understanding and providing an answer.
5. Try out a range of queries to find the one that works best.
6. Patience is essential since ChatGPT is based on machine learning and may not understand your request right away. If necessary, rephrase the query.
7. If you are inexperienced with AI and chatbot technology, it might take some time to comprehend how they work. Take the time to explore AI and chatbot fundamentals, so you can use ChatGPT more effectively.
A few considerations to keep in mind
Utilizing this program may lead to several dilemmas; the first one being that the data it provides is only text fragments that already exist. This means that you could be in breach of copyright law if you use it to create a story or for your website. Thus, even if the tool creates text for you, you should alter it in some way, so it is not the same as the text that somebody else utilized or obtained from the chat itself in the same region and subject.
The second thing to be aware of is to double-check the information you get from ChatGPT. It won't always provide you with accurate answers, but according to user reviews, you can quickly inform it "You made a mistake in your answer" and it will rectify itself with an alternate response. We haven't tested this since we haven't encountered any yet, but it may be worth a shot if you do.
Let this be your third caution: never give out personal information in this chat room, as it will become visible to whoever looks for it. If you are using this for private conversations, advice, or aid of any type, take care not to expose your name, location, or any other detail that could pose a risk to your online privacy.