Robert Seldon Duncanson (1821-1872) was a renowned African-American 19th-century landscape painter. Once known in America as "the greatest landscape painter in the West", he found great acclaim through his works in the US in the years around the Civil War. Duncanson's evocative paintings of lush landscapes were reminiscent of the works of famous artist Thomas Cole and were received with great love and affection.
Born in 1821 in Fayette, New York, Duncanson grew up in Monroe, Michigan, where he worked as a housepainter and glazier. This was the time when he began dreaming of becoming an artist and around 1840 he left for Cincinnati to pursue his dream. Throughout the 1840s, Duncanson traveled between Cincinnati and Detroit and painted portraits and historical pictures. Initially, however, he struggled to make a decent earning and was at times nearly penniless. Thankfully, his works were soon recognized and in 1848 he was commissioned to paint the landscape, "Cliff Mine, Lake Superior". From there on, Duncanson never looked back and found great success as a landscape artist in the years to come.
Unfortunately, after his death in 1872, Duncanson's works were largely forgotten. However, an exhibition of his paintings at the Cincinnati Art Museum on the centenary of his death helped turn the tide. Since then the painter's works have featured in several books and exhibitions and are inspiring many young artists. Let's now take a look at some of the best and most serene artworks of Robert Seldon Duncanson.
See Also: 10 Famous Landscape Artists and Their Masterpieces
1. 'A Dream of Italy' (1865)
2. 'Mayan Ruins, Yucatan' (1848)
3. 'Dream of Arcadia after Thomas Cole' (circa 1852)
4. 'A View of Asheville, North Carolina' (1850)
5. 'Land of the Lotos Eaters' (1861)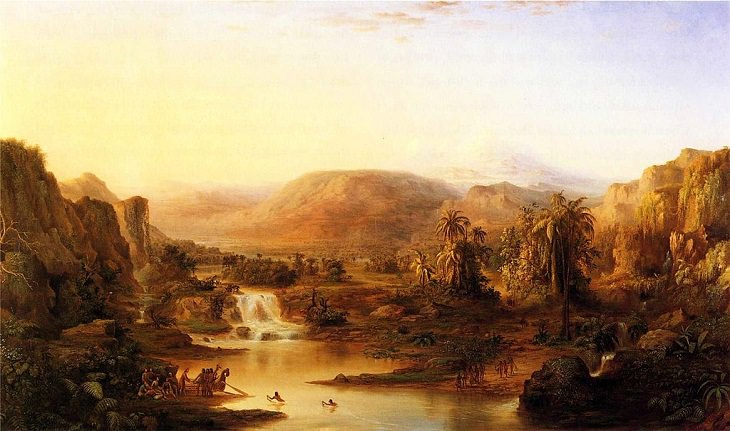 6. 'Waterfall Mont Morency' (1864)
7. 'Remembrances Scene Auerbach' (1856)
8. 'Scotch Highlands' (between circa 1848 and circa 1852)
9. 'Woodland Stream, an Idyll' (circa 1865)
10. 'Mountain Pool' (1870)
11. 'Flat Boat Men' (1865)
12. 'Pompeii' (1855)
13. 'Dog's Head of Scotland' (1870)
14. 'Blue Hole, Flood Waters, Little Miami River' (1851)
15. 'The Quarry' (circa 1855 – 63)