The Netherlands was one of the first places where landscape art became popular and the Dutch Golden Age, which spanned the 17th century, was critical in developing the art form. As a matter of fact, the term landscape is derived from the Dutch word "landschap."
Apart from Dutch artists such as Jacob van Ruisdael and Aelbert Cuyp, other artists who concentrated on the landscape genre were the French painters Claude Lorrain and Nicolas Poussin. However, at the time, landscape was still ranked below portrait, history, and genre painting and only above still life.
It was J.M.W. Turner, an English painter, who began elevating landscape to the status of other genres. In the 19th century, French Impressionism took the art world by storm and artists such as Claude Monet, Alfred Sisley, and Camille Pissarro devoted most of their careers to painting and studying landscape. Since then, the genre has remained very important.
Below you'll find 10 of the most famous landscape artists and their masterpieces.
1. Jacob van Ruisdael (1629-1682)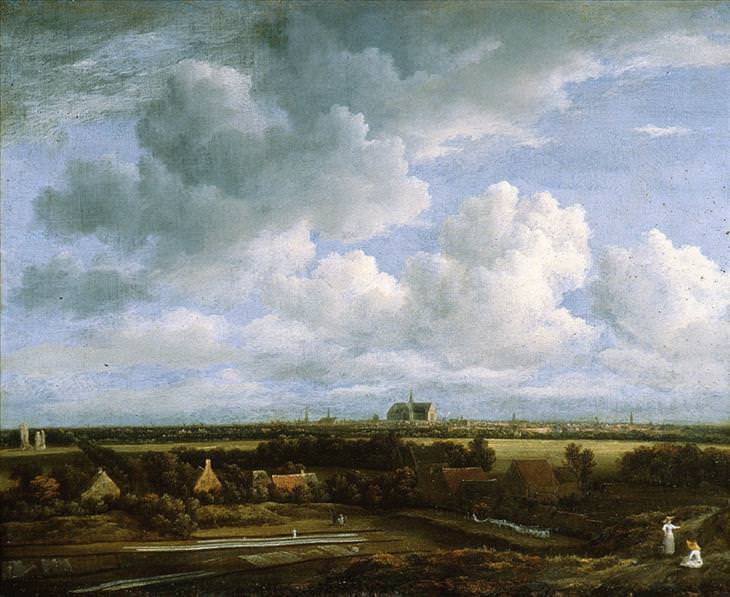 Masterpiece: View of Haarlem with Bleaching Fields (1675)
The Dutch Golden Age was a period in which Dutch trade, military, science, and art were among the most acclaimed in the world. Jacob van Ruisdael is regarded as the pre-eminent landscape painter of this era. He gave landscape art a new dimension by portraying nature as a metaphor of the dark aspects of human psychology.
His favorite subjects were simple woodland scenes and he is particularly famous for his portrayal of clouds and trees. A pioneer of this genre, van Ruisdael produced some of the most breath-taking landscape paintings ever made.
2. Thomas Cole (1801-1848)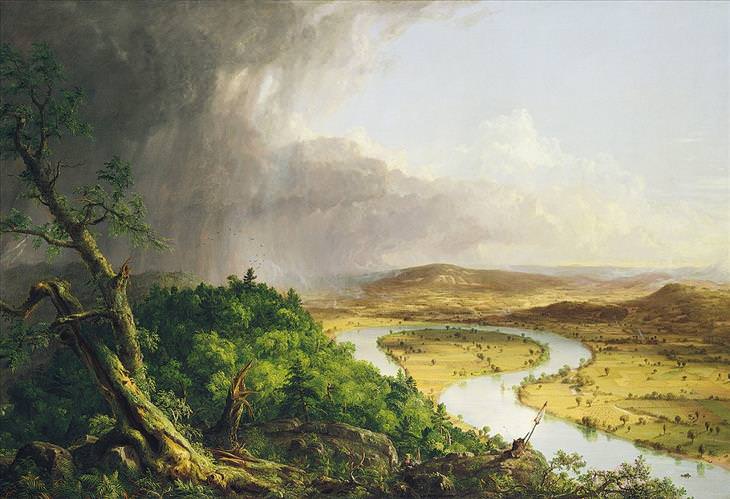 Masterpiece: The Oxbow (1836)
Romanticism was a huge influence on western art in the first half of the 19th century. If found its primary expression in the US, in the works of a group of painters who were known as the Hudson River School. In their works, they captured the beauty of America by painting landscape art on canvases of epic proportions.
This school played a major role in the development of the landscape genre with Thomas Cole, the founder of the group, being the most talented artist. He is now most known for his paintings of the American wilderness. These romantic portrayals convey a sense of awe at the vastness of nature. The most famous of these is "The Oxbow," which portrays a panorama of the Connecticut River Valley after a storm.
3. Claude Lorrain (1600 – 1682)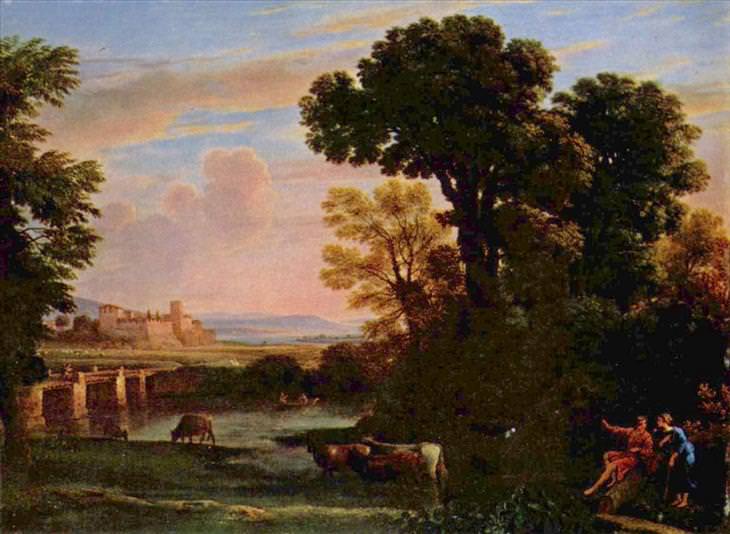 Masterpiece: Pastoral Landscape (1648)
The classical landscape, whose aim it was to evoke the landscape of classical Greece and Rome, was born in the 17th century. In it, every object was carefully placed to present a harmonious, timeless, and balanced mood. Lorrain combined dream-like visions of an ancient past with beautifully observed effects of dawn and sunset.
He was also innovative by including the sun itself as a source of light in his paintings. Lorrain was one of the first important artists to concentrate on landscape paintings and he has been described as one of the most perfect landscape painters that the world has ever seen.
4. Jean-Baptiste-Camille Corot (1796 – 1875)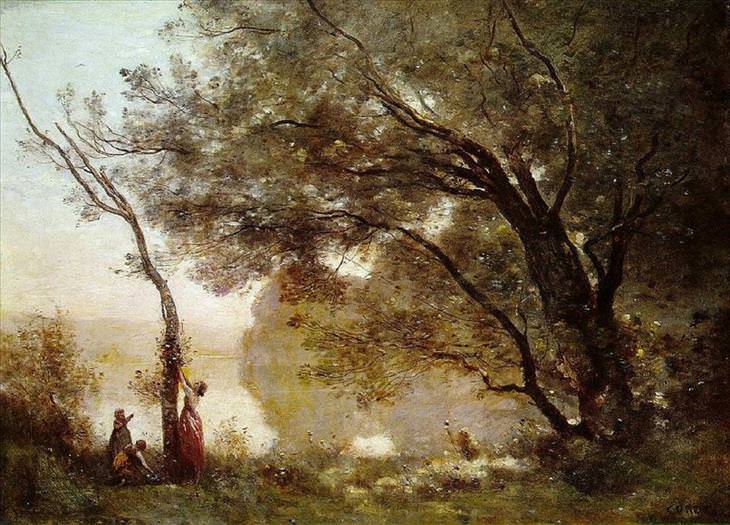 Masterpiece: Recollections of Mortefontaine (1864)
The Barbizon School was a movement that involved a group of painters who settled in the French village of Barbizon, near the Fontainebleu forest, around 1848. It's regarded as the strongest movement of pure landscape painting in 19th century France. Though Corot never actually settled in Fontainebleu, he captured the area in some of his best known early paintings, thus he is regarded by many to be part of the Barbizon School.
Plein air is the act of painting outdoors. The Barbizon School first popularized en plein air painting and Corot's en plein air works have been highly praised by critics for their faithfulness to natural light and their avoidance of academic values. However, he always returned to the studio to fine-tune and finish his works.
5. John Constable (1776 – 1837)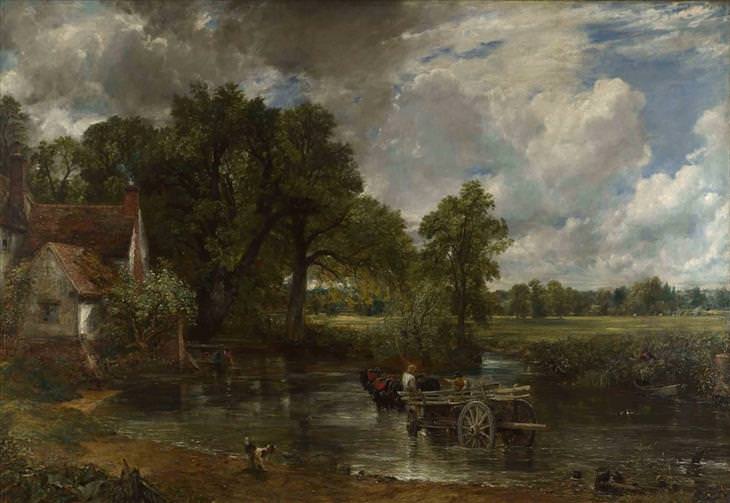 Masterpiece: The Hay Wain (1821)
Romanticism placed emphasis on individualism, emotion, and the glorification of the past and of nature. The romantic English artists favored landscape and the most influential among these was John Constable. He was very attached to the area where he was born – the Essex-Suffolk border in the east of England. As a result, his most celebrated landscape masterpieces depict this area, which is now known as Constable Country.
Constable rebelled against the Neoclassical style; which used standard practices while creating landscape art and mostly used it to display mythical and historical scenes. Constable believed it was better to focus on nature itself in order to bring out its beauty and power. Despite his talent, Constable only sold 20 paintings in his lifetime. However, he is now regarded as a great painter who made an invaluable contribution to the genre of landscape painting.
6. Camille Pissarro (1830 – 1903)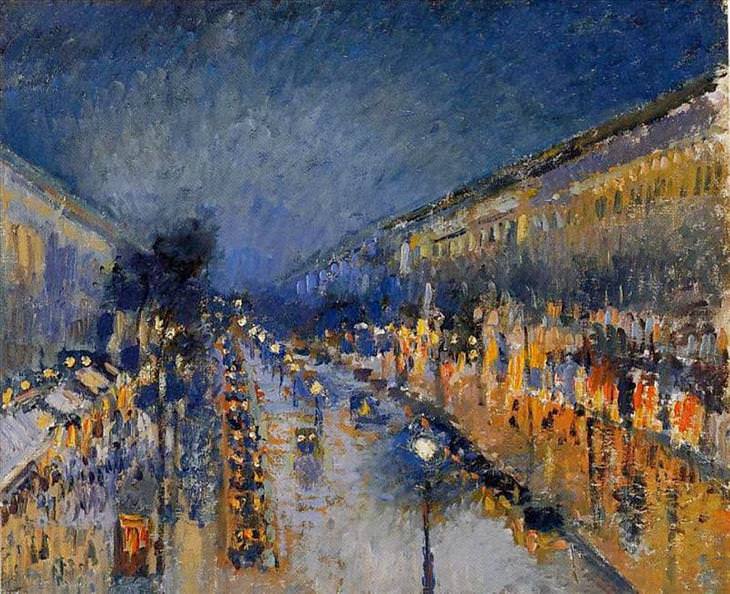 Masterpiece: The Boulevard at Night (1897)
The middle of the 19th century saw the rise of Impressionism – an art movement in which artists focused on depicting the momentary effect of a scene rather than actually depicting it. They broke away from artistic traditions and focused instead on accurate depiction of light, vivid colors, and candid poses.
Pissarro is often referred to as the "dean of Impressionist painters" as he was a pivotal figure and mentor within the movement. While his initial landscape paintings highlight his profound knowledge of 18th-century French masters, he later started painting en plein air. He liked to depict peasant subjects in natural settings while focusing on light effects and atmospheric conditions created by the change of seasons.
7. Caspar David Friedrich (1774 – 1840)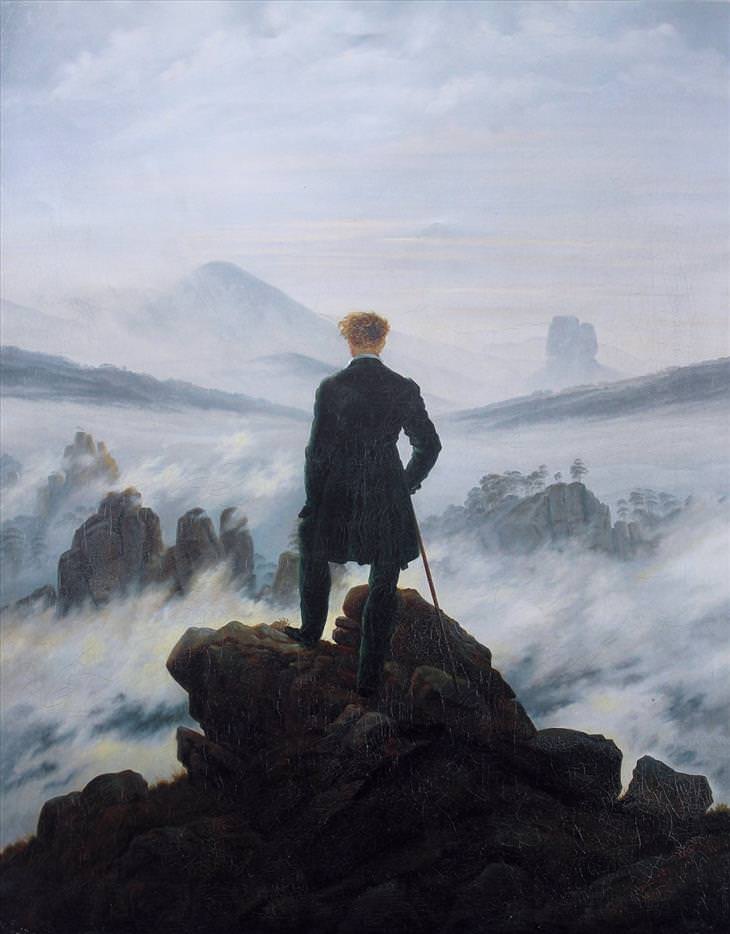 Masterpiece: Wanderer about the Sea of Fog
Friedrich developed a significant reputation in his early career. However, it started to decline in his later years as critics, who couldn't understand his work, severely attacked it. He died poor and in obscurity and it wasn't until the middle of the 20th century that he found favor with the new generation of art historians and critics.
Nowadays, Friedrich is an icon in Germany, and he is internationally renowned as one of the most important German Romantic artists. He is best known for works which put humans amid night skies, morning mists, and barren trees, thus illustrating the diminished strength of man in the larger scale of life. He was absolutely fascinated by nature and could see the presence of the divine in it. He took landscape art and infused it with deep religious and spiritual significance.
8. J.M.W. Turner (1775 – 1851)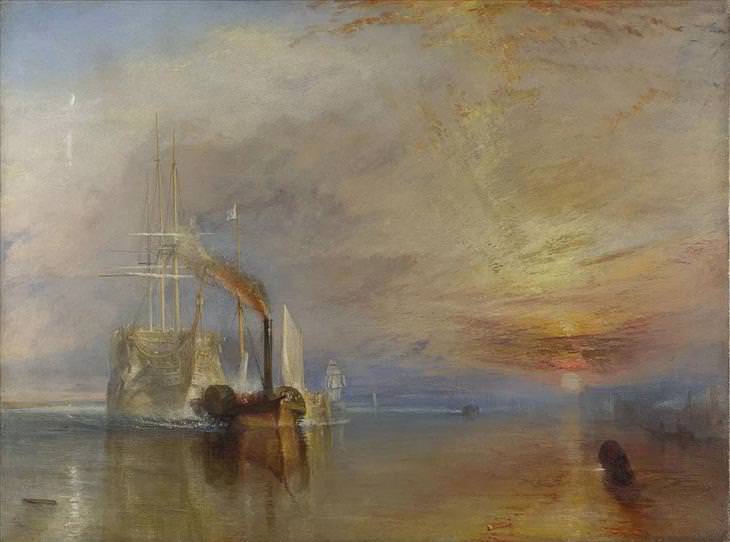 Masterpiece: The Fighting Temeraire (1839)
Turner is one of the greatest landscape artists of all time and is perhaps the most renowned British artist ever. During his lifetime, landscape painting was considered to be low art. However, Turner, with his application of poetic and imaginative approach, elevated the genre to rival history painting. His dedication to render heightened states of consciousness and being helped define the Romanticism movement.
Turner is well known for his mastery in capturing the effects of light and color. In his early works, he captured architectural and natural details, but as he matured, his paintings became more fluid with the mere suggestion of movement. These works are considered to be ahead of his time and a forerunner to Impressionism.
9. Claude Monet (1840 – 1926)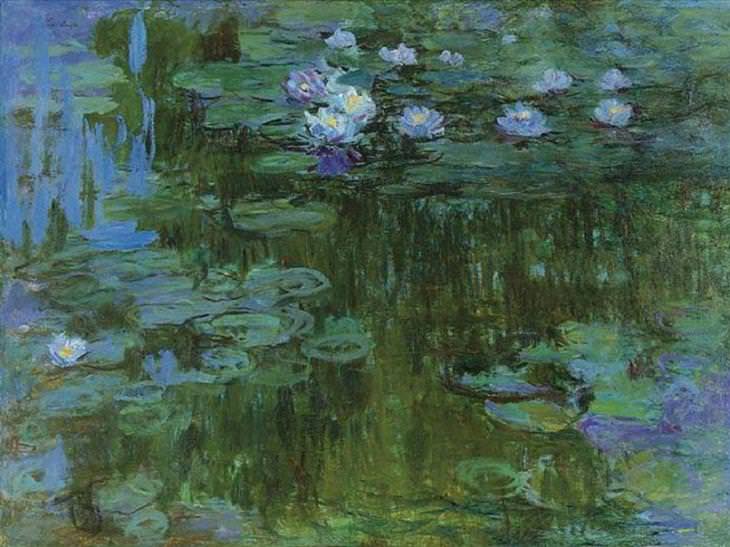 Masterpiece: Water Lilies Series (1896-1926)
Monet was the driving force behind Impressionism and was its most consistent and prolific practitioner. He was extremely dedicated to finding improved methods of painterly expression. He broke with tradition and thought in terms of light, colors, and shapes. Some of his series explored how steam, smoke, mist, and rain affected color and visibility.
Nympheas (Water Lilies), the most renowned Monet series, containing around 250 paintings, has been described as "The Sistine Chapel of Impressionism." Monet is considered to be one of the greatest painters to have ever lived.
10. Vincent van Gogh (1853 – 1890)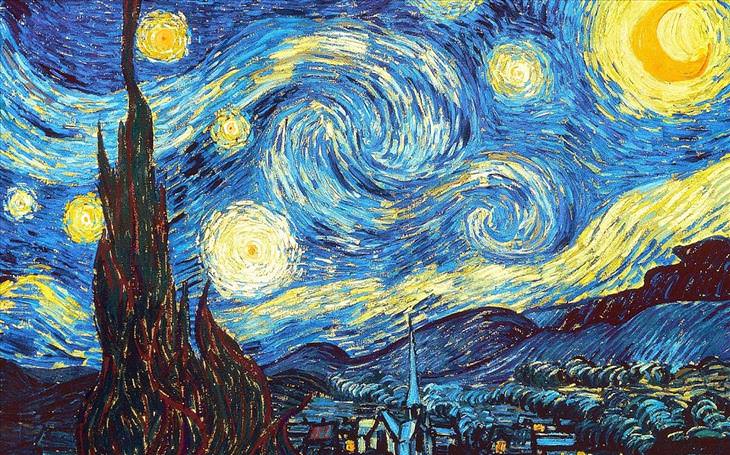 Masterpiece: The Starry Night (1889)
Van Gogh was a Post-Impressionist artist. This movement extended Impressionism in a number of ways such as intensifying its already vibrant colors or distorting form for expressive effects. Van Gogh only became famous in the early 20th century, a decade after he died.
He has been credited with being not only an important figure in the development of modern art but also as one of the most influential artists in the history of Western art. During his career, he painted over 2,000 artworks which include still lifes, landscapes, self-portraits, and portraits. His art, including his landscape art, is notable for its bold colors, rough beauty, expressive brushwork, and emotional honesty. He is one of the best-known landscape artists.
Source: learnodo-newtonic
Related Articles:
Top 16 Paintings Inspired by the Bible
The Stories Behind 10 of the Greatest Works of Art
13 Paintings that Changed the Art World