Artists rely on a wide variety of tools to create their masterpieces, but would you ever picture a toaster being one of them.You won't believe the length these talented artists went through to capture each precise detail, right down to the very last crumb.
1) The Mona Lisa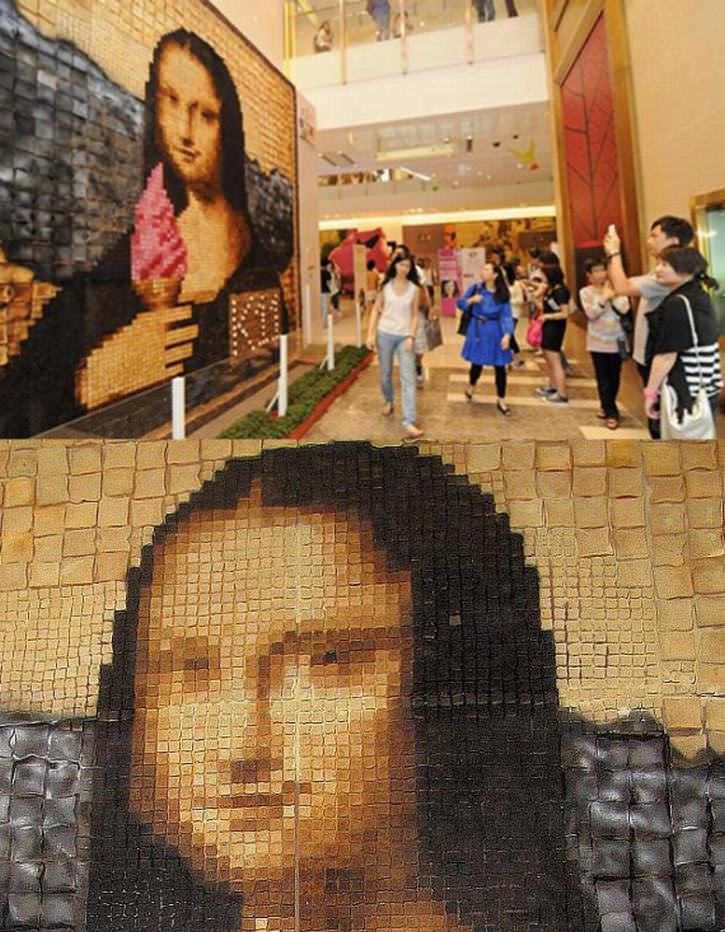 source
When Da Vinci created the iconic Mona Lisa painting, he never quite envisioned his masterpiece to be replicated in the form of sliced bread. This magnificent mosaic hangs at the K11 Art Mall at the Tsim Sha Tsui MTR in Hong Kong, and is the work of New Zealand native, Maurice Bennett, also referred to as "The Toastman." You can view more of his incredible toast portraits on his website.
2) The Queen of England, Elizabeth II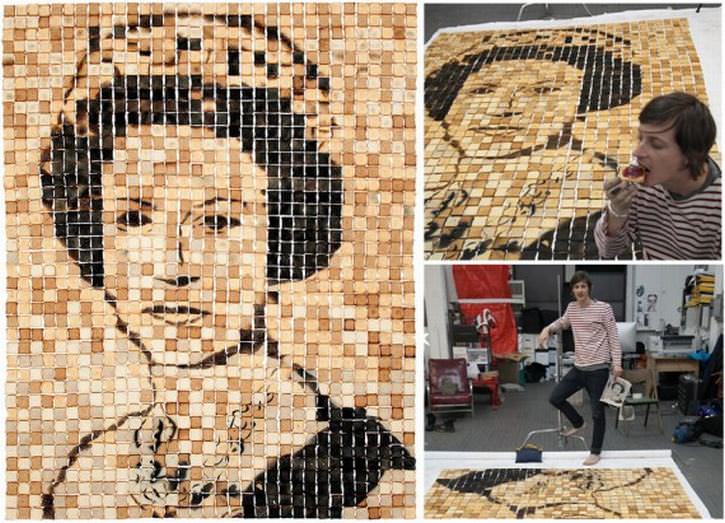 source
This royal exhibit of The Queen belongs to the famous Brooklyn toaster portrait artist, Henry Hargreaves. It took almost 900 pieces of sliced bread to create the exquisite and prestigious mosaic of Her Majesty, The Queen of England.
3) The Beatles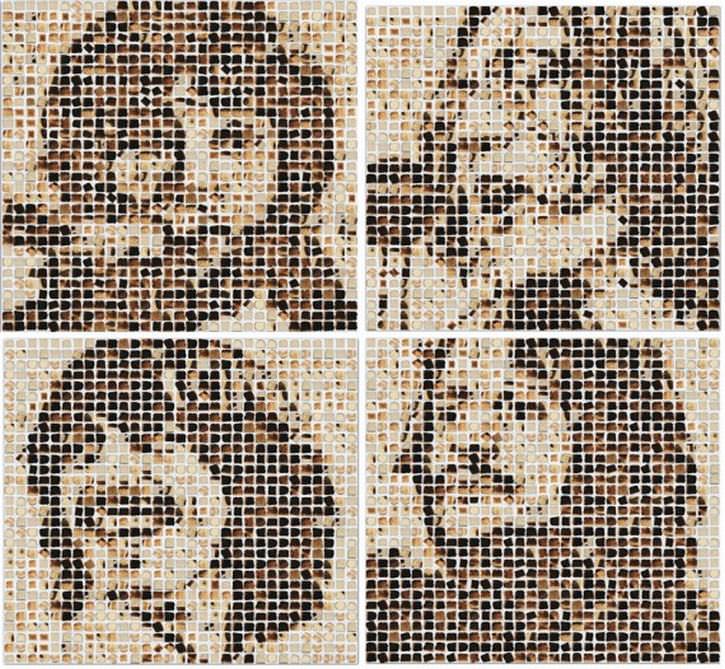 source
This incredible Beatles mosaic was the creation of famed media artist, Henry Hargreaves. He relied on a Crème brûlée torch instead of a toaster to complete his masterpiece. The stunning portrait of John, George, Ringo and Paul, required over 900 pieces of toast.
4) Marilyn, Jim & Che

source
What do Marilyn Monroe, Jim Morrison and Che Guevara have in common? They're all edible works of toaster art that belong to Henry Hargreaves. The New York native used thousands of pieces of toast to capture each fine detail of the three late celebrity icons.
5) Eye of the Beholder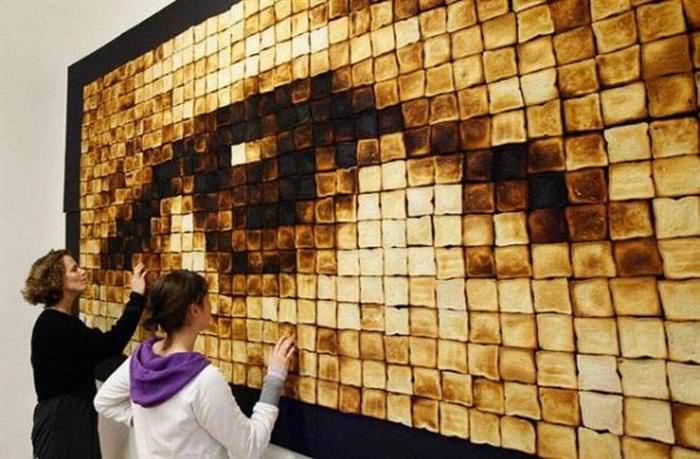 source
Hundreds of pieces of toast were used to create the large eye seen here, pardon the pun. It seems as if the portrait was displayed at an interactive gallery, allowing dazzled spectators to get a hands-on experience appreciating the toast art for themselves.
6) The Toaster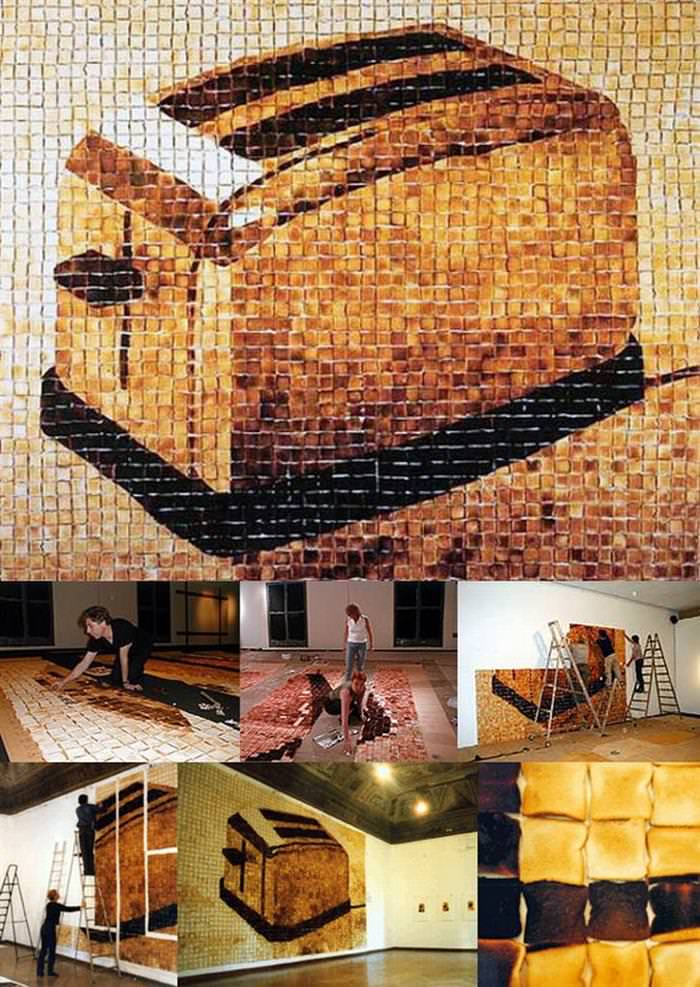 "The Toaster" is the creation of Gustav Aguerre of Argentina and his wife, Ingrid Falk of Sweden. This edible work of toasted art proudly hangs at the Modern Art Museum of Buenos Aires, Argentina. The couple used between 2,500 to 3,050 pieces of toast to complete their acclaimed masterpiece, which measures 16 feet by 15 feet (4.8m by 4.5m).
7) President Barack Obama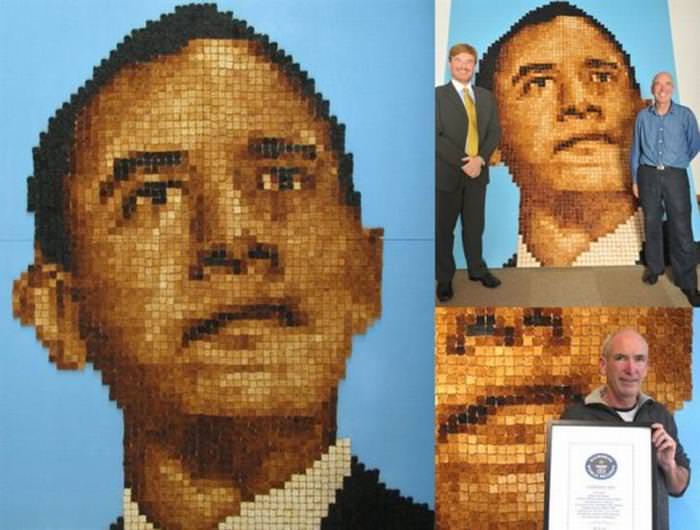 source
"The Toastman" was at it again, this time, he created the President of the United States, Barack Obama. The enormous portrait mosaic was completed a few years ago, in 2010. Maurice appears to be holding up an award for his incredible work of edible art.
8) Toast Mosaic with Slice Manipulation

source
The Toast Mosiac with Slice Manipulation seen here belongs to Nathan Wyburn. The 25-year-old Welsh-born artist uses Marmite and jam to hand paint the many slices of toasted bread. Among his spectacular creations are Simon Cowell, David Beckham, and Lady GaGa. You can visit Nathan's website to see more of his incredible toast artwork.
9) Marilyn Monroe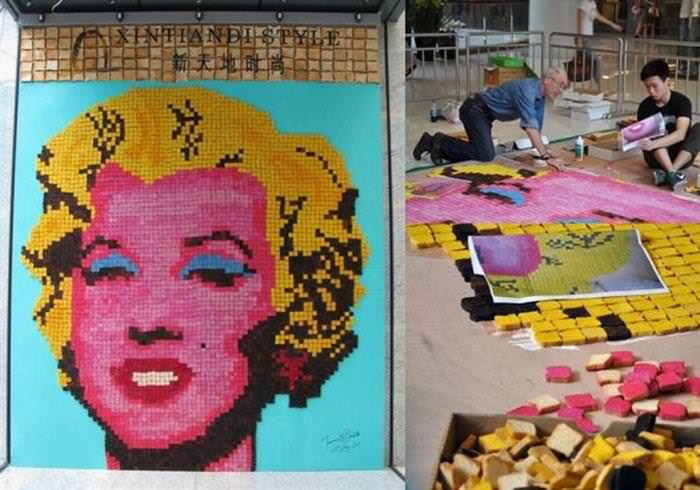 source
This gigantic and colorful portrait of Norma Jeane belongs to New Zealand artist, Maurice Bennett, also dubbed the "Toast Art Picasso." Bennett used over 6,000 pieces of painted toast to complete his extraordinary mosaic. He brought his stunning creation from his native city of Wellington all the way to Shanghai, China.
10) Amy Winehouse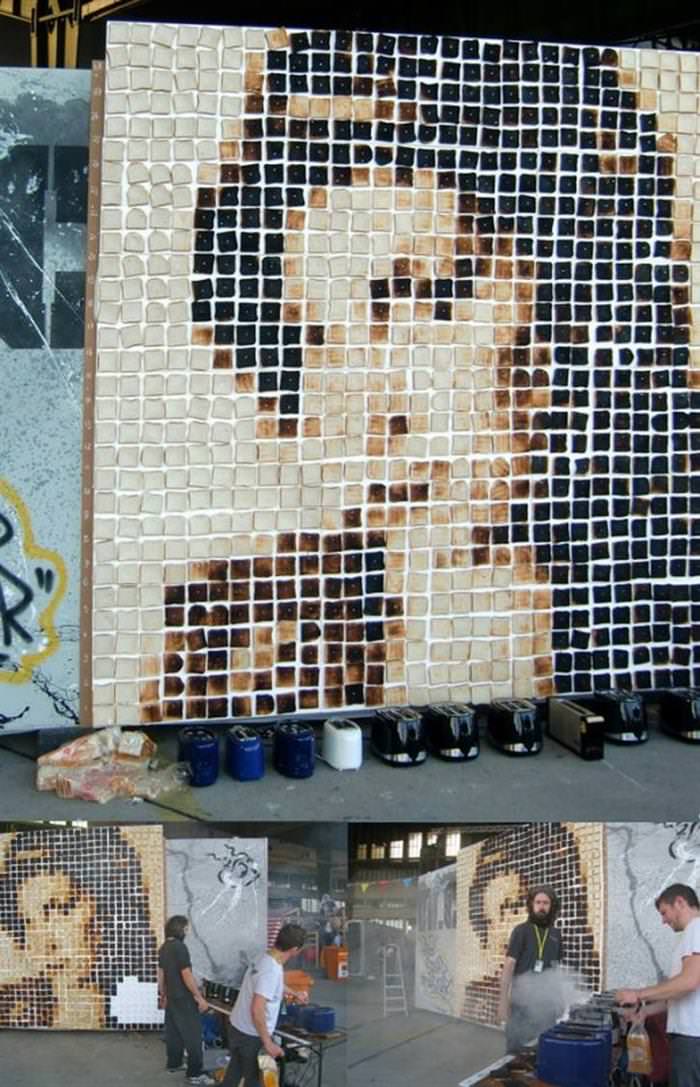 source
Amy Winehouse was a one-of-a-kind talent that was taken from us way too soon. An unknown artist used many pieces of toast to replicate the late musician as a tribute mosaic. The toasted portrait of the acclaimed soul singer was on display at the Berlin Music Festival in 2011.
11) Dame Edna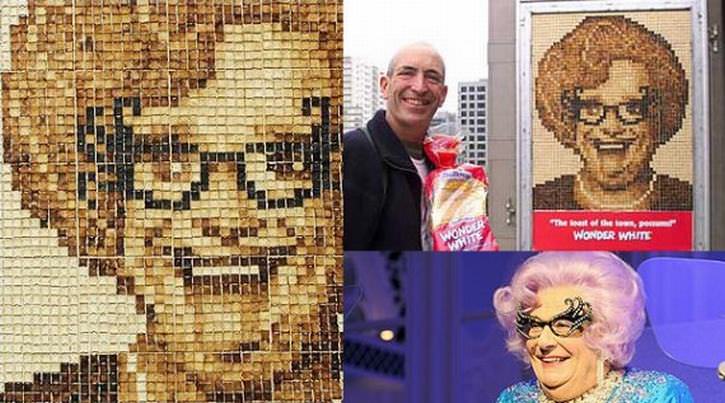 source
Dame Edna is the brilliant creation of "The Toast Picasso" himself, Maurice Bennett. Bennett used a whopping 2,989 slices of Wonder White Bread to replicate the legendary Aussie entertainer. The attention to detail in the mosaic is magnificent.
12) Peter Jackson, Dean Cain and Elvis Presley

source
Maurice Bennett has a vast collection of assorted celebrities throughout his gallery. The toast mosaics seen above are; The Lord of The Rings director (Peter Jackson), Superman (Dean Cain) and The King himself (Elvis Presley). Bennett used thousands upon thousands of pieces of sliced bread to capture these stellar portraits.
13) The Morisanchu Mona Lisa Mosaic
source
This colossal mosaic of the Mona Lisa belongs to the talented English artist, Laura Hadland and required a whopping 10,080 individual pieces of sliced bread to complete. The eye-catching portrait was assembled on the pavements of Matera, Italy, using traditional Italian bread with assorted white and dark chocolate spreads.
14) World's Largest Toast Tribute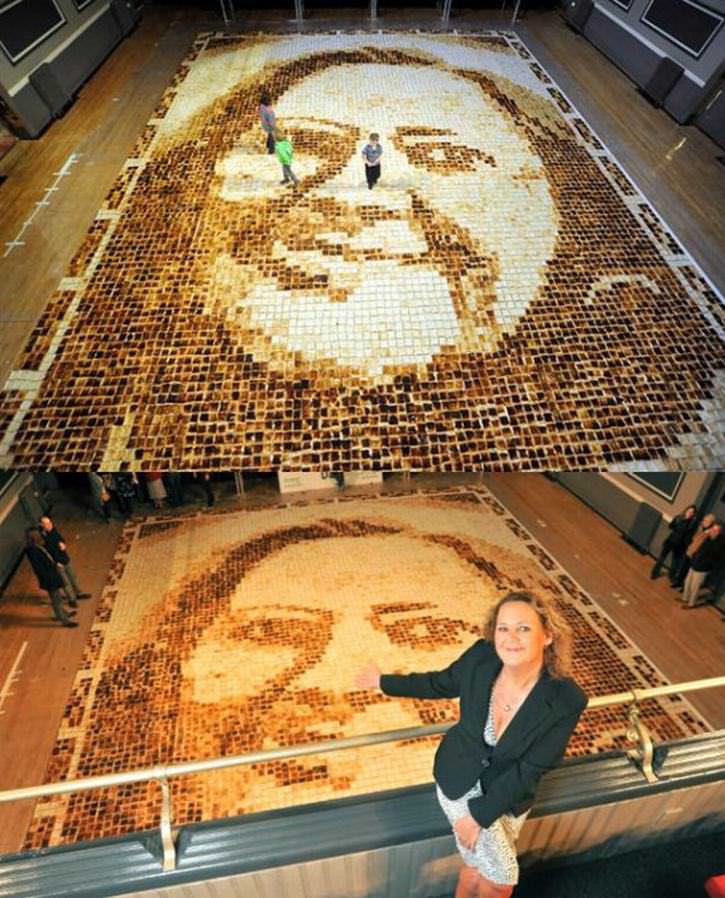 source
Although the portrait seen here might not be too familiar with you, it certainly carries special meaning to the artist who made it, Laura Hadland. The image seen above is a birthday gift dedicated to Laura's mother-in-law, which took 9,852 slices of bread to complete. The tremendous portrait measures 32 feet by 42 feet (9.7m by 12.8m), and was displayed in Cheshire, England. You can visit Laura's website to view more of her magnificent creations.
Bonus: Celebrity Toast Collection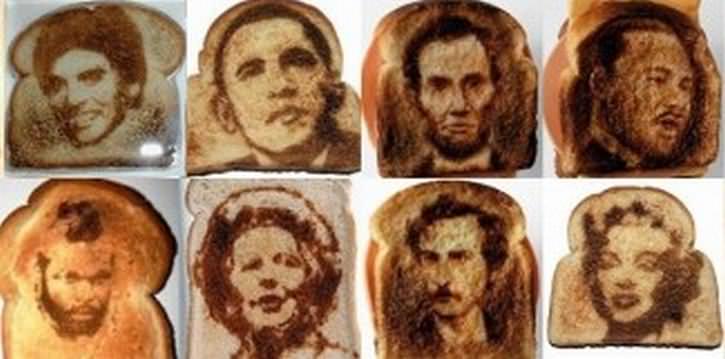 source
Toast art requires hours of uninterrupted concentration to carve out the many precise details on each unique slice of bread. Some of the famous faces seen here include; Abraham Lincoln, Marilyn Monroe, Martin Luther King, Jr and Mr. T.
H/T: mrbreakfast.com