If you're looking for a super simple lunch or dinner recipe, then this sautéed cabbage will be perfect. This simple recipe takes less than 20 minutes to make and only requires a handful of ingredients. It's a hearty meal with incredible texture and taste. We bet you won't have enough of this.
It can also serve as a base for many meals, paired with meat, poultry, or seafood, or even served in bread!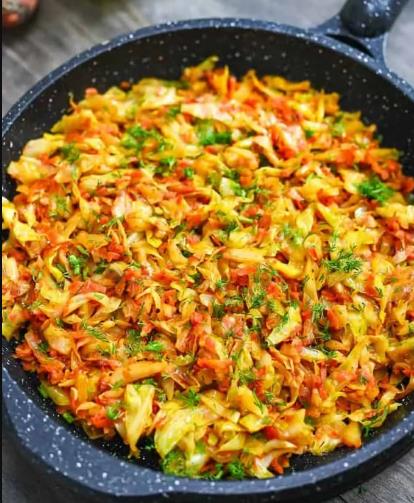 Ingredients for Simple Sautéed Cabbage:
Method of preparing the Simple Sautéed Cabbage:
In a large skillet, add oil over medium-high heat. Sauté the onions until they begin soften. Then add the carrots, and cook for about 2-3 more minutes.

Add the cabbage and cook for about 15 minutes. Make sure it's softened enough

Now, mix in the tomato paste and apple cider vinegar. season with salt and pepper to taste. Stir everything well and turn off the heat. Garnish with fresh dill or parsley.
Source: Cooktoria