Arancini are Italian rice balls that are a staple of Sicilian cuisine. They are made of leftover risotto stuffed with either cheese or meat ragu, coated in breadcrumbs, and fried. This specific recipe will teach you to prepare delicious arancini stuffed with mozzarella cheese.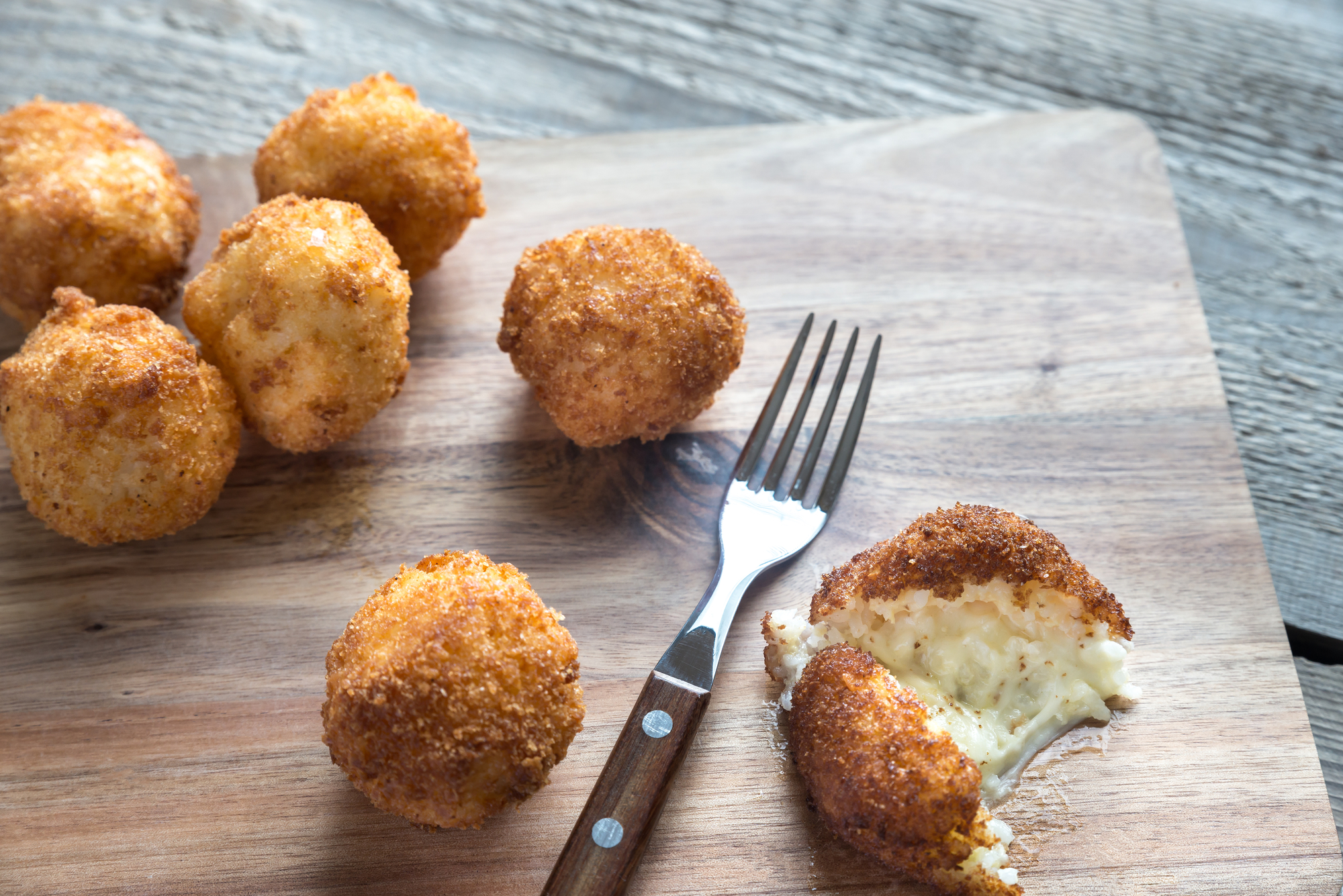 Ingredients for Arancini Stuffed with Mozzarella:
Method of preparing the Arancini Stuffed with Mozzarella:
Usually, arancini are made with leftover risotto. In this recipe, we will explain how to prepare basic risotto before we move on to arancini. If you already have leftover risotto, skip to step 5.

Heat the vegetable broth on the lowest heat setting until warm. Keep warm throughout the cooking process.

In a saucepan, sauté the onions in oil until fragrant. Add in the rice, and mix well for another 2 minutes. Add the wine and gradually add the veggie broth, 1/2 cup at a time. Stir frequently for 15-20 minutes.

Remove the risotto from the heat. Stir in the butter and grated parmesan, then cover the saucepan and set aside for a couple of minutes. Taste and season with salt and pepper.

Let the risotto cool completely, then add 1 egg and 1/3 cup of breadcrumbs to the risotto. Mix well and set aside.

Set the flour, remaining egg, and 1/3 cup of breadcrumbs in 3 separate bowls. Whisk the egg and add the paprika and cayenne pepper to the breadcrumbs.

Scoop a handful of the risotto and make a patty out of it. Add a little mozzarella to the center, then close it into a ball. Add more risotto if needed to encase the cheese.

Coat each arancini ball in the flour, then the egg, and finally in the breadcrumb and pepper mixture.

Heat vegetable oil for shallow deep frying and when the oil heats up to at least 165°C/ 330°F, carefully drop the arancini inside for 5-6 minutes. The arancini should be golden brown.

Serve the arancini fresh, alone, or with tomato sauce on the side.
Source: Jernejkitchen.com