Risotto is one of the most filling comfort foods there is. Made with arborio rice that's rich in starches, it absorbs a lot more liquid than ordinary rice and gives risotto its signature creamy texture. This risotto recipe is made with chicken, button mushrooms, and asparagus - a divine and healthy combination of ingredients.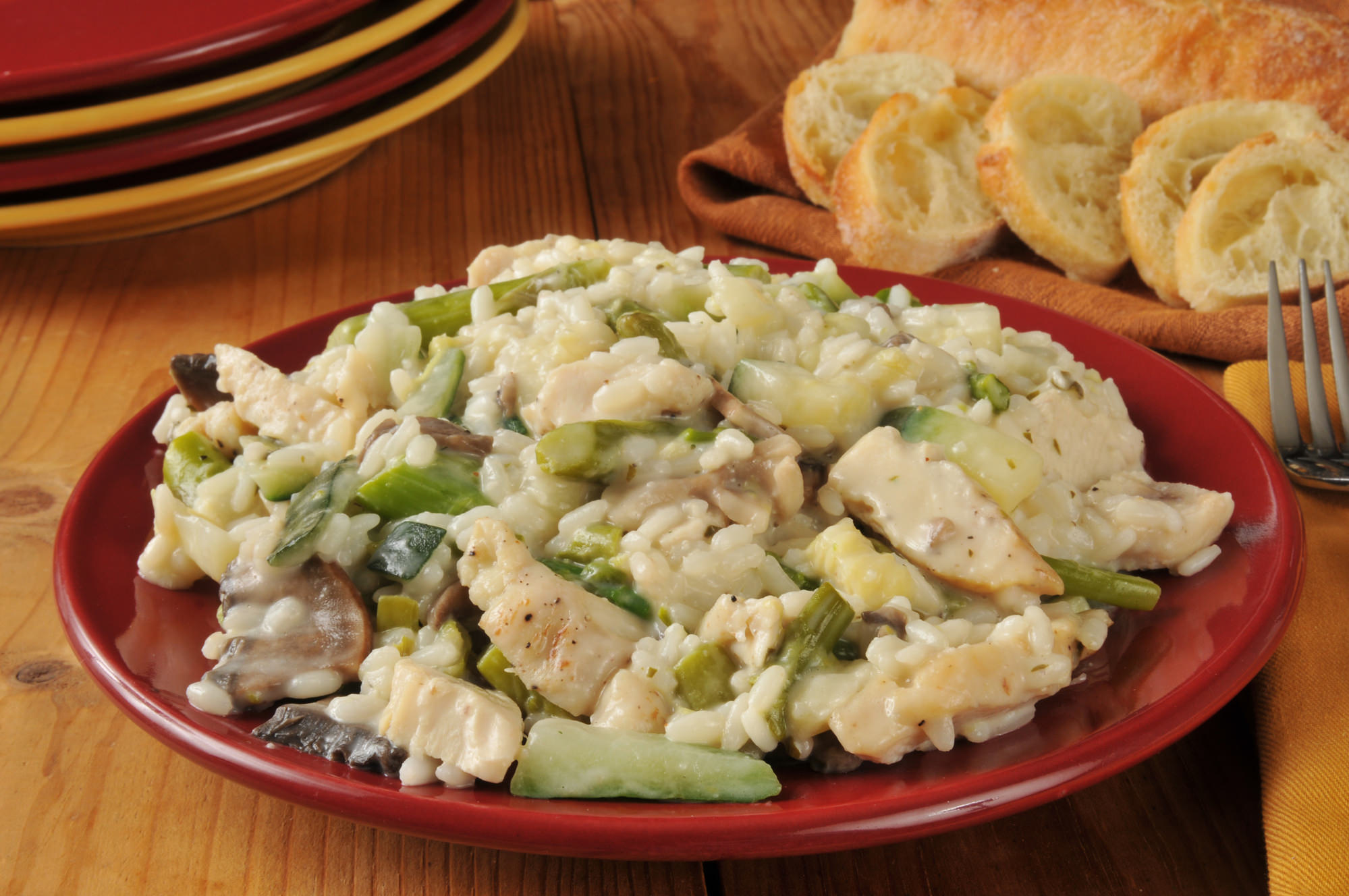 Ingredients for Chicken and Asparagus Risotto:
Method of preparing the Chicken and Asparagus Risotto:
Heat the stock to a simmer and keep it warm while you prepare the risotto.

In another saucepan, bring salted water to a boil and blanch the asparagus for 3-5 minutes. Transfer the cooked asparagus to a bowl of iced water. This will preserve the vibrant green color.

Pat dry the chicken pieces with paper towels and season with salt and pepper. Heat half of the olive oil and butter in a skillet and braise the chicken until golden brown on all sides, about 5 minutes on each side. Set aside.

To the same skillet, add the remaining oil and butter and brown up the mushrooms. Add the thyme and cook until the mushrooms are tender - about 5 minutes.

Transfer the mushrooms with their juices to a large saucepan and continue cooking on medium-low heat. Add the rice and stir continuously for about 2 minutes, then pour in the wine and simmer until all the liquid is absorbed.

Ladle about 1 cup of hot chicken stock to the rice and mushroom mixture and continue stirring. When the liquid has reduced again, add another cup of chicken stock, and continue stirring and gradually working in the stock until you're out of stock and the rice is fully cooked. If needed, you can heat up more stock or dilute the stock with a little bit of water.

When the rice is almost fully cooked, add the chicken pieces and the drained asparagus. Cook for 2-3 more minutes, or until the risotto is heated through.

Remove the risotto from the heat and stir in the parmesan cheese. Serve immediately, garnished with more parmesan and thyme on top.
Source: Sunrice.com.au