If you are trying to consume less sugar and maintain a healthy diet, but you just can't seem to get over that sweet tooth, this recipe is just what you were looking for. These brownies don't contain any refined sugar, flour, butter, or even eggs. In fact, this recipe only requires 2 ingredients: overripe bananas and unsweetened cocoa powder!
At first glance, it's hard to imagine how these two ingredients can be turned into a brownie, but keep in mind that bananas are often used as an egg substitute in vegan baked goods. Cocoa powder, on the other hand, is a popular replacement for flour in flourless cakes and brownies. So, when mixed together, these two ingredients make a very fudgy brownie with a rich chocolate taste.
If you want to keep the brownies as healthy as possible, you can skip the frosting. However, if you want to indulge in something sweeter and more desert-like, you can top the brownies with an easy three-ingredient chocolate frosting made of melted coconut oil, unsweetened cocoa powder, and maple syrup. Not only are these brownies the healthier substitute for regular brownies that will satisfy your chocolate cravings, but they are also quite easy to prepare.
Brownies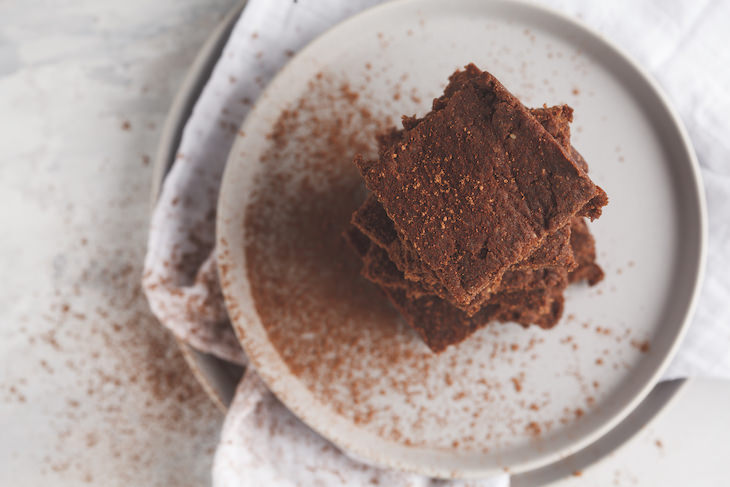 Ingredients
Instructions
1. Preheat the oven to 350°F (180°C). Line an 8x4-inch loaf pan with baking paper.
2. In a large bowl, mash the bananas until you achieve a smooth puree consistency and no chunks remain. You can do this by hand using a fork or a spoon, or use a blender or a food processor.
3. Whisk in the cocoa powder until a smooth batter forms.
4. Pour the batter into the prepared loaf pan. Spread the batter evenly across the pan using a spatula.
5. Tap the pan a few times against the kitchen counter to remove any air bubbles.
6. Bake for 20-25 minutes. When the brownies are done, the surface will look dry and dark, and the center should not be jiggly. However, make sure that the center isn't completely set either, and a toothpick inserted in the middle will come out moist. Another test you can try is to press the surface of the brownies gently with your finger - you should feel that the center is still soft.
7. Let the brownies cool completely in the pan. Then transfer the brownies to the fridge for 1-2 hours or until firm enough to cut. Do not skip this step. If you do not refrigerate the brownies, they will not set and the inside will remain like a thick pudding.
Frosting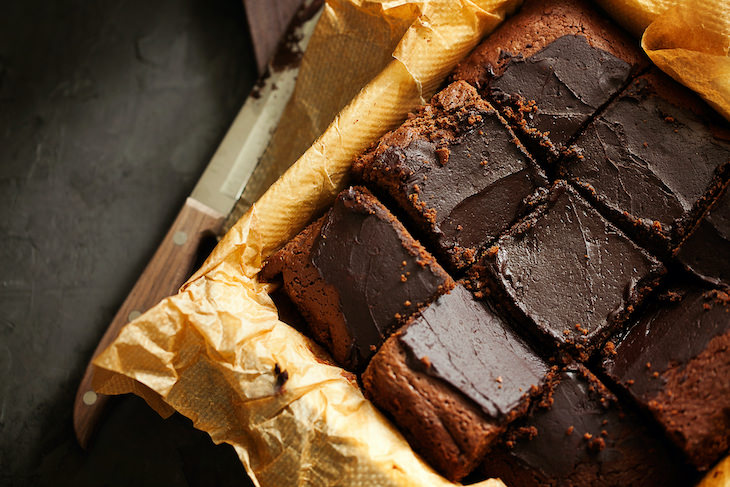 Ingredients
2 tbsp coconut oil, melted

1/4 cup unsweetened cocoa powder or cacao powder

2 tbsp maple syrup
Instructions
1. In a medium bowl, combine the coconut oil and the cocoa powder. Whisk until smooth and the mixture looks like melted chocolate.
2. Add in the maple syrup and whisk until smooth frosting forms. Make sure to add it only at the end, as the maple syrup will thicken the mixture. If you add in the maple syrup at the beginning, it will be very difficult to mix.
3. Spread the frosting over the surface of the brownies once they have set. Enjoy!
Source: Kirbie Cravings
Share this recipe with your loved ones!