Magnolia (Magnolia grandiflora) - zones 4 to 9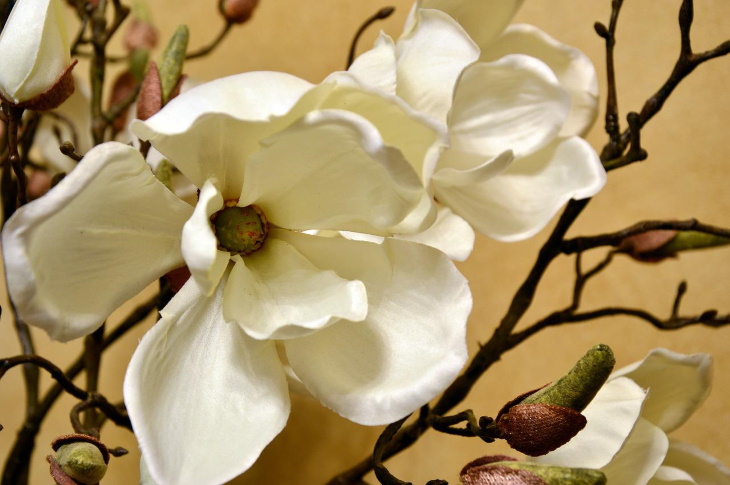 Let's begin this list with a truly magnificent gem of a flower. The magnolia is the official state flower of two states - Mississippi and Louisiana - and it's easy to see why. The large lotus-like blooms of this flowering tree are simply outstanding to look at, and they also smell pleasant. Personally, the traditional white variety is our favorite!
Although magnolias are pretty easy to grow, the plant does tend to drop large leaves, so expect to collect them regularly.
Lily of the Valley Shrub (Pieris japonica) - zones 5 to 8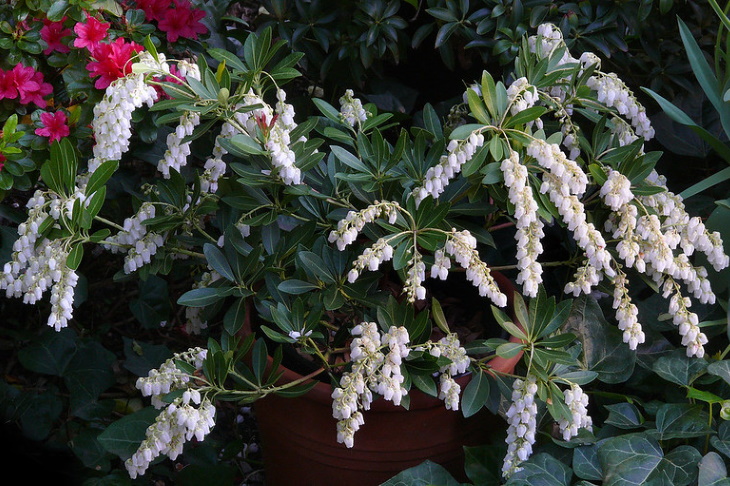 Also known under the pretty name Japanese andromeda, this shrub has long dainty inflorescences reminiscent of the lily of the valley. Like their namesake, these bushy plants are early bloomers too; expect the bell-shaped tassels of flowers emery from the arching branches in early spring.
One last noteworthy advantage: lily of the valley shrubs thrive in the shade, so you can fill up the darker corners of your garden with this perennial shrub.
Calla Lily (Zantedeschia selections) - zones 8 to 10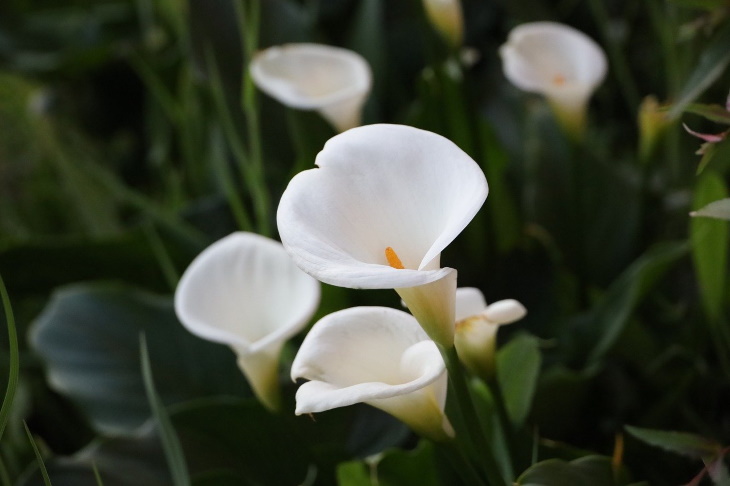 The elegant vase-shaped flowers of the calla lily are also known as spathes. Calla lilies love to bask in the sun and require constantly moist soil. Although they are typically grown as annuals, you could always plant your Callas in a container and bring them indoors in the fall. Since these flowers seldom grow taller than 3 feet, you can grow them as a houseplant. Callas will bloom for weeks and weeks in the summer.
Related article:
22 Remarkable Red Flowers Anyone Can Grow
White Azalea (Rhododendron spp.) - zones 5 to 8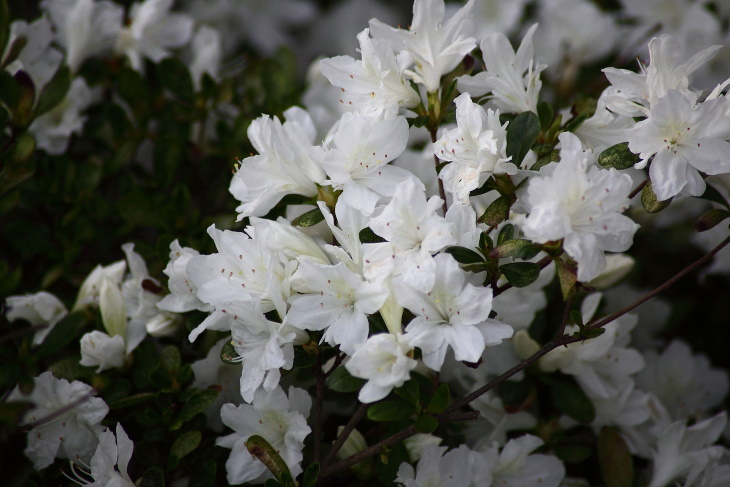 Azaleas are a landscaping favorite for a reason - they add structure and volume to your garden, which makes them perfect around patios and borders. Azaleas are easy-to-maintain, and they come in both compact dwarf varieties and bigger, more winter-resistant cultivars.
Give the azalea medium light and moist soil, and watch the shrub turn into a curtain of white blooms from late spring to fall. For those looking for beautiful white cultivars, the spring-blooming Delaware Valley White Azalea and Cunningham's White Azalea are both outstanding.
Peony (Paeonia) - zones 3 to 8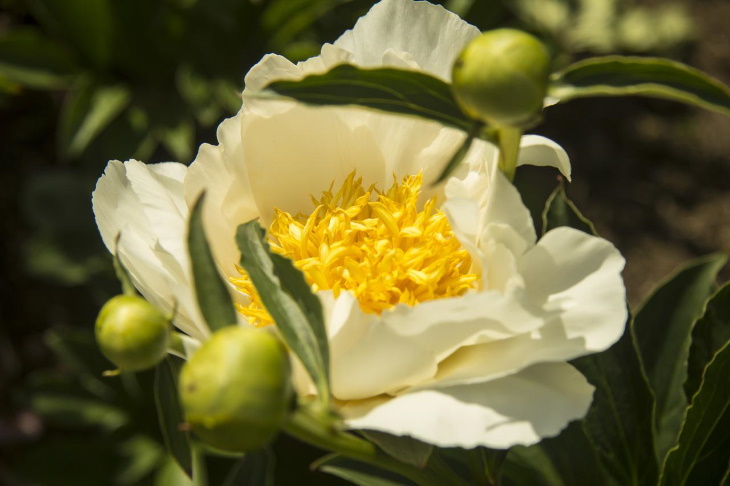 Considered a symbol of romance, prosperity, and healing, peonies are beloved for their massive ruffled blooms that come in a variety of hues. Our favorite white cultivar is Bowl of Cream, which features double blooms in an off-white hue. Peonies are known to be somewhat temperamental, so you'll need to pick a nice spot with full sun to partial shade for the plant and keep the soil moist but not soggy.
Generally, peonies fare better in climates with cold winters, as they need the chilly spring weather to form blooms. That being said, providing the perfect conditions for the peony will reward you with blooms for decades and decades.
Tulip (Tulipa spp.) - zones 3 to 8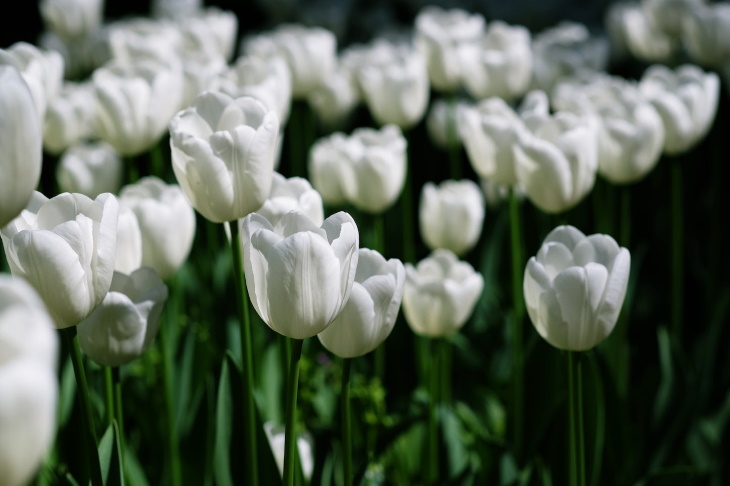 Tulips steal the show in every spring garden and come in every color imaginable. Due to their smooth, geometric shape, white tulips look especially elegant and pleasing to the eye. Plant the tulip bulbs in fall around 4-5 inches deep in well-draining soil, and flowers will emerge between April and May.
One last tip - avoid deliberately watering a flowerbed of tulips, as the bulbous roots of the plant are prone to root rot, so the plant cannot tolerate excessive moisture.
Japanese anemone (Anemone hybrida) - zones 4 to 8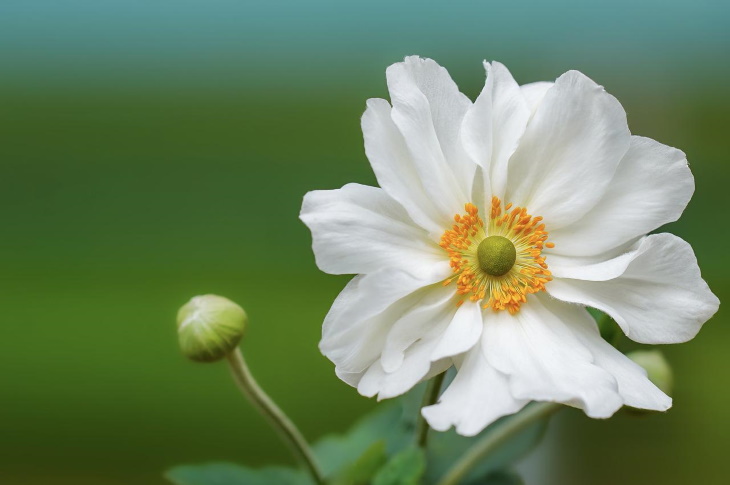 Bring sophistication to your fall garden with the white Japanese anemone. Our favorite white cultivar is Honorine Jobert, which has dainty stems and white cup-shaped blooms with yellow centers. Plant Japanese anemones in a location with dappled light and provide the plant with plenty of moisture. Very soon, your Japanese anemone plant will spread wide, and the first flowers should emerge in late August to early fall.
Annabelle Hydrangea (Hydrangea arborescens 'Annabelle') - zones 3 to 9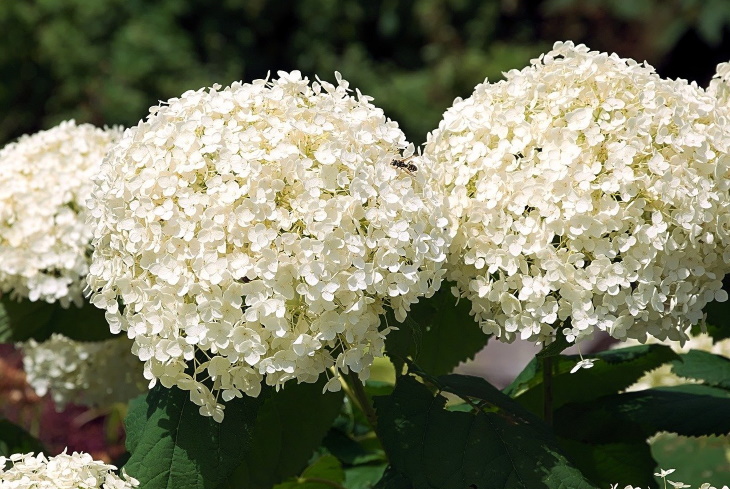 The large ball-shaped inflorescences of hydrangeas will become the statement piece of your garden. The Annabelle hydrangea is a little more compact than many other hydrangeas; they rarely grow bigger than 5 feet wide and tall. And like most hydrangeas, it's easy to grow too. The large blooms will start blooming in midsummer and make perfect cuttings. Pruning hydrangea flowers is generally a great idea, as it will get the plant to produce more flowers.
Daffodil (Narcissus pseudonarcissus) - zones 3 to 10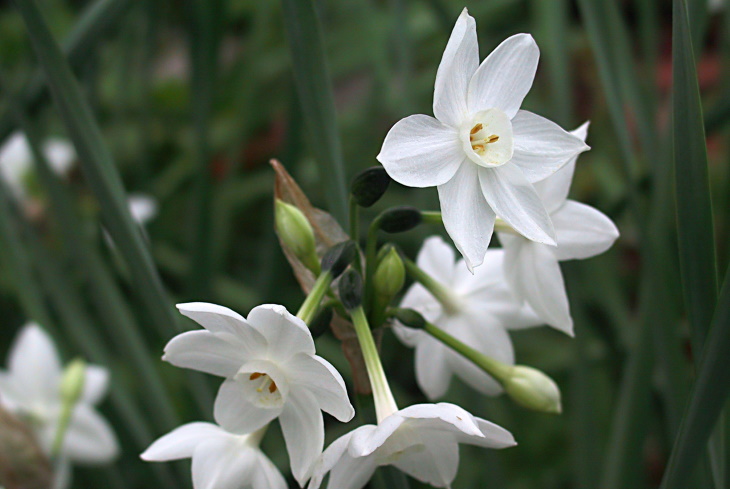 A symbol of nature's rebirth in spring, the white daffodil is simply divine! Apart from that, the refined flower is a symbol of new beginnings, good luck, friendship, and fortune - how nice! Daffodils grow out of bulbs planted in the fall, and they are among the first flowers to appear in the garden. They have a complex bloom that consists of a trumpet-shaped center set against a star-shaped background.
Generally speaking, daffodilather agreeable that: they are not picky about light or soil and are relatively resistant to pests. Just make sure to plant the bulbs 3 times deeper than the diameter of the bulb, otherwise, the flower stems tend to bend or even break soon after blooming.
Gardenia (Gardenia jasminoides) - zones 8 to 11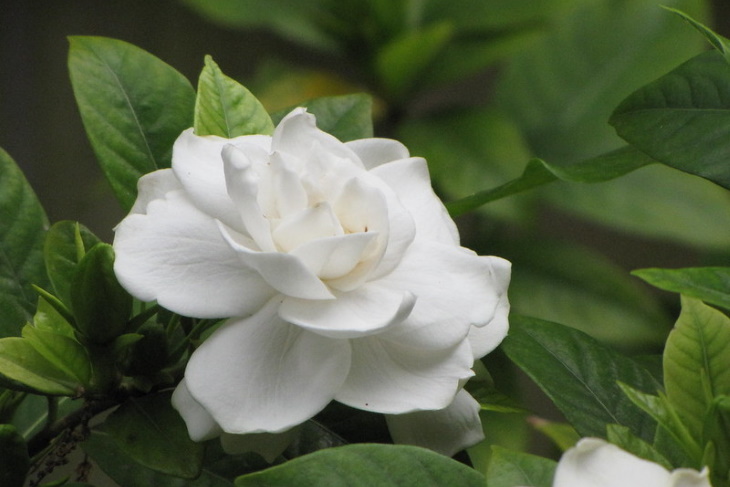 Call us old-fashioned, but we will take a good-old creamy white gardenia over most other flowers any day. After all, very few plants feature glossy green leaves, lush white flowers, and a heavenly scent all in one! Gardenias are easy-to-grow shrubs that favor partial shade and well-draining soil. Most gardenia cultivars will start blooming in late spring to early summer.
Shasta Daisy (Leucanthemum x superbum) - zones 4 to 9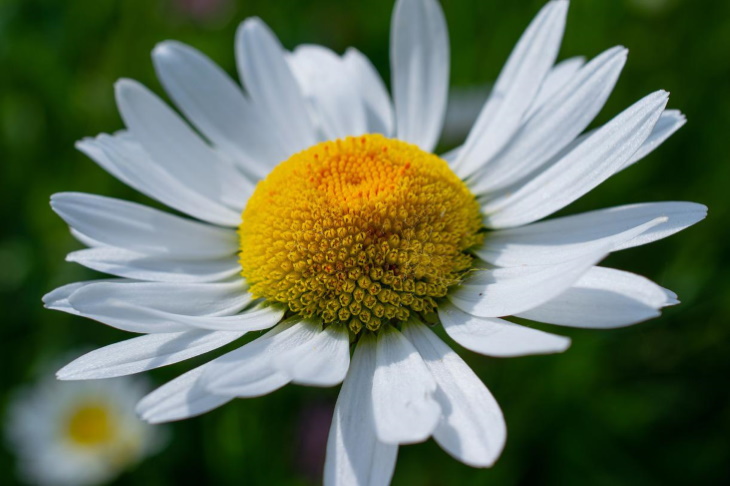 Hundreds of daisy varieties date back thousands of years. What makes the Shasta daisy so special? Well, the size of the flowers is pretty impressive, and they bloom from early summer through fall too! This daisy variety has been named after Mount Shasta, one of the tallest mountain peaks in California.
Plant your Shasta daisies in full sun or part-shade, and keep them well-watered. This way, you can watch this perennial appear year after year, cheering you up with its white and yellow blooms.
White Foxglove (Digitalis Purpurea Albiflora) - zones 4 to 8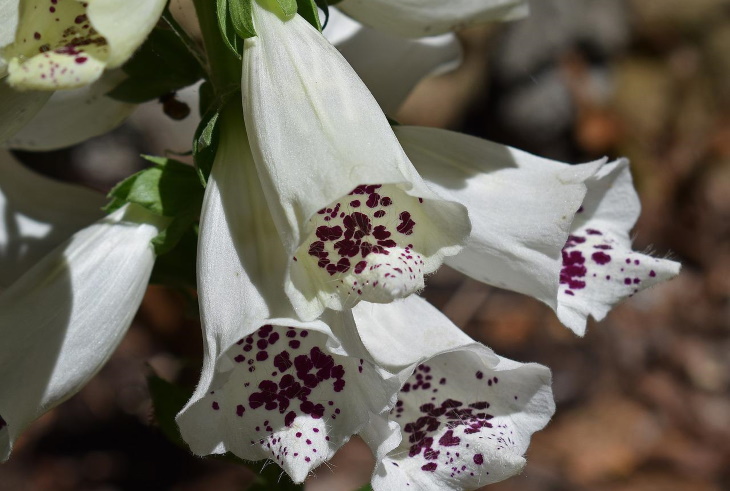 If you wish to add an interesting vertical element to your garden, the white foxglove is a no-brainer! Perfect for planting along paths and borders, these plants produce spears scattered with numerous tubular flowers. Foxgloves are annuals, but they can self-sow, so you can expect them to reappear for a year or two after first planting them.
This plant is a favorite for beneficial insects, so it will make a beautiful addition if you wish to attract more butterflies and bees to your garden.
Arabian Jasmine (Jasminum sambac) - zones 9 to 10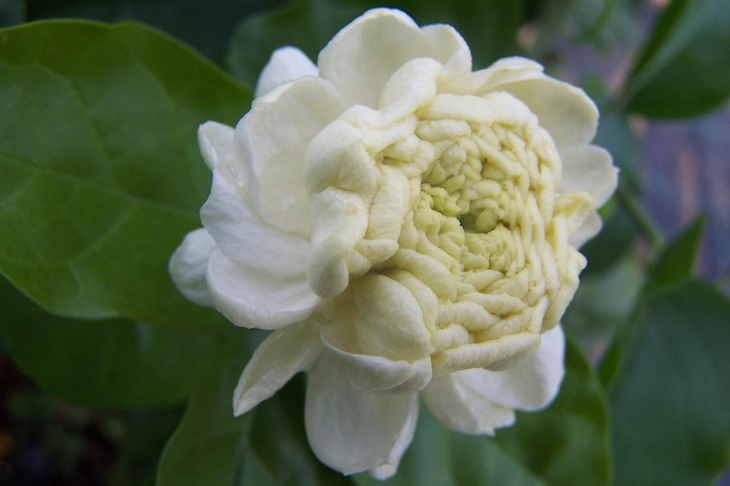 With an intoxicating aroma and voluminous creamy white blooms, the Arabian jasmine is a stunning plant. Famous for its aromatic flowers used in jasmine tea, the Arabian Jasmine is an evergreen climbing shrub with glossy, dark green leaves. Although this plant is rather fast-growing, it does require a warmer climate to thrive, so most people grow them in containers, and bring them indoors throughout the cold season.
Another reason to grow Arabian Jasmine in a pot rather than outdoors is to prevent it from spreading too quickly. In Florida or Hawaii, for example, this plant is considered invasive and shouldn't be grown.
Hyacinth (Muscari sp.) - zones 4 to 8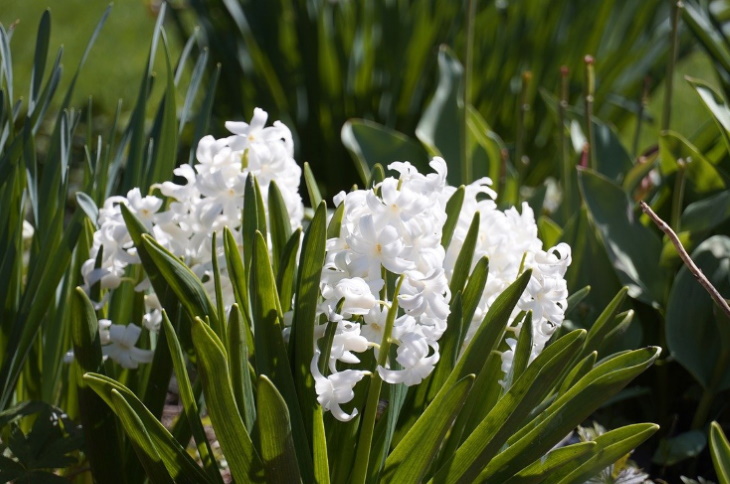 Hyacinths are sophisticated and fragrant spring-blooming plants, we're sure you've seen these guys before. Like all hyacinths, white hyacinths have bulbous roots that are extracted from the soil in fall and replanted in early spring. Hyacinths can tolerate a variety of light conditions, but they do need constant watering and well-draining soil. They have star-shaped clusters of tiny flowers that bloom in mid-spring.
Angel's Trumpet (Datura meteloides) - annual to zone 10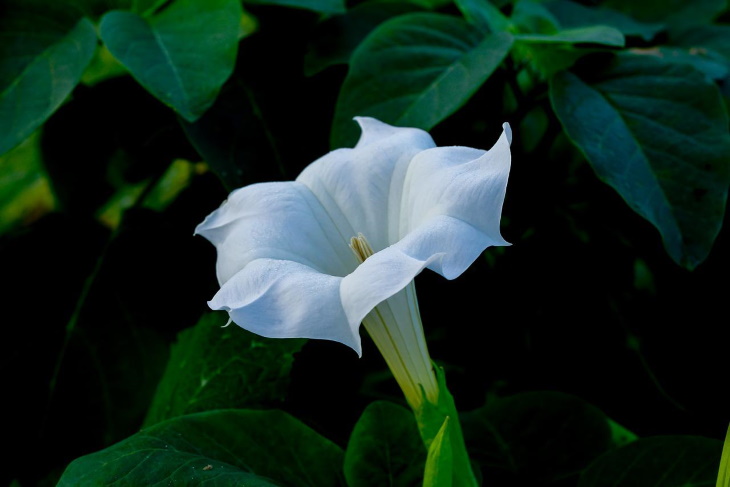 This tall, shrub-like plant will surprise you with huge, sweetly scented flowers that grow up to 12 inches long. The trumpet-shaped flowers will remain closed all day, only to open up at dusk and emit a pleasant fragrance that attracts moths all night. Angel's trumpets are extremely drought tolerant once established, and they require full sun. But beware and handle these plants with care, as all parts of them are poisonous.
Nemesia (Nemesia spp.) - zones 2 to 11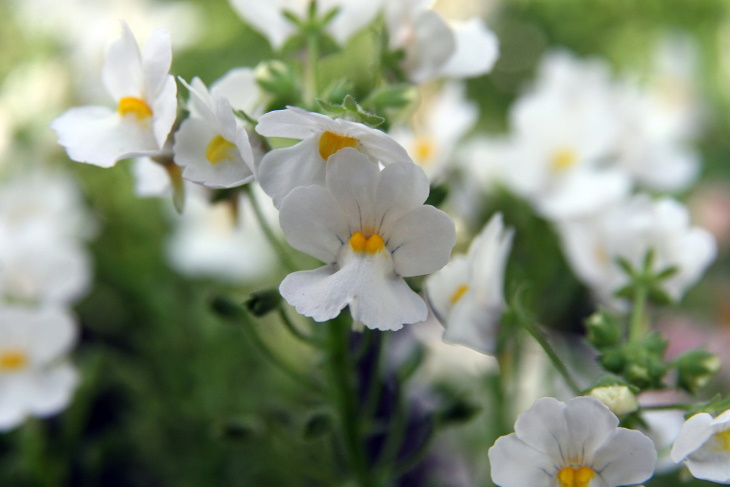 Nemesia flowers are just the cutest! The plant produces many tiny flowers that look a bit similar to snapdragons. The plant is annual, but it's still worth planting because it will give you blooms continuously from spring to fall, no deadheading required.
You can also grow Nemesias in pots and window baskets. These plants tend to favor containers as long as the soil is well-draining. If you live in a cooler climate, you can plant Nemesias in full sun, but it will tolerate dappled light in most climates.
Illuminati Arch Mock Orange (Philadelphus coronarius) - zones 4 to 7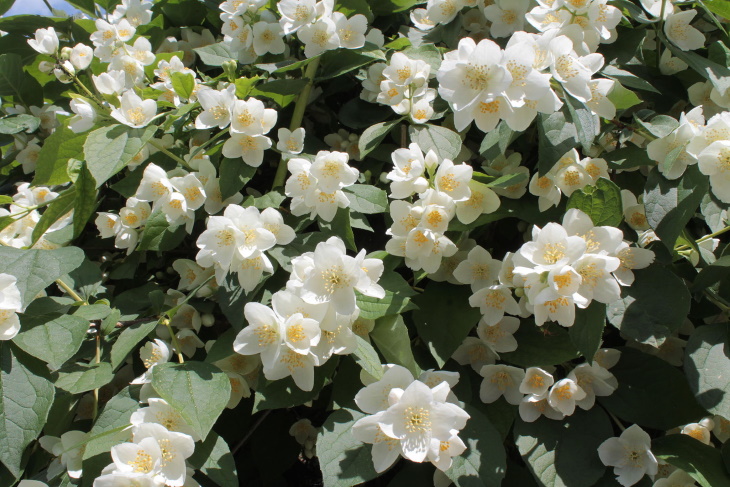 The Illuminati Arch mock orange is a compact mock orange shrub that grows about 4 feet tall. The white blooms of this plant have a delightful fragrance, so plant it in an open space but close enough to a high-traffic area, so you'll get to enjoy the scent. Blooms appear in late spring and stick around until mid-summer. The flowers should be pruned immediately after flowering.
Iceberg Rose (Rosa 'Iceberg') - zones 5 to 9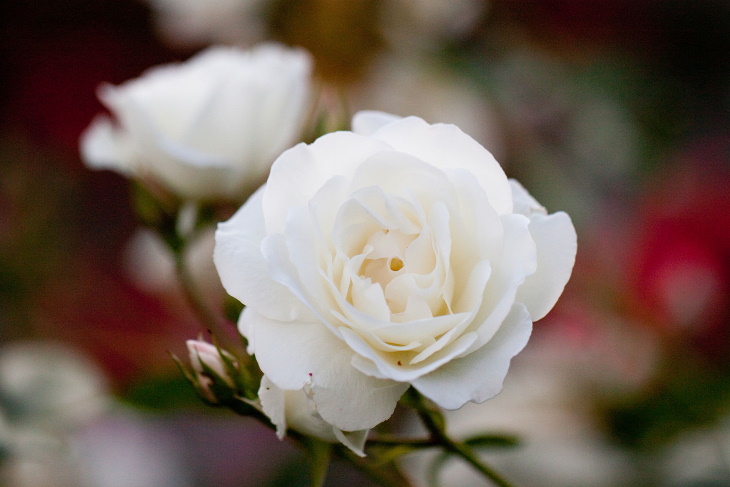 Did you know that there are over 2,000 existing rose cultivars? Surely, this sheer quantity is a testament to humanity's love for this elegant flower. True, roses do require at least 5 hours of sun and are known to be quite temperamental.
But not all roses are so capricious. Iceberg Roses, for example, are considered extremely dependable and, dare we say, easy. This rose variety sports clusters of creamy white double blooms that bloom from summer through fall. Gardening experts recommend pairing these snow-white beauties with either other roses or with lavender.
Dahlia (Dahlia spp.) - zones 8 to 10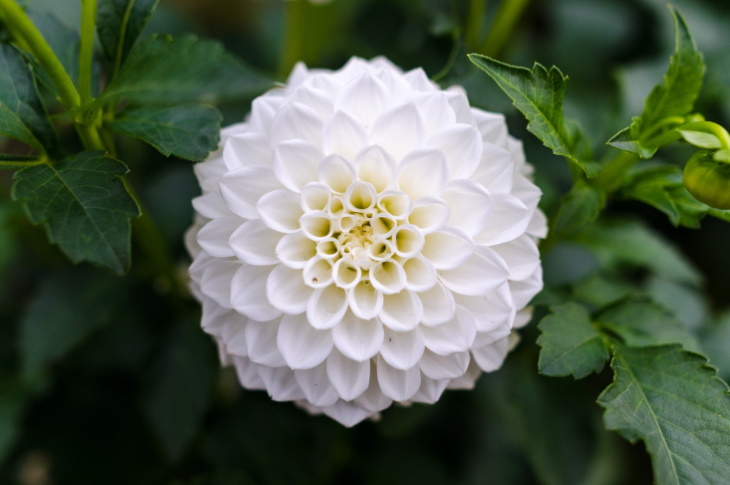 A cousin of chrysanthemums, daisies, and dandelions in the Asteraceae family, dahlia flowers are associated with elegance and dignity. Dahlias were admired in the Victorian age and continue to be extremely popular today. Dahlias are outstanding flowers to grow due to their astounding diversity in shape and color.
Moreover, these stunning flowers are extremely easy to care for and have one of the longest blooming periods of all flowers - they start blooming in June and stay in flower until the first frost.
Hibiscus (Hibiscus spp.) - zones 5 to 8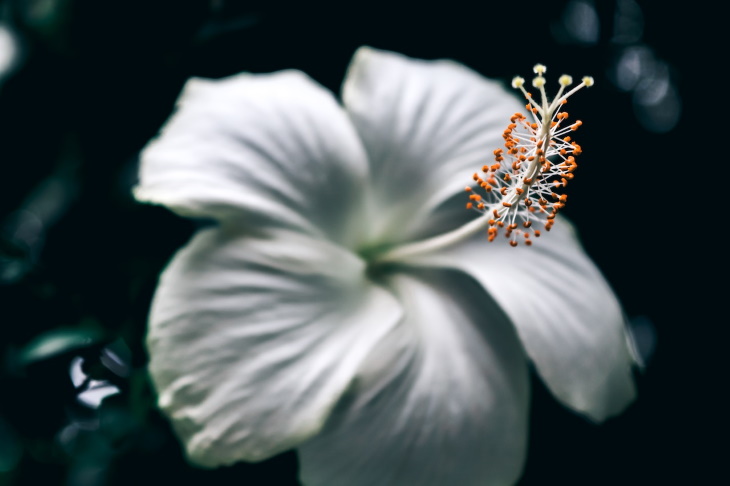 Hibiscus flowers are the symbol of many tropical countries. Despite the common belief, however, these flowers can also survive and bloom quite productively in a more temperate climate. As long as you choose a more resilient variety or plant up your hibiscus in a container, you'll be able to enjoy the beautiful trumpet-shaped blooms of this tall perennial every summer for years.
Hibiscus prefers full sun, but it cannot tolerate drought, so make sure to keep the soil constantly moist. Unless you have a dwarf hibiscus, prepare for it to grow up to 8 feet in height.