Daylily (Hemerocallis)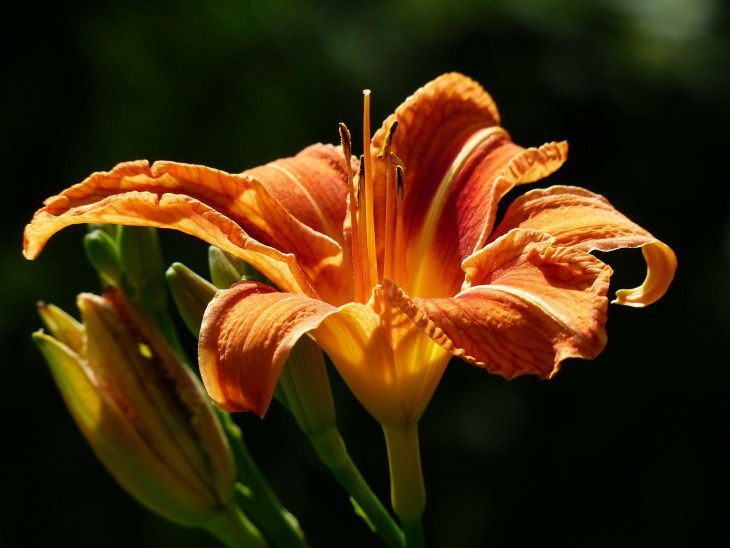 Despite their fragile appearance, daylilies are extremely hardy plants that produce huge trumpet-shaped flowers that sprout from a leafless stem. Although daylilies come in quite a few colors these days, the most common variety is vivid orange.
Bird of Paradise (Strelitzia reginae)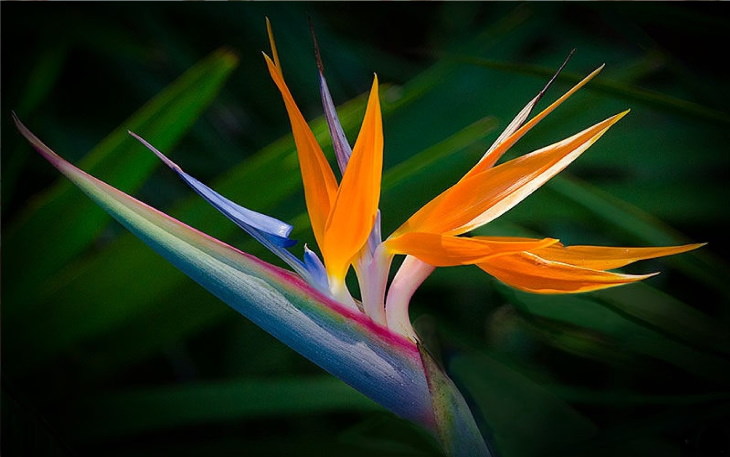 The Bird of Paradise is native to South Africa, so it favors plenty of sunshine and a tropical climate. If you live in a more temperate climate, you'll want to grow this plant in a pot and move it indoors when temperatures start dropping in fall. But the fan-like sculptural foliage of the blooms is very much worth all the extra hassle!
Lantana (Lantana camara)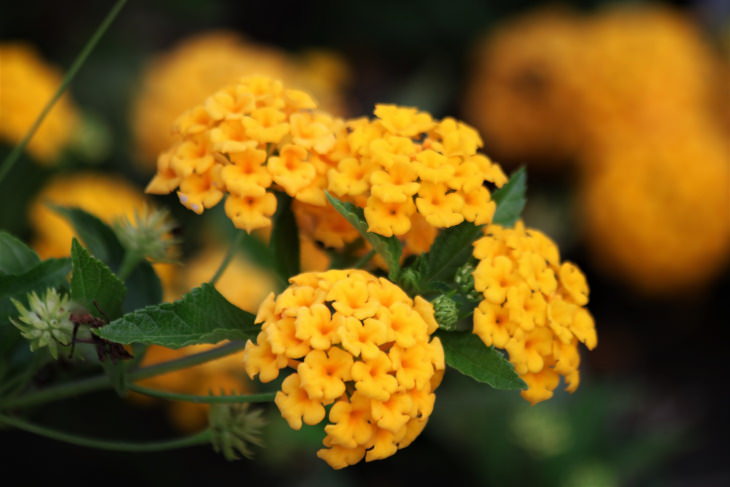 The greatest thing about lantanas is that they produce blooms from midsummer until the first frost. Lantanas require little water and grow very well both in containers and outdoors. Lantana flowers range from white and purple to yellow, orange, and red.
Butterflyweed (Asclepias tuberosa)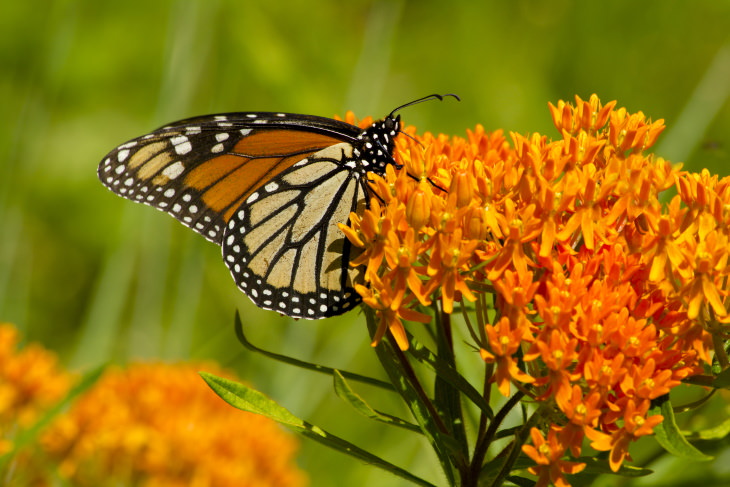 Want to attract butterflies to your garden? Then butterflyweed is an excellent choice! After all, it's even in the name. The plant produces flat-topped clusters of tiny orange or yellow flowers. Tip: once the flowers turn into seed pods, they should be removed if you don't want the plant to spread through your garden.
Ranunculus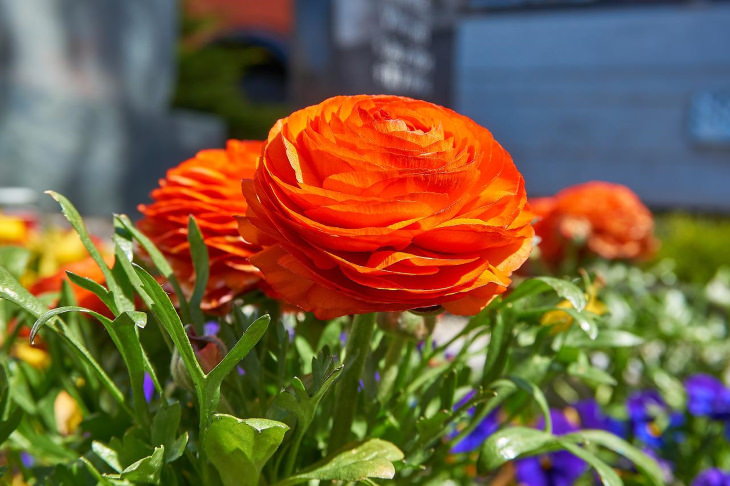 Also known as Persian Buttercups, ranunculus flowers have dense, layered petals that make them appear almost like a small rose. These perennials come in many bright colors ranging from deep orange to peachy pink, purple, and white. Ranunculus requires full sun and moderate watering. Flowers will typically appear
from late spring to early summer.
Marigold (Tagetes spp.)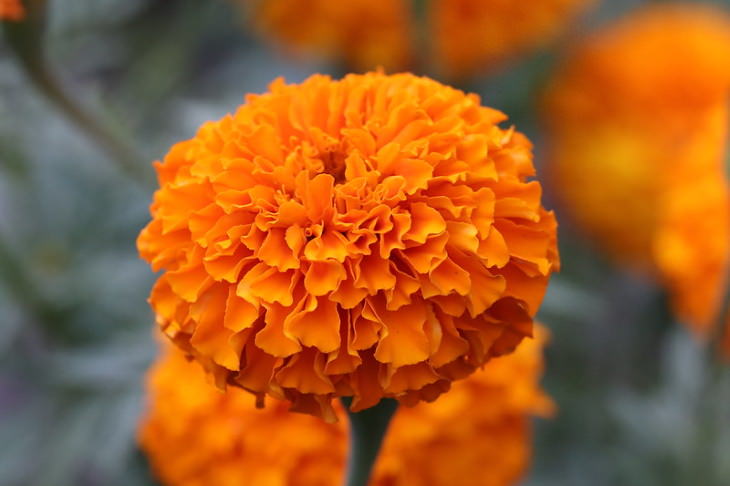 With their thick and ruffled petals, marigolds are a real showstopper! Although these plants require lots of sunshine, they make it up by blooming almost all summer long.
Chinese Lantern (Physalis alkekengi)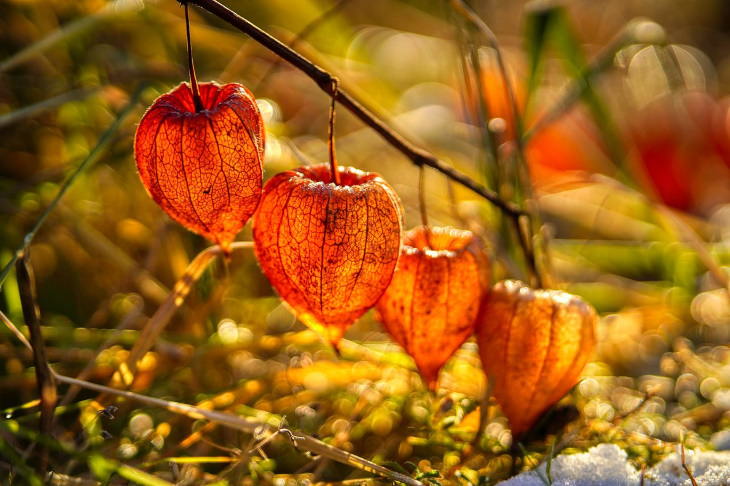 Chinese lanterns are some of the most unique plants in existence, and the berries found inside these magical lantern-like seed pods are edible too! Many people choose to grow physalis in a pot, as these plants can be rather fast spreaders. In summer, the plant blooms with small white flowers, but you'll have to wait until late fall for the orange-red calyces to appear.
Viola (Viola tricolor var. hortensis)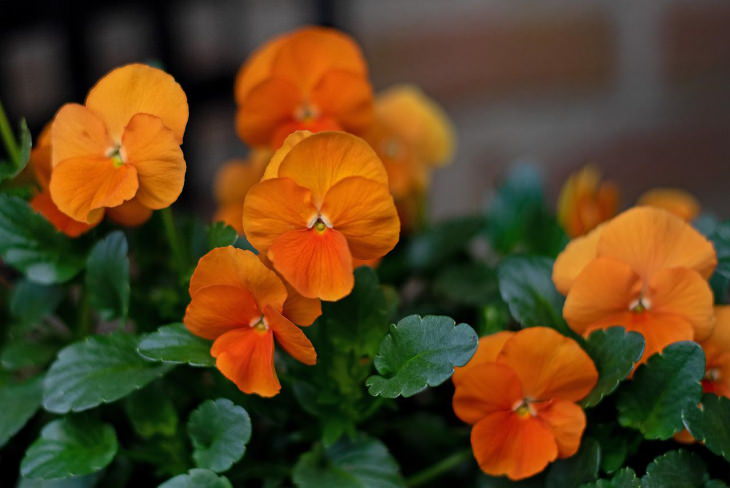 Even though the classic purple violas are our personal favorite, these dainty flowers also come in white, maroon, yellow, and even orange. Although violas are often considered annuals, they can actually be grown as short-lived perennials too. Expect these cute blooms to appear in late spring to early summer.
Tulip (Tulipa spp.)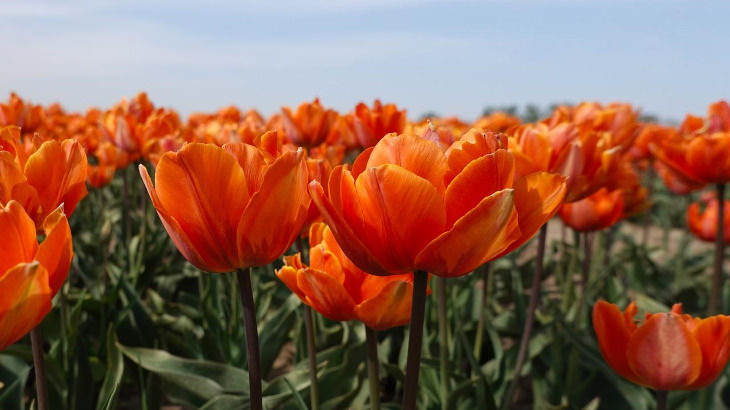 Tulips steal the show in every spring garden, and they come in every color imaginable too (except for true blue). Plant the tulip bulbs in the fall around 4-5 inches deep in the soil, and their vibrant blooms will emerge in the spring.
Montbretia (Crocosmia 'Lucifer')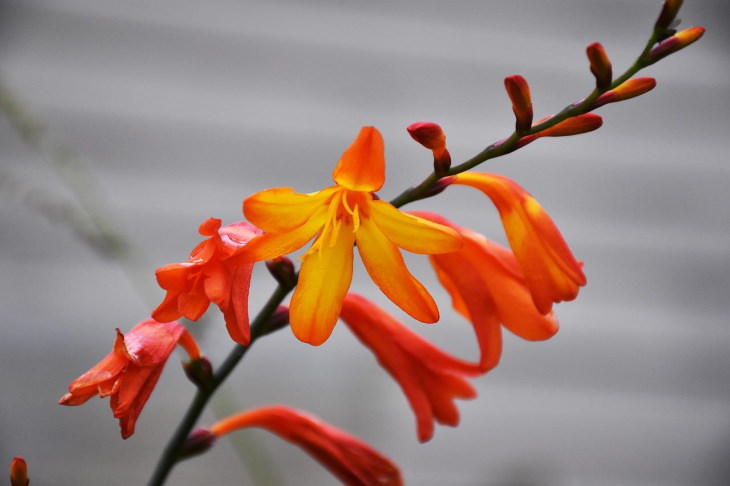 Montbretias are exotic-looking perennial plants that have elegant flowers in a gradient from red to warm orange. While the foliage of this plant resembles an iris, montbretia blooms look more like freesias. These plants require plenty of moisture, but they can grow in a variety of lighting conditions - from full sun to partial shade.
Mexican Sunflower (Tithonia rotundifolia)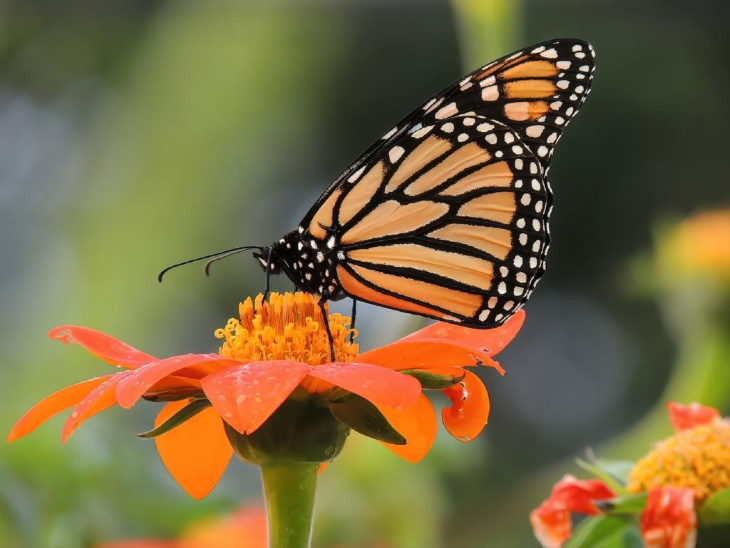 These sun-loving plants are another great choice for those who wish to attract butterflies to their garden. Mexican sunflowers can grow up to 3–8 feet tall, and they can become perennialized in warmer climates.
Trumpet Vine (Campsis radicans)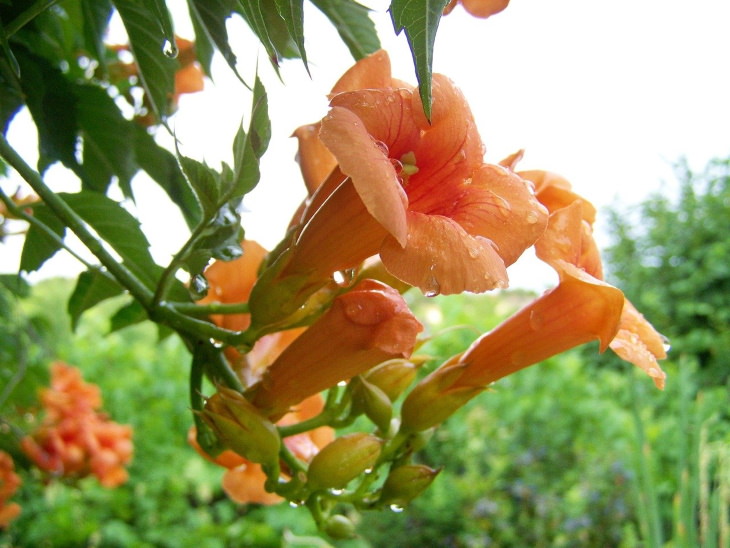 These orange trumpet-shaped flowers grow on a vining plant that looks amazing on any sort of vertical support. Trumpet vines are fast growers, so expect to prune the vine every month or so. Orange flowers will appear on the vine mid-summer and continue to bloom until early fall.
New Guinea Impatiens (Impatiens hawkeri)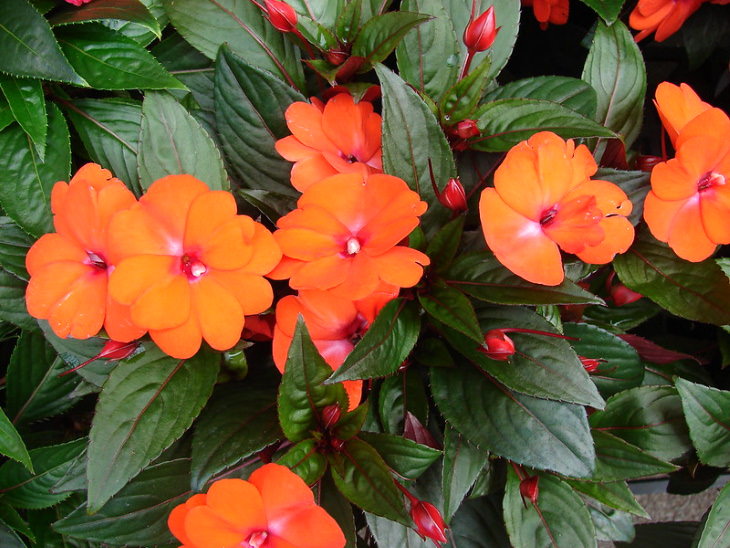 You're surely familiar with impatiens flowers, but did you know that they also come in bright orange? New Guinea impatiens, in particular, have very large blooms and are rather easy to grow in partial shade. Tip: if you grow these flowers in a pot, you can try overwintering them indoors on a sunny windowsill.
Zinnia (Zinnia elegans)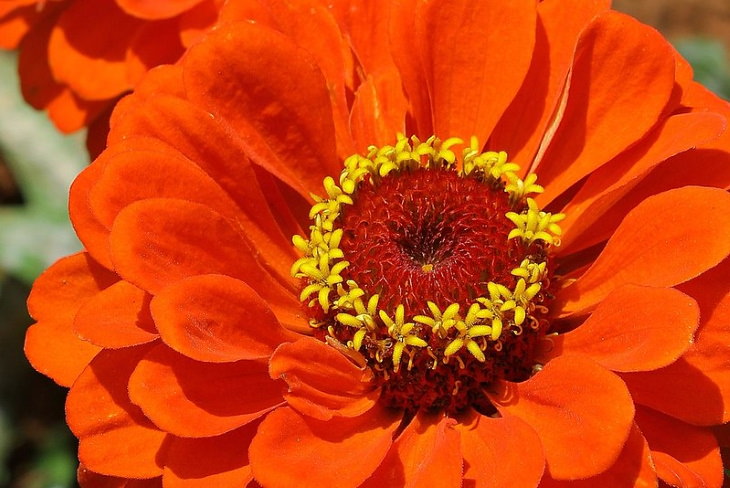 Zinnias are tall daisy-like flowers that are very easy to grow in a variety of climates. There are several colors of zinnia available, including a few shades of orange. Zinnia seeds should be planted after the last frost, and flowers will appear in summertime. We recommend cutting off old flowers to promote additional blooming.
Carnation (Dianthus caryophyllus)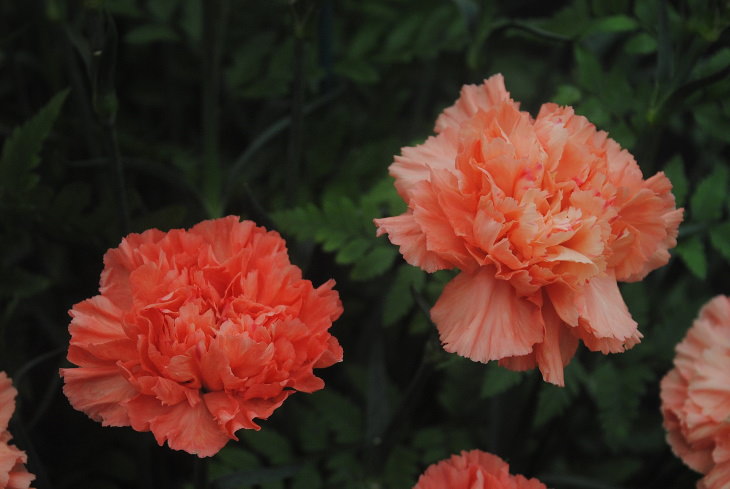 Carnations are widely loved for their wide color palette and fluffy, voluminous blooms. If you provide these plants with well-nourished, well-draining, and constantly damp soil, they will reward you with plenty of pretty flowers. And here's a trick: if you promptly cut off the emerging flowers, the plant will keep producing more blooms!
Nasturtium (Tropaeolum spp.)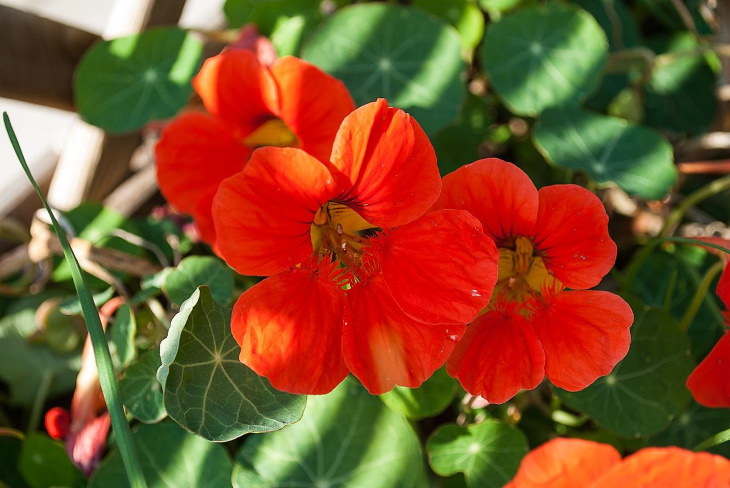 Nasturtium plants are pretty amazing, as they have large trumpet-like flowers and flat rounded leaves that look rather decorative on their own. While some nasturtium varieties can be grown as ground cover plants, others vine or even grow as a bush. This plant can tolerate partially dry soil and a variety of lighting conditions. Blooms usually appear between May and September.
Bulbine (Bulbine frutescens)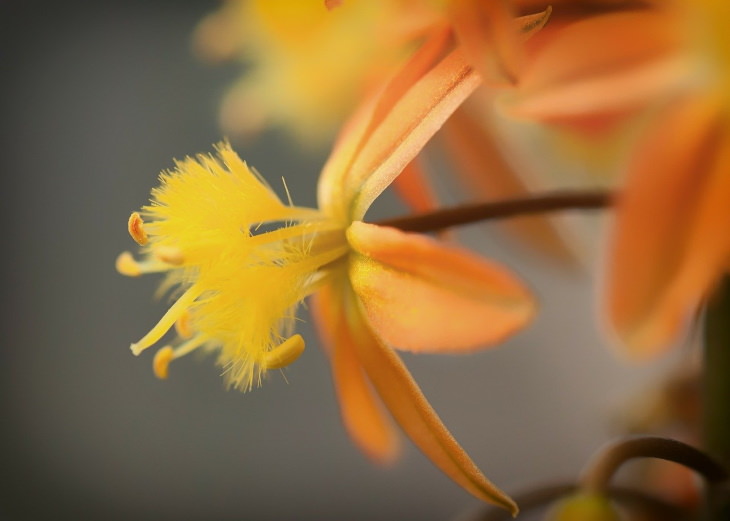 Bulbine is one of those very unique succulents that grow with grass-like foliage. Native to South Africa, this perennial plant favors a warm and dry climate. In summer, this succulent will produce clumps of yellow or orange blossoms that grow up to 2 feet in size.
Canna Lily (Canna spp.)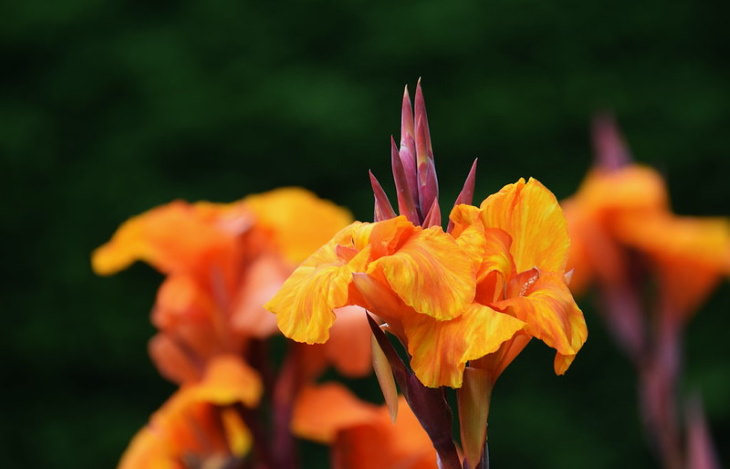 A canna is another delicate-looking orange flower that's surprisingly sturdy and resilient. Cannas are tropical plants, so they typically need plenty of moisture and full sun. But as long as cannas are planted in a place they like, they will reward you with plenty of colorful flowers!
Calendula (Calendula officinalis)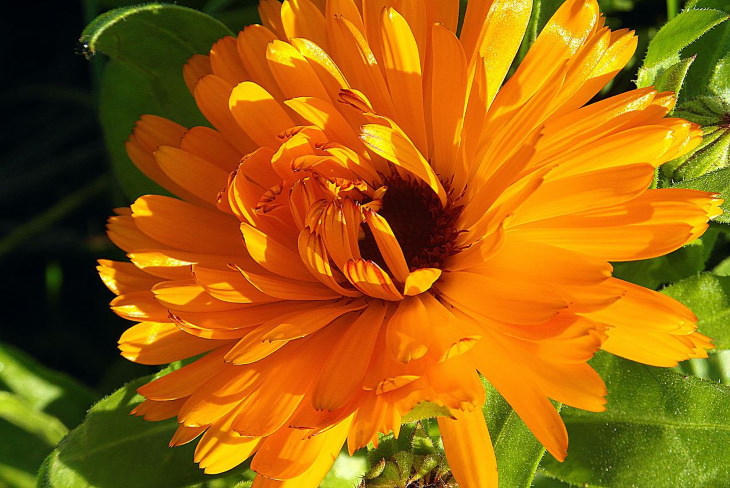 Calendula flowers, also known as potted marigolds, belong to the daisy family, and you can tell by the shape of their flowers. But they have beautiful golden flowers that are tough to mistake for anything else. Calendulas are hardy annuals, and many people grow them for their medicinal properties too! The thing is, calendula flower tea is said to speed up skin healing.
Rose (Rosa spp.)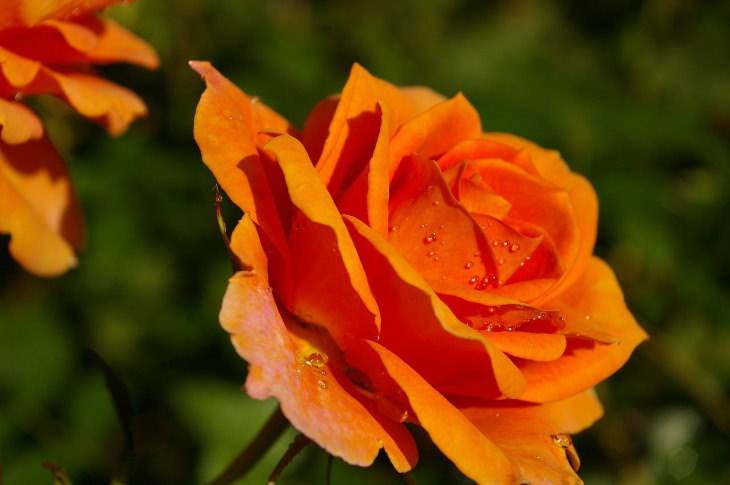 You simply can't go wrong with roses! With over 2,000 existing varieties and a history of cultivation that goes back centuries, you're sure to find a beautiful orange rose perfect for your garden. Just make sure to provide your roses with at least 5 hours of sun.
Begonia (Begonia spp.)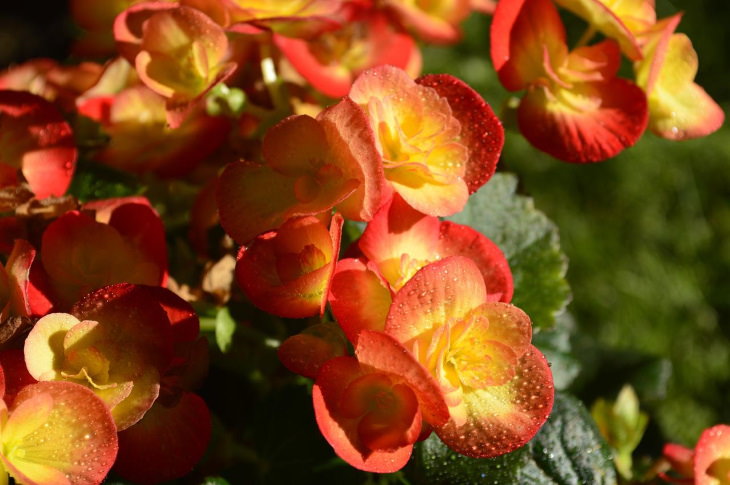 There are many varieties of begonias, including cultivars and species that come in poppy hues of orange. Begonias require a moderate amount of sun and well-draining but constantly moist soil.
California Poppy (Eschscholzia californica)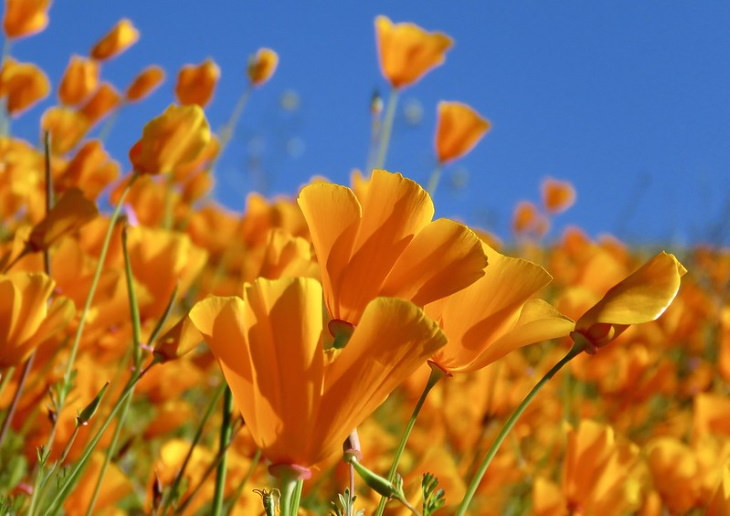 Native to the western United States, California poppies famously bloom throughout spring. The small cup-shaped flowers have four petals, and they come in yellow, orange, and red varieties.
Iris (Iris spp.)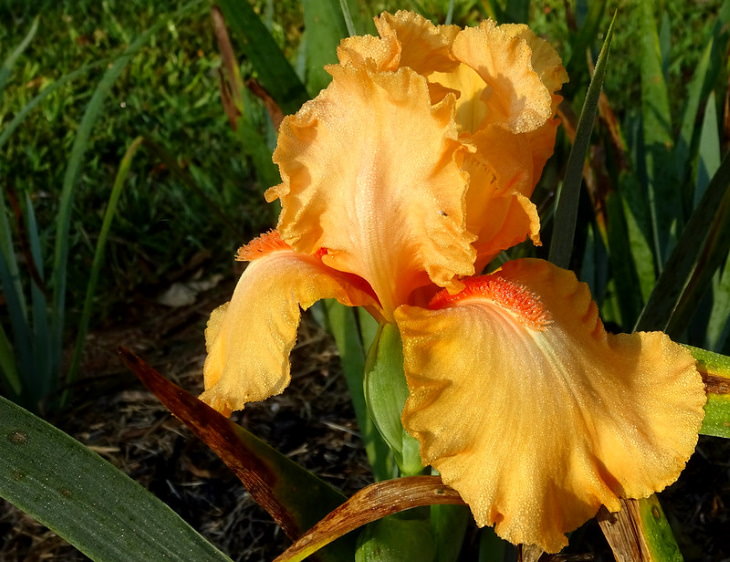 The elegant beauty of the iris is simply irresistible! And the golden variety of this famous plant is especially striking. Depending on the variety, irises require a different type of soil, so make sure to read about the specific conditions of the species you've got. Irises bloom in late spring to early summer.
Chrysanthemum (Chrysanthemum morifolium)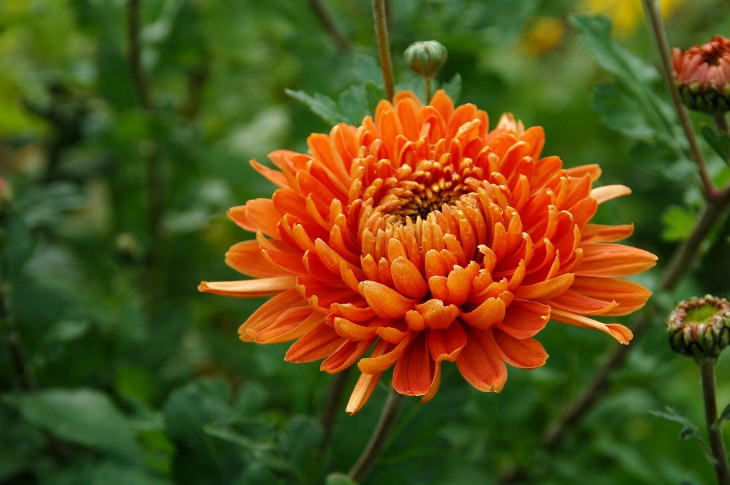 Mums are a fall staple, and they come in so many colors, shapes, and sizes too! These annual flowers are grown in full sun. Care tips: pinching is one of the most important care techniques for these flowers. Just snip off the main stem of the plant as it develops. This forces the plant to grow two side stems and will give you more flowers.
Flowering Maple (Abutilon)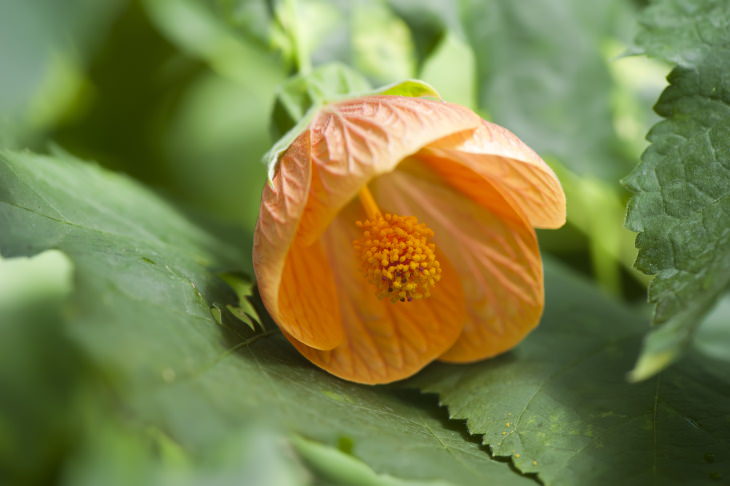 Abutilons are amazing plants! They look like miniature maple trees, but they can actually grow small bell-shaped flowers. Flowering maples are fast-growing plants, so they require plenty of water and nutrition. The golden flowers of the abutilon will start blooming in the middle of the summer.
Peruvian Lily (Alstroemeria)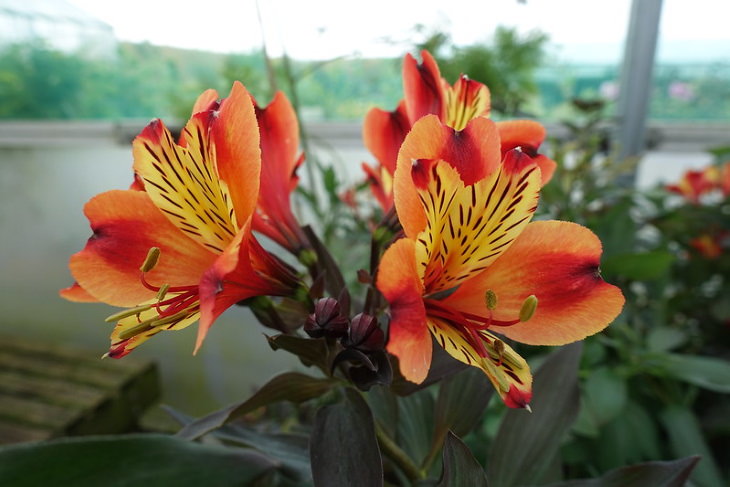 Peruvian lilies may not be as big as other lily varieties, but their beautiful flowers that come in so many colors and decorative patterns surely make up for the smaller size. Peruvian lilies are perennials, and they will often give you blooms the very same year you plant them, just make sure to plant them in fertile, slightly acidic soil.
Crown Imperial (​Fritillaria imperialis)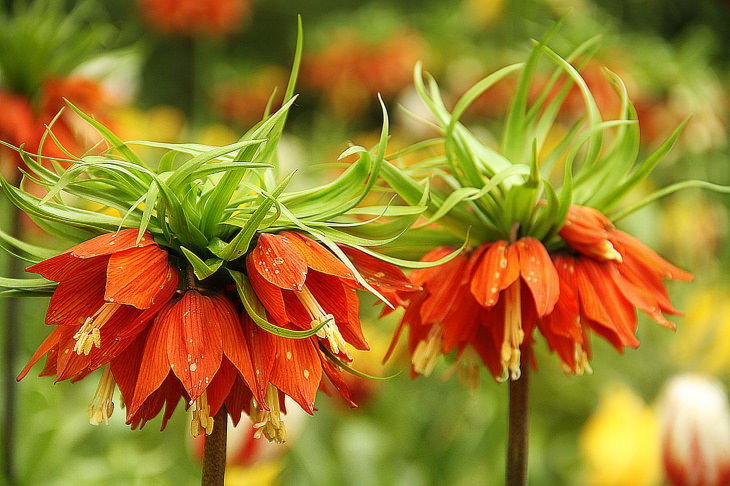 Crown Imperial flowers are bulbous plants that have glossy foliage and dramatic orange flowers that grow in bunches from an upright stem. These plants can be grown from full sun to partial shade, but you'll need to cover the bulbs with a layer of mulch for overwintering them. Crown Imperials typically bloom throughout the spring.
Cymbidium (Orchid

Cymbidium)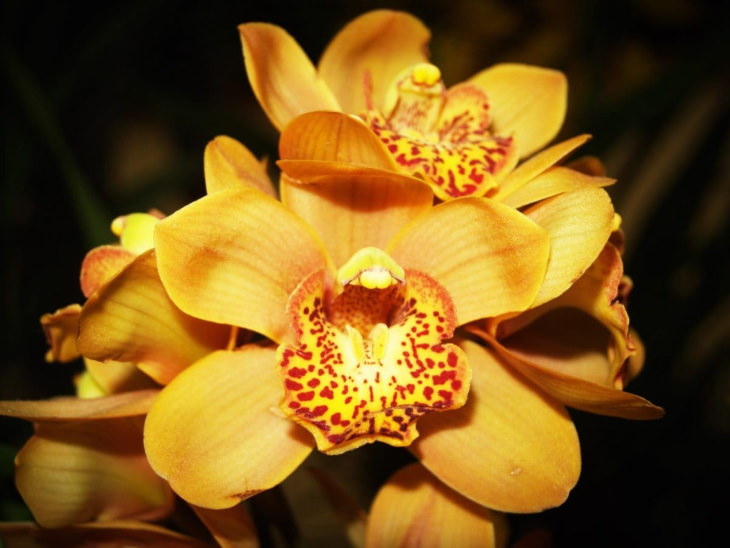 Cymbidium orchids are kind of special. Unlike most orchid species that grow in tropical climates, these orchids can be grown in colder climates and bloom in the winter. Cymbidium orchids come in a variety of colors, and their flower spikes can produce up to 15 flowers that last for quite a long time - for 1-3 months.
Share these beautiful flowers with those who love nature!