The Tisconia Park Beach in St. Joseph, Michigan, became the site of a very unusual natural phenomenon. For two days, this particular part of the vast Lake Michigan shoreline was dotted by hundreds of tall pillars and sloping platforms, transforming the beach into a sight most of us would associate with fantastical lands and alien planets.
But what are these strange sand formations and how were they created?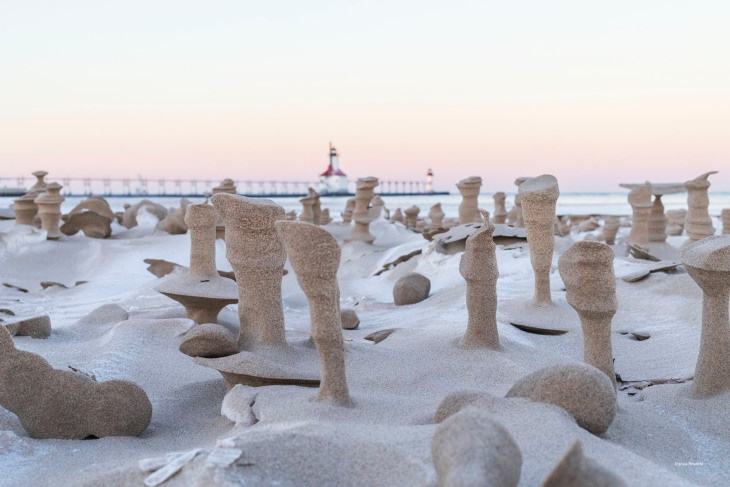 The chess piece-like sand pillars emerged as a result of very specific climatic conditions, and luckily for all of us, the photographer Joshua Nowicki noticed the bizarre sculptures and captured the rare natural phenomenon first hand. "Along the beach, there were at least six groups with thirty or more of the sand structures in a group with one group having quite a few more," Nowicki said to Live Science.
View some of Nowicki's photos of these fascinating frozen sand creations below, and discover more of these photos on the photographer's Instagram Page.
Sometimes referred to as 'miniature hoodoos,' these sand pillars are formed when powerful winds blow away frozen wet sand and chisel out tall tower-like structures on the shore. Similar sand pillars can also occur throughout the year, but without freezing temperatures and strong enough winds, they don't grow to be as tall as these ones and deteriorate in a matter of hours.
According to Nowicki, sand towers like these occur "if there is wet sand and sustained high winds for several days." The tallest pillars he measured this time were 15-inches (38 cm) high and around 2 inches (5 cm) wide. Sadly, these sand structures are either completely eroded or knocked down by the wind in a matter of a few days.
Above-freezing temperatures make them crumble too. But all this makes this fleeting natural phenomenon all the more unique fascinating!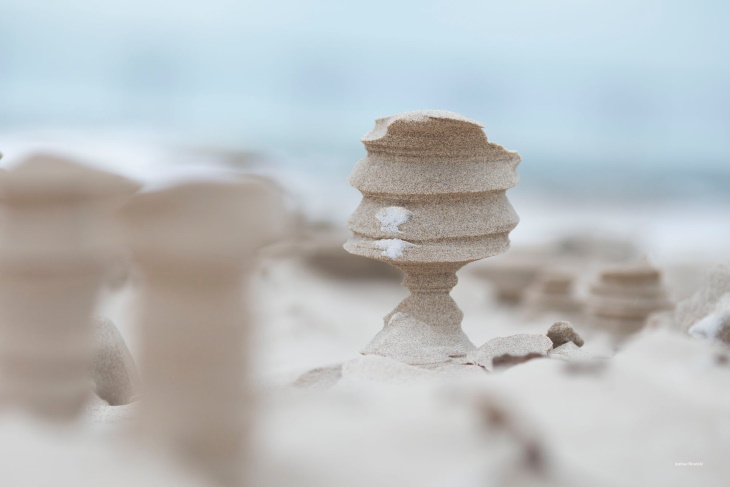 Share this fascinating natural phenomenon with others!
H/T: This Is Colossal, Live Science